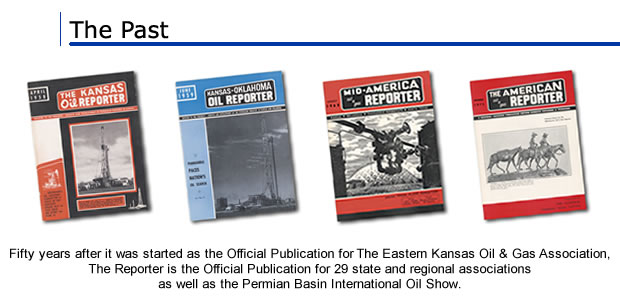 Founding Principles Guide 'Better Business' Publication Through Half Century Of Change
By Dan Holder
WICHITA, KS.–Few periods in American history are thought of as nostalgically as the late 1950s. It was an undeniable high point in American culture and prosperity. Half a century later, the 1950s are remembered as a time of rock-n-roll, drive-in theaters, poodle skirts, flattops and drugstore malted milks.
In 1958, the year The American Oil & Gas Reporter was born, the average family of four was knocking down $5,000 in annual income and the peacetime economy was booming. Gunsmoke and Wagon Train dominated television ratings, Elvis Presley wore olive drab as he was inducted into the U.S. Army, Truman Capote published his novella Breakfast at Tiffany's, and NASA responded to the Sputnik I launch a year earlier by initiating Project Mercury to put a man in space.
And, oh, how Americans loved their cars. Detroit was working mechanical magic in 1958, rolling out sleek, powerful, chrome-jeweled sedans and roadsters that were destined to become almost instant icons. Chevrolet touted its new models as "easier handlin', safer going" and Oldsmobile offered its cars as "presenting a new way of going places in the rocket age." Gasoline prices of $0.30 a gallon helped fuel the infatuation, making hitting the road as affordable as it was fun.
Meanwhile in 1958 in Wichita, two men began a magazine to serve a newly organized oil and gas association in eastern Kansas. Charles W. "Cookie" Cookson and Elbert Devaney, who had worked together at the Wichita-based National Baseball Congress, had a grand scheme to serve the Eastern Oil & Gas Association as its Official Publication. When The Kansas Oil Reporter published its first issue on April 15, 1958, with Cookson listed as publisher and DeVaney as advertising manager, its stated objective was to be "an independent publication cooperating with all groups–individuals and organizations–that have the welfare of the oil and gas industry as their objective."
Carrying A Message
Cookson displayed his knack for writing early in life and combined it with his passion for sports. He says he figured out he could make some money covering high school and college sporting events for the Wichita daily newspapers, a part-time job he invented as a freelancer while only a high school freshman. He continued writing for college and city newspapers until World War II interrupted his formal education.
From his final wartime duties as a regimental adjutant to his discharge with the rank of captain, as well as his time spent working with the National Baseball Congress, Cookson recalls that in and out of uniform, he was responsible for handling relationships among people.
"As an adjutant in the military, which for all practical purposes is an administrative liaison, I sometimes had to carry messages between the colonel and the company and battalion commanders in the field," Cookson reflects. "I was kind of a nonentity, and I had to be careful not to inject myself into anything. The same thing happened in baseball, particularly as the National Baseball Congress became involved in international competition. I had to be very careful not to interject myself into issues."
That attitude carried over to the new magazine, he says, and he credits it with being one of the main reasons AOGR has been so successful–growing to cover 29 state oil and gas associations over the 50 years it has been in existence.
"We have never interjected ourselves into the industry's affairs," Cookson reflects. "When they start, many publishers not only want to make money, they want to impose their influence. The oil and gas industry does not need a publication telling it what to do, or telling the captains of the industry what is right or wrong. The men and women in this business certainly know their business better than any journalists serving the industry.
"Oil and gas industry executives want to know what their peers are thinking and doing, and we belong on the outside of that, reporting on it, rather than commenting on what we think about it," Cookson elaborates.
For that reason, he says, the magazine was careful to define its editorial mission as "serving" America's independent oil and gas industry, and more specifically, the associations it served as Official Publication. Simply put, AOGR's role from the beginning was to report on industry news, not make headlines, he maintains. It has never strayed from that founding principle, as evidenced in its masthead, which has long proclaimed: "The 'Better Business' Publication Serving the Exploration/Drilling/Production Industry."
"I think that has been a key to the success of the magazine over the years, pure and simple," Cookson states. "It is a matter of trust. In all these years, people have learned to trust The American Oil & Gas Reporter because of its neutral position with respect to legislative and regulatory issues. Over the years, we have stuck with our policy of not trying to tell the industry what to do, nor do we editorialize in any way," Cookson notes. "Our unique position in serving the associations is one in which we attribute industry positions and strategies from association executives, their committees and elected officers, all of whom have formulated such positions after discussions with their peers in the industry, so the material we report often reflects an industry-formulated census."
Petroleum's Past
Oil production in the Sunflower State began a year after Edwin Drake drilled his first oil well in 1859 outside Titusville, Pa., but commercial success did not come to Kansas until November 1892, when the Norman No. 1 opened the Mid-Continent Field. According to the Kansas State Historical Society, the well near Neodesha, Ks., was the first oil well west of the Mississippi River to produce commercial quantities. Two decades later, Anthony Lucas began the modern petroleum age by drilling into the Spindletop hill south of Beaumont, Tx. Kansas producers helped maintain the drilling boom, discovering the El Dorado Field in 1910 and opening the Augusta Field four years later.
As the nation shifted to an oil-based economy, industry and government reacted to the new circumstances. One of the earliest oil and gas associations, the Petroleum Association of Wyoming, grew out of a 1916 oil conference. Other industry associations followed, including the Mid-Continent Oil & Gas Association (1917); Pennsylvania Oil, Gas & Minerals Association (1918); Panhandle Producers & Royalty Owners Association (1927); and the New Mexico Oil Men's Protective Association (1928), predecessor to the New Mexico Oil & Gas Association.
In the regulatory sphere, in 1917 the Texas Legislature granted the state Railroad Commission the authority to regulate oil pipelines as common carriers. Eleven years later, the commission began imposing production limits at the Hendrick Field in West Texas, where so much oil was pumped that it was selling for $0.10 a barrel. The American Petroleum Association in 1929 urged its major oil company members to limit production to the level matching the last nine months of 1928. That year also saw Conrad Schlumberger begin to use well logging tools to evaluate exploration wells.
Wildcatter C.M. "Dad" Joiner discovered the East Texas Field–one of the world's largest–when the Daisy Bradford No. 3 discovery well blew in on Oct. 3, 1930. The overproduction problems seen at Hendrick Field were reproduced on an international level early in the 1930s, as unrestrained crude production from Texas fields caused prices to plummet. The Railroad Commission's enforcement actions, including announcing monthly production allowances, assumed the role of global price setter.
Ralfe Reber, who in 1957 was president of Petroleum Management Inc. in Wichita, recalls working in an Illinois oil field at the end of an uncontrolled boom in 1939. "I remember being in Salem when the gas from the wells being produced was flared. You could see the glow of the flares at night in St. Louis, which was 70 miles away. It was terribly wasteful. Hopefully those days are behind us."
The Railroad Commission did its job in directing conservation efforts, but Reber says it was the major oil companies that set the tone for domestic operators until the Organization of Petroleum Exporting Countries began controlling production levels in the late 1960s. "The lesson of my career, which dates back to 1936, is that prices always had to be controlled by somebody," he reflects. "When we are producing with no restrictions, it always leads to a crash following the boom."
In response to political and regulatory actions, industry associations continued to develop during the following decades. Trade groups formed included the Kentucky Oil & Gas Association (1930) and the West Central Texas Oil & Gas Association (1933). Kansas operators joined to create the Kansas Independent Oil & Gas Association in 1937. Other state associations included the Illinois Oil & Gas Association (1944), Texas Independent Producers & Royalty Owners Association (1946), Ohio Oil & Gas Association (1947), and Oklahoma Independent Petroleum Association (1955).
[image_1]
1950s Oil And Gas
The United States emerged from the global carnage of World War II as an international superpower, but by the start of the 1950s, the U.S. government found itself waging an ideological battle against communism. In Korea, the war of words turned into armed conflict, and the United States again dispatched its troops to foreign soil. As hostilities ended in 1953 and the nation began a return to peacetime, its oil and gas industry was coping with lower oil prices, increasing crude imports, state prorationing, natural gas regulation, and calls to repeal the tax advantages of percentage depletion.
The natural gas industry underwent a fundamental change following the U.S. Supreme Court's 1954 Phillips Petroleum Co. v. Wisconsin decision. The court ruled that the Federal Power Commission, predecessor to the Federal Energy Regulatory Commission, had jurisdiction to set natural gas prices in interstate commerce, upholding the agency's regulation of wellhead prices. Work by state associations against the Phillips decision led to a 1956 congressional declaration that the federal government should not regulate gas production and prices. The Supreme Court ruling would lead to the natural gas shortages of the 1970s, and Congress eventually responded with the Natural Gas Policy Act of 1978.
In the face of increasing competition from foreign crude imports in the first half of the decade, state associations began pressuring Congress to deregulate oil prices and ease limits on production allowables. Working with the Independent Petroleum Association of America, the industry lobbied unsuccessfully for legislation that would limit oil imports to 10 percent of domestic demand. By 1957, the Department of Interior was considering a recommendation to limit imports to 12 percent of U.S. demand, and the government finally enacted such restrictions in 1959.
Danny Biggs of Great Bend, Ks., a longtime employee of Pickrell Drilling and former president of KIOGA and the National Stripper Well Association, remembers the Kansas activity cycles. When he started with Pickrell in the 1950s, there were never more than 12 drilling rigs in the state, and his company ran two of them.
"It was a real busy time. One thing we have done during all the ups and downs is keep the same pace," he says. "Pickrell didn't try to get real big when prices got up. I think many people hurt themselves when they tried to grow too fast, and then the price went down, as it always has. But I think now it's a different ballgame because there is not a lot of excess production in the world, and there is so much more demand."
The oil and gas industry received two insights into its future in 1956. Shell petroleum geologist M. King Hubbert predicted U.S. oil production in the lower-48 states would peak by 1972–a statement that proved remarkably accurate, and one that would ultimately set the stage for today's debate on global peak oil. And in 1956, Congress passed the Federal Highway Act, which channeled federal funding to interstate highway construction, enabling suburban development and increasing dependence on the automobile.
As 1958 began, Americans were two years into President Dwight Eisenhower's second term. On television, they saw George Burns and Gracie Allen say good night for the last time and watched a scandal knock quiz show Twenty-One off the air. National Airlines inaugurated domestic jet airliner service, flying between New York and Miami. The New York Yankees beat the Milwaukee Braves in the 1958 World Series. Louisiana State University claimed the national college football championship, while the Baltimore Colts defeated the New York Giants 23-17 to claim the professional crown.
Attention turned skyward that year, as the first man-made satellite, Sputnik 1, fell to earth Jan. 4, after four months in orbit. The United States finally achieved space success, launching in sequence Explorer 1, Vanguard 1, Explorer III and Explorer IV.
Americans also wondered about Middle East events. Egypt and Syria united to form the United Arab Republic in February 1958. Later that month, Iraq and Jordan also merged, creating the short-lived Arab Federation. In July, President Eisenhower ordered 5,000 U.S. Marines into Lebanon to protect its pro-Western government.
The Cold War continued, with the Soviet Union electing Nikita Khrushchev as premier on March 27. Closer to home, Fidel Castro's revolutionary army began attacking Havana in April. By the end of that year, rebel troops led by Che Guevera began to invade Santa Clara, the final stage of the Cuban Revolution.
[image_2]
Creating EKOGA
The economic factors resulting from the Phillips natural gas decision undercut U.S. production, including output from Kansas' gas wells. By 1957, production plummeted as operators could not get a price sufficient to maintain production. On top of federal issues, Kansas oil and gas producers had to contend with ad valorem taxes, and regulations passed in response to an intense 1956 drought that led to restrictive saltwater control and anti-pollution measures. The industry struggled with the new laws, as well as trying to operate with a regulatory authority divided among four state agencies.
KIOGA pushed for legislative relief, and in 1957, operators in the eastern third of the state established the Eastern Kansas Oil & Gas Association to add to the industry's voice. James Couch, James Guinotte, Dee Hampton, Gordon Willis, Carl Weiner Sr., and Kenneth Keas organized the group that would grow into EKOGA.
That initial planning meeting attracted 96 individuals representing a cross-section of the industry, including oil and gas producers, royalty owners, service and supply companies and even refiners, the EKOGA history books show. The first annual meeting, held in September 1957, drew 400 members. Serving as association officers in its first year were President John O. Couch, Southern District Vice President Pat Murphy, Northern District Vice President Albain Bailey, Treasurer Carl Weiner II, and Secretary J.C. McKelvey. In 1958, the association increased its ranks to 800 and reported that it expected membership to top 1,000 in the near future.
Reber observes that the new association "was a pretty independent group. They were operating many wells that made less than one barrel a day. They felt that KIOGA was representing a different type of operator, and that they had to bring their plight to the public eye."
While most state legislation focused on oil operations in western Kansas, where many major fields were being developed, their impact was crippling the smaller eastern Kansas operations, he notes.
Such situations, Cookson remarks, are the basis of why there are so many independent oil and gas producer associations. "Over time, situations–such as the need for unique legislative recognition that is sensitive to marginal producers such as those in eastern Kansas, or unique to local geology, such as that which exists in the Permian Basin oil fields, or that address restrictive land use policies and/or access such as the age-old and ongoing conflicts in the Rocky Mountain states–have led to the many regional, state and local associations," Cookson states. "They provide the vocal chords the industry needs to communicate to legislative and regulatory bodies, and indeed, to the public as a whole."
How important are the associations? According to Cookson, reports in the April 1958 issue of the magazine observed that only 68 rigs remained in Kansas with 187 "lying on the ground gathering rust and interest on their bank loans. More than 1,500 workers were unemployed, and more than 300 small producing wells were plugged prematurely."
Regional Interests
Bob Barnett came to Kansas in September 1963, assigned by Brazon Oil & Gas, a division of Dow Chemical, to field test a new polymer flooding process in the oil field. After leaving for work in Indiana and Illinois, he returned to eastern Kansas in 1965 and joined EKOGA.
"We did work and communicate with KIOGA, although it took a while to get that going because we were always poor cousins to it," he recalls. "But we found in going to (the state capitol in) Topeka, that when we were trying to get something done on taxes or other matters, legislators would listen to us more because nobody was paying us to say anything; we couldn't afford any lobbyists. We were just working guys saying what we believed. We had a lot of success for such a small organization."
KIOGA naturally worked for the interests of its members, who typically were more affluent than their eastern Kansas counterparts and operated larger wells, Barnett reports.
The two Kansas associations sometimes failed to work together on ad valorem taxes and well design, Barnett recalls, with the groups having different needs and objectives. He notes that the pulling and pumping units typically used on wells in the west were much larger that those in eastern Kansas. EKOGA members always were pushing for lower ad valorem taxes, an issue that was not as important to KIOGA's larger companies, he says.
The slim hole wells typical for eastern Kansas' shallow drilling also produced disputes, Barnett reports. They often used 2-3/8-inch or 2-7/8-inch casing and used one-horsepower motors. "Most of them made a half-a-barrel to one barrel a day on primary production, so they would not stand very high taxes or any onerous regulations," he says.
When federal regulators sought to impose new production requirements on those wells, EKOGA gathered data proving their mechanical integrity, Barnett recalls. In another dispute, he says, the Kansas Corporation Commission sought to impose a rule that all wells needed 40 feet of surface casing to protect groundwater sources. The association again asked its members to contribute data, he reports, and the efforts led to a 20-foot requirement.
EKOGA And More
Cookson says he learned that many trade associations, including KIOGA in 1958, handled their own print communications and some even published magazines or newsletters, but not with equal success. "It is always difficult for an association to put out its own trade journal, unless it is has a dedicated staff to do it. The primary reason is not financial, but because of the time it takes away from their executives' lobbying, membership and other duties," he explains.
KIOGA and the Oklahoma Independent Petroleum Association (OIPA) saw the benefits AOGR brought to EKOGA, and soon moved to have it become their official magazine as well, Cookson says. By December 1959, the magazine was the Official Publication for all three associations and had changed its name to the Kansas-Oklahoma Oil Reporter, promising to "Do Our Level Best for the Oil Business in Every Way We Can."
He observes, "Eastern Kansas thought that was great because the more associations involved, the more leverage the publication had, not only with its readers, but also with outside readers such as legislators and regulators."
Cookson also recalls that the late 1950s oil patch was very provincial, with operators in one region not known for getting along with their counterparts in other areas. "One of the things AOGR did was to help with bringing the oil industry together," he asserts. "Folks could read about what others were thinking. The guys in Oklahoma were reading about the guys in Kansas. Then they could make up their own minds as to what they wanted to do, but they were making an educated decision."
Natural Expansion
Later, in 1965, when AOGR covered associations in Texas, Oklahoma and Kansas, and natural gas become more important to the industry, Cookson renamed the magazine the Mid-America Oil & Gas Reporter. After many other producer/operator associations–from California to the Rocky Mountain states to Appalachia–signed on to become a part of the communications network the magazine provided, in 1972 it was given its current name, The American Oil & Gas Reporter.
Association officers and their producer/operator members quickly learned that a national trade journal that presented the industry as a whole had more credibility with legislators and regulators than comments from individual associations, particularly at the national level, Cookson adds. Also, as AOGR began adding more associations, readers found it enhanced both business and technical communications.
"If I am a Kansas operator and have production in California, what the California association is saying is very important to me," he reflects. "AOGR allows the associations to not only talk to their own members, but it also allows them to talk to the members of all the other associations."
A Family Business
AOGR always has been a family business, Cookson points out, with Joyce, his wife, their children, grandchildren and in-laws involved in the advertising, editorial and production departments. "In the early years, Joyce did most of the proofreading for the magazine," Cookson recalls. "She was raising five kids at home, and then I would take stuff home at night and she would proofread everything."
Michael, the youngest of Cookie Cookson's sons, writes and maintains proprietary software for the company, and John Cookson, the second youngest, wrote for the magazine while in college. Daughters Lucia and Ann worked in the office through high school, he says, and Lucia's husband Jim spent many years with the magazine during its first growth period in the 1970s. A granddaughter, Angie Lubbers, is the company's general manager and comptroller.
Cookson notes his oldest, Charlie, first became involved in the magazine's expanded operations while studying technical writing and business marketing at Colorado State University. During that time, the Independent Petroleum Association of Mountain States was formed. Initially involved in regional advertising sales for the Rocky Mountain states, Charlie became the magazine's associate publisher and advertising director in 1983. He was later named publisher in 1986. Charlie's wife, Yvonne, is a sales account manager, and his youngest son, Colter, edits press releases and works on special section reports while attending the University of Kansas.
"We have not missed many family members," Cookson observes. "At one time or another, many of my children and their children and even some of their spouses have worked for AOGR and been paid for permanent or part-time jobs. The one exception is Joyce, my wife and long-time proof reader," Cookson says, adding, "She still reminds me every now and then that she doesn't ever remember getting paid a dime for the many hours she spent making sure the copy in the magazine always was right."
The Magazine Develops
In the beginning, one of Cookson's close friends, who was also an oil and gas industry analyst, questioned his wisdom in starting an oil and gas trade publication, Cookson remembers, pointing to projections that the United States was likely to run out of oil and natural gas within five years. "And of course, many people have been saying so ever since," Cookson quips.
Oil and gas prices and federal, state, and local taxes on crude oil and natural gas, as well as on the companies that produce oil and gas, and the service, supply and manufacturing firms that make it all possible, have remained a concern and a constant source of articles since the first issues of the magazine. The January 1959 issue quoted George Bruce, president of Aladdin Petroleum Corp., as saying the average cost of finding and producing crude oil in Kansas was $3.30 a barrel, while the average price received was $3.02.
"Surveys of the largest oil producers in Kansas indicate that a reasonable price for a barrel of crude oil should be no less than $4.50," Bruce stated, pointing to foreign production as the main source of competition for domestic supplies. A second magazine headline warned, "Kansas Oilmen are Uniting for All Out Fight Against Ever Mounting Foreign Oil Imports."
In another January AOGR article, Bruce, who chaired KIOGA's Import Committee and also served as a president of KIOGA and the National Stripper Well Association, recommended that President Eisenhower impose a $1.00 a barrel tariff on all imported oil and enforce a mandatory quota to roll back incoming oil to the 1954 level.
On the state level, AOGR observed that EKOGA members had set tax equalization and government economy as their main goals for 1959. In addition, it said, the association was claiming the state's nonuniform system of valuing property for tax purposes was unconstitutional, and was complaining that too many state agencies were involved in regulations regarding water pollution.
According to EKOGA, operators had to deal with both the state Board of Health and the Kansas Corporation Commission. The Kansas Geological Survey and the Board of Water Resources also were involved in regulating the industry, the association pointed out. Instead, EKOGA members suggested that all regulatory measures for the oil and gas industry be brought under the administration of one agency, preferably the KCC.
The pollution regulatory concern turned into a long-term problem. Former EKOGA President Jim Couch said in May 1959, "The need for the organization is the same as it was the day we organized. Danger from the pollution law enforcement by the state Board of Health is just as real as it can be, and the day we relax is the day the eastern Kansas oilman may as well fold up and quit, because he can't survive."
While AOGR began publishing with its primary focus on associations, Cookson points out that over the years it developed a second track by inviting industry experts to write on the technology and economics of the oil and gas industry.
"Readers in the early years were looking primarily for what the associations were thinking regarding legislative and regulatory activities," Cookson recalls. "They were not using the magazine as an authoritative source for material on other phases of their businesses. Now they can look at the publication and have available authoritative articles that possibly influence their thinking on some of the technical and business decisions they make, such as where to put a well down, how to equip it, and how to maximize its productive potential."
The First Decade
The 1960s were a good time to drill in Kansas because acreage and drilling were relatively cheap, Reber recalls. "I drilled a lot of wells in the 1960s. You could put a block together and drill multiple prospects all on the same program," he says.
Cookson recalls that as the magazine struggled to find its place in its early years, he was able to tap into a network of friends from what then was the University of Wichita. "A lot of the guys I had gone to school with were coming up in these oil patch companies," he says. "Of course, they were not the big shots then, but they were doing the leg work and developing the projects.
"It helped having those contacts because I could call several of them for advice and direction as I developed the magazine's content, as well as its growth. There has never been a lack of stories and issues to cover, and likewise, there has never been reluctance on my part or that of the publication's management and the editorial staff to get sage advice from those in the know in the industry," Cookson states.
Kansas producers and their counterparts across the nation watched as foreign oil imports into the United States grew every year. In January 1960, AOGR observed that Interior Secretary Frederick Seaton had authorized increased oil imports–to 79,876 barrels a day–leading Independent Producers & Royalty Owners Association of Oklahoma President W.A. "Gus" Delaney to say that the move represented "another nail in the coffin of Oklahoma's oil industry."
Throughout the decade, AOGR provided coverage on a shortage of talent in the earth sciences, warning that the oil and gas industry needed to take immediate action to head off future personnel shortages. One article described how undergraduate enrollments in geology and geophysics had decreased, with many earth science majors drifting to physics or mathematics departments, or moving into industries with a "glamour" label, such as the aircraft, missile or electronics fields.
The 1960s also saw a dramatic, but short upturn in Kansas drilling activity. According to API's Petroleum Facts and Figures, Kansas operators drilled 3,904 wells in 1958 and 3,880 the following year. The first three years of the decade saw well numbers at 4,059 and 4,338 before 1962's decrease to 3,727.
In comparison, during those five years, U.S. well numbers peaked at 50,094 in 1959 before falling to 44,018 the following year and 43,871 in 1961. Average well depth in Kansas followed a similar pattern to drilling activity, moving from 3,497 feet per well in 1958 and 3,577 feet in 1959, but falling to 2,902 in 1960, 2,709 in 1961 and 3,105 in 1962.
Economic success did not drive Kansas producers, the API figures say. The average price received at the well was $3.00 a barrel in 1958, its high point for the five years. By 1962, the average price had fallen to $1.91 a barrel. The total value of oil produced in Kansas saw an identical trend, the API statistics say. In 1958, Kansas oil producers received $359.8 million for crude; five years later the state total was down to $326.1 million.
By the end of the decade, land and service prices had gone up; driven in part by new investors flooding in, many of whom did not belong in the oil and gas industry, Reber maintains.
"I had gotten spoiled," he recalls. "I used to lease as much as 40,000 acres along a given trend at $1.00 an acre. In the 1970s, after the oil embargo, strangers were coming in from out of state. They were willing to pay up to $10 an acre. That is fine if you had one particular prospect and were trying to lease only 300 acres, but not if you are trying to lease broad spreads–10,000 or 15,000 acres–which I was doing. I just quit leasing."
The American Oil & Gas Reporter
As the 1970s began, the majors began leaving Kansas and the Mid-Continent in search of bigger and bigger fields. "It was a good time for an independent to buy production from the majors. It was well worth the money," Reber recalls. "Of course, then we had the Arab embargo in 1973, and the fall of the shah of Iran in 1979, which drove prices to record highs in 1980. Things then went great for five years, until the crash of 1986."
Cookson is quick to point out that the magazine's business health will always reflect the ups and downs of the oil and gas business cycles for its readers. "That is one of the ironies of the publication's communications role. The tougher the business conditions, the tougher it is for us to maintain the advertising support necessary to get the business, financial and technical information out to the industry executives and operations executives who need it," Cookson elaborates.
But Cookson says that no down cycle in the industry compares to the one the oil and gas industry experienced in 1986 and 1987. That was when Saudi Arabia decided to open the floodgates of its then-huge excess crude oil capacity. It sought to teach other OPEC countries that it would no longer be abused as the "swing producer" that would always curtail its production to maintain a certain global price level, while its oil-producing brethren were cheating on quotas and benefiting from export income at Saudi Arabia's expense.
He says it does not matter whether one subscribes to the theory that the Saudis acted alone or in concert with President Reagan to bring the Russians and the Cold War to its knees. The bottom line was that the health of the domestic oil and gas industry was sacrificed either way; the United States' oil and gas industry simply could not function at $10 oil any more than Mother Russia could.
"That period forever changed the landscape of the industry as significantly as any time in the history of the industry," Cookson observes. "From an industry personnel standpoint, the consequential harm those years did to oil and gas producers and operators, and the service and supply firms in terms of their ability to maintain employees, was irreparable, and the damage done is only now becoming repaired.
"Indeed, many of the youngsters now in school pursuing employment in the oil and gas industry–whether as geologists, petroleum or electrical engineers, or even those in the many fields of information technology–weren't yet alive, or were certainly too young to remember," Cookson notes.
The Future
As the industry began to rebuild and realign itself after the 1986 price crash, Cookson says the most pronounced result wasn't the rash of service and supply firm mergers. Instead, he notes, it was the trend of the major integrated companies beginning to slowly but surely divest their interests in the vast majority of their North American onshore operations, and to a lesser degree, their operations in the Gulf of Mexico.
"In retrospect, this was ultimately beneficial for The American Oil & Gas Reporter's readers and certainly for consumers as well," Cookson asserts.
He says that most of the industry literature he has studied over the past 50 years indicates unequivocally that independents have always been more willing to test and tackle new technologies and play concepts. "Because independents are lower-cost producers, they are more likely to employ the latest technology to coax as much oil and gas out of domestic onshore and offshore reservoirs as possible, while many independents now leverage the revenue from their domestic production to get involved in overseas operations," he says.
"And that caused us to change things in terms of the content we were delivering to readers," Cookson states. "When my son, Charlie, began rebuilding the business in 1986, he not only maintained AOGR's emphasis on association coverage under the guidance of Managing Editor Bill Campbell, but one of his first hires was Technology Editor Tim Beims. It has been fun to watch the two of them at work as they have assembled a network of special correspondents and writers, as well as respected sources in the industry technical societies and government.
"And they work with all kinds of companies–big and small–from geophysical, drilling and well servicing contractors to service, supply and manufacturing firms that are developing so much of the industry's technologies and are able to address the latest technologies that independents need to optimize their operations," Cookson adds.
And while Cookson says he has retired to function in purely an advisory role to the magazine on its Board of Directors, many of his lifelong friends observe that the more things change, the more things stay the same.
In the words of Pickrell's Danny Biggs, "It is amusing that as you go through this magazine today, we are still fighting a lot of the (legislative and regulatory) issues that we were fighting back in the 1950s. There are a lot of similarities all the way through The American Oil & Gas Reporter today," reflects Biggs, now director and president of the Kansas Oil & Gas Hall of Fame and Museum Foundation in Great Bend. He says The American Oil & Gas Reporter deserves a lot of credit for the progress made by producers.
Reber recommends that oil and gas companies would do well to keep abreast of new technological initiatives as they try to wring more hydrocarbons out of old wells and leases. He also suggests that today's increased cash flows would be best spent on keeping operating costs down by upgrading or buying new equipment. "The main thing is keep a strong cash position," he offers. "If the price of oil craters, it would not be the first time."
Fifty years after it was started as the Official Publication for The Eastern Kansas Oil & Gas Association, AOGR is the Official Publication for 28 state and regional associations as well as the Permian Basin International Oil Show.
"It has taken a lot of hard work and a long time to position the publication where it exists today, but for me it has been a rewarding career," Cookson reflects. "The communications need was there in 1958, and it is there today perhaps more than ever before. We simply filled the communications need with the right formula, and stayed with it."