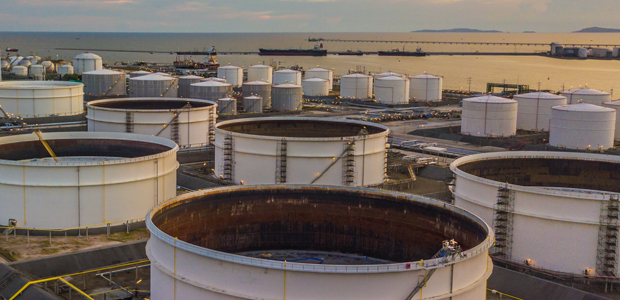 August 2020 Exclusive Story
Crude Inventory Update
U.S. Crude Inventories Fall For Six Consecutive Weeks
The weekly numbers on storage inventories and active rig and frac spread counts are the most watched early leading indicators of where prices and activity may be headed.
In advance of weekly crude oil inventory reports from the American Petroleum Institute and the U.S. Energy Information Administration, industry analysts regularly issue projections of how the numbers will change. This is the stuff that moves markets.
Just as importantly, however, the inventory data can reveal trends that may indicate longer-term and more subtle patterns in supply and demand. And the trend lines during the past two months have pointed decidedly in the direction of inventory withdrawals.
At the end of August, both EIA and API had reported six consecutive weeks of withdrawals from U.S. commercial crude oil inventories. Going back to the first week of July, eight of the 10 weeks saw a withdrawal (Table 1). Between the third week of July and the last week of August, commercial crude inventories fell 38.2 million barrels by EIA's count and 34.4 million barrels by API's tally.
Both of those withdrawal totals were substantially larger than in the same weeks in 2018 and 2019. Inventories declined by only a net 5.3 million barrels from the third week of July through the end of August in 2018, with two weekly builds in August. Last year also saw two weeks with builds in August, but total inventories declined by 22 million barrels during the six week period, helped out by a 10-million barrel withdrawal ahead of last Labor Day weekend.
For the final week of August 2020, EIA reported a 9.4 million barrel decrease from the previous week. Analysts had predicted a draw of only 1.89 million barrels. That left commercial stocks at 498.4 million barrels, excluding the Strategic Petroleum Reserve, and marked the first time since early April that total inventories dipped below 500 million barrels (Figure 1).
Moreover, refineries operated at 76.7% of their operable capacity during the week ending Aug. 28, with inputs averaging 13.9 MMbbl/d. That was down 0.8 MMbbl/d from the previous week's average. It also was considerably below the same weeks in both 2018 and 2019, when inputs averaged 17.4 MMbbl/d and 17.6 MMbbl/d, respectively, and refineries operated at 94.8% and 96.3% of their operable capacities.
Numerous Wild Cards
Even though the arrows are trending in the right direction, stocks were still 14% above the five-year seasonal average, down from 18% in July. Therein lies the challenge in the weeks ahead, experts suggest: working off the five-year surplus at a time of year when refineries typically cut back runs to undergo annual fall maintenance. Historically, inventories build after Labor Day and through the fall months.
This year, however, is anything but typical, as evidenced by analysts' regularly underestimating weekly withdrawals this summer. The wild cards are numerous. First and foremost, they say, is the pace of continued economic recovery amid concerns of a second COVID-19 wave, including the potential for additional federal stimulus ahead of the November elections. Market observers say they are also carefully watching the development of a coronavirus vaccine, and how the availability and timing of a vaccine could stimulate demand for oil products.
On the supply side, the biggest factor is the degree to which U.S. oil production will continue to slide. Even though the majority of wells shut in last spring had resumed operations by the third week of August, EIA reported total production of 10.8 MMbbl/d the week of Aug. 21. That was 2.3 MMbbl/d below the 13.1 MMbbl/d EIA reported in the second week of March. Output dipped to 9.7 MMbbl/d in the last week of August, but that number was impacted by widespread shut ins in the Gulf of Mexico in advance of Hurricane Laura. Imports also are down year-over-year.
Like oil inventories, U.S. gasoline stocks also have been declining steadily, dropping by 4.3 million barrels in the last week of August to within the upper range of the five-year seasonal average. Finished gasoline inventories were only 300,000 barrels higher than in the same week in 2018, and 5.3 million barrels (4%) higher than in 2019. Distillate fuel inventories decreased by 1.7 million barrels last week to 23% above the five-year average.
Natural Gas Storage
Looking at the natural gas market, EIA reported a build of 35 billion cubic feet during the last week of August, increasing total stocks to 3.45 trillion cubic feet. That was 538 Bcf higher than the same time in 2019, and 407 Bcf (13%) above the five-year average of 3.05 Tcf (Figure 2).
The last storage withdrawal occurred on March 27 as winter turned to spring, but demand this summer was relatively strong considering depressed liquefied natural gas export activity. LNG exports are forecast to recover to near capacity this winter after dropping to 30% of capacity in July amid coronavirus-related cargo cancellations, and sources indicate that feed gas supplied to LNG facilities already had increased by more than 1 Bcf/d in August compared with July.
Even with LNG exports and industrial demand curtailed, EIA information shows the weekly volumes of gas being injected into storage this summer stood well below year-ago levels. That was helped by the fact that gas consumption for power generation set a record high, topping out at a daily peak of 47.2 Bcf on July 27. Since mid-July, weekly storage injections have averaged only 38.14 Bcf compared with 57.71 during the same time in 2019 and 45.57 Bcf each week in 2018.
With the official start of the winter heating season on Nov. 1, September and October are traditionally strong build months for gas storage. In 2019, inventories grew at a rate of 94.25 Bcf per week to total 754 Bcf in injections during those two months. In 2018, injections averaged 72 Bcf/week and totaled 576 Bcf, and in 2017, an average of 69.38 Bcf was added each week to total 555 Bcf. Using historical averages as a guide, gross stocks would be expected to exceed 4.0 Tcf by the start of winter.
However, as with oil output, EIA reports that U.S. dry natural gas production in July had declined by 9.5 Bcf/d from its all-time high of 96.3 Bcf in November 2019, with the agency attributing much of that loss to decreased associated gas production in the Permian Basin. According to analysts, how quickly the market can work through the surplus in end-of-August inventory compared with the five-year average depends on autumn production levels (and the possibility of continued lower-than-average injections into inventory), as well as key demand factors such as the pace of economic recovery, growth in LNG exports, and of course, the severity of winter weather.