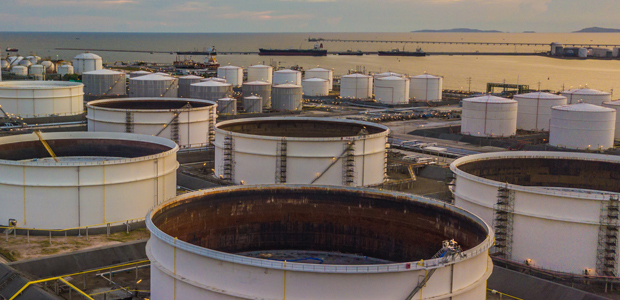 September 2020 Exclusive Story
Crude Inventory Update
U.S. Oil Inventories Resume Trend Of Weekly Declines
After a one-week departure, data from the U.S. Energy Information Administration show that U.S. crude oil inventories returned to an extended trendline of withdrawals in the second and third weeks of September, marking nine of the previous 12 weeks with a reduction in commercial storage volumes.
In its Weekly Petroleum Status Report released on Sept. 23, EIA showed a decline of 1.6 million barrels for the week ending Sept. 18, along with healthy draws on gasoline and distillate stocks. A day earlier, the American Petroleum Institute had released its weekly survey, showing a slight build of 691,000 and declines in gasoline and diesel inventories. The consensus prediction of market analysts had been a crude inventory draw of 2.325 MMbbl for the week.
Going back to the first week of July, all but three weeks have registered withdrawals (Table 1) according EIA's tally. API shows four weeks. Since the end of June, commercial crude inventories have been drawn down by 39 MMbbl based on both EIA and API's weekly numbers.
Since the first week of August, EIA reports that stocks have declined by a net 24.2 MMbbl, with one week showing an inventory build. Over that same period in 2018, stocks declined by only 6.9 MMbbl with three weeks of inventory additions. In 2019, inventories decreased by 18 MMbbl from the start of August to the second week of September, and also had three weekly builds.
U.S. refinery inputs averaged 13.4 MMbbl/d, which was down 119,000 bbl/d from the previous week's average. Refineries operated at 74.8 % of their operable capacity, down one percentage point from the week prior. That was substantially below both 2018 and 2019. Refinery inputs in both years averaged 16.5 MMbbl/d during the third week of September, operating at 90% of their operable capacity. However, gasoline production increased to 9.3 MMbbl/d and distillate fuel production increased to 4.5 MMbbl/d, approaching the historical levels for the same weeks in 2018 and 2019. Gasoline production averaged 9.8 MMbbl/d and 10.2 MMbbl/d, respectively, in the third week of September of 2018 and 2019, and distillate runs were 5.0 MMbbl/d in both years.
EIA says crude oil imports were 5.2 MMbbl/d, up by 160,000 bbl/d from the previous week. Over the past four weeks, crude oil imports have averaged 5.1 MMbbl/d, or 24.2% less than the same four-week period in 2019, when 6.80 MMbbl/d were being imported into the U.S. market. Meanwhile, crude oil exports were 3.0 MMbbl/d, which was up 427,000 bbl/d from the week prior. The export flows were supported by cargoes averaging nearly 900,000 bbl/d bound for China, part of what is expected to be a record month for physical deliveries of U.S. crude oil volumes to China.
U.S. commercial crude oil inventories, excluding the Strategic Petroleum Reserve, were at 494.4 million barrels, which was 13% above the five-year seasonal average (Figure 1). However, it marked the second consecutive week that total inventories were below 500 MMbbl, which had not happened since COVID-19 lockdown measures began to be implemented in late March/early April. A year ago, there were 419.5 million barrels in storage. The year-over-year difference of 74.9 MMbbl of inventory equates to three and half days' worth of domestic demand.
Total motor gasoline inventories decreased by 4.0 MMbbl in the week ending Sept. 18 and are now only 1% above the five-year seasonal trend. Distillate inventories decreased by 3.4 MMbbl and are now 21% above the five-year average. Propane/propylene inventories increased by 1.7 MMbbl to 12% above the five-year average. Over the past four weeks, gasoline product supplied averaged 8.5 MMbbl/d, down 9.0% year over year. Distillate fuel product supplied averaged 3.6 MMbbl/d over the past four weeks, down by 8.2% from a year earlier. Jet fuel product supplied was down 45.8%.
Right Direction
Despite multiple hurricanes in the Gulf Coast region, economic uncertainties over the pandemic, and lingering market impacts from last spring's lockdown, the arrows on inventory numbers continue to trend in the right direction. The challenge, according to experts, is working off the five-year surplus at a time of year when refineries typically cut back runs to undergo maintenance.
This year, however, is anything but typical. The wild cards are numerous. First and foremost, they say, is the pace of continued economic recovery amidst concerns of a second COVID-19 wave, including the potential for additional federal stimulus ahead of the November elections. Market observers say they are also carefully watching the development of a Coronavirus vaccine, and how the availability and timing of a vaccine could stimulate demand for oil products.
On the supply side, the biggest factor is the degree to which U.S. oil production will continue to slide. The large numbers of wells shut-in last spring began to resume operations in June and July, helping steady total output at 11 MMbbl/d through those two months. However, EIA data show production had dropped below 11 MMbbl/d by the first week of August, and slipped to 10 MMbbl/d in the first week of September as result of Hurricane Laura shut-ins across the Gulf of Mexico.
Production surged 900,000 bbl/d in the second week of September as pent-up supplies from the shut-in wells was restored, EIA reports, but fell back to 10.7 MMbbl/d during the week of Sept. 18. A second hurricane in as many weeks whipped through the Gulf–this time cutting a path through the less infrastructure-intensive Eastern Gulf to make landfall in Alabama on Sept. 16. The on Sept. 21, a third weather system–tropical storm Beta–came ashore in Texas, causing widespread flooding, including in the Houston area.
According to the Bureau of Safety & Environmental Enforcement, operators had shut in 508,366 bbl/d of oil production (27% of the Gulf's daily total) and 8.05 billion cubic feet of natural gas production (30% of daily output) as a precautionary measure ahead of Hurricane Sally. A total of 149 manned offshore platforms had been evacuated, and four rigs had either been evacuated or moved off location to avoid the Category 2 storm's path.
The shut-in production volumes were well below the 1.55 MMbbl/d of oil and 1.6 Bcf/d of gas that had been shut-in across the Gulf in late August in advance of Hurricane Laura. According to EIA, those shut-ins had led to total U.S oil production dipping to 9.7 MMbbl/d in the last week of August. The smaller shut-in volumes were projected to result in a proportionally muted near-term effects on lower-48 production from Sally and Beta.
Looking farther down the road, EIA projected in its September Short-Term Energy Outlook that U.S. crude oil production would fall from an annualized average of 12.2 MMbbl/d in 2019 to 11.4 MMbbl/d in 2020 and 11.1 MMbbl/d in 2021. "U.S. crude oil production will remain just under 11.0 MMbbl/d during the first half of 2021 because EIA expects that new drilling activity will not generate enough production to offset declines from existing wells," the report reads. "EIA expects drilling activity to rise later in 2021, contributing to U.S. crude oil production reaching an average of 11.3 MMbbl/d in the fourth quarter of 2021."
In its latest Drilling Productivity Report, EIA forecasts that crude oil production from the "big seven" onshore shale basins will fall 19,000 bbl/d in September, with increases of 7,000 bbl/d in both the Bakken and Permian partially offsetting declines in the other basins. Even though EIA expects Permian production to jump higher by 23,000 bbl/d in October, the overall decline in shale plays will accelerate to 68,000 bbl/d next month as output retracts in the other six basins–including double-digit declines ranging between 19,000 and 28,000 bbl/d in the Bakken, Anadarko, Niobrara and Eagle Ford.
Natural Gas Storage
Looking at the natural gas market, EIA reported a storage build of 89 Bcf for the week ending Sept. 11, increasing total stocks to 3.61 trillion cubic feet. That was 535 Bcf higher than the same time in 2019, and 421 Bcf (12%) above the five-year historical average of 3.19 Tcf (Figure 2).
Cheniere's Sabine Pass and the Cameron LNG export terminals were both in the path of Hurricane Laura and implemented full shutdown measures prior to the storm coming ashore in Louisiana. With Sabine Pass restarting operations, LNG feed gas demand had surged 4.5 Bcf/d by mid-September, even though the facility was not yet running at full baseload capacity. Sabine Pass is the largest single source of demand for natural gas in the United States.
However, Cameron LNG has remained offline for three weeks awaiting the repairs of the power grid servicing the facility. According to multiple reports, Sempra Energy began restart operations on one of Cameron LNG's three production trains on Sept. 21 following the partial restoration of electricity service at the site. The phased restart is expected to bring the terminal up to full liquefaction and export capacity by late October.
The restart of all three trains at Cameron LNG would recover 1.5 Bcf/d of temporarily lost feed gas demand. Analysts say the pending resumption of operations at Cameron and restart of Sabine Pass earlier in September, along with new liquefaction trains brought online in recent months, is expected to drive total LNG feed gas demand to as high as 10 Bcf/d by November, coinciding with the start of the winter heating season. EIA says U.S. LNG exports averaged 7.9 Bcf/d in the first three months of 2020, before declining to 3.1 Bcf/d in July as the global market recalibrated after the COVID shutdown.
As of mid-September, EIA estimated that total U.S. dry gas production averaged 89.1 Bcf/d, down 4.6 Bcf/d (5%) from 93.7 Bcf/d year over year. Looking at onshore shale plays, EIA projects that gas production will decline in all regions in September, except for the Bakken and Permian, where it forecasts increases of 15 MMcf/d and 25 MMcf/d. Overall, EIA sees gas production from shales falling by a net 421 MMcf/d in September.
EIA's models show those declines continuing in October in all regions, with the exception again of the Permian, where a 110-MMcf/d increase is predicted. Excluding the Permian, gas production is forecast to fall by 538 MMcf/d, and a net 438 MMcf/d with Permian factored in. The largest declines are expected in the Anadarko, Appalachian and Eagle Ford plays.