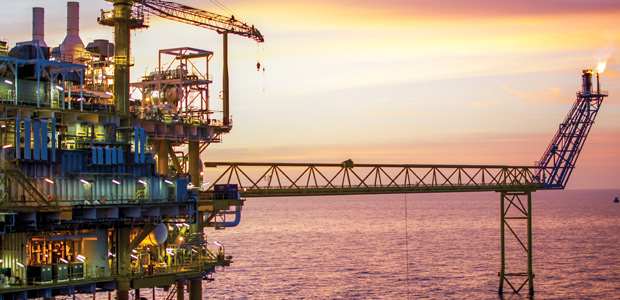 February 2014 Cover Story
Gulf of Mexico Activity
Independents Changing Face Of Gulf Of Mexico Exploration
By Al Pickett, Special Correspondent
To say Fieldwood Energy LLC and Venari Resources hit the ground running in 2013 would be an understatement. The two Texas-based independents may well represent the new face of Gulf of Mexico exploration. Funded by capital provided by leading investment firms, both Fieldwood and Venari have gone from startups to major players on the Outer Continental Shelf and in the deepwater Gulf of Mexico in a matter of months.
Independents such as Fieldwood, Venari, Ridgewood Energy Corp., and Talos Energy LLC, among others, are making a splash these days in a basin they believe still has remarkable growth possibilities.
"We think there is a lot of potential on the Shelf and in what we call midwater: 800 to 3,000 feet depth," says Matt McCarroll, president and chief executive officer of Fieldwood. "Given the substantial footprint Fieldwood has established, we are well positioned to pursue our strategy of acquiring and consolidating interests in high quality producing assets, complemented by an active drilling and recompletion program."
Brian Reinsborough, chief executive officer and president of Venari Resources, agrees. "I think we will see big discoveries and increasing success rates, all right here in our backyard," he enthuses.
Reinsborough elaborates, "We have a great land position, and Venari is now the 14th largest leaseholder in deep water, with 180 leases. We are drilling high-impact, strategically important wells. I founded this company to focus on the deepwater Gulf of Mexico. The timing for Venari coming into the market was perfect with the advances in technology and seismic imaging, and with the industry emerging from the prolonged moratorium."
Tim Duncan, president and chief executive officer of Talos Energy, says he thinks the deepwater Gulf of Mexico is in an interesting time of transition for the more mature fields that were discovered in the early 2000s.
"There certainly are exciting things happening on the exploration side for large firms able to drill $150 million-$200 million wells and be involved in billion-dollar development projects," Duncan reasons. "But I think mature deepwater properties that still have active production, although far less than their peaks, with some exploitation upside, while maybe material for the larger firms, could be better suited for appropriately capitalized smaller operators with a history in the area."
Major Shelf Player
McCarroll says he started Fieldwood, a Houston-based portfolio company of Riverstone Holdings LLC, in 2013 with the idea of focusing on acquiring and developing conventional oil and gas assets in North America. That focus quickly became the Gulf of Mexico when Fieldwood announced on Sept. 30 closing its acquisition of Apache Corporation's Gulf of Mexico Shelf business for $3.75 billion.
"We went from eight employees when we started to more than 600 employees by Nov. 1," he muses. "When we were contacted by Apache, the opportunity to acquire the best-run business in the Gulf made sense. We hired the Apache staff and moved into the Apache offices, so our employees are doing the same jobs and working in the same offices they were before. The transition has been seamless."
Previously, McCarroll founded Dynamic Offshore Resources, and his Fieldwood management team was with him at Dynamic before the company was sold to SandRidge Energy Inc. for $1.3 billion in 2012.
Then on Jan. 6 of this year, Fieldwood announced the acquisition of SandRidge Energy's Gulf of Mexico and Gulf Coast business unit for $750 million, buying many of the same assets Dynamic had sold to SandRidge only two years earlier.
So in a matter of months, Fieldwood Energy went from a startup company to owning the largest asset base on the GOM Shelf with a pro forma leasehold comprising more than 650 blocks, according to McCarroll, and net production of 125,000 barrels of oil equivalent a day, of which 54 percent is oil.
According to a Netherland, Sewell & Associates reserve report, as of Dec. 1, total proved reserves attributable to the assets acquired from SandRidge were 57.2 million barrels of oil equivalent, of which 51 percent were oil and 72 percent were developed. Additionally, probable reserves were put at 11.4 MMboe and possible reserves were 9.0 MMboe, resulting is total 3P reserves of 77.5 MMboe, McCarroll reports. Daily production exceeds 25,000 boe and is approximately 90 percent company operated, according to Fieldwood's acquisition announcement. Sand­Ridge retains a 2.0 percent overriding royalty interest in two exploration prospects.
"We are planning an active drilling program," McCarroll vows. "We intend to drill 30-45 wells this year and hope to keep five to nine rigs working all year. There is a lot of opportunity to grow our production."
In addition to the assets on the Shelf, the SandRidge acquisition also included a small amount of onshore Gulf Coast production (less than 2,000 barrels a day), according to McCarroll, as well as the deepwater Bullwinkle Field that McCarroll's Dynamic Offshore Resources' team acquired from Shell in 2010. Although there is an active development program under way at Bullwinkle, he says he believes it also offers subsalt Miocene sands at 17,000-23,000 depth that have not previously been drilled.
"We will consolidate the production and operations of Sand­Ridge and Fieldwood, which will give us the opportunity to be more efficient," McCarroll says. "We now own and operate more than 600 producing structures in the Gulf. Fifty percent of our production is oil. With our new drilling program, we are looking for increased oil production. But at current gas prices, there are a lot of gas projects on the Shelf that make sense also."
He has high praise for Riverstone Holdings, which has provided the capital for Fieldwood.
"Riverstone has been our private equity partner for six years (including the time McCarroll operated Dynamic Offshore Resources)," he relates. "We couldn't do what we have done without it. When the SandRidge deal closes in February, Riverstone will have funded close to $5 billion in acquisitions, and we are not slowing. We believe there will be more consolidation opportunities. We have a good mix of exploration and development drilling, recompletions, and acquisitions."
Deepwater Activity
Brian Reinsborough formed Dallas-based Venari Resources in May 2012 with an infusion of $1.1 billion in private equity from Warburg Pincus, Kelso & Company, Temasek, and The Jordan Company. Less than a year later, Venari hit back-to-back home runs, announcing two giant deepwater discoveries in a week's span last March.
The company announced its first major oil discovery on March 19 at its Shenandoah prospect in Walker Ridge Block 51, along with its partners Anadarko Petroleum (the operator of the project), ConocoPhillips, Cobalt International Energy, and Marathon Oil Corporation. The Shenandoah-2 well was drilled in 5,800 feet of water to a total depth of 31,405 feet. Reinsborough says Shenandoah-2 encountered net oil pay in excess of 1,000 feet. The well is 1,700 feet structurally downdip from the Shenandoah-1 discovery, which was drilled in Walker Ridge Block 52 in 2009.
Six days later, Venari and Chevron, the operator of the Coronado prospect, announced a "very significant oil discovery" in the same deepwater Lower Tertiary subsalt trend in the Walker Ridge region, about six miles from the Shenandoah discovery. It is 190 miles off the Louisiana coast. Drilled in 6,127 feet of water and extending to a total depth of 31,866 feet, Coronado has more than 400 feet of net pay, the companies say.
Venari holds a 10 percent working interest in Coronado as a partner with Chevron (40 percent), ConocoPhillips (35 percent) and Anadarko Petroleum Corp. (15 percent).
Reinsborough says Venari didn't just sit on its laurels after the Shenandoah and Coronado announcements. He says the company was active in last spring's Central Gulf OCS lease sale.
"We got Walker Ridge Block 187, which was the most contested block in the sale, for $46 million," he reports. "We beat six other companies. Then we made a deal to transfer operatorship. We also bid successfully on another prospect that positions our company well. The Walker Ridge area is a very prolific minibasin. We think Shenandoah is one of Anadarko's biggest discoveries, and that is saying something."
Venari also has made a large lease acquisition with ConocoPhillips in the past year, acquiring 150 blocks, bringing its total to 180.
Reinsborough says Venari is buying the most advanced wide-azimuth seismic imaging to study the inboard Wilcox Trend, too. "We see our heavy investment in state-of-the-art seismic as a means to derisk our investment decisions," he remarks.
"In 18 to 20 months, we have gone up the ladder quickly with two discoveries and a large joint venture," he boasts. "We are drilling three wells as we speak (in January) and expect to drill two to four wells a year (as a nonoperator)."
Reinsborough says Venari is participating with Chevron in drilling an appraisal well adjacent to the Coronado discovery well, and is drilling a high potential exploration well called Deep Nansen with Anadarko Petroleum as the operator. It also plans to drill the Titan exploration well with Murphy Oil Corporation at the end of the first quarter in the Norphlet play in the Eastern Gulf of Mexico, and another Wilcox test called Anchor with Chevron as operator.
Reinsborough points out that it takes a long time from discovering a deepwater well such as Shenandoah or Coronado to actually bringing it on production. "It is a long process of time and effort, usually four or five years," he remarks. "Anadarko is looking at a 2018 time frame for Shenandoah. But when they come on line, these wells are very prolific."
Private Equity
With deepwater Gulf of Mexico wells costing as much as $50 million-$100 million to drill, it obviously takes lots of capital, partnerships and joint ventures to make these projects possible. Kenny Lang, president and chief operating officer of Ridgewood Energy Corp., says his company has an interesting business model.
"Fundamentally, we are an oil and gas exploration company with a private equity wrapper," he describes. "If you come to our office, you will see maps, geoscientists and engineers, and we work like any typical oil company. But our access to capital is novel."
Lang explains that Ridgewood has been a private, family-owned company for more than 30 years. "Historically, it raised money through the high-net-worth channel and invested in the Shelf exclusively, from the beach to 1,000 feet," he relates. "Of course, that was predominately natural gas. When the financial markets collapsed and gas prices dropped to $2 in 2008, it became obvious that strategy wasn't going to yield many benefits. The company wanted to remain in the Gulf, but it wanted to shift to liquids. To do that, you have to go to deep water."
That is when Lang came onboard. He had spent 24 years with BP, serving from 2002 to 2008 as senior vice president of the company's GOM business. Lang said he was more than 50, fully vested, and had decided to do something different when he left BP.
"I connected with Ridgewood," he recalls. "I liked the people, and I have spent the past four and a half years delivering on our strategy. We formed a key joint venture and did several important deals, and began participating successfully in lease sales. We put together an attractive portfolio in a short time, but we didn't have adequate capital to move all our opportunities forward.
"We went to Riverstone in 2010. It became a 50 percent partner with Ridgewood with an initial commitment of $200 million," he continues. "That was a bold move because we didn't know when–or if–we would be able to get back to work, since this was occurring coincident with the Macondo incident. In fact, the first time we met with Riverstone, the fire was still burning."
Lang points out, however, that Ridgewood has drilled eight wells since that initial investment from Riverstone, and seven have been successful.
"Our strategy is simple," he states. "Our aim is to find and develop oil and gas for $20 a barrel or less. We made a decision to not operate. That was a big mind shift for me. At BP, I had 2,000 people under me and we operated almost everything. But after four-and-a-half years at Ridgewood, I see that as a strength in many ways.
"When you are the operator, everything is urgent," he explains. "We add strategic value at the point of accessing opportunities. We are careful who we partner with. We go to lease sales, we have the best geoscience available, and we invest heavily in seismic imaging."
Lang, who says his company says no to opportunities much more often than it says yes, points out that Ridgewood typically takes a 20-40 percent interest in a project, and the operator takes the rest or includes a third party. He claims Ridgewood has had a 70 percent success rate in the Gulf since 2008, compared with an industry average of 45-50 percent. He attributes that success to four things.
"One is focus," he offers. "We don't explore everywhere. We have a very well-defined niche. Our team is second. We have only 19 people in our group in Houston, but no one has fewer than 26 years of experience, the majority of it in the Gulf. It is a hand-picked group.
"Technology is third," Lang continues. "We made a commitment early to arm our guys with the best technology and seismic imaging; we refresh our datasets regularly. And four is discipline. We simply go in as if it is going to work. Before we pursue a project, it has to be better than 50-50. We say no to some things that ultimately will work, but that is OK. It has been my observation that performance wanes when a company has a ton of money. You have to be disciplined."
Round Two
On Jan. 13, Ridgewood Energy announced it had closed its latest private equity fund, Ridgewood Energy Oil & Gas Fund II LP, with total commitments of $1.1 billion. Fund II is a continuation of Ridgewood's investment program focused on generating superior risk-adjusted returns for investors by drilling and developing high-potential new oil fields.
Lang says the commitments for Fund II were sourced from 39 institutional investors, including a number of state and union pension plans, university endowments and foundations, and a number of private wealth managers and family offices. He adds that Riverstone thus far has matched whatever Ridgewood has raised (being a 50 percent partner). Riverstone already has committed $500 million for Fund II-related projects, he mentions.
Fund II has invested in two oil wells already, one of which, the Dantzler Project, was drilled in partnership with Noble Energy Inc. and resulted in an oil discovery.
A news release from Noble announced wireline logging data indicated the Dantzler exploration well encountered more than 120 net feet of primarily crude oil pay in two high-quality Miocene reservoirs. The discovery well, located in Mississippi Canyon Block 782, was drilled to a total depth of 19,234 feet in 6,580 feet of water. Dantzler is located 12 miles west of Noble's Rio Grande development area, which includes discoveries at Big Bend and Troubadour, the announcement points out.
Gross resources discovered at Dantzler, according to Noble Energy, are estimated at 55 million-95 million boe.
"We drilled a dry hole with Apache last spring," Lang offers, "but then we drilled the Dantzler well with Noble and W&T Offshore Inc. It is considerably larger than our original internal view to effectively offset the dry hole fully."
He says Noble predicts production at Dantzler will begin in spring 2016. Although it can take several years to bring a deepwater well on line, Lang notes that deepwater wells such as Dantzler can come on producing 10,000-20,000 barrels a day.
"Between now and the end of 2015, we plan to drill as many as 10 exploratory wells, and we also will be drilling development wells from our recent discoveries," Lang relates.
While the Dantzler project is part of Fund II, Ridgewood also has two projects about to come on line that were part of the company's first fund and the initial Riverstone investment. Ridgewood owns 11-22 percent of the three initial fields that will produce into the Delta House floating production system, which is under development and operated by LLOG Exploration. Lang says it will start production in the first half of 2015.
"Another big project is the Coelacanth development in Ewing Bank Block 834," he adds. "Walter Oil and Gas is the operator, and we own 32.5 percent. We are building the third largest jacket in the Gulf at Coelacanth, a 1,200-foot structure. It will begin production in early 2016."
Further Development
The story of Talos Energy, according to President and CEO Tim Duncan, is one of a management team that worked together for 14 years through two previous successful private-equity-backed companies that generated significant value for their owners. Talos is the third company in which the management team has been together.
"The core of our strategy is understanding a couple geological trends (Plio-Pleistocene and Miocene aged rocks) extremely well, and we are comfortable operating in all the areas where these plays are prolific, whether that is South Louisiana, the Gulf of Mexico Shelf, or the GOM deep water," he says.
"We always have believed having a regional seismic database allows us to have the most optionality with respect to our capital program," Duncan adds. "We keep a clean balance sheet so we can focus on growing through the drill bit, which we believe creates superior returns. The story has never changed, just the technology we are using now compared with when we started."
Talos Energy announced last May that it had initiated production from the Green Canyon 237 T-5 discovery.
"Green Canyon Block 237 is part of the Phoenix Field complex," Duncan explains, "and is a combination of two previously developed deepwater fields: Chevron's Typhoon Field and BHP Billiton's Boris Field. Both went off line after Hurricane Rita in 2005 and were brought back on in 2010.
"The Green Canyon 237 T-5 well was drilled by our wholly owned subsidiary, Energy Resources Technology (ERT), and was drilling at the time we announced purchasing ERT in December 2012," Duncan says. "The well was logged as a discovery shortly after the announcement, and came on line in May at a gross rate of 5,000 boe/d (80 percent oil). We own a 70 percent working interest and operate the field, which produces to the Helix Producer 1, a floating production unit ship owned by Helix."
After closing the transaction to acquire ERT and because of the T-5 discovery, Duncan says Talos Energy put a new asset team on the project.
"We reprocessed the wide azimuth seismic and began putting the 65 MMboe this complex has produced to date 'back into the ground' to understand what upside remained, and we think it is substantial, with five to six additional drilling locations, several of which are proved undeveloped locations," he describes. "We have a rig arriving in the second half of the year to drill two or three wells, and we are looking for a partner to join in the continued development of the asset."
Majors Still Involved
While independents may be taking expanded roles in the Gulf of Mexico, the majors are still "major" players. For example, BP and ConocoPhillips jointly announced in December an oil discovery at the Gila prospect. BP is the operator, and ConocoPhillips owns 20 percent.
BP spokesman Brett Clanton says the Gila prospect is BP's third significant discovery in recent years in the emerging Paleogene trend in the Gulf, and reflects the company's ongoing commitment to the U.S. offshore region. BP previously announced two other Paleogene discoveries in the Gulf of Mexico: Kaskida in 2006 and Tiber in 2009.
"We have had a good track record of success in the Paleogene," Clanton says.
The Gila discovery was made by a well on Keathley Canyon Block 93, 300 miles southwest of New Orleans in 4,900 feet of water. It was drilled to a depth of 29,221 feet, penetrating multiple Paleogene-aged reservoir sands, Clanton says.
In ConocoPhillips' announcement, the company calls the Gila prospect its fourth discovery in the deepwater GOM. It previously announced discoveries at Tiber (along with BP) in Keathley Canyon Block 102 (18 percent working interest), Coronado in Walker Ridge Block 98 (35 percent working interest), and Shenandoah in Walker Ridge Block 51 (30 percent working interest).
"We have built a significant GOM deepwater acreage position and have achieved success with discoveries at Tiber, Shenandoah, Coronado and Gila, validating our exploration strategy in the prolific Lower Tertiary trend," says Larry Archibald, senior vice president of exploration, in ConocoPhillips' December announcement.
Appraisal wells are being drilled on Tiber and Coronado.
ConocoPhillips holds an interest in 454 Gulf of Mexico deepwater blocks covering 2.2 million net acres, primarily focused on the Lower Tertiary in the Central and Western Gulf, the company says. It says exploration drilling is also under way at the Deep Nansen prospect (East Breaks Block 602. The company says it expects to initiate a multiwell, operated drilling program this year.
Clanton notes that BP also added two rigs in November, giving it a company-record nine rigs operating in the Gulf. "That is another clear sign of momentum for BP in the deepwater Gulf," he assesses. "BP has the largest leasehold position with more than 650 blocks in the Gulf, and it is one of the largest producers. We will invest an average of $4 billion a year for the next 10 years. BP clearly is committed to the Gulf of Mexico."
Clanton also notes that BP owns four large deepwater platforms–Thunder Horse, Mad Dog, Atlantis and Na Kika–which will serve as hubs for future GOM development.