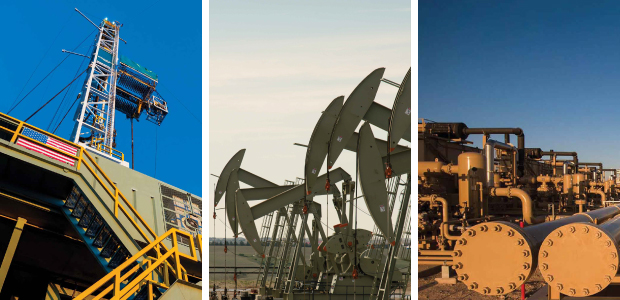 Coming Next Month
June 2022
While privately-held players continue to lead the way in drilling and completion activity, and consequential production growth, the all-hands-on-deck signals are flashing. Even the most disciplined public companies are increasing spending to maintain production. Is a super cycle in store for domestic upstream activity? Alarms about dependence on interruptible energy supplies are telling, as is the oil and gas industry's resolve to tackle supply chain problems and mobilize human resources. It's a tough new ballgame, yet many independents are swinging for the fences!
June 2022
AOGR
Permian Playmakers
Increased drilling and completion activity, supported by the buildout of additional infrastructure, point to Permian production hitting all-time records this year. AOGR catches up with several of the movers and shakers, including white-hot Delaware Basin players that are racking up peer-leading numbers, such as Continental Resources, PDC Energy, U.S. Energy Development and Earthstone Energy. Reports also spotlight Ring Energy's ongoing success in the San Andres play on the Northwest Shelf and Central Basin Platform, and detail key findings from an Oxy test project in the Delaware using next-generation diagnostics to analyze completion performance.
Artificial Lift Technology
With strong commodity prices, operators from West Texas to West Virginia are zeroing in on optimizing artificial lift performance to maximize production and monetize both oil and natural gas reserves. In June, special reports focus on right-sizing field compressors for optimal gas lift injection, and new technology to extend the durability and run life of artificial lift equipment. The issue also looks at ways to reduce operating costs for problem-solving jet pump applications and reveals how ultraefficient plunger lift systems can now handle higher volume wells.
Mid-Year Outlook
The second half of 2022 begins amidst substantial geopolitical risk, growing concerns over supply shortages and inflation, and both WTI and Henry Hub trading at their highest marks in more than a decade. Industry analysts in AOGR reveal why the implications are clear: U.S. LNG is being called on first and foremost to make up supply-side deficits in Europe and Asia. At the same time, overly-optimistic expectations for renewables, a dearth of U.S. fuel-switching capacity, and amplified calls for oil and natural exports are underscoring the need to ramp the development of America's abundant resources.
Pre-ready files are due for the June issue EOD June 1.
Please call 1-800-847-8301 to reserve your space for better business today!