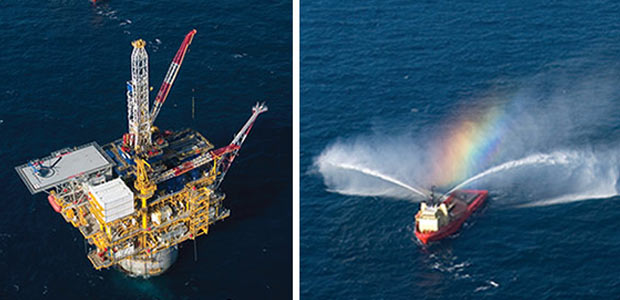 April 2009 Cover Story
New Batch Of Discoveries In Deep Water Keeping Gulf At Forefront Of U.S. Production
By Lars Herbst
NEW ORLEANS–With more than 70 percent of Gulf of Mexico oil production coming from wells in water depths greater than 1,000 feet, it is hard to believe deepwater wells accounted for only half of that just 10 years ago. Along with that increase came much activity: leasing, exploration, and technological advances both in geological data and operational techniques.
As one of the world's premier petroleum basins, the Gulf of Mexico plays a vital role in our nation's energy supply. A vast array of geologic trends and plays, from the Continental Shelf to ultradeepwater environments, has been actively explored and developed throughout the years.
In recent years, Plio-Pleistocene and Miocene minibasins, ultradeepwater Lower Tertiary prospects, and deep Shelf areas all have been explored and developed. Technological advances have been required to facilitate activities in these geologic settings, and expanded infrastructure has supported the delivery of oil and natural gas to the market. Record numbers of rigs have worked in the deepwater Gulf in recent years, and next-generation rigs are being built and contracted for future use in the ultradeepwater frontier environment.
Deepwater Plays
In the deepwater Central and Western Gulf, exploration and development of established deepwater subsalt and minibasin Miocene plays have been strong. Additional commercialization of these reservoirs has been driven by expanding infrastructure, a turnover of acreage leading to further exploration, and a well-documented spike in commodity prices, which reached record highs in summer 2008. Improved subsalt seismic imaging has resulted in enhanced delineation of new opportunities in these established plays, from Garden Banks to Mississippi Canyon.
The Eastern Gulf of Mexico has seen continued exploration of Miocene objectives, particularly amplitude-associated prospects in stratigraphic and salt-related traps. Exploration activities and leasing of Mesozoic prospects in the Eastern Gulf (from Mississippi Canyon to Lloyd Ridge) have focused on Jurassic Norphlet sands, spurred by discoveries at the Shiloh and Vicksburg prospects in Desoto Canyon.
The Lower Tertiary trend has been a continued focus of seismic acquisition and drilling in the deepwater Gulf, specifically in Alaminos Canyon, Garden Banks, Keathley Canyon and Walker Ridge. This trend has the potential to produce billions of barrels of oil, but some unique technical challenges have required large investments to move toward economic viability. Improved imaging of complex subsalt features, improved understanding of depositional systems and reservoir distribution, and technological advances in drilling equipment have driven exploration.
Because many Lower Tertiary discoveries have been in the ultradeep water, operators have expanded development infrastructure such as the Perdido regional host and have introduced alternative production systems such as the Cascade/Chinook floating production, storage and offloading system into a new and undeveloped region of the Gulf with no previous infrastructure. Exploratory successes and healthy operator prospect inventories indicate that Lower Tertiary exploration will be significant for years to come.
The vast majority of high bids in recent lease sales have been for deepwater and ultradeepwater blocks. The number of wells drilled in water depths greater than 5,000 feet has increased greatly as well. These trends will continue in the foreseeable future as operators acquire prime acreage in the form of numerous expired deepwater leases, and explore and develop their best prospects before leases expire.
Clearly, the number of leases that will be relinquished, terminated, or expire will influence activity in future lease sales. Given the fact that most companies can drill only a small percentage of their active leases, it is likely that many high-quality leases will expire without being tested. Ultimately, an untested and undeveloped lease will expire and possibly be leased again.
Milestones
The majority of Lower Tertiary and Miocene plays exist in the deepest waters of the Gulf of Mexico. The Minerals Management Service recognizes that commercial drilling, completion and production of these reservoirs will require some demanding technological advancements. We also recognize that reservoir complexity, compartmentalization, and production characteristics such as high pressures and temperatures, low gravities, high viscosities and low permeabilities will require certain technologies that are in their infancy.
Additionally, many prospect locations are more than 100 miles from the nearest pipeline infrastructure. Novel "new technology" items have been devised to solve some of these problems. Examples include:
FPSOs, which may be well suited for commercializing areas of the Gulf that lack nearby infrastructure and contain poorly understood reservoirs;
Subsea pumping and separation systems;
Vertical access risers; and
High-integrity pressure protection systems (HIPPS).
There have been a number of early players who have risen to meet and tackle these challenges. Among them is Shell Oil Company's Great White, Tobago and Silvertip complex, which will utilize the Perdido regional host spar in Alaminos Canyon, and will exploit all the previously referenced new technologies except HIPPS. The host facility will be the deepest direct vertical access spar in the world, and will be moored on the Great White in 8,000 feet of water.
The host will be secured by nine chain and polyester rope mooring lines, and more than 20 wells will be linked to the spar. Production will be separated subsea and boosted to the drilling and production hub, which was designed with the capacity to process 130,000 barrels of oil equivalent a day. This project is expected to commence by the end of the decade.
The Blind Faith Field in Mississippi Canyon utilizes a deep-draft semisubmersible hull. Production commenced in November 2008. The project should produce 30,000 barrels of oil and 30 million cubic feet of natural gas a day from a depth of more than 24,000 feet. Those output figures likely will rise to 65,000 bbl/d oil and 55 MMcf/d of gas. Chevron is the operator of Blind Faith, with partner Anadarko Petroleum Corp.
The Petrobras-operated Cascade/Chinook FPSO is the first of its kind in the Gulf, and will employ most of the aforementioned technologies. Located in northern Walker Ridge in 8,200 feet of water, the facility will be among the first to produce from deep discoveries in the Lower Tertiary. Petrobras and Devon Energy Corp. are partners on Cascade, while Petrobras is partnered with Total E&P on Chinook.
MMS approved the FPSO development plan in April 2008. The facility is specified to have 600,000 barrels of oil storage capacity, 80,000 bbl/d processing capacity, and 16 MMcf/d of natural gas export capacity. It will include a disconnectable turret in the event of a hurricane or tropical storm.
The next step in the development process is an MMS review and approval of the deepwater operations plan, which outlines the details and capabilities of the FPSO facility and associated new technologies. First production is planned to begin in 2010.
FPSOs provide several technological advantages and flexibilities that could enable them to further commercialize the deepwater environments of the Gulf. They operate in a wide range of water depths and have ultradeepwater capabilities. In the case of tropical storms and hurricanes, FPSOs can disconnect and seek shelter, drastically reducing potential facility repair costs and shut-in production.
Key Techniques
Improvements in seismic imaging technology also have been critical in expanding exploration and development into the deeper waters in the Gulf of Mexico by increasingly providing the ability to unravel the complex geometries of the thick salt layers in order to illuminate the potential reservoirs below. A number of seismic technologies, including wide azimuth surveys (WAZs), improved migration algorithms, and updated streamer technologies have been implemented on a large-scale speculative basis, providing expanded access for exploration activities.
Since 2006, multiclient WAZs have proliferated, with eight WAZ permits issued in 2007, and seven WAZ and one rich-azimuth survey permitted in 2008. Complex-azimuth surveys routinely include multiple shot and streamer vessel configurations with lateral offsets to provide increased spatial distribution of the data, thereby improving the signal-to-noise ratio and providing natural attenuation of some multiples.
Surveys routinely are processed to depth with the multiple processing algorithms available, including wave equation and beam migration to help resolve the complexities of steep-dipping salt. Additionally, new streamer technologies are being introduced to reduce noise and sharpen their image of the subsurface.
Another emerging technology in the Gulf of Mexico is controlled source electromagnetic (CSEM). Used to determine the resistivity of potential reservoirs, CSEM acquisition entails accurately placing a grid of bottom receivers and towing an electromagnetic source close to the ocean floor. Collecting CSEM surveys in the Gulf has expanded from one survey permitted in 2005 to six in 2006, four in 2007, and six in 2008.
CSEM has limitations, including depth of penetration, but the tool typically is integrated with seismic data to reduce exploration risk in the deepwater Gulf of Mexico Outer Continental Shelf.
Shallow Shelf
The Continental Shelf also has experienced continued exploration for deep gas in Miocene objectives, driven by successes such as McMoRan Exploration Co.'s Flatrock, Hurricane and JB Mountain in northern South Marsh Island. Leasing has been under way for deep-Shelf structures with Lower Tertiary objectives for several years.
While operators such as McMoRan continue to explore the deep Shelf trend, the shallow geology (less than 15,000 feet below the seafloor) in less than 200 meters of water in the Gulf of Mexico is considered a "mature province." Seven of the 10 largest fields, based on proved reserves, in the Gulf are on the Shelf. However, those fields contain only 5 percent of the top 10 fields' remaining proved reserves. Future large fields are not anticipated to be discovered in the densely drilled conventional shallow waters of the Shelf.
Conventional shallow water drilling on the Shelf shows a strong decline trend in both exploration and development over the past five years (Table 1). The decline can be partially attributed to major hurricanes that entered the Gulf of Mexico, but more likely reflect the expected trend of a mature province. Leasing on the Shelf continues to be active, which is usually a precursor to drilling activity.
Higher oil and gas prices would allow the smaller-prospect tracts to be bought or leased, and then drilled and produced. These shallow Shelf prospects are attractive to smaller independents because of to their low risk, proximity to infrastructure, and faster return on capital.
External Factors
In the near future, MMS expects lower oil and natural gas prices to cause reduced bidding activity on the Shelf as a result of shorter lease terms, and thus shorter turnaround times between leasing and drilling. In addition, much traditional Shelf exploration targets small gas accumulations that may not be viable during the economic downturn.
However, bidding activity on deepwater and ultradeepwater leases is expected to remain reasonably consistent because of longer lease terms, which provide lead-in times to drill and develop prospects. Additionally, most recent discoveries have been oil, which is forecast to increase in price once the economic downturn ends.
The 2005 storm season dealt the Gulf of Mexico oil and gas industry a smashing blow. As a result, a foremost concern of the MMS has been rigs losing their station-keeping ability and going adrift, causing damage to pipelines and infrastructure. Working with the American Petroleum Institute and members of the offshore industry, we have modified mooring standards, which in many cases have upgraded mooring for mobile offshore drilling units from eight lines to 12 or 16.
The MMS also now utilizes a computer program that automatically calculates an in-depth risk assessment, which analyzes the probability and consequence of a MODU being moored in a variety of stations during certain at-risk periods. This resulted in 35 of 62 mooring locations being approved without having to meet specific conditions, and 25 more being approved on conditional bases for the 2008 hurricane season.
The new standards proved to be highly successful, with only 15 percent of rigs going adrift in 2008, compared with 63 percent adrift during the 2005 hurricane season. Only two rigs account for this statistic, and neither caused any damage, consistent with risk analysis prediction.
Looking Ahead
While independents have remained active in the deepwater Gulf of Mexico in recent years, the return of the major oil companies and the continuing influx of foreign and national oil companies to the deep- and ultradeepwater Gulf have provided for increased activity at recent lease sales, largely because of the number of blocks that have expired since the previous lease sale and are included in the current sale.
The volume of deepwater leases expected to expire will decrease slightly between 2009-10 and
2011-12 (1,245 leases to 1,179 leases). This may cause an increase in competition for the newly available blocks.
Sustained sale activity and an anticipated increase in competition will occur as major deepwater projects continue to come on line. In 2008, BP began production from its Thunderhorse project with partner ExxonMobil. With each of its first four wells producing about 50,000 barrels of oil a day, this project had a very significant impact during a year in which such positive strides often were overshadowed by the negative impacts of Hurricanes Gustav and Ike.
Other major 2008 projects included ChevronTexaco's Blind Faith project and the BP-operated Atlantis project. The latter actually commenced production at year-end 2007, but ramped up production significantly during 2008. BHP Billion is partnered with BP on Atlantis. MMS anticipates many more deepwater startups in 2009. Most of these will be subsea tiebacks to existing facilities, but we also anticipate several major projects with stand-alone facilities such as ChevronTexaco's Tahiti (partners are Statoil and Shell) and Murphy Oil Corp.'s Thunder Hawk (partners are Dominion, Statoil and Marubeni Offshore Production).
The frontier, deepwater Lower Tertiary play is expected to yield its first oil in 2010, with Shell's Perdido regional host and Petrobras' Cascade/Chinook projects expected to begin production that year.
Gulf of Mexico natural gas production is expected to rebound in 2009 as production shut in during the 2008 hurricane season continues to be restored. The Anadarko-operated Independence Hub project is expected to continue supplying more than 10 percent of the Gulf's natural gas output. Beyond 2009, however, it will be a significant challenge for operators to find enough new natural gas resources to offset the natural decline of existing fields.
However, the major new projects in deepwater Lower Tertiary plays should push Gulf oil production to higher levels over the next few years. Maintaining that high level of oil production will depend on industry's ability to continue finding and developing new deepwater resources and the success of the Lower Tertiary trend.

LARS HERBST is director for the U.S. Minerals Management Service' Gulf of Mexico Region, and is responsible for managing more than 7,000 federal leases off five Gulf Coast states as well as a staff of 550 geologists, geophysicists, petroleum engineers, biologists, environmental scientists, and offshore inspectors. In his 25 years of service at MMS, Herbst also has served as deputy regional supervisor for district operations in the office of field operations in the Gulf of Mexico Region. He began his career in Schlumberger's well testing group, and joined MMS in 1983 as a staff engineer in the Gulf Region technical assessment unit. Herbst holds a B.S. in petroleum engineering from Louisiana State University.