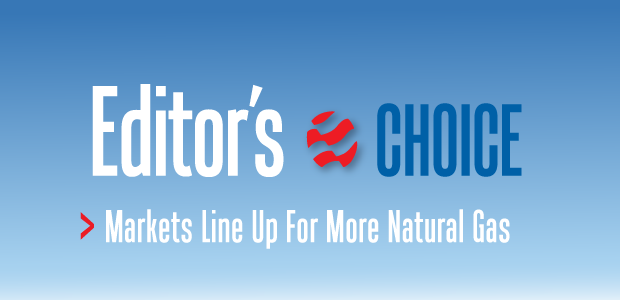 January 2014 Editor's Choice
Promoting Natural Gas
Markets Line Up For More Natural Gas
By Charles Stanley
WASHINGTON–When the shale gas revolution began to hit full stride, there was an understanding in the energy producing community that this was a story worth telling to the American people. The technologies of hydraulic fracturing and horizontal drilling were unlocking natural gas from previously inaccessible formations, creating abundant and clean domestic energy to power our homes, vehicles and factories.
In less than a decade, the United States went from expecting long-term imports of natural gas to becoming the world's largest producer of the resource. The rise of shale gas has expanded the production map greatly, with plays now spanning nearly two-thirds of the country. With this growing reach came questions about the safety of the industry's production activity from communities that were less familiar with energy production.
Against this backdrop, America's Natural Gas Alliance was formed in 2009. In its early days, our efforts focused on three key priorities:
Raising awareness of the game-changing nature of domestic shale gas discoveries;
Highlighting the safe and responsible development of natural gas; and
Promoting greater use of the resource to benefit the nation's economy, environment, and energy security.
As ANGA enters its fifth year, its mission is more focused. As a nation, the United States no longer is asking whether this resource should be developed. From the White House to the Republican leadership, and from the conservative governor of Wyoming to the liberal governor of California, the nation is embracing the growing use of natural gas.
In order to take full advantage of this opportunity to create jobs, improve the environment, and strengthen U.S. energy security, ANGA's mission is focused squarely on driving demand for natural gas across the power generation, industrial/manufacturing, and transportation sectors. Day to day, this means helping to develop emerging markets, expand infrastructure, and work with existing and new customers to ensure they have confidence in the long-term affordability and reliability of natural gas.
Power Generation
In terms of volume, power generation clearly presents the greatest growth potential. It is no secret that steady, affordable supplies of natural gas are driving decision-making by electric utilities. The U.S. Energy Information Administration, market analysts Wood Mackenzie, and others have forecast stable prices, remaining under $6.00 an MMBtu, for the next several decades. In fact, natural gas now offers the lowest levelized cost of electricity among all energy sources, according to the EIA.
Thanks to technological advancements that allow us to ramp up production quickly, and the geographical diversity of production and storage, historical price volatility is largely expected to be just that–a thing of the past.
The utilities getting on board with natural gas are some of the heaviest hitters in the game. The Tennessee Valley Authority–the largest public power utility in the country–serves 9 million people across seven states. Just two years ago, natural gas was between 3 and 5 percent of TVA's total fuel mix. According to TVA, in fiscal 2012 this figure jumped to 20 percent, and it continues to rise.
Southern Company–the fourth largest electric utility in the United States–has tripled its use of natural gas. Natural gas now comprises 45 percent of the company's fuel mix. This is well ahead of the 25 percent share of the overall U.S. electricity fuel market that natural gas enjoys, and I believe it is a sign of what is to come.
EIA projects natural gas will account for nearly two-thirds of new capacity additions in the U.S. power generation fleet through 2040. Yet, even with these additions, EIA forecasts natural gas will make up a still-modest 28 percent of the overall U.S. electricity mix. Personally, I believe history will show EIA's projection to be low. But regardless of the precise share among fuel sources, diversity will be an abiding and important feature of our nation's electricity portfolio.
Beyond the dollar appeal of natural gas for power generation is its environmental appeal. Growing use of natural gas in the power sector is largely responsible for U.S. carbon emissions dropping to their lowest level in 20 years, falling nearly 4 percent in 2012 alone, according to an October EIA announcement. Power-sector sulfur-oxide and nitrogen-oxide emissions also have declined to their lowest levels since 1990–a reduction of more than two-thirds for both criteria pollutants.
Natural gas is a clear economic and environmental winner. In 2014, ANGA will continue its extensive outreach among electric utilities, public utility commissioners, and state and federal regulators to make the case for growing use of this clean, affordable and reliable fuel.
Petrochemical And Industrials
America's natural gas abundance has led not only to a renaissance in U.S. energy production, but to a manufacturing renaissance as well, and at a time when the country's lagging economy is still on the rebound.
For many in manufacturing, natural gas, whether for fuel or feedstock, can account for up to 40 percent of overall production costs. From the Gulf Coast to the Rust Belt, billions of dollars are being invested in the United States by industrial powerhouses such as U.S. Steel, Dow Chemical and BASF Corporation. These investments are all based on a common recognition that the nation's newfound abundance of natural gas, stable supply, and affordability mean a competitive advantage for goods manufactured in the United States.
The American Chemistry Council has identified 124 investment projects valued at $83 billion since 2010 in which U.S. production is expanding in this single sector, thanks to abundant and affordable natural gas. And it projects as many as 1 million more U.S. manufacturing jobs by 2025, thanks to shale gas production.
Business is booming across the country. At its Faircrest, Oh., steel plant, Timken Company is investing $225 million to improve productivity and product offerings. Formosa Plastics plans to spend $1.5 billion on an ethylene plant in Texas; and in November, Odebrecht Group announced plans to build a similar plant to produce ethylene in West Virginia.
Industrials are an emerging focus for ANGA. Here, too, we work to serve as a resource for customers and potential customers through partnerships, sectorwide forums, and targeted outreach. Where external forces such as policy or infrastructure are stalling high-volume projects at the planning phase, or where investment is shifting to out years, we work to help identify and advance a path forward that allows a broad diversity of U.S. industries to put natural gas to work creating jobs and growing our economy.
Natural Gas Vehicles
While demand for natural gas in the transportation sector remains relatively low, the potential cannot be underestimated. United Parcel Service trucks, 18-wheelers, city buses and Ford F-150s are only some of the vehicles that can take to the road powered by natural gas. These vehicles are popular public ambassadors for natural gas–tangible evidence of the positive changes under way.
Yet by all accounts, the United States is still far behind the rest of the world in terms of embracing natural gas for transportation. Of the 15 million natural gas vehicles in use worldwide, only 120,000 are driven on U.S. roads, serviced by 1,200 fueling stations.
Here, too, the momentum is shifting. Major private fleet operators such as Waste Management Inc., along with public fleets such as Los Angeles County, are converting their vehicles and reaping enormous fuel cost savings with natural gas that is priced one-third less than conventional gasoline, on average.
On-road, the heavy duty trucking market is expanding rapidly, with every major manufacturer now offering a natural gas option. According to Citigroup, up to one-third of the U.S. trucking fleet may run on natural gas by the end of this decade. To date, this progress has occurred only in pockets.
In 2014, ANGA will focus on connecting the dots–from end-users such as shippers, to energy providers such as fueling stations, to those delivering the technology, such as engine manufacturers–with the goal of adding more natural gas transportation corridors such as the successful Texas Transportation Triangle.
There also is growing interest in natural gas as a fuel for large marine, rail, and other off-road transportation, as well as for oil and natural gas production itself. This combined opportunity has the potential to add up to 76 billion cubic feet a day in demand by 2040, according to EIA.
U.S. ports also harbor pent-up demand among cargo, service and other vessels, as well as the rail and trucking industries. Between the attractive prices and environmental compliance that natural gas affords the maritime industry, many LNG vessels are being built already at U.S. shipyards, including plans for a new LNG Staten Island Ferry and two massive LNG-powered container ships being built at San Diego's General Dynamics NASSCO shipyard.
As ANGA collaborates with stakeholders across the transportation sector, its members are looking inward also, to what we know best–our own operations–to see how we, too, can better utilize the fuel we produce. In late 2011, ANGA began surveying member companies regarding the needs and challenges of converting more of their own operations to run on natural gas. With this information now in hand, we are creating educational tools and hands-on training sessions to help facilitate this change among our own members and industry peers.
LNG Exports
With so many prospects here at home, it's important not to lose sight of opportunities overseas. For a country that has relied for so long on the energy resources of others, the prospect of U.S. natural gas exports represents a real "game change."
According to the U.S. Department of Energy, selling natural gas to our allies will improve the U.S. trade balance and bring $4.4 billion in net benefits to the nation's economy. Given the enormous supply of natural gas in the United States, and our industry's ability to ramp-up production with growing demand, pursuing the economic opportunities of exports should be a no-brainer.
Multiple independent sources confirm that prices will remain affordable for domestic consumers. Deloitte LLC found that LNG exports would have a price impact of only $0.15 an MMBtu from 2016 to 2030. And Goldman Sachs projects natural gas prices will remain at $4.00-$4.50 an MMBtu through 2018.
Contrary to the concerns expressed by a handful of companies in the manufacturing sector, LNG exports help domestic industrial customers that require natural gas liquids. Additional demand outlets, such as exports, encourage producers to produce. This generates a variety of products, including dry gas and natural gas liquids, which are a highly valued feedstock. Exports are an ideal market for the abundant quantities of dry gas being produced. This means more natural gas liquids for the domestic market.
According to ICF International, LNG exports and the associated increase in production will increase natural gas liquids production by 150,000 to 273,000 barrels a day by 2020.
LNG exports are a clear domestic win on many fronts. But we will miss out on this opportunity if we don't move quickly to approve U.S. export terminals. Global LNG demand is expected to be between 50 billion and 65 billion cubic feet a day by 2020-25. By that time, global LNG capacity will be nearly twice that, with 50 Bcf/d of new capacity expected to be added outside the United States between now and then.
International market rivals, competition for project financing for the multibillion-dollar LNG projects, and the addition of liquefaction and transportation costs to the delivered LNG price in these distant markets, will moderate demand for U.S. exports. But there is still a meaningful opportunity worth seeking, and it's an opportunity that can be realized without impacting the affordable, steady supply available to our domestic customers.
Across all four market segments–power generation, transportation, industrial/manufacturing, and exports–infrastructure remains a critical issue. As the distance from wellhead to consumer shortens, and pipelines offer new, more flexible services to customers, ensuring reliability to large natural gas consumers continues to improve.
"Think About It" Campaign
People may have seen ANGA's "Think About It" advertising in recent months–although it may be less visible, perhaps, than other industry efforts. Our campaign, which will continue in 2014, focuses less on "preaching to the choir"–people who work in or around our industry. Instead, it seeks to reach folks caught in the middle of the nation's energy debates. We want to help them understand the opportunities natural gas offers.
For that reason, "Think About It" shares real-world stories about the benefits natural gas is delivering–not off in a hypothetical future, but right now. The messaging is simple: a southern utility achieving 50 percent emission reductions, a commuter in Los Angeles getting a cleaner ride to work, a rancher in Ohio who has benefitted from leasing his land–real Americans in their own words, benefitting directly from this cleaner domestic fuel.
Local ads bring the story even closer to home, celebrating everything from new natural gas-fueled police vehicles in Conway, Ar., to a century-old family glass-blowing business in Milton, W.V. Taken as a whole, these stories add to one compelling truth: The promise of the shale gas revolution isn't a pipe dream for the future; it's delivering real-world benefits to all Americans today.
The time has come for the United States to make the most of all that its domestic natural gas abundance has to offer. ANGA exists to help facilitate that process. In doing so, we will continue to advance our unique, demand-focused mission, and we will work closely with our many allies–in industry and beyond–to advance a cleaner and more secure energy future with natural gas. Our nation will be stronger for it.

CHARLES STANLEY is chairman, president and chief executive officer of QEP Resources Inc. and chairman of America's Natural Gas Alliance. He has served as president, CEO and a director of QEP since 2010, and as chairman of the board since 2012. He served as executive vice president and chief operating officer of Questar Corporation until June 2010, when QEP Resources was spun off as a publicly traded, independent exploration and production company. Stanley also served as a director of Questar since 2002. Prior to joining Questar, he was president, CEO and a director of El Paso Oil & Gas Canada, and president and CEO of Coastal Gas International Company. In addition to his leadership position in ANGA, he is a director of Hecla Mining Company, and serves on the boards of various natural gas industry trade organizations, including the American Exploration & Production Council.