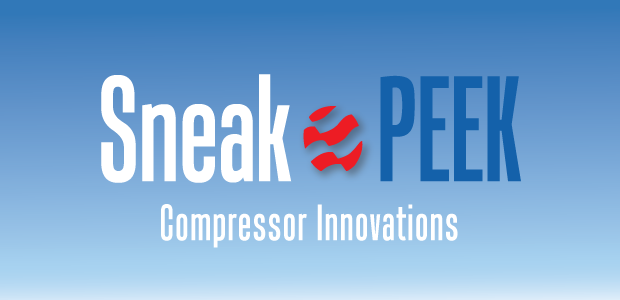 May 2022 Sneak Peek Preview
Industry Busy Meeting Rising Need For Gas Compressors
By Colter Cookson
As the oil and gas industry has adopted the mantra of fiscal discipline, its response to climbing commodity prices has become more deliberate. But respond, it does. The surge in activity is readily apparent in the compression industry, where packagers, contract compression service providers and aftermarket service providers report strong demand.
"It's crazy busy. We are renting compressors for delivery in 2023," says James Barr, vice president of sales for J-W Power Co. "With gas prices above $4.50 an Mcf, the industry is more active in dry gas areas than it has been in a decade. We need new compression for the dry gas production, as well as new compression for the continuing growth of associated gas in oil plays."
This growth is accompanied by a push to shrink emissions, Barr observes. "To help customers in the Permian Basin and the Rocky Mountains reduce emissions, we are converting some of our less-utilized units from natural gas engines to electric motors," Barr reports. "Financial institutions want borrowers to have strong environment, social and governance performance, so we are seeing more requests for electric drives."
Pneumatic actuators also have become more popular, Barr says. "It's always been better to control valves with instrument air when it's available because wet gas can leave liquids in the compressors' dump and supply lines, which can create reliability issues," he says. "However, until recently, there never has been a push to make air available on remote well sites."
"That is changing as operators work to reduce their emissions," Barr continues. "All controllers bleed natural gas when they operate, even snap-acting ones. By replacing natural gas with air, operators can make those leaks harmless."
Many customers are asking J-W to replace air/gas starters with electric equivalents, Barr conveys. "Smaller packages–say 400 horsepower and below–generally have electric starters already," he says. "The amount of starting air required for a larger package, such as one with a Cat 3516 engine, means they need large batteries and potentially dual starters. Add in the requirements to meet electrical standards for safely operating in hazardous areas, and it can become challenging to find the right equipment for a package to use electric start."
As a result, electric starters generally cost more. "The starters also require more maintenance, but some customers consider the cost worthwhile," Barr reports.
Many of today's packages come with blow cases to capture oil and gas discharges from the packing. "On-skid and off-skid blow cases are nothing new, but they traditionally have been added by the customer off skid after the compressor is packaged rather than being included in it," Barr says. He explains that older packages frequently lack the available real estate to support on-skid solutions.
Other Markets
As ESG initiatives reshape the oil and gas industry, they are supporting demand for compressed natural gas used to fuel buses and other fleets, Barr remarks. "Today, a significant portion of our sales and fabrication also comes from renewable gas. For example, we are compressing methane on cattle and dairy farms as well as landfills and other sources," he adds.
Demand for virtual pipelines also is rising, Barr continues. "Companies are using our compressors to take stranded gas and putting it in tube trailers for transport to power plants, drilling rigs and other equipment," he describes. "The virtual pipelines also capture gas that used to be vented when pipelines had to be emptied for maintenance."
J-W entered the compressed natural gas space in the early 1990s. "One reason we chose to invest in that business is that its pulse does not depend on the price of oil or gas," Barr says. "The projects also tend to be planned well in advance, with some requiring a year to come to fruition. This often keeps activity steady when prices fall, which has improved our resilience to price cycles and allowed us to better serve our oil and gas customers."
Lessons learned in the CNG space have helped J-W design reliable compression for enhanced oil recovery and high-pressure gas lift, Barr says. "We have packaged several EOR compressors to support projects that were put on the back burner during the pandemic," he says. "These packages are large, with most capable of injecting somewhere between 12 million cubic feet of gas a day and 20 MMcf/d at 9,000-10,000 psi.
"High-pressure EOR is already in several basins and is spreading to others," Barr says. "The economics can be quite strong for producers, especially as the industry gets better at identifying the reservoirs where it's most beneficial."
Leveraging Data
Archrock finished deploying telematics across its entire fleet late last year as part of a major digital transformation, reports Steve Abernathy, the company's strategic transformation director. "It's early on, but we already have field examples of the data improving our compressors' reliability, efficiency and emissions," he says.
Telematics delivers those benefits largely by simplifying fieldwork. "As we designed the system, one of our objectives was to make technicians' and service managers' jobs easier," he comments. "If we do that, we can provide the customer and our employees a better experience."
Abernathy adds that automation and remote monitoring can make oil field jobs more appealing. "Our compressors need to run 24/7, but no one enjoys getting a call at 2:00 a.m. on Saturday because equipment is down," he reflects. "We all are much better off when we see potential problems ahead of time and can take care of them before they cause unscheduled downtime."
When something unusual does occur, Abernathy says the telematics help technicians address it efficiently. "Before they head to the site, they can access a control system dashboard online and look at the unit's history to diagnose what happened," he illustrates. "In many cases, this lets them grab the parts they will need before heading to the site, which is much faster than diagnosing the problem on-site, then leaving to pick up parts and return, or waiting for someone to deliver them."
Abernathy points out that eliminating unnecessary trips to the field also reduces safety risks and vehicle emissions.
"While deploying the telematics, we upgraded analog units with digital controllers," he mentions. "Most of the upgraded equipment includes encrypted Wi-Fi, so when technicians arrive on-site, they can quickly check the control system and see real-time data using their ruggedized laptop versus the small screen on the unit."
Early Gains
In the long run, Archrock intends to use machine learning algorithms and other advanced analytics to predict equipment issues before they happen, Abernathy notes. However, he stresses that even the simpler analytics currently available can be extremely powerful. "We are already using the data to put together straightforward analytics that gives service managers and technicians indicators of potential problems. For example, we can highlight early warning signs for detonation issues such as head problems and valve issues.
"We are codifying some of our expertise to automatically create reports that show which units warrant near-term attention and which parameters to focus on, with more urgent issues highlighted in red and ones that need to be monitored shown in yellow," Abernathy continues. "This helps our service managers and technicians prioritize, be more proactive and work more efficiently."
Abernathy says that more accessible access to data and better analytics tools often enable Archrock to spot problems upstream of the compressor, then work with its customers to diagnose the cause and address the issue. "We are seeing case after case where this type of collaboration has improved customers' throughput and maximized uptime," he reports.
"By looking at the data, we also have found opportunities to change how we set up, control and tune the equipment that will reduce emissions and increase the reliability and longevity of key parts," Abernathy says. "These changes could be huge. We are confident these alone will deliver significant cost savings each year. Providing more reliable compression services while reducing emissions and costs is a win-win proposition for all stakeholders."
Data Governance
During the two-year process of deploying telematics across its fleet, Abernathy says, Archrock also addressed one of the biggest problems with legacy data: inconsistency. "When we began to analyze old data, we spent a significant amount of time cleaning it up. For example, the same tag–suction pressure–could be labeled different ways across the legacy data field," he explains.
"We do not want to encounter that issue going forward, so we have emphasized data governance, including standardizing tags and creating processes to ensure the data we receive is consistent," Abernathy relates. "This quality control enables the analytics to be consistent, reliable and actionable."
As the data comes into Archrock's data lake, it is monitored to detect anomalies, such as unusually high readings that may indicate a sensor configuration issue, Abernathy notes. "I cannot stress enough how important data governance is," he comments. "It is laying the groundwork for us to better anticipate issues and improve performance."
According to Abernathy, edge computing will play a role in that effort. "The cloud is powerful, but sending data to the cloud, waiting for it to be processed and sending a decision back to our equipment sometimes takes tens of seconds, which is too long for certain applications," he explains. "For instance, we have algorithms on the edge that monitor the data that our units record every second for signs of specific types of impending or actual equipment issues. If those signs show up, these algorithms can shut the unit down in seconds.
"We also plan to use edge computing to improve automated, equipment-driven self-control," he says. "We are running models to create decision guides for the controller at the edge so it can respond more intelligently to changing conditions. This automation will increase compressor reliability while reducing emissions."
Makereadies and Upgrades
Idle compressors are returning to service, observes Bill Sayre, president of Arkos Field Services, a subsidiary of Burckhardt Compression. "We are seeing a steady increase in makeready work for both owned equipment and rental fleets," he reports. "We also are getting requests to do maintenance that customers deferred last year because they had the spare capacity to bring in another unit if the first one went down."
Many customers are asking Arkos to make changes that cut emissions, such as converting engine-driven packages to electric drives and updating emissions controls on older units to meet tighter standards, Sayre says. "For compressors already in the field, we are getting more callouts related to fugitive emission than several years ago, a sign customers want to address any potential leaks quickly," he adds.
Units with older-style control systems and engine emissions related controls are being upgraded to improve the unit's performance and reduce its overall environmental footprint. Some of these upgraded controls allow for variable speed. "With variable speed, the compressor can slow when flow drops rather than running in bypass mode under full load, which consumes more fuel and creates more exhaust," Sayre explains.
As investors' interest in ESG has risen, many companies have become more willing to pay for marginally economic upgrades that offer notable environmental benefits, Sayre assesses. "However, cash is still king. When customers' fleets have thousands of units, their investments need to pay off both environmentally and economically," he explains.
"The need to become more efficient and continue reducing carbon emissions has accelerated innovation in compressor products and tools," Sayre says. "Our goal is to identify leading-edge solutions, provide those solutions to customers and support them."
Sayre points out that Arkos has become an authorized U.S. service provider for Zahroof Valves Inc., which manufactures valves that concentrate all the wear components in replaceable modules and use a straight flow path to minimize the pressure drop as the gas moves through the valve.
"Zahroof's modular valves check all the boxes," Sayre affirms. "They increase meantime between failures, which means the compressor needs to be blown down less frequently. They also improve the compressor's efficiency, allowing it to produce more gas with the same horsepower or the same gas with less horsepower.
"The valves reduce maintenance costs," Sayre continues. "Their bodies have no wear parts, so they will last a long time. The modules that control flow need to be replaced periodically, but that is a much simpler process than pulling out a traditional valve, installing a spare and sending the original to a machine shop. In fact, it only takes a few hours to pull Zahroof valves, insert the fresh modules and put the valves back in."
Training Talent
In addition to supporting these valves in the field, Sayre says Arkos is installing them on clients' compressors during makereadies. He predicts that simplifying maintenance will help the industry do more with its limited workforce.
"Everyone in the compression industry would like to have a larger pool of skilled technicians," he acknowledges. "We are working with technical schools and recruiting people from other industries with reciprocating compressors, as well as experimenting with new ways to increase retention."
According to Sayre, training is an essential component to Arkos' retention strategy. He mentions that the company's training center, which is open to both customers and employees, is certified by the National Center for Construction Education and Research.
"We try to be a place where employees can learn and grow," he describes. "That means giving them opportunities to work on different equipment, from wellhead and gathering compressors to ones used in refineries, petrochemical plants and LNG tankers. However, we also encourage our employees to invest in themselves by paying them to take classes and increasing their pay as they earn more demanding certifications."
Sayre adds that the company has a virtual wellness program through Thrive360 that includes videos, seminars and podcasts on everything from sleep to anxiety. "We are excited about that," he says. "Our employees are engaging with it."
Vapor Recovery
With both public and private investors looking closely at companies' environmental performance, the application window for vapor recovery units has grown, says Ty Lambert, account manager for the Permian Basin at Flogistix. "In the past, operators would look at VRUs when they had large quantities of vapors they could sell for high prices. In most applications, rental units would break even if they could capture somewhere between 20 Mcf and 30 Mcf a day.
"Because of concern about methane emissions, operators now deploy smaller units to capture as much methane as possible," he contrasts. "We have units in the field capturing 10 Mcf/d-15 Mcf/d."
The economic incentive for vapor recovery is growing as gas prices rise, Lambert observes. "On batteries that collect production from six to 16 unconventional wells, the VRUs may move 1 MMcf/d or 2 MMcf/d off the tanks or the vapor recovery tower," he says. "Even at much lower prices than we are seeing today, the payback is almost instantaneous."
One of the keys to strong VRU economics is reliability, Lambert says. "With that in mind, Flogistix builds all VRUs in house. We socket weld everything rather than threading it on," he details. "That adds extra cost, but the final product will run for years."
Thanks to the company's proprietary, PLC-based control system, Lambert says the company's VRUs can respond quickly to shifts in operating conditions. "We can control pressures to within a tenth of an ounce," he clarifies. "That is important, because when a gas slug enters the tanks, the VRU needs to ramp up instantly. Once pressures drop, it needs to slow down fast to avoid creating negative pressure and drawing oxygen into the tanks."
This flexibility and precision will become increasingly important as emissions standards tighten, Lambert argues. "Across the board, the industry is moving toward zero emissions from tank batteries," he predicts. "Companies wants to be able to tell investors they produced every barrel without unnecessary emissions."
To improve VRUs' uptime and efficiency, Lambert says Flogistix collects data from each unit and sends it to the cloud for analysis. "We are on the forefront of applying machine learning to guide predictive maintenance. By looking at historical data and operating conditions, we can alert technicians when a bearing may be close to failing and needs to be inspected, or when the cooler likely needs to be cleaned."
The more the company can support its technicians, the better. "A strong sales group may be able to set up the first unit for a customer, but it's the field service team that earns repeat business," Lambert reflects.