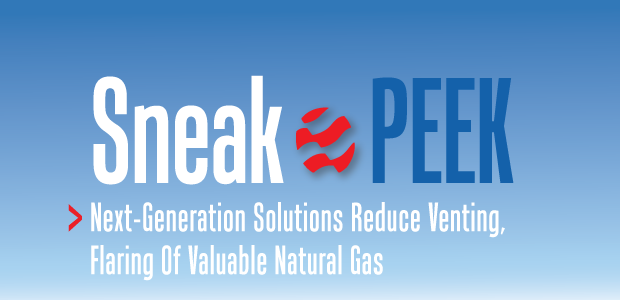 June 2021 Sneak Peek Preview
Next-Generation Solutions Reduce Venting, Flaring Of Valuable Natural Gas
By Larry S. Richards
ODESSA, TX.–The oil and gas industry owes no one an apology. Oil and gas has lifted more humans from poverty than any other industry in history. Inexpensive and accessible energy has provided a standard of living of which our ancestors could only dream, allowing foundational transformations in technology, transportation, heating, cooling, and massive increases in global food supply and overall public health.
That said, we are all called to be good stewards of the resources and the environment of this amazing planet, and our industry can play a key role in the decades ahead. There are many reasons that natural gas is vented or flared, but eliminating both has become a top priority for many oil and gas companies across the nation as environmental, societal and governance initiatives take center stage.
I have had the privilege of participating in methane mitigation and flare reduction projects in more than 20 countries and almost every hydrocarbon-producing region of the United States. The challenge is always to marry what is technically possible with what is commercially viable. If both can be achieved simultaneously, the solutions become sustainable and replicable on a broad scale. A decade ago, leading-edge technologies were vapor recovery (VR) units, VR towers, ways to eliminate casinghead gas venting and enclosed combustors versus flares. In 2021, next-generation technologies use automation and new equipment to often eliminate the emissions' root cause, rather than reduce the volumes leaked or spilled to the atmosphere.
My experience has revealed there is no magic bullet, and all technologies have an application range. Perspective leads me to offer three methane mitigation strategies that have proven to work in the field and offer tangible benefits to independent oil and gas companies seeking sustainable solutions for their operations:
Convert pneumatics to electric everywhere possible.
Invest in automated air units when electrification is impossible.
Install "smart" automated wellhead chokes to reduce flaring.
Electric Actuators
The low-hanging fruit for operators is to convert pneumatic valve actuators and pneumatic devices to electric alternatives. Huge progress has been made during the past five years in electric actuators. Not only are they priced competitively with pneumatic alternatives, but they also allow real-time visibility to field conditions when tied into an existing SCADA or other automation platforms.
Starting at the wellhead itself, leading-edge companies are replacing pneumatic actuators with electric ones on their emergency shutdown and choke valves. This eliminates the methane emission every time the pneumatic actuator activates (which is normally tied in to the casinghead gas) and improves reliability at a similar price point. It is a smart, easy and effective way to eliminate small methane emissions directly at the wellhead while simultaneously improving visibility and effectiveness.
Any electric actuator can be used. I recommend Valvcon for this application based on low power draw, universal power (12, 24, 120 and 220 volt all in one unit) and fail-safe operation with a lithium ion battery (a four-plus year life) as a backup that can be tied into SCADA systems to show battery life. This can be coupled with a Piper high-pressure ball valve for emergency shutdown service. The Piper originated off shore, where power is at a premium. The valve's low torque and excellent handling of high-pressure sand make it a great solution for electric automation. If a mechanical spring return is necessary, I recommend a Bernard electric actuator.
For the wellhead choke, I recommend a Master Flo choke valve because of its unique fluid impingement design (which reduces fluid jetting and cavitation) and erosion resistance to high-velocity sand and abrasion. More importantly, it was designed for electric automation. It can be automated for zero emissions with a Rotork multiturn actuator, or a Valvcon electric actuator coupled with a lifter. If 24-volt DC or 120-volt AC power is available at the well site, operators can choose the Rotork for a wider range of feedback. They can choose the Valvcon if they prefer to standardize the actuator across the site and/or need a lower power draw (one-two amps versus four-five for the Rotork).
At the tank battery, the producer needs to consider every opportunity to replace pneumatic actuation and instruments with electric. This includes converting to electric actuators on ESD valves, control valves, backpressure valves, pneumatic positioners, pilot-operated control valves, regulating valves/devices, level control valves and choke valves.
As an example, a wide range of producers are converting their backpressure valves for both high- and low-pressure produced water applications to next-generation technologies that work more efficiently, extend pump life, dramatically reduce downtime and eliminate pneumatic emissions. Several of the technologies being implemented did not exist only two years ago, but necessity drives innovation. The huge investment in water management infrastructure being developed across the industry creates an opportunity to make it smart and clean from the start by using the best of 2021 valve technologies with state-of-the-art automation solutions.
Oil and gas companies also are converting to electric actuation on gas lift choke valves, three-way diverter valves, and related components on lease automation custody transfer (LACT), VRU and other skid-mounted onsite equipment. When fail-safe is not an absolute requirement, I recommend converting to Triac electric actuators for many of these applications. They have a worm gear design that makes them incredibly durable in the field, versus the small gears associated with many electric actuator styles. Many producers also prefer the Valvcon electric actuator because it can be used across a range of applications. Either is a great choice, depending on application and torque requirements.
Automated Air Units
Converting all components to electric simply is not possible. Many critical dump valve applications must open at speeds that are technically unachievable with electric actuation. There are also many older, small-volume locations that are not economical to retrofit with electric components. Finally, many remote locations have dirty or "brown" power, which can create severe reliability issues with sophisticated electric equipment. In these instances, it makes sense to invest in an automated air compressor.
A decade ago, air compressor packages were "dumb" manually-controlled skids that had little impact on production if they went down. In 2021, they are one of the site's most critical pieces of production equipment, providing the pneumatic power to operate all key separator, heater treater, freshwater knockout and related dump functions. If an air compressor fails, an operation risks hydrocarbon and produced water spills that can damage the environment much more immediately than methane.
Automated air compressor skids ensure that clean, dry instrument air is always available 24 hours a day, seven days a week with built-in redundancy and fail-safe systems tied into a SCADA interface for maintenance and monitoring. Suffice to say, this is not your dad's oil field air compressor skid. The key starts with investing in a true industrial-grade air compressor with aftercoolers, air tanks and low- to zero-maintenance dryers. Then, the electric automation is added to remove the top 10 reasons that a field air compressor skid ever goes down, focusing on redundancy, bypass, smart on-skid logic, and real-time visibility and communication.
During the historic cold weather last February across the Permian, several producers credited their lack of downtime to conversion from natural gas pneumatics (typically using associated gas from the separator) to automated air skids. Thanks to using dry, clean air, tubing lines that historically would have used natural gas did not freeze or clog from frozen water or condensate in the lines to the dumps and the wells kept producing throughout the severe freeze.
Like all investment decisions, the facility must produce enough to warrant the expenditure, but converting a tank battery's pneumatics to instrument air is an easy and smart way to eliminate the need to track, report and manage all the small devices with the potential to emit methane on a typical tank battery. If a company is going to make the conversion, it is imperative to understand that the requirements for that air compressor skid are dramatically higher than in the past, and to ensure that the design and capacity are in line with the true field requirements.
Smart Wellhead Chokes
Regulatory agencies tend to take a "broad brush" approach technologies, but smart wellhead chokes are not a technology that can be applied with a broad brush. Choking back some wells can hurt their long-term production performance, and some formations are unsuitable for choking back production–especially early in the production phase. Determining which wells and formations may be damaged by choking flow rates is probably why God invented reservoir engineers and geologists. However, in wells and formations where it is feasible, companies have begun to use electric automated wellhead chokes to dramatically reduce flaring.
Unexpected or emergency flaring often occurs when a midstream company's compressor station goes down, or when some other disruption causes the natural gas pipeline pressure to spike. When this happens, the gas line from the oil/gas separators sees a pressure spike, and the separator pressures (and/or onsite compressor pressures) are below the new pipeline pressure, sending that gas to the flare. An automated wellhead choke automatically begins to choke back production from that well to the separator until reaching the production flow level that allows the well to continue to push gas into the pipeline without going to flare. Some companies limited to reduced flare volumes have found this a very effective tool to continue production while staying within flaring limits.
While they installed the technology to reduce flaring, several producers have found that automating the wellhead chokes also allows them to dramatically reduce the sand flowback volumes coming up the wellhead, keeping it in the formation where all the completions money was spent to place it. Unlike a manual or pneumatic choke, it allows a consistent backpressure to be applied to the flow, largely eliminating "burping" events that send sand up the wellbore. While this method may delay some short-term oil production, sand retention in the formation may improve long-term production significantly.
The ability to choke back multiple wells automatically across a field also may allow the producer to avoid shutting in some wells altogether, eliminating all the problems associated with well restarts.
Richie Perez, regional account manager for Master Flo, a leading choke valve manufacturer, states, "We have now had several customers that have been able to reduce flaring from Permian wells by more than 75% through the use of automated wellhead chokes. In a recent 18-well case study, the producer was able to save $958,000 over a four-month period through increased natural gas revenue and reduction in the costs associated with flaring."
I have seen this approach work extremely well, and the electric actuator can tie into an existing SCADA system easily for real-time monitoring and data collection.
While certainly not a fit for every well and every formation, these technologies can be another valuable tool in the overall ESG tool kit. One of the great things about the industry–especially from the perspective of someone who has been in the Permian Basin for the past 25 years–is that it is constantly developing and implementing new technologies and approaches that have never been tried before. It is exciting when those efforts result in products that become industry standards only a few years later.
I realize it is incredibly frustrating to battle regulations and regulatory mandates that are often conflicting, confusing and sometimes even technically impossible to execute in the field. I believe the task for our industry is to maintain its focus on technologies that really work, are commercially viable, and allow for consistent and measurable emissions reductions. If the industry succeeds, it will benefit not only oil and gas companies, but also our communities and our country.

LARRY S. RICHARDS is president and chief executive officer of Odessa, Tx.-based VanZandt Controls, which offers valve automation, flow measurement and instrumentation. During the past 25 years, Richards has been a lead technology speaker for the U.S. Natural Gas STAR program, the U.S. Methane to Markets program, the Global Methane Initiative, and the Global Gas Flaring Reduction Partnership, and has helped lead and implement successful methane capture and mitigation projects across the globe with more than 50 oil and gas companies. He holds a degree in management and business administration from Texas A&M University.