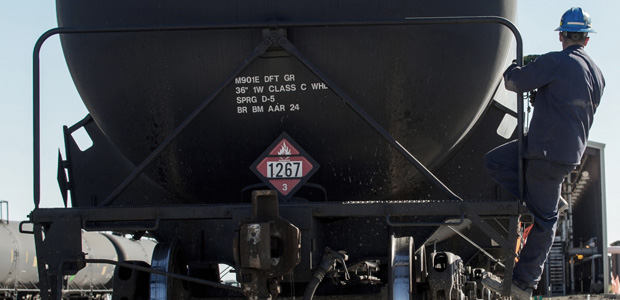 June 2014 Sneak Peek Preview
Marketing Production
Right Midstream Strategies Enable Oil And Gas Producers To Maximize Profitability
Bill Gautreaux
KANSAS CITY, MO.–Oil and gas producers naturally focus on what is in the ground: finding and extracting valuable commodities. But the operator who wants to maximize the value of that production also needs to look strategically at the downstream markets and how to connect with the best buyers for crude oil, dry natural gas and natural gas liquids.
Making skillful use of the midstream value chain–gathering, processing, storage, transportation and marketing–can enhance producers' returns and maximize the value of resources over the life cycle of a field. With the right decisions upfront and during production ramp-up, producers can accomplish two goals. They can assure flow to maintain and handle consistent and growing production. And they can maximize net backs through connections and optionality to reach the best market destinations.
It sounds simple, but ensuring a smooth path from the wellhead to a central delivery point, processing plant or energy end-user can be very complex. Success in the midstream demands a strategic perspective, looking downstream from the fields into the marketplace.
At some point, midstream success requires relationships with service providers whose specialized expertise can help the producing company move product to market in order to maximize value. This is especially crucial in unconventional resource plays onshore, where volumes are increasing, competitive pressures are high, and local infrastructure is often constrained. In this business environment, the ability to access the right markets at the right times can represent a distinct strategic advantage for an oil and gas operator.
Midstream Decision Making
The big picture in the midstream sector is that growing U.S. oil and gas production tends to get ahead of infrastructure, so producers can find it challenging to develop the best paths for price discovery and profitability–or even to keep their product flowing steadily. Producer net backs can suffer through a lack of good midstream solutions.
So, how does a producer approach midstream decisions to maximize the value of its production? Every situation is different, and there are no one-size-fits-all solutions. But there are some common threads of strategy in putting together successful midstream connections.
Looking downstream through the value chain, and forward in time through the life cycle of production, leads to an integrated midstream approach that includes a number of considerations.
One of these is connections for oil, water and gas. Crude oil drives the economic bus in many plays, such as the Bakken, Niobrara, Permian Basin and the Eagle Ford, but capturing the value of both rich and dry gas will add to producers' returns.
And, in a gas play such as the Marcellus or Utica, producers still may need to address some crude or condensate production. Of course, moving water into and out of the field is a critical and environmentally sensitive job that takes its own kind of expertise, but often is addressed as a costly afterthought.
Just as producers forecast production volumes to rise, level and decline, midstream thinking should look at life cycles. Early in the life of a well, the need is for trucks to haul small volumes. Then pipes have to be laid to gather the commodities. As the well or field matures, growing volumes require take-away connections to rail or pipelines. A producer can save a lot of time and money by creating relationships with a partner that can "flex" with the scale of production as it waxes and wanes.
Multifaceted Service
Clearly, the midstream is more than a single entity or service. It is transportation by trucks, rail and pipelines; storage near upstream development and again downstream near the customer; processing, pressurization and fractionation of NGLs; and marketing and delivery of commodities to customers, whether refineries, industrial users or resellers, including exports of liquefied natural gas, NGLs, and potentially crude and condensates.
There are a lot of moving parts. Producers can deploy their capital to build the pieces of the puzzle one at a time, or they can conserve their capital for production and seek partners with a full range of services.
The fact is, a midstream partner that already has operations near the area of production can expand capacity or add services more economically than a service provider that must build from scratch. A midstream provider can be most competitive by adding to existing operations.
A partner in the region also can expand more economically than a producer can build its own infrastructure. However, scalable basins require multiple midstream service companies, and competition lowers the costs and diversifies the concentration risk associated with relying on one provider.
Nevertheless, depending on a producer's overall acreage position, forging a single midstream relationship in each production area may make the most sense for optimal reliability and cost in time and money.
In partnering with producers ranging from large-scale international companies to regional independents, as well as with end-users of energy commodities, we find that most are looking for integrated services across the midstream value chain. Producers standing at the wellhead want to see all the way to the burner tip because their connections through the midstream keep the oil, gas and NGLs flowing to market–and maximize returns.
Flow Assurance
The most critical factor in selecting midstream connections is flow assurance. Producers need to ensure that gathering, processing and take-away capacity can keep up with production growth to maintain a steady flow from their wells. The worst possible outcome for a producer is to have to shut in a well and suffer the loss of valuable days, and potentially, long-term production volumes.
Two characteristics of midstream partners are the keys to flow assurance:
Adequate capacity through transportation and tankage assets to move crude oil or NGLs, and the capability to store those commodities when necessitated by market timing; and
Access to take-away by truck, rail, pipelines and export facilities, so producers can choose among different downstream geographies and markets to optimize net backs.
Markets will gyrate over time–either seasonally or with supply and demand fluctuations–and things will go wrong at some point in the transportation system. Pipelines have downtime, trains get delayed, and even trucks can be hindered by weather. The capacity and flexibility of a midstream provider can keep wells operating, so it is crucial to dig into the details of tankage and optionality upfront, rather than making piecemeal decisions.
Production life cycles also figure into flow assurance. As drilling starts in a field, the producer is holding acreage and beginning to figure out what production volumes to ultimately expect. Consequently, it's typical at first to truck early liquids production (it is a bit different, but similar in principle, when working with gas and pipes). A producer needs to engage a partner with good trucking assets to get those barrels to whatever market is most attractive.
As the producer starts to delineate its acreage and flesh out the details of a drilling plan, it makes a lot of sense to work with a partner that will put gathering pipes in the ground to take away product on a regular basis. That pipeline needs as much connectivity as possible: optionality to get the product to consumer markets.
Optimizing Net Backs
Maximizing the value of production over time means connecting with the right markets to achieve optimal net backs. Optionality to choose the best path to market–and the potential to change these connections over time–will produce the most attractive pricing and cost structures for midstream services.
Efficient midstream operations (for example, having one service provider that can handle oil, water and gas) enable better cost structures for the producer. Finding the best downstream pricing is the main driver for net backs.
A producer may develop downstream relationships that involve committed deliveries to a long-term customer that buys a fixed amount, or a more opportunistic approach of marketing commodities for the best prices available, or a mix of both. Regardless, the producer needs a midstream provider with the expertise to see through the whole value chain, view downstream relationships, and find the best paths to market.
Producers of crude oil, for example, change downstream markets from time to time. Smaller producers may ship to one refinery for a substantial period, until something happens to disrupt the relationship. Larger producers are more likely to connect month-to-month, bidding their barrels for the best price. That can mean going down one pipeline one month, crude-by-rail in another period, or even going into storage to wait out an interruption.
From one month to the next, a producer can clear the market in different directions: East Coast, West Coast, Gulf Coast, or end-user next door. The more optionality, the more the production can flow to the most profitable path.
Bakken Case Study
The Bakken region exemplifies the midstream needs of producers in a rapidly growing but remote play. Operators there must sell their crude oil to end-users that mostly are in distant, more populated areas of the country. With this in mind, tremendous amounts of midstream and transportation infrastructure and associated logistics are required to give producers in the Bakken a "connection" to the markets of their choice.
Take, for example, one midstream operation that comprises more than 450 miles of oil, gas and water pipelines serving 150,000 dedicated acres in the core of the Bakken/Three Forks play in Dunn and McKenzie counties, N.D. The gathering system is being expanded to transport 125,000 barrels of oil, 100 million cubic feet of rich natural gas, and 40,000 barrels of produced water a day. As production grows from new wells, the gathering system will be ready to accommodate increased volumes.
The system provides efficient and scalable transport to a large central delivery point, with fully automated truck loading facilities, crude oil storage, and multiple pipeline take-away outlets. Trucking is a key part of midstream operations in the Bakken. Accordingly, in addition to pipeline gathering systems, truck take-away capacity for both crude oil and water is expanding to serve producers strategically around key midstream assets.
From the central delivery point, the system holds firm transport and has direct connectivity to three third-party pipelines and to a hub rail facility at Epping, N.D. The rail hub provides crude-by-rail connections to distant markets, and has loading capacity of 160,000 bbl/d and 1.2 million barrels of segregated working storage. If needed, the system operator's own unit train rail cars can be deployed for delivering directly to refiners.
For additional take-away options, a connector pipeline ties into a major terminal at the intersection of four major pipelines, where prices vary among the different end-use markets. With this network of midstream assets, producers can connect at the wellhead and ensure flow through every link of the distribution chain to East, West or Gulf coast refiners.
For producers, using the midstream effectively requires looking at the entire value chain and accessing multiple connections to move product from the wells to the buyers.
Northeast Case Study
Producers in plays such as the Marcellus and Utica, which have both dry and rich gas, confront a different set of needs: a lack of take-away infrastructure, but with major consumer markets located nearby. With the exception of recovered ethane, which must move by pipeline, accessing local demand for NGLs such as propane, butane and natural gasoline requires a midstream portfolio that includes storage, trucks, rail cars, export docks, and connections with customers.
Operations in the Marcellus/Utica must extend across the full range of midstream services, from gathering at the wells to marketing among end-users, with an emphasis on trucks, rail loading, storage facilities and export. For instance, one system in Harrison and Doddridge counties, W.V., provides gas gathering and compression for a 136,000-acre dedicated area in the Marcellus. It delivers rich gas into another company's large processing plant and residue gas into three pipelines for transport.
This infrastructure is being expanded in step as production grows to provide connectivity for Marcellus producers to major regional pipelines through two pipelines in Northeast Pennsylvania and western New York. It also has the capability to balance seasonal supply/demand fluctuations with more than 26 billion cubic feet of gas storage located 150 miles northwest of New York City.
The system offers take-away for NGLs by truck, rail, pipeline and export dock, providing flexibility for producer partners to choose among various end markets and pricing options. The operator's longstanding relationships in the propane business extend both directions: upstream to Utica and Marcellus producers and downstream to wholesale and retail resellers.
As a direct buyer of NGLs from producers at market prices, the system operator provides flow assurance through long-term agreements and sells these commodities to its customers, or can deliver NGLs all the way to end-users on behalf of its producer partners.
Midstream Bottom Line
Producers face enough economic and operational challenges of their own. Not the least of these is a shortage of infrastructure to develop and take away all the new production that is ready to come on line. Everyone in the industry is coping with staff shortages, fluctuations in prices and input costs, and regulatory issues.
So when it comes to making midstream decisions, we encourage a focus on the basics. Flow assurance for the product is number one and access to the best markets and pricing is number two. Like a producer plans internal investments, midstream needs should be mapped over the life of production assets. Most likely, this will involve multiple types of midstream operations, along with options to choose among different paths to market.
Even more than diverse assets and operations, though, midstream success comes from expertise and relationships. To maximize the value of production, producers need a partner with the skills for solving complex logistical problems and the relationships to connect with other resources and customers.

Bill Gautreaux is president of the liquids and crude business unit of Crestwood, a pair of publicly traded midstream partnerships that connect energy supply with demand across North America, where he is responsible for all operations, marketing, trading and logistics for Crestwood's crude oil and natural gas liquids business. He was a founding partner of Inergy LP and Inergy Holdings LP, and led the development and operations of Inergy's crude oil and NGL business. He was named president of Crestwood's liquids and crude unit when Inergy and Crestwood merged in 2013. Gautreaux has 28 years of energy industry experience, having previously worked at Dynegy, LPG Services Group, and Ferrellgas. He has a bachelor's from William Jewell College.