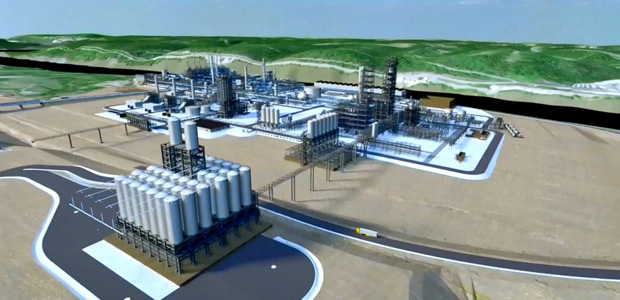 March 2019 Exclusive Story
Ethane Hub
DOE Supports Hub For Marcellus/Utica NGL Production
WASHINGTON–Production of natural gas plant liquids, especially ethane, is expected to nearly double by 2050, driven by an increase in global petrochemical industry demand. The U.S. Department of Energy says the Marcellus and Utica Shale plays in the eastern United States will provide a significant fraction of that increase.
In Ethane Storage and Distribution Hub in the United States, DOE says North America has several natural gas liquids storage hubs–including Mont Belvieu, Tx., Conway, Ks., and Sarnia, Ontario–but the eastern half of the United States lacks a similar storage and distribution hub.
"The extent to which East region NGL will be converted and consumed locally will depend on regional infrastructure additions and, more specifically, the interplay between storage and transportation," DOE observes. It recommends establishing an ethane storage and distribution hub near Marcellus and Utica production, saying such a facility could benefit the petrochemical and plastics industries.
Shale Crescent USA, a multistakeholder initiative that encourages businesses to locate in the "Shale Crescent" region of West Virginia, Ohio and Pennsylvania along the Ohio River, cites an 2018 IHS Markit report that found the region to be the most profitable place to build a petrochemical plant, offering significant savings over a comparable project on the Gulf Coast.
"The DOE report solidifies the notion that diversifying America's petrochemical manufacturing base–and investing in a second petrochemical hub in the Shale Crescent USA–would increase our global petrochemical market share, while better and more reliably fulfilling domestic demand," says Jerry James, co-founder of Shale Crescent USA. "The Shale Crescent region offers an insulated, affordable alternative to supplement production. This ultimately will prevent disruptions in the nation's supply chain, and keep prices stable for many plastic-based goods we rely on every day."
Ethane Trends
To produce the report requested by Congress, DOE analyzed ethane supplies and their related infrastructure, including projecting trends in ethane output, where production changes are likely, the location and capacity of established ethane storage hubs and NGL pipelines, the agency says.
The U.S. Energy Information Administration's 2018 Annual Energy Outlook points out while NGL output is expected to grow through 2050 in the eastern United States and the Permian Basin, most natural gas plant liquids production growth in the report's reference case occurs before 2025, when increased demand spurs higher ethane recovery and producers focus on NGL-rich plays.
That growth depends on the association between NGPL production and developing natural gas and crude oil resources in those regions, DOE says, noting EIA's 2018 Outlook projects the eastern and Permian plays account for more than 60 percent of total U.S. NGL output by 2050.
The existing NGL hubs require concentrating physical assets that connect to supply and demand sources through a range of transport, storage and distribution options, DOE describes. "Achieving such a critical mass generally requires some level of local fractionating or processing capacity, ample storage capacity and multiple transport options to move commodities in and out of the hub as supply and demand change," the agency says.
According to the report, storage plays a critical role in the hub's usefulness, needed to balance seasonal variations in supply and demand. Storage helps mitigate production volatility and in turn reduces risks for end-users that need a steady and reliable feedstock stream.
Capacity Expansions
Between early 2011 and mid-2013, DOE says the petrochemical industry announced capacity expansions, feedstock changes and new plant construction because of significant increases in ethane availability in the United States, with investments focused near the Mont Belvieu and Sarnia hubs. Projects included three ethylene crackers on the Texas Gulf Coast and pipeline and ethylene plant expansions in Sarnia. In addition, the agency reports export infrastructure has been built to export ethane by tanks from Morgan's Point, Tx., and Marcus Hook, Pa., with both facilities opening in 2016.
Lacking storage options in the eastern region, DOE says pipelines have been built to deliver NGL production from there to Mont Belvieu and Sarnia. According to agency projections, ethane production in the East will continue to increase, growing to 640,000 barrels a day in 2025 and to 950,000 bbl/d by 2050.
Globally, North America has the second-largest ethylene production capacity, behind the Asia-Pacific region, DOE says. Domestic ethylene production capacity is highly concentrated, with more than 95 percent of U.S. facilities in Texas or Louisiana. The agency adds significant production capacity growth is projected across the ethane value chain, which includes intermediate products such as polyethylene, ethylene oxide, ethylene dioxide and other compounds.
In addition to mitigating weather risks to the Gulf Coast's concentration of petrochemical facilities, DOE says an eastern storage and distribution hub would give manufacturers additional purchase options and supply redundancy for their feedstock and how it is transported.
"Moreover, this flexibility and redundancy, as well as the overall increase in U.S. feedstock production, could mitigate the potential for any price spikes in petrochemical feedstocks that could be caused by severe weather or other disruptive event in any one region of the United States," DOE predicts.
Managing Cold Weather
Americans across the Midwest shivered through a polar vortex in February, five years after a similar weather event produced record low temperatures. Investment research firm Morningstar says the 2014 and 2019 polar vortices show how the region's power grid operator, PJM, increased its natural gas supply, improved flexibility on its pipeline system and revamped its power generation fleet to significantly reduce impacts to 100 million Americans.
In its analysis, "A Tale of Two Polar Vortices," Morningstar says PJM's fuel security analysis had touted the reliability of its system following the fundamental changes to its power generation portfolio, and the most recent polar vortex provided the first test case of those assumptions. The analysis notes power and natural gas prices stayed relatively subdued in the face of higher demand and operational challenges on the pipeline system, highlighting the improvements made to the grid and PJM's ability to reliably meet demand in spite of generational weather systems.
In January, Midwest temperatures hit historic lows, with some areas breaking decades-old records for cold. Temperatures in Chicago hit negative 23 degrees F, with wind chills making it feel 30 degrees colder, Morningstar describes.
The polar vortex of 2014 saw U.S. heating degree days in January hit 957. Morningstar says although January 2019 started on the moderate side, it definitely ended much colder, with 854 heating days. The National Oceanic and Atmospheric Administration's December 2018 forecast predicted 885 heating days for January, which overshot the actual amount by 31 heating degree days.
The monthly peak load on the PJM system in January exceeded 2014's mark by slightly more than 3,800 megawatts: 139,000 MW compared with 135,000 MW. Morningstar notes the historic cold also generated an uptick in natural gas demand, with lower-48 residential/commercial consumption slightly above the 2014 level of 52 billion cubic feet a day.
"Although some areas along PJM's periphery in the Midwest experienced considerable challenges, the PJM region itself performed pretty well during (the) cold snap," Morningstar writes. "Despite operational challenges from freeze-offs and pipeline disruptions, natural gas prices showed considerable resiliency."
Increased Gas Generation
While there are similarities between the 2014 and 2019 polar vortices, Morningstar says one of the largest differences lies in changes to the electricity generation stack and the supply of natural gas. Gas production increases during those five years, with lower-48 output growing 16 Bcf/d, to 86 Bcf/d in January. The analysis points to easy access to affordable Marcellus/Utica shale gas during the past five years as the reason for increased PJM gas generation. Morningstar also points to improvements in the pipeline transport network as helping keeping gas prices generally low.
According to the analysis, changes to the generation stack primarily came from coal-fired plants switching to natural gas. In January 2014, coal represented slightly more than 50 percent of PJM electricity generation, while natural gas accounted for 13 percent. By January 2019, coal generation is delivering 29 percent of PJM's generation, falling slightly behind the 30 percent generated by natural gas, Morningstar observes.
During January's peak cold event, coal generation as a percentage of total generation only hit 37 percent, Morningstar reports. It points out coal generation peaked briefly at 40 percent on Jan. 21, likely because of the TETCO natural gas pipeline explosion in Southeast Ohio, adding despite the pipeline interruptions, the natural gas system adjusted quickly.
Power prices remained relatively stable during the 2019 polar vortex when compared with the 2014 event, the analysis says. PJM day-ahead on-peak prices in January 2014 settled at $168.89/MW, compared with $37.37/MW five years later. Morningstar notes natural gas prices also settled at lower levels during January 2019. The NGI daily Appalachian average for the month came in slightly above $3.00 a million Btus, versus slightly more than $20/MMBtu in January 2014.
"Although coal generation moved up in response to greater demand this time around, the natural gas sector showed immense flexibility in the face of the latest weather event, which may spell lower prices in the years to come," Morningstar predicts.