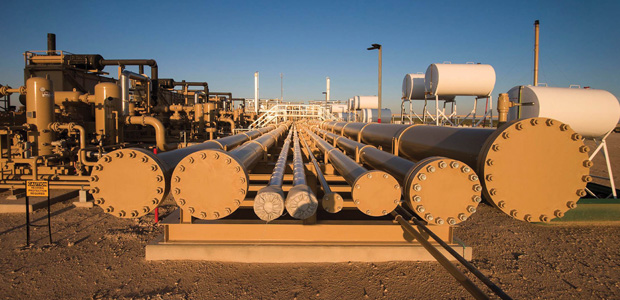 March 2019 Cover Story
Permian Basin Infrastructure
Buildout Of Processing, Midstream Infrastructure In Full Swing At Alpine High
By Al Pickett, Special Correspondent
HOUSTON–Apache Corporation Chief Executive Officer John J. Christmann IV has dubbed the company's Alpine High development in the southern Delaware Basin "an unconventional kitchen" cooking up wet gas, dry gas and crude oil in a transgressive source rock interval that is up to 1,600 feet in gross thickness throughout an expansive fairway stretching 65-70 miles near the foothills of the Davis Mountains.
According to Christmann, 2018 was a pivotal year in the project's evolution, with Apache progressing from delineating the play (both areally and vertically) and high-grading acreage to the start of optimization and full-field development. "Our focus will be on multiwell pad development drilling, primarily in the northern flank of the field," he updates, noting that with Apache focused on improving spacing, patterns and completion designs, average well costs at Alpine High declined 25 percent per lateral foot year-over-year in 2018.
To date, Apache reports that it has identified 13 separate confirmed horizontal landing zones and more than 5,000 drilling locations targeting multiple zones one on top of the other in a hydrocarbon column that is up to 6,000 feet in vertical expanse. Christmann notes the multiple target zones and benches in five discrete hydrocarbon-bearing formations–the Bone Spring, Wolfcamp, Pennsylvanian, Barnett and Woodford–make the Alpine High an "unprecedented" liquids-rich resource play.
The field's most striking feature is the thick and contiguous deposition of source rocks spanning from Woodford to Pennsylvanian time (Figure 1A). Apache has delineated the subsurface play environment into a northern flank, a central crest and a southern flank (Figure 1B), with all three hydrocarbon phases encountered in various zones and at various vertical depths across all three regions of the play.
Apache placed 94 wells on production at Alpine High last year, 26 of them in the fourth quarter, Christmann reports. Apache exited 2018 producing 70,000 barrels of oil equivalent a day in Alpine High. This year, he says Apache is taking a disciplined capital approach, with plans to maintain five drilling rigs and one frac crew to drill 85 wells at Alpine High focused on rich gas development.
"Our 2019 production volume outlook is 85,000-90,000 boe/d for the year, with a targeted year-end exit rate in excess of 100,000 boe/d," Christmann says, noting that the year-end natural gas liquids mix is projected to approach 40 percent of net volumes.
"With 600 million cubic feet per day of nameplate cryogenic processing capacity scheduled to come on line in the second half of the year, we should realize a significant uplift in cash margins and cash flow generation," he continues. "We are de-emphasizing dry gas drilling, which will no longer be needed for blending purposes to meet pipeline specs following cryogenic processing installation."
Midstream Build-Out
Apache took a critical step forward in the Alpine High's development late last year when it closed on a deal to partner with Kayne Anderson Acquisition Corp. to form Altus Midstream Company, a pure-play stand-alone Permian midstream operator that holds substantially all of Alpine High's gathering, processing and transportation assets, equity interests in two (and options for equity in three additional) Permian take-away pipelines. Apache has a 79 percent equity ownership in Altus Midstream, and Christmann says its formation is key to capitalizing on Apache's long-term plans at Alpine High.
"We achieved an important strategic goal with the formation of Altus Midstream," he comments. "It enables Apache to maintain control of the midstream infrastructure build-out and establishes an entity capable of independently funding all future midstream infrastructure needs at a lower cost of capital."
Although Apache is the anchor customer for Altus, the company also seeks to provide midstream services to other producers in the southern Delaware Basin. Clay Bretches, who became president and CEO of Altus Midstream in January, says the company was formed with "an unprecedented opportunity to create premier and long-lived midstream gathering and processing infrastructure centered on the Alpine High play and add diverse cashflow streams from Permian Basin-to-Gulf Coast pipeline projects."
That Alpine High play contains 75 trillion cubic feet of natural gas and 3 billion barrels of oil based on Apache's initial estimate of the resource in place in the Woodford and Barnett across its approximately 300,000-plus contiguous net acre leasehold, concentrated in Reeves County, Tx. "Alpine High is a world-class wet gas play in all respects," Bretches says. "There also is a lot of activity by third parties in the area, particularly along the field's northern and eastern flanks. In fact, Reeves County has more rigs operating in it than any other county in the country."
Given the magnitude of the resource base at Alpine High, he says developing the play requires a massive greenfield infrastructure build-out, ranging from a distributed water management network to centralized processing facilities and transportation take-away capacity.
"A lot of midstream infrastructure is required, and the high-growth potential of southern Delaware Basin plays provides decades of inventory centered on Alpine High," he says. "There is tremendous running room. Our job is to build Permian-to-Gulf Coast midstream capabilities to deliver best-in-class value every step of the way for our anchor customer's production stream, as well as other operators in the region."
That is where Altus Midstream comes in. The creation of Altus locks the biggest piece of the infrastructure puzzle in place: the gathering, processing and pipeline infrastructure to deliver Alpine High's production to premium Gulf Coast markets. As the anchor asset to its business operations, Altus is coordinating the expansion of its midstream footprint largely in time with Apache's drilling schedule, according to Bretches.
Balancing Act
"It is always a balancing act to match the expected production volume with the midstream capabilities to adequately handle that volume," he states. "To stay ahead of production volumes, it is important for the producer and midstream services provider to work cooperatively to plan future infrastructure requirements."
That is made all the more critical in a new play, especially one the size of Alpine High. The build-out challenge is exacerbated by the sheer scope of the infrastructure needs, a decades-long timeline to fully develop the resource in place, the field's isolation from existing infrastructure (Alpine High is remote even by Permian Basin standards), and the liquids-rich multiphase product mix.
The Btu content of the "extremely rich" wet gas production stream at Alpine High can exceed 1,300, yielding up to 160 barrels of NGLs per MMcf from cryogenic processing, according to Apache reports. One example is Apache's Mont Blanc six-well pad in the play's northern flank in Reeves County. Completed in the fourth quarter in two zones in the Woodford formation, the wells had 30-day average initial production of 16.1 MMcf/d of rich gas at a Btu content of 1,150. Also completed in the northern flank last quarter, the Iroquois State No. 201AH has a 4,561-foot lateral and produced at a 30-day IP of 7.6 MMcf/d of gas with a 1,257 Btu content and 213 bbl/d of oil from the Barnett.
"The rich, high Btu-content gas is critical to the economics," Bretches acknowledges. "We have a unique and diverse opportunity set ahead of us, anchored by the vast, multizone, multiphase Alpine High play."
Construction on the first of Altus Midstream's three new cryogenic plants got under way last year, he says. "The three cryogenic facilities are tracking to be on line at the end of the second quarter and during the third and fourth quarters of 2019, respectively," Bretches updates.
Expanding Capacities
To accommodate Alpine High's anticipated NGL production ramp-up as those processing plants enter service, Altus also is expanding its compression and gathering capacities along with long-haul pipeline connectivity, he goes on. The company expects to have more than 160 miles of gathering pipelines in service by year's end 2020, and owns equity positions or options on equity positions on two natural gas pipelines (Kinder Morgan's Gulf Coast Express and Permian Highway systems), two NGL systems (Enterprise's Shin Oak and Salt Creek's Alpine), and one oil pipeline (EPIC Midstream Holdings' EPIC).
The pipeline assets are the vital link that connects the "enormous resource base" in the distant reaches of West Texas with demand centers along the Gulf Coast, including potentially, crude oil, liquefied natural gas and NGL export facilities, according to Bretches. "Having sufficient take-away capacity for the three streams of products is crucial," he relates. "There is so much value, with the equity options to flow the oil, gas and NGLs to premium Gulf Coast markets, combined with the gas gathering and processing."
As shown in Figure 2A, Altus currently has 111 miles of gathering pipelines and 52 miles of residue pipelines in service with three market connections (Comanche Trail, El Paso Line 1600 and Trans-Pecos), and 380 MMcf/d of rich gas processing using mechanical refrigeration and 400 MMcf/d lean gas treating. Along with the three cryogenic plants, Bretches says the company plans to add another 230 MMcf/d of rich-gas compression capacity, 50 miles of new gathering pipelines and more residual compression with one additional market connection (Roadrunner) by the end of next year.
To process the high-Btu content gas, Altus is using a high-efficiency design with the flexibility to economically extract liquids either in ethane recovery or ethane rejection modes. Each new plant includes liquid stabilization, slug catchers, gas treating, gas processing and residue gas compression to allow for higher extraction of propane and heavier (C3+) liquid components while being able to adjust ethane recovery or rejection to maximize NGL recovery economics.
"The plants have the ability to optimize NGL recovery from large throughput volumes while maintaining the flexibility to react as necessary to fluctuations in ethane prices over their life cycles without diminishing the recovery of valuable propane and heavier liquids," Bretches explains.
The cryogenic processing scheme is based on supplemental rectification with reflux (SRX™) technology developed by Ortloff Engineers Ltd., now part of Honeywell UOP. Bretches says the SRX process can recover any level of ethane, from 99-plus percent down to full ethane rejection, while maintaining ultrahigh C3+ production and requiring less horsepower than traditional NGL processing methods for lower capital and operating costs.
"The advanced Ortloff technology puts us in a leadership position compared with other NGL recovery and processing technologies, not only in the Permian but across the world," he remarks. "The flexibility will let us operate the plants based on the economics of ethane recovery, ranging between ultrahigh ethane recovery on the one hand, all the way to full ethane rejection on the other, as ethane prices dictate, with no loss of C3+ extraction."
The company originally planned on having five cryogenic plants operational by year's end 2020, but Bretches says it has decided to defer the timing of the fourth and fifth plants for the time being. "Our near-term goal is to transition from mechanical refrigeration to cryogenic processing," he comments. "We ultimately expect to be able to process 10 percent above nameplate capacity, resulting in an effective capacity up to 660 MMcf. The residual compression additions will increase overall cryogenic processing capacity to approximately 750 MMcf/d by the end of 2020."
Pipeline Take-Away
Building out the gathering and processing infrastructure to keep pace with production volumes is the first part of the challenge for Altus Midstream at Alpine High. The second is accessing downstream markets through an already congested pipeline system in the Permian Basin. To that end, the company is investing $1.5 billion-$1.8 billion in joint venture pipeline projects (Figure 2B), according to Bretches.
"We are delivering NGLs and condensate into local markets at present, but that will change once operations commence on these pipelines throughout 2019-20. The transportation strategy encompasses firm commitments to assure the take-away capacity to satisfy Apache's long-term sales contracts," he says. "This strategy allows us to participate in the full midstream value chain from the well site to the Gulf Coast market hub, refinery, petrochemical plant or shipping port."
Altus midstream owns, or holds the option to own, joint venture equity interests in five Permian take-away pipelines, and four of those will transport products to hubs near the Texas Gulf Coast. Apache is an anchor shipper on all five, Bretches points out.
For processed NGLs, Altus Midstream has an option for 33 percent interest in the 658 mile Shin Oak pipeline that Enterprise Products Partners is building from Reeves County to its storage facility at Mont Belvieu. The company also has an option for a 50 percent equity interest in Salt Creek Midstream's NGL line, a 445,000 bbl/d system running from Reeves County to the Waha hub in Pecos County, Tx. It has a projected first-quarter 2019 in-service date.
In December, Altus finalized an agreement to acquire a 15 percent equity interest in Kinder Morgan's Gulf Coast Express Pipeline. The $1.75 billion-project is designed to transport 1.98 Bcf/d of natural gas from the Waha Hub and other points in the Permian Basin to the Agua Dulce Hub in Nueces County, Tx. Gulf Coast Express is expected to commence operations in October 2019.
Altus Midstream followed that deal by announcing in February that it also had exercised its option to acquire a 15-percent equity in the 700-mile EPIC oil pipeline, which is expected to enter service in 2020. "We are excited to become an equity partner in the EPIC pipeline," Bretches says. "The pipeline will serve as a critical outlet for Permian Basin crude oil, and its capacity is supported by minimum volume commitments and acreage dedications from high-quality counterparties."
The EPIC pipeline will extend from near Orla in northern Reeves County to the Port of Corpus Christi, Tx., and is expected to have initial Permian Basin throughput capacity of 590,000 bbl/d (it will also service the Eagle Ford Shale). The project includes terminals in the Texas communities of Orla, Pecos, Saragosa, Crane, Wink, Midland, Hobson and Gardendale. "This is another significant step for Altus as we execute on our vision of 'wellhead-to-water' connectivity," Bretches remarks.
Altus also has an equity option on Kinder Morgan's Permian Highway, a proposed 2 Bcf/d pipeline to either Katy or Agua Dulce, which is projected to be in service in late 2020.
Both the processing infrastructure and the pipeline capacity are crucial to the long-term viability of Alpine High, according to Bretches. "Right now, the NGLs are being trucked and the gas is being sold at Waha, where prices are not as strong as on the Gulf Coast," he emphasizes. "Having sufficient pipeline capacity gives Altus a strong position to optimize gathering, processing and transportation to the most attractive market outlets to help ensure maximum net backs to the producers."
According to Bretches, Altus Midstream also has right-of-first-offer on water systems at Alpine High, additional long-haul pipelines and Gulf Coast assets, and the development of a crude oil gathering system in the field. Apache has built six water recycling facilities in the area and says that approximately 90 percent of water used for drilling and completions in Alpine High was recycled or nonpotable, as of September 2018.
"We believe both water infrastructure and oil gathering will have great value in the unfolding Wolfcamp and Bone Spring oil plays," Bretches says.
Once the pipe in the ground, the compressor stations are in place, and the cryogenic plants are up and running, Altus Midstream's focus will shift more to leveraging the assets to service additional third-party volumes outside of Apache's Alpine High operations, he adds. "The Delaware Basin is a vast area with numerous stacked zones," Bretches concludes. "Operators will be busy developing acreage in this region for a long time to come, and we have a great deal of work to do this year and in the years ahead to fully build out the infrastructure necessary to support this growth."