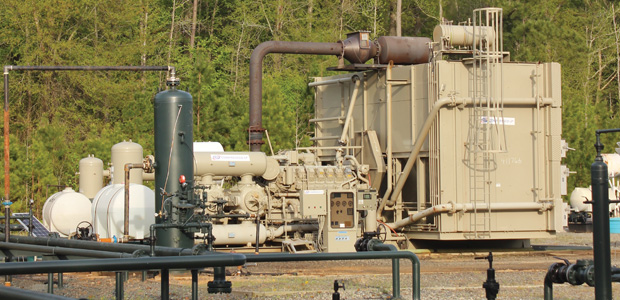 May 2019 Cover Story
Gas Compression
Compression Innovations Help Accommodate Country's Growing Output
By Danny Boyd, Special Correspondent
Thanks in large part to prolific shale gas plays and associated gas production in tight oil plays, the Energy Information Administration forecasts, U.S. dry natural gas output will top a record 90 billion cubic feet a day this year, up from 81 Bcf/d in 2018 and 73.5 Bcf/d in 2017. At the same time, EIA notes domestic gas consumption also is hitting all-time highs, and the same is true of both liquefied natural gas and pipeline exports.
At every step of the journey from the wellhead to the burner tip, all that gas must be compressed for treating, gathering, processing, transportation, storage and more. Considering the increasing volumes and flows of gas, it's not surprising that demand for natural gas compression equipment and services has been robust, to say the least.
For the compression industry, 2019 appears to be picking up where 2018 left off. Demand for compression horsepower is tracking up from the wellhead all the way to export terminals. An ongoing infrastructure build-out is trying to keep pace with soaring U.S. production as new demand centers continue to come on line.
"The strong demand for compression equipment and services we saw in 2018 very much continues in 2019 across all segments," reports Levent Caglar, vice president of sales for North America at CSI Compressco LP. "We expect that trend to continue in the near term."
The optimistic outlook throughout the compression sector is reinforced by surging multiphase production in shale plays from the Marcellus in Pennsylvania and West Virginia to the Niobrara in Colorado and Wyoming and the Wolfcamp in Texas and New Mexico. Combined, these plays have transformed the United States into a global energy exporting powerhouse, Caglar notes.
"We are looking at U.S. production getting higher and LNG export opportunities becoming more abundant," he predicts. "We are pretty excited about the future of our compression services market in the lower-48 states and as long as that trend continues, we will see our business grow."
Pre-Designed Fields
CSI Compressco operates a contract compression services fleet and an equipment sales line to build packages to customer specifications, and provide aftermarket services. Caglar says OEM equipment lead times for compressors and natural gas engines are long, and oil and gas companies have drilling programs in place with predictable models about scheduled well output and plans for centralized compression pads.
The emergence of gas compression as a preferred artificial lift solution has provided a major paradigm shift for CSI Compressco in particular, Caglar says. Companies pre-designing fields for gas lift makes compression an integral part of the production system instead of an add-on, Caglar observes.
Last year, CSI Compressco deployed new horsepower in excess of 92,000 hp to its service fleet, mainly high horsepower equipment targeted at existing customers with a focus on gathering systems and centralized gas lift.
"Our business model is changing," he reports. "Once well production is given to gas lift, compression services equipment will remain in that field. Our equipment is used by customers producing multiple wells from a centralized pad. We are coming in and setting this larger horsepower equipment a lot of times in parallel to basically produce that field."
He adds that CSI's Compressco's compression services offerings range from 20 to 2,500 hp from wellhead, gas lift and gas gathering applications.
When unconventional plays took off with the Barnett Shale during the previous decade, single well gas lift consisted chiefly of small horsepower equipment–often 200 hp units and below–but with the more prolific, longer-lateral shale wells, customers are now consistently using compression equipment ranging from 1,000 hp to 2,500 hp centralized gas lift/gathering applications, Caglar says. Now, service contract terms can go far beyond the 12-month program for some compression systems, he says.
"We are becoming more a part of the oil and gas production infrastructure because a lot of times this larger equipment installed on these pads tends to stay there for years," he says. "It is a pretty big shift in our industry."
Monitoring Data Points
Reliability is key for clients who push to maximize production, Caglar says. CSI Compressco is pushing for continuous improvement through remote monitoring of compression data points and operating conditions to make better decisions on preventative maintenance and to maximize uptime.
"We are looking at everything around the compressor to help the customer increase production," he describes. "The name of the game now is liquids production and these new centralized stations are mission critical. We are aware of everything happening on that site. Gas lift has gained more popularity as the preferred means of artificial lift for the new shale field developments and that is driving a lot of our larger horsepower needs."
More changes await as major oil and gas companies return to U.S. fields and demand more sophisticated modeling throughout their upstream operations, he says.
"The majors want to monitor a lot more data points on compression systems as part of their infrastructure and they are highly sophisticated customers," Caglar explains. "They want to be able to analyze trends and look at anything and everything to maximize production. You have to be ready with strong alignment of your resources to serve the needs of this space."
New equipment sales include compression units that offer as much as 5,000 hp fabricated at the company's Midland plant, which also tailors units for a variety of midstream applications, including gas processing, he says.
Puffing Away
Increasingly, operators in the Permian and other plays are expressing interest in J-W Power Company's compression system currently deployed in the Eagle Ford and other basins for enhanced oil recovery production, says James Barr, vice president of sales.
Referred to informally as "huff-and-puff" technology, Eagle Ford operators inject methane into a group of producing oil wells and shut them in to allow the gas to absorb the oil from the rock, then produce and strip the gas and start the cycle again, he says.
Although discharge pressures can vary according to operator preference and reservoir characteristics, the system compresses 1,000 psig inlet pressure up to 9,000 psig in some cases, Barr explains. Once optimum reservoir pressure is attained, the well goes through a "soaking" period before production resumes and the oil is stripped from the gas stream at the surface before the reinjection process resumes, he says.
"Operators reinject the gas again for another cycle and once they think they have recovered as much as they are going to recover, they move the unit to another group of wells and repeat the process," he illustrates.
The first EOR compressor systems built by J-W Power Company in 2012 incorporated a Dresser-Rand compressor frame and a Waukesha engine drive at 1,000 hp, Barr recalls. Currently, the most common design built at J-W Power's Longview, Tx., plant is equipped with a 3606 Caterpillar engine, with output of 1,875 hp, coupled with an Ariel JGF/4 with special forged cylinders designed by Ariel for the EOR application, he continues. Vessel and piping walls can be five-six inches or thicker depending on engineering design, pressure requirements and customer requirements.
"J-W also has 380 and 690 hp designs for less ambitious projects with lower volume requirements," Barr says. "These units have a very rigorous engineering design process with safety first and user-friendly operation as part of our fabrication goals."
While the 1,875 hp system has no formal name, some refer to it as MOAC, the "Mother-of-all-Compressors," Barr quips.
"It's a different animal than I have seen built in the compression industry in a long time," he acknowledges. "There is a steep learning curve, because you are going into another level of engineering that requires rigorous thermal, pulsation and other studies. The system has to work with the customer's site design, so continuous collaboration with our customer is essential to success."
While the majority of development has been in the Eagle Ford, pilot projects are under way or planned in Oklahoma, as well as in the Permian, Williston, Piceance and D-J basins, Barr says.
"There is still a lot of evaluation on the rock to see where this technology can be effective," he comments. "A lot of companies are only starting to do pilot projects and evaluate their reservoirs. Certainly, gas availability is a big factor. Philosophies vary on which gas works best, including whether it needs to be native to the reservoir. There continues to be a lot of ongoing research to find the best method. It's still a developing technology."
Sweet Spot
J-W Power has fabricated high pressure units for the compressed natural gas fueling market since 1991, progressing into high pressure air injection units for fire flood projects early in the previous decade, Barr details. That experience and expertise created a natural progression into the high pressure EOR market and the company's current offerings, he says.
"We have learned many lessons along the way and expanded our engineering knowledge and field operation capabilities to get to this point along with a large capital investment," Barr says. "With more than 60,000 hp of high-pressure packages in successful service, we are considered the go-to company for this type of fabrication, which is offered for sale only at this juncture."
As one of the largest privately-owned compression providers, with a fleet nearing 1 million hp and covering 17 states, J-W Power Company also offers rental compression and third party services such as shop revamp work and field repairs, he says, although the EOR system is available only for sale. However, Barr says, the company also continues to focus on continually expanding its rental fleet. During the last 10 years, J-W Power Company has built primarily three-stage gas lift and two- and three-stage gathering compressors for its purchasing clients and rental fleet, with horsepower ratings ranging from 145 to 1,380 hp and many 3600-Series Caterpillar engines.
"We consider this our sweet spot for our size and core competencies, but constantly are looking for opportunities," Barr says. "We also offer standard packages for the CNG fueling business, renewable gas, high pressure single point gas lift and other specialty fabrication."
J-W Power Company continues to adapt to industry changes brought on by the advent of unconventional production, he says. "We see operators trying to eliminate as many gas lift valves as they can and we are seeing some of the discharge pressures for gas lift increasing over traditionally what the industry has built," Barr explains. "Mostly, the industry builds for 1,200-1,400 pound discharge pressures and now we are seeing gas lift pressures as great as the 1,400-1,550 pound discharge range. This is a fairly common development that we have seen across the producing regions."
Operators are buying and leasing more valveless gas lift systems that include smaller horsepower units in which pressures ranging from about 1,000 psig inlet to 4,500 psig discharge are used for wells without gas lift valves, for which the company now has an offering, he explains.
As the industry continues a trend over the past decade of building packages for three-stage gas lift, opportunities for other designs for compression growth will continue in unconventional fields, including dry gas plays such as the Haynesville Shale and portions of the Marcellus, Barr points out. "We are seeing an increasing number of opportunities for fabrication of electric packages, which we do also from 200 to 6,000 hp at our Longview, Tx., facility," he notes.
Gathering Focus
For the second half of the year, SNC-Lavalin foresees robust demand in medium and high horsepower compression packages as clients continue to drill and complete wells in the Permian Basin and other active U.S. producing provinces, reports Kurt Loustalot, vice president of midstream.
Compression orders were very strong in 2018, and demand is likely to continue throughout 2019, as gas production keeps rising and the need for field compression ticks up as well, he says.
With its focus on midstream gathering, the company packages reciprocating compressor systems and owns and operates compressors and compressor stations for clients, he explains. The horsepower of its systems continues to grow, as demand for smaller 200-400 hp wellhead compressors declines in the nation's resource plays, he says.
"It seems that customers are going away from wellhead compressors and are going more toward field gathering and multiwell pads that generate 5 million-10 million cubic feet or more," Loustalot observes. "They are combining that with other multiwell pads to develop stations that are compressing on the order of 20 MMcf-100 MMcf."
Currently, SNC-Lavalin mostly packages compression in a range of 1,000-3,000 hp, capable of handling 5 MMcf-20 MMcf applications, with inlet pressures ranging from 35 to 125 pounds of suction discharging at 1,200 psi into a processing plant, he details.
However, Loustalot says the gathering segment includes some 3,000-6,000 hp applications, which SNC-Lavalin also packages, usually with processing plants instead of gathering stations. He acknowledges that larger compression must be weighed against mobility constraints when operators consider shifting units from site to site.
Technological Refinement
Like other vendors in the space, SNC-Lavalin offers compression systems with natural gas or electric engines to meet client preference or help meet environmental standards that can vary by region, Loustalot indicates.
The market for compressors and compression services will continue to trend alongside production in more robust basins, Loustalot predicts, although public policy issues will continue to play a part in some places. He cites the example of Colorado, where policymakers are reviewing oil and gas regulations after the governor signed legislation that may present certain risks to project development. The uncertainty has the potential to cause project delays or may force operators to shift project dollars elsewhere, he considers.
Nevertheless, he conveys optimism about innovations in system monitoring and their implications for improving compressor performance. "These are not necessarily new technologies but they are being refined," Loustalot explains. "You have remote monitoring and predictive maintenance instead of simple preventative maintenance. Monitoring systems are better able to predict pre-failure and when to investigate a particular issue. The technology has been there for a while, but people are putting more value on it as horsepower is becoming more utilized."
Additionally, he observes, original equipment manufacturers such as Caterpillar and Waukesha are improving engine efficiency to maximize power out of the next generation of their flagship engines. "SNC-Lavalin was on the front line in putting Waukesha's new Series 5 engine to the test in the field and Caterpillar has made similar advances with its ADEM 4, for which we see high demand," Loustalot reports. "Ariel has followed suit with the release of its 'KB' compressor frame. These advances get additional horsepower out of similarly sized and priced equipment in the range of 10-20%."
Intelligent Systems
Compression system changes coincide with post-2014 workforce shifts that together require greater demands on controllers and monitoring systems to alert compression system operators about system conditions and help them avoid potential downtime, says Rick Harris, director of product management and development for FW Murphy Production Controls.
Veteran generations of technicians have retired or left the industry, and the younger generation that has filled the void requires greater component and information monitoring to identify potential repairs or maintenance procedures to protect larger, more elaborate compressor systems that perform gas lift today, he says.
"Companies are facing the challenge of optimizing assets in a market where skills are in increasing demand and scarce," Harris remarks.
Operating companies are looking to OEMs to help meet demographic needs, he says. Increasingly, controls must be more capable and yet simpler for a generation accustomed to getting information from Google and YouTube. "Systems have to be more intelligent to provide context and actionable direction instead of just data, so we have to create these consumable information context systems," Harris reasons. "Engine companies have to do more to make their information transparent. In 2011, we created the Engine Integrated Control System (EICS®) to address this need. When an application controller is interrogating an engine for more information, it not only can provide more actionable information to the operator in the context of the compressor application, but it can modify the compressor behavior as a result of what the engine reports, reducing costly and preventable dynamic condition related shutdowns."
Diagnostic Abilities
In 2018, FW Murphy introduced the latest generation of its Centurion™ controller, the C5, building on the line's evolution since its initial introduction in 2004, Harris reports. The newest gas compressor application controller gives users more diagnostics to reduce troubleshooting time, improve communication and enhance data management throughout the entire compression system, including engine monitoring, he says.
The C5's diagnostics offer insights into how systems are running, from major complications to simple wiring problems, and reduce troubleshooting downtime with improved system feedback, Harris details.
"Engines are interoperated with Centurion so we know everything we need to about the engine and our application controller can collect that information and become a single source of skid information," he says. "Combine that with scrubbers, cooler and auxiliary equipment on- and off-skid, and the users have a comprehensive view of the system and the ability to manage it all from a single point."
The company also has added Ethernet and Wi-Fi capabilities in the process of moving toward the mobile app category, Harris says.
"We are positioning the Centurion application controller to interact with operators on form factors and with technology that allows them to do more with less, and Wi-Fi and mobile applications are a big part of that strategy," he says.