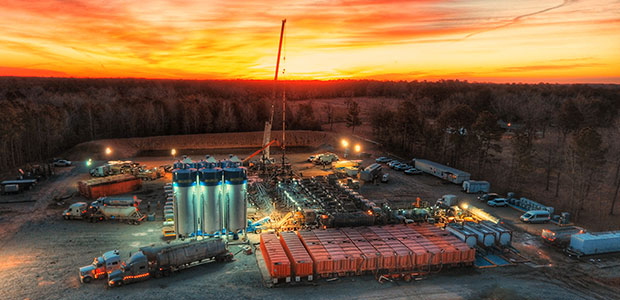 August 2020 Cover Story
Fracturing Technology
Data Mining Technology Helps Haynesville Operator Optimize Completion Design
By Mark Weber and Michael Lowder
HOUSTON–Privately held independent oil and gas companies always have been a force to be reckoned with in the development of the Haynesville Shale, and­ they are emerging as the driving force in America's second most active shale play.
Rising late-summer Henry Hub futures prices and declining associated gas production are positioning natural gas to play a larger role in the industry's winner's circle. Giant strides in completion technology are being particularly kind to smaller firms with strong balance sheets, helping them further capitalize on the Haynesville's strategic location in proximity to premium Gulf Coast demand centers and LNG export facilities.
Rockcliff Energy LLC, which staked its claim in the Haynesville in 2017 with a 250,000-net acre position on the Texas side of the play, has not missed a beat in maintaining a consistent level of drilling and completion activity. The company is running four rigs–the same number as a year ago, and the same number since acquiring its initial leasehold three years ago. It also operates two frac crews, with each crew completing a typical 90-stage gas well every 13 days on average.
Along with producing dry gas from the Haynesville and Cotton Valley formations, each of Rockcliff's multistage stimulation treatments generate a torrent of data. Recognizing the benefits of effectively managing completions data to generate critical insights, the company is leveraging advanced technology to obtain a clearer view of frac and wireline operations, improve efficiency, and reduce cost. Cloud-based completions analytics enable Rockcliff to seamlessly manage the data streaming from frac spreads, allowing staff members to effortlessly access data in real time, whether their boots are in the mud or in the office.
Armed with its analytical capabilities, Rockcliff is decreasing completion design time, tailoring treatments for each pad, and giving all stakeholders a clear and up-to-date view of ongoing well operations. The company also is mining offsets for optimal chemical set points to reduce expensive frac fluids and analyzing wireline data to prevent fishing jobs and understand root causes when problems arise.
Completion Trends
Nowhere better contrasts trends in completions design and execution than the state of Texas. Macroeconomics and geology are determining what those completions look like, with the Haynesville and Permian Basin tight oil formations illustrating precisely how different frac treatments and operational priorities are on opposite sides of the state.
Little impacted by oil price uncertainty and incentivized by NYMEX futures prices in the $2.50 an Mcf range by the start of winter, frac and wireline crews in the Haynesville continue to operate day and night. As a pure natural gas play, Haynesville operators largely are shielded from global market price swings, even though U.S. LNG exports are an increasingly important outlet for the production. Local commodity pricing is stabilized by steady demand from regional markets, with Haynesville production finding its way to city gates, power generation facilities, industrial complexes, and petrochemical plants on the Texas and Louisiana coasts.
Comparing some of the shallower Permian productive intervals, such as the Spraberry, where pay zones can be as shallow as 6,000 feet deep, with Haynesville targets at depths to 13,000 feet, it is no wonder crews in East Texas are prioritizing horsepower hours over the type of clockwork precision emphasized by Permian frac crews.
Rockcliff drilled 41 Haynesville wells in 2019 and completed approximately 3,000 frac stages. It expects to complete 45 wells and more than 3,000 stages in 2020. Like other operators in the Haynesville, Rockcliff drills to depths of 10,000-12,000 feet with average lateral lengths of 9,000-10,000 feet. It completes as many as 90-100 stages a well with anywhere from six to 12 clusters per stage.
The company's plug-to-plug spacing is relatively tight at 100 feet, compared with 125-150 feet for some of the region's operators. The completion treatments use slickwater at treating pressures greater than 12,000 psi with as much as 3,500 pounds of proppant and 105 barrels of water per foot. Rockcliff drills between two and four wells a pad, and completes them using zipper fracs.
In terms of completions design, a lot has changed in the Haynesville during the past decade. In 2010, most Haynesville wells had 4,500-foot laterals with only 12 stages spaced 300 feet apart from plug to plug. Hybrid frac designs treated at 1,000 pounds of proppant and 18 barrels of fluid per foot.
These days, companies operating in the Haynesville primarily focus on pumping efficiency versus some of the more nuanced operational efficiencies that Permian producers target. Instead, Rockcliff and others in the Haynesville rely on brute force, with as many as 24 pumping trucks and six spares deployed for each job. This extreme pressure environment places heavy wear and tear on equipment, so it is not uncommon for four or five trucks to be knocked out of commission during a single stage.
It is all about pumping time and horsepower, which is why operators are willing to constantly repair equipment and replace as many as 10 fluid ends a week (compared with the two fluid ends for which most Permian operators strive). As a result, Haynesville swap-overs often take more than 30 minutes, compared with less than half that time in the Permian.
Treatment Data Challenges
From blenders and zipper manifolds to water heating and chemical units, a typical hydraulic fracturing spread consists of dozens of pieces of specialized equipment. With the exception of frac tanks and portable toilets, every piece of a frac spread is wired and transmitting data day and night throughout a completion operation. Add to that a fleet of pumping trucks, and today's completions operation continuously outputs 100 or more data channels. For Rockcliff and its peers in the Haynesville, who deploy more than 20 frac pumps at a time, data is even more voluminous.
All this data–pressure, flow rate, temperature, fluid volume, proppant concentration, etc.–flows into the on-site data van. The modern data van gives the completions team the data it needs on the spot to execute the planned design. However, teams face significant data challenges outside the frac van, including:
Pad key performance indicators (KPIs). Completions supervisors and off-site teams lacking a holistic view of operations with frac and wireline operations managed in separate systems, can impede timely analysis of swap-over times and other pad KPIs.
Offset well analysis. The large volume of data collected during completion operations is difficult to sift for insights and best practices used on wells drilled a mile away or a year earlier.
Look-back analysis. Frac and wireline data collected during operations requires completions staff to manually download data from the van and collate datasets, making it time-consuming to pinpoint potential problems before they happen or identify what led to a fishing job.
Real-time optimization. Data silos and lack of support inside the frac van limit the integration of historical data and best practices needed for real-time completions optimization.
The overarching data challenge with which many operators have struggled is the sheer volume, variety and velocity of data they need to analyze. It is like drinking from a firehose. However, new "big data" solutions are providing the data platform and analytical capabilities needed to transform raw historical offset and real-time completions data into easy-to-navigate, on-demand insights. These solutions leverage the cloud and mobile devices to bring frac and wireline analytics to completions teams wherever they are, enabling on-site and back-office staff to share a common operational view and optimize completions in real time with a tablet, phone or laptop.
Mining Offset Data
Frac treatments in the four corners of a county often yield completely different results, so there is no one-size-fits-all approach. Treatments must be tailored to local conditions and rock fabric variability. Wells in a nearby offset field often hold the key to optimal proppant, fluid and pressure ratios for the target pad. And with the downspacing seen in the Haynesville, parent wells are abundant, which translates to vast volumes of historical offset data. It can take weeks for offset completions data to be gathered and analyzed for treatment best practices and optimal set points.
Rockcliff's completions engineering staff members now mine this large volume of offset well data in seconds with cloud-base analytics that instantly organize pad metrics. By using the technology, the company can build a completions roadmap tailored to the unique requirements of each pad quickly, leveraging best performing treatment set points. What worked best for an offset well pad a year ago could be leveraged and the treatment best practices adapted for the current pad. This iterative process of capturing completions metrics for every stage, well and pad provides a continuous improvement loop as treatment best practices are leveraged and refined for a region over time.
Because Rockcliff drills multiwell pads and zipper fracs as many as four wells at a time, keeping a close eye on operational progress is traditionally only possible with staff sitting in the frac van and wireline logger. During the completions operation, one well is fractured while the wireline crew plugs and perforates the next well, keeping equipment and crews in constant action. For off-site staff and completions engineering teams, there is limited visibility into these ongoing operations, making it difficult to monitor progress and troubleshoot.
Rockcliff is leveraging its completions analytics platform to track pad progress in real time. Engineering staff members simply access a pad progress app from a device of choice, which provides quick-look analysis, including frac and wireline status, swap-over times, day and night shift performance, and other KPIs. The technology also enables Rockcliff's team to quickly drill down to detailed measured depth versus total vertical depth visualizations for a specified range of stages and to view dogleg severity, rate of penetration, and log curves (Figure 1).
Optimizing Chemical Usage
Cross-linked gels, friction reducers and other frac additives are not cheap, but they are necessary to improve flow rate. In general, the industry overtreats and without reliable data on optimal chemical set points, it is like pouring money down the drain.
How slick does a slickwater frac really need to be? That is a question Rockcliff is answering with data mining analytics designed to do exactly that. The operator's completions engineering team uses an app that displays chemical usage by stage for a well or group of wells. Staff members start by adding nearby offset wells or by specifying a radius around the target well. Chemicals then can be selected and their pressure responses plotted for quick comparison.
The chemical usage analysis provides Rockcliff with two levels of insight that guide stage-to-stage chemical volume selection. First, engineering staff easily can mine offset wells to see what worked best through the same formations. Second, the app provides up-to-date pressure response data for the last stage of the target well, enabling completions teams to continuously adjust chemical treatment to balance friction pressure and cost. The technology is also a valuable tool for monitoring chemical usage across multiple completions operations, or simply to double-check that crews are not overpumping.
Frac chemical optimization is a continuous balancing act of ensuring both optimal flow rate and chemical usage. The company is leveraging data mining to pinpoint the sweet spot. The technology makes it possible to identify the best performing chemical metrics from nearby or similar wells elsewhere in the Haynesville, apply the chemical set points to the target well, and monitor treatment response. Armed with instant feedback on flow rate, Rockcliff can adjust rates as needed, optimizing usage and costs (Figure 2).
Preventing Wireline Problems
Wireline work generates a torrent of valuable trace datasets, including casing collar locator, line speed, line tension, measured depth, elapsed time, current and voltage. However, if the completions staff members wanted to assess whether or not wireline work was up to standard operating procedure or understand why something went wrong, they had to approach the wireline logger after the job was done and manually download the data. Then they would perform a look-back analysis in a spreadsheet back in the office. In the meantime, the crew has moved on to another couple of stages, making the problem of finding and resolving any wireline issues a moving target.
Rockcliff is leveraging real-time analytics, giving staff timely access to wireline traces and the tools to leverage this data to verify plug placement and avoid costly mistakes such as presetting plugs or pumping off guns. Equipped with the wireline traces app, the company's engineers can answer important questions rapidly, including:
Are perforation and plug placement consistent with planned locations for each stage?
Are current operations following the planned procedure?
Are operations within the set parameter guidelines for items such as speed and line tension?
In addition to real-time wireline trace data analysis, the analytics can be used to quickly troubleshoot problems and pinpoint exactly what has gone wrong. For example, Rockcliff's wireline crew recently encountered a situation where it started pulling heavy during a perforating run before ultimately losing the gun string in the hole. Utilizing the data stream, the company's operations team was able to visually identify the exact depth and time where line tension, and subsequently the gun string, were suddenly lost. This type of look-back analysis provides valuable insight into diagnosing nonproductive time events, as well as providing a quick comparison with similar events encountered on other wireline runs.
From treatment design and monitoring pad progress to frac chemical optimization and wireline data analysis, Rockcliff is accelerating key workflows as well as optimizing operational and cost efficiencies. Supported by real-time data mining technology and completions analytics, the company is navigating the daily complexities of its Haynesville operations while creating new opportunities to increase operational and cost efficiencies, collaborate, and respond with actionable, data-driven insights.

Mark Weber is a completion design engineer at Rockcliff Energy LLC in Houston. He has nine years of experience as a completion, production and reservoir engineer in the Haynesville, Bossier, Eagle Ford and Marcellus shale plays. Weber's specializations in unconventional resource development and recovery include frac surveillance and design optimization, parent/child well interference mitigation, capital budgeting, and artificial lift design. He holds a B.S. in petroleum engineering from the University of Texas at Austin.

Michael Lowder is a drilling and completions engineer with Corva, and has seven years of oil and gas industry experience. His professional interests include drilling and completions optimization and data analytics. Lowder has been a drilling engineer and a completions engineer in the San Joaquin and Permian basins. He holds a B.S. in mechanical engineering from the University of Texas at Austin.