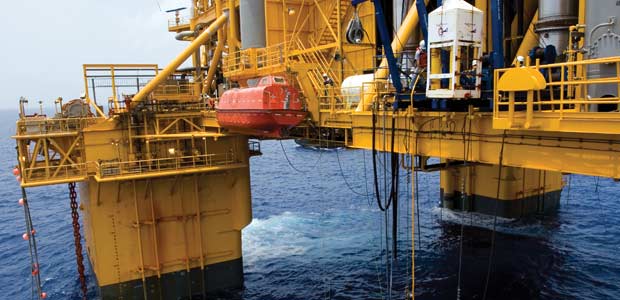 April 2008 Cover Story
Deepwater Gulf Of Mexico Takes A Leading Role In Meeting Nation's Energy Needs
By Lars Herbst
NEW ORLEANS–Any discussion of energy production in the Gulf of Mexico must include an analysis of activity in water depths greater than 1,000 feet. The Gulf of Mexico deepwater frontier fills the lead role in the nation's domestic energy portfolio, and the future looks promising.
Last year was highlighted by the Independence Hub project, which now brings a tremendous volume of natural gas production to American consumers from the ultradeep waters of the Gulf.
At the end of 2007, BP's Atlantis project also came on line. As the deepest moored, floating oil and gas production facility in the world, Atlantis will considerably impact total Gulf oil production as it ramps toward its full potential in 2008 and beyond.
Later this year, BP's Thunder Horse project also is expected to come on line. With a design capacity of 250,000 barrels of oil and 200 million cubic feet of gas a day, the Thunder Horse project is anticipated to account for the most production in the Gulf.
Numerous other deepwater projects will come on line over the next several years as well. Perhaps the most eagerly anticipated are those in the Lower Tertiary play, such as Petrobras' Cascade and Chinook, and Shell Oil Company's Perdido Regional Host projects, which are expected to come on line in 2010.
Petrobras proposes to develop the Cascade and Chinook fields by utilizing the first floating, production, storage, and offloading vessel in the Gulf. The proposed vessel has a storage capacity of 500,000 barrels, and will operate in more than 8,000 feet of water.
Shell's Perdido Regional Host project also is expected to develop multiple Lower Tertiary fields, including Great White, Silvertip, Trident, Tiger and Tobago. Development will be through the world's deepest truss spar in more than 8,000 feet of water. Shell also has requested the Minerals Management Service approve a subsea separation and boosting system to enhance overall recovery from the fields.
Table 1 lists major developments expected to come on line over the next three years.
Lower Tertiary
Both major and independent oil and gas companies have been actively leasing, drilling and producing in the deepwater Gulf of Mexico. More than 90 percent of the high bids for Central Gulf Sale 205, held last October, were in water depths of 2,600 feet or more. From 2005 to 2007, the number of wells drilled in water depths greater than 5,000 feet increased by 115 percent.
These trends are likely to continue over the next few years as numerous deepwater leases expire from the large lease sales in 1997 and '98. Operators will undoubtedly seek to acquire prime acreage, and strive to explore and develop their best prospects before the leases expire.
In addition, the MMS forecasts a significant increase in Gulf oil production over the next few years, thanks to projects such as Atlantis, Thunder Horse and others. A key for continued expansion beyond 2010 will be successful production from the massive Lower Tertiary reservoirs.
The Lower Tertiary trend has the potential to produce billions of barrels of oil, but unique technical challenges require tremendous industry investment to ensure this play becomes economically viable. Challenges include imaging complex subsalt features, drilling rig limitations, high pressure/high temperature conditions, and reservoir porosity and permeability anisotropy.
Technological advances such as wide azimuth seismic data, improved equipment for HP/HT environments, and next-generation drilling vessels, combined with promising results from the Jack No. 2 well test, have facilitated exploration and indicate Lower Tertiary reservoirs have the potential to support commercial production.
Issues of water depth and proximity to development infrastructure are being overcome through the planned use of the Gulf's first FPSO at the Chinook-Cascade development in Walker Ridge. Additionally, an expanded pipeline network will tie into the Perdido Foldbelt Hub, which will produce the Great White, Tobago and Silvertip fields in Alaminos Canyon.
Production from both projects is expected to begin around the end of the decade. While attempts to forecast Lower Tertiary production are complicated by many variables, it's clear that technical advances and exploratory successes will continue to drive industry interest in the emerging Lower Tertiary trend (Figure 1).
Record Interest
Indicative of the interest in deep water and the Lower Tertiary, Central Gulf Sale 205 generated the second largest high-bid total in Gulf history with $2.9 billion in high bids (versus $3.5 billion in 1983). In addition, the sale generated the largest total bid amount exposed since 1980 ($5.2 billion versus $7.1 billion).
A number of factors drove the high interest in Sale 205:
Continuing high prices for crude oil and natural gas;
Continued interest in the deepwater Lower Tertiary trend;
Opening of new areas in the Central Planning Area for competitive bidding;
New and developing plays in addition to the Lower Tertiary;
Improved seismic acquisition techniques and processing algorithms; and
The large number of deepwater tracts that became available for renewed leasing after their 10-year primary terms expired.
This last factor was significant. As illustrated in Figure 2, 993 tracts became available for leasing in the deep water during both the Western and Central sales in 2007, reflecting heavy bidding during the years following enactment of the Deep Water Royalty Relief Act of 1995. This year, about 1,100 blocks are expected to become available again, suggesting interest in the Gulf will continue to remain high.
Meanwhile, shallow-water deep gas has been rewarding for several operators as well. Although targets are difficult to image and wells may be challenging to drill, the large reservoirs and high production rates continue to make this play attractive. Announced discoveries at Bois d'Arc's Butch Cassidy prospect and McMoRan Exploration Company's Hurricane Deep and Flatrock prospects highlight the play's potential.
At depths beyond 30,000 feet, downhole pressures and temperatures begin to push technological capabilities. Many operators are competing to improve the industry's HT/HP capabilities, striving to be the first to unlock this new frontier.
Technology Trends
The MMS expects operators to increase the use of subsea wells tied back to host/hub facilities in the Gulf of Mexico. Because of the high cost of developing infrastructure for deepwater projects, we also anticipate the future design model for deepwater projects will mimic the composition or structure of the Independence Hub and/or Perdido Regional Host. Different lessees will cultivate their projects with subsea completions and tie those developments to a central hub facility.
New subsea technology will be an integral part of that vision. Some reservoirs may contain high pressures or high temperatures, highly corrosive environments, or all of these engineering evils. Some projects will require pipelines protected by high integrity pressure protection systems (HIPPS). Some projects may require new or upgraded equipment made out of new materials, and some method of verifying that this new technology/equipment is "fit for purpose."
In addition, new deepwater zones may experience trouble flowing economically, and may require challenging secondary recovery efforts, subsea booster pump systems, subsea separation systems, or enhanced flow assurance systems. Figure 3 illustrates the increased use of subsea completions in the Gulf of Mexico.
FPSOs will find their niche in areas of the Gulf that lack adequate infrastructure or on projects where companies need to learn more about the reservoir before investing a substantial amount of money.
To aid in these efforts, MMS has:
Conceptually approved HIPPS for use in the Gulf of Mexico;
Conceptually approved a "modified" subsea separation system in the Gulf, which will not discharge anything to the environment;
Approved several subsea booster pump applications;
Approved using permanent and prelaid temporary polyester mooring systems;
Conceptually approved several free-standing hybrid flowline and export pipeline risers; and
Conceptually approved an FPSO with a disconnectable turret buoy system.
MMS also is reviewing an application to use a ship-shaped, disconnectable turret, dynamically positioned, foreign flagged floating production unit.
Industry Partnerships
MMS expects to see additional multiple field, cooperative developments in the Gulf of Mexico, with investment and ownership of infrastructure by exploration and production companies as well as midstream companies.
The Independence project was developed through the collaborative efforts of midstream energy companies and independent exploration and production companies, including Enterprise Products Partners LP, Helix Energy Solutions Group Inc., and the Atwater Valley Producers Group (Anadarko Petroleum Corp., Devon Energy, Hydro and Eni).
The Independence project consists of three main components: Independence Subsea, Independence Hub, and Independence Trail. Independence Subsea consists of all the producer owned and operated facilities from the wells to tiebacks on the Independence Hub. The exploration and production companies in Atwater Valley Producers Group own and operate the Independence Subsea facilities and production.
The Independence Hub facility, which is owned by affiliates of Enterprise and by Helix Energy Solutions Group, is a state-of-the-art 105-foot, deep-draft, semisubmersible platform. Enterprise constructed and installed the Independence Hub platform. The platform was designed to process up to 1.0 billion cubic feet a day of natural gas from the initial 10 anchor fields, with excess payload capacity to tie back up to nine additional subsea flowlines.
The Independence Trail natural gas pipeline, which is owned and operated by an affiliate of Enterprise, is a 134-mile line that has the capacity to transport up to 1.0 Bcf/d of gas from the Independence Hub.
More Collaboration
Another example of collaborative development in deep water is the Cameron Highway Oil Pipeline System, which is jointly owned by Enterprise Products Partners and Valero Energy Corp., and transports deepwater crude oil production from the BP-operated Holstein, Mad Dog, and Atlantis fields in the southeast Green Canyon area to points in Texas City and Port Arthur, Tx.
Shell will operate the Perdido Regional Host Spar, which will be one of the first development projects in the Lower Tertiary trend, with co-owners Chevron and BP to develop multiple fields in the Alaminos Canyon (AC) area. The Perdido Regional Spar will be located in AC 857 in 8,000 feet of water, and initially will process oil and gas from the Great White (AC 857), Tobago (AC 859), and Silvertip (AC 815) discoveries, with first production expected in 2010.
There are additional discoveries and prospects in the vicinity of the planned location of the Perdido Regional Host that have not yet been approved for development. The oil and gas pipelines planned to transport production from the Perdido Regional Host to connections farther north with the Perdido Norte project will be owned and operated by Williams. The Perdido Norte project facilities are designed with capacity to accommodate future production from other Perdido Foldbelt (Alaminos Canyon) prospects and from potential tie-ins along the new pipeline route.
Hurricane Readiness
After reviewing the extensive damage caused by Hurricanes Ivan, Rita and Katrina, the MMS and industry worked together to revise the metocean data, or the historical information of weather conditions–i.e., wave height and wind speed that could be present during hurricanes in the Gulf. These revised data are being used to modify design standards for both existing offshore structures and new designs. These new design standards will be incorporated into MMS regulations.
MMS also is working with oil and gas operators to conduct risk assessments of structures, utilizing the new metocean data. These assessments will help both MMS and operators direct their focus on which structures need modifying to better protect against disrupting oil and gas production from the Gulf in the event of another tropical storm or hurricane.
Whether it is new technology challenges in the ultradeep water of the Gulf or enhancing the hurricane preparedness of offshore structures, MMS witnesses daily the commitment of the oil and gas industry to develop the nation's energy resources in the Gulf.

LARS HERBST is director for the U.S. Minerals Management Service's Gulf of Mexico Region, and is responsible for managing more than 7,000 federal leases off five Gulf Coast states as well as a staff of 550 geologists, geophysicists, petroleum engineers, biologists, environmental scientists, and offshore inspectors. In his 25 years of service at MMS, Herbst also has served as deputy regional supervisor for district operations in the office of field operations in the Gulf of Mexico Region. He began his career in Schlumberger's well testing group, and joined MMS in 1983 as a staff engineer in the Gulf Region technical assessment unit. Herbst holds a B.S. in petroleum.