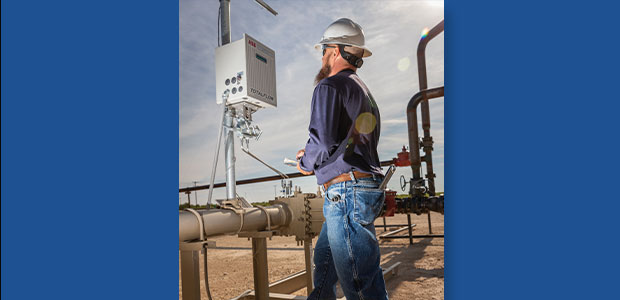 November 2022 Cover Story
High IQ IT Meets ESG At Laredo Petroleum
By Brandon Brown
TULSA–It's no secret that environmental, social and governance initiatives are becoming increasingly important to stakeholders. Accordingly, they are also important to oil and gas companies.
In a nutshell, operators are figuring out how to make ESG initiatives work in conjunction with business objectives to increase revenues. For example, the use of technology to not only detect, but completely prevent, adverse events such as venting or flaring serves both purposes. Shareholders benefit from this synergy between ESG goals and increased revenues.
As a midsized oil and gas company operating in the Permian Basin, Laredo Petroleum Inc. is constantly focusing on innovative ways to address operational efficiency. Our use of artificial intelligence and related technologies in the field have decreased errors, helped us work toward achieving sustainability goals, and increased productivity, and ultimately, revenue. We have automated 64 business processes–up from 30 in 2021–and achieved 20,000 hours of robotic process automation.
There are multiple ways to measure the success of these internal initiatives. Using a financial metric, our digital transformation has resulted in more than $14 million in gross revenue. Beyond financial gain, however, Laredo seeks to do the right thing for our stakeholders in the long term.
Laredo is in the midst of a robust digital transformation initiative with Amazon Web Services that is contributing to our focus on ESG as well as revenue generation. In 2020, Laredo migrated its legacy systems to the cloud, beginning with serverless, centralized data in a "data lake." The data lake stores both structured and unstructured data, providing a vast repository of information that allows for scalable data processing, real-time analytics, machine learning, and modeling through dashboards, visualization, and mobile applications.
Employing Internet of Things (IoT) and smart devices helps us collect and fully understand our data. These devices include smart cameras, sensors and other digital devices that transmit data in real time for storage in the data lake. The solution uses computer vision–a field of artificial intelligence that enables computers to interpret images–to help accurately identify and classify camera images. Data feeds deep learning models that detect adverse events. We are able to match these reactions with operational data to develop a probability metric that then can be monitored to predict when an adverse event may occur.
We believe predictive analytics may be a major revenue driver in the near future, while also contributing to ESG measures. Currently, Laredo deploys more than 70 smart cameras and other IoT devices that can detect events related to pressure relief valve emissions. This information is paired with real-time equipment surveillance to detect an event up to 20 minutes before it actually happens. We already have been able to prevent some adverse events and are working toward implementing even more robust processes. The plan is to use automation to proactively prevent even more adverse events, which means more product will be kept in the sales pipeline.
Another benefit of IoT cameras has been improved physical security. We have been able to recover stolen or missing items, such as $20,000 worth of wire that never showed up on location. In the first four months of 2022, we saved $250,000 on legacy camera solutions, and we continue to save about $1,200 a day.
The budding partnership between the IT department and field engineers enables rapid iteration of digital solutions. Engineers realize that the use of automated solutions frees them to focus on more substantial tasks rather than spending valuable time monitoring equipment, and now reluctant vendors are letting us tap into their systems.
For example, one vendor who supplies compression services initially did not allow Laredo to access digital readouts from their units. Instead, we pointed cameras at the gauges to capture the analog readings, then used computer vision to convert analog gauge readouts into digital information. Our system ingested the real-time digital data and sent it to the cloud for advanced analytics.
As a result, we improved compression efficiency by 50%, directly correlating to increased revenue. Our successful implementation convinced the vendor to allow us to tap into its system, and internally our solution was a great proof of concept to show how we could use data to increase revenue.
ESP Optimization
In 2022, Laredo has two primary areas where digital technology is driving revenue and simultaneously supporting ESG initiatives: electrical submersible pump optimization and dynamic routing.
ESPs can achieve high daily production rates, but they are susceptible to high gas-to-liquids ratios, solids in the production stream, etc. By leveraging data and machine learning, we worked to tune the pumps to operate more effectively, starting with a 20-well pilot program. In the first 30 days, production increased so significantly that the uplift translated into $2.5 million in additional revenue.
ESP optimization relies on algorithms built around data from multiple different sources housed in our data lake. Laredo data scientists can tune algorithms to specific business strategies, whether that is pump longevity, increased production or another desired outcome. The algorithm goes a step further to show the expected result from a suggested change and data scientists use the results to continually tune the algorithms. We built the algorithms with what we call a "human in the middle." For now, engineers can accept or reject the algorithm's recommendation and gradually build confidence as we move toward fully autonomous solutions.
We have two ways of preventing an algorithm from making drastic recommendations. First, we constrain the inputs to human-specified operating parameters, such as limiting the temperature to below 160 degrees Fahrenheit or restricting the speed of the pump to between 45 and 65 hertz. Second, the recommendations cannot result in changes that exceed a specified number of units at a time. For instance, the pump cannot increase or decrease speed by more than three hertz or 40 psi.
Because our pumps are more efficient, they have longer run times while minimizing failures. Plus, ESP optimization enables us to become more aggressive in producing wells with no risk of reservoir damage. We also are able to identify early issues with pump sizing, which helps strategize pump downsizing with minimal downtime. The program has expanded to more than 170 wells, many of which are equipped with smart valves that operate without human intervention. Now that field engineers are more comfortable with the recommendations, ESP optimization is close to being fully autonomous.
Dynamic Routing
Another way in which our digital initiatives help drive revenue and ESG focus is with the implementation of a dynamic routing system, in which we use data to optimize our operators' routes. Previously, operators ran the same daily routes, stopping at each well. Now, field sensors collect data and send it to our digital platform to quickly identify critical events (whether related to ESG or production) and route our lease operators in response. Our dynamic routing capability has increased revenue substantially, even though we are currently deploying it on only half of our routes.
In addition, data entry automation is saving field technicians from manual data entry, which used to cost them about three hours every day. Rather than requiring operators to drive to each well site and plug in data, our telemetry system collects data automatically and sends it directly to the data lake, which then feeds data to all the proper systems.
Dynamic routing works with ESP optimization to save money and time. Once an ESP algorithm makes its suggestion and a production engineer accepts the change, the task enters the dynamic routing queue and sends a lift tech accordingly. As our technology continues to mature, the process will not require a lease operator at all. In short, the equipment will be fully autonomous. It is another example of how Laredo is methodically deploying proven technology throughout the company to achieve operational, safety, business and ESG goals.
Data Excellence
The success of our digital solutions and the ability to demonstrate business value have rallied the organization behind the idea of data stewardship. Previously, our data management occurred in silos, with heavy use of localized spreadsheets, files and databases. Now we say that data should flow like water, streaming seamlessly to get everywhere it needs to be. Business and IT leaders understand and acknowledge the value of data as the IT department matures and modernizes with the adoption of innovative technologies that underpin our business objectives.
Data excellence is not merely a project at Laredo. Rather, it is how we work, requiring people, processes and technologies to successfully work together. Data stewardship is becoming integrated into our company culture. In early 2022, Laredo launched a Data Excellence Program, a core initiative with the goal to break down silos and use data to drive business decisions. Internally, we are beginning to understand what accountability means when it comes to data as well as the upstream and downstream impacts.
Driving clarity across the organization has been key. For example, we have created and posted enterprise definitions of terms in a business glossary. As an illustration, "turn in line" (TIL) used to have different meanings throughout Laredo. Some people defined it as the moment the well opens, whereas others considered it the first oil production. For TIL and other terms, we have standardized not only the description, but also enterprisewide criteria for the data that comprises the measurement and the method of calculation. And to standardize reporting across the company, we have built dashboards on top of the data lake that allow teams to share information in real time and enable the organization to make data-driven decisions.
At Laredo, we like to say that every business discussion is a data discussion, and every data discussion is a business discussion. In order to be a data-driven company, we must have data that all of our internal and external stakeholders trust. On top of the Data Excellence Program, we have a data certification process. The members of our leadership team understand that the presence of the certification stamp on a dashboard or report indicates that they can trust the data. The certification indicates that a data owner has taken accountability for the accuracy, comprehensibility and governance of the data.
The Data Excellence Program ties back into revenue generation. Consistent, trusted data across the organization is the fuel that drives the algorithms behind our digital solutions: dynamic routing, ESP optimization and others.
Robust data also has created a new revenue stream for Laredo. In 2021, we were able to monetize our data assets for $90,000 in a data trade. As part of an ongoing data monetization strategy, in 2022 we plan to use AWS Marketplace to list some of these assets, including compressor telemetry data, ESP telemetry data and gas lift telemetry data.
As we continue with our acquisition strategy, our digital platform means we can integrate new assets quickly and easily. Companies have their own supervisory control and data acquisition (SCADA) platforms to gather data and control their industrial processes. Through asset acquisition, Laredo has inherited four different SCADA platforms, but our data architecture enables us to absorb disparate data into our data lake for immediate use.
Our long-term plan is to create one consistent platform and align our company culture with our data strategy. We remain committed to putting policies in place to ensure that our data remains reliable, consistent and easily accessible throughout the organization, working toward a "zero defect" policy for data collection and management.
Ultimately, Laredo plans to use advanced analytics and data science as strategic tools to advance and integrate our digital transformation with ESG initiatives to generate profit and shareholder value.

BRANDON BROWN is vice president and chief information officer for Laredo Petroleum, which holds more than 140,000 gross acres in the Midland Basin, with stacked horizontal oil drilling activity focused on the Wolfcamp and Cline formations, with secondary targets in the Spraberry, Canyon, Strawn and ABW intervals. Brown is responsible for the company's technology strategy, infrastructure, delivery and information security, and partners with other business areas to advance Laredo's digital transformation. He has more than 26 years of IT experience in the energy and telecom sectors. Prior to joining Laredo, Brown served in various IT leadership roles with Chesapeake Energy, Williams and Wiltel. He holds a bachelor's from Northeastern State University.