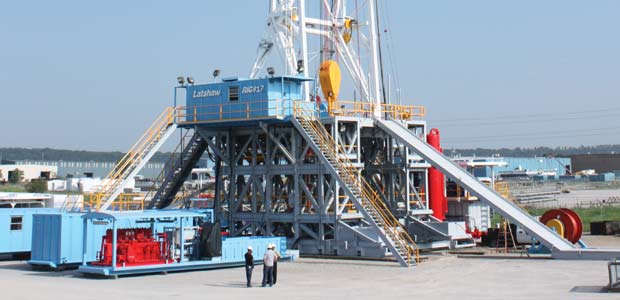 April 2011 Cover Story
'High-Spec' Land Rigs, Drilling Equipment Advances Proving Key In Shale Plays
By Colter Cookson
Independent producers and operators ramping up shale exploration and development programs are pushing the limits of conventional drilling equipment. Whether they are drilling multiple long-lateral horizontal wells from single pads, testing new bits and mud motors to boost penetration rates, or deploying next-generation rig floor and automation systems to slash "spud to sales" times, independents and their service company partners continue to find ways to improve resource play economics and crack the unconventional drilling frontier wide open.
Goodrich Petroleum is a case in point. Over the past two years, the company has transitioned from vertical Cotton Valley wells to horizontal wells in the Cotton Valley and the underlying Haynesville Shale. To unlock the shale's vast potential, the company worked with its partners and service providers to discover the right casing points and to choose bottom hole assemblies that could build at sufficient rates to maximize lateral lengths, reports Clarke Denney, the company's vice president of drilling. He notes that in the Haynesville Shale, Goodrich is utilizing robust directional equipment and mud cooling units to drill laterals at vertical depths of 15,000 feet, where circulating temperatures can reach upward of 340 degrees Fahrenheit.
The company's efforts have paid off. By shifting focus from vertical Cotton Valley wells to the Haynesville, Goodrich reduced its overall proved developed finding and development costs from $3.21 an Mcf of gas equivalent to $2.38 an Mcfe from 2009 to 2010.
With oil prices trading much higher than natural gas on a Btu equivalent basis, Goodrich also is targeting the oil window of the Eagle Ford Shale. In South Texas, the company is drilling wells with vertical depths between 6,500 and 8,500 feet and lateral lengths from 4,500 to 6,000 feet. Although these wells take skill, time, and money to plan and construct, company officials say they believe they can achieve 50 plus percent returns on investment.
Drilling wells in either play requires rigs with the right equipment, says Denney. He says top drives are important because they allow pumping and rotating the drill string while coming out of the hole, which is necessary at times for hole cleaning. This reduces drag and the chance of getting stuck. Top drives also maximize directional drilling performance.
Drawworks that can deliver at least 1,500 horsepower are also key, Denney adds. "We believe in high horsepower," he stresses. "A 1,500-horsepower rig carries a premium over a 1,000-horsepower rig, but it speeds trips and puts less strain on the equipment. We get our money's worth."
Just as important as the drawworks and top drive is having powerful mud pumps on the rig, Denney says. "In the Eagle Ford, we would prefer to have at least 1,600-horsepower pumps, especially when drilling long laterals," he relates. "That horsepower is needed for mud hydraulics to keep the hole clean, and to drive the downhole motor and other equipment. We have achieved up to 6,000-foot laterals to date, and we are targeting 9,000-foot long laterals in the near future."
In many cases, it makes sense for the rig to have the ability to skid, Denney says. He explains that drilling multiple horizontal well bores on one pad reduces construction costs and rig transit times. "In the Eagle Ford, if we can skid, our drilling costs can be reduced as much as $500,000 a well," he says.
High Spec In High Demand
Goodrich Petroleum is far from the only company that needs "high-spec" rigs with powerful top drives, hoisting systems and pumps. According to industry sources, rigs with larger (+1,000) horsepower ratings account for an estimated 60 percent of the active rig fleet. Moreover, rigs with at least 1,000 horsepower account for nine of every 10 rigs that are under construction or planned for the near future.
Trent Latshaw, the founder and head of Latshaw Drilling in Tulsa, can verify that the demand for 1,000-2,000 horsepower rigs is high. He says the company's fleet, which includes 15 rigs within that range, has 100 percent utilization. In fact, Latshaw reports that the only unused rig his company has on the books is a new, 1,700-horsepower diesel electric that is still under construction.
Many of today's high-spec rigs have closed-loop mud systems, Latshaw notes. "Closed-loop mud systems do away with the need for a reserve pit," he says. "The systems also processes drilling fluid more efficiently. They are able to take more solids from the drilling fluid, which enables more fluid to be reused and makes the solids dryer and easier to dispose of. That becomes very important when dealing with oil-based mud, which often is used in horizontal wells."
Latshaw encourages operators to consider using high-horsepower rigs when the class they want is difficult to obtain. "We consider our 2,000-horsepower rig to be identical to our 1,500-horsepower rigs, except for the drawworks size and the mast/substructure capacity," he says. "The 2,000-horsepower rigs have the same footprint and move as fast as the 1,500-horsepower units, and for all practical purposes, the day rates are the same."
He also says diesel-electric SCR rigs are comparable to AC rigs. "They have the same top drives, the same mud pumps, the same mud systems, the same engines, and the same blowout preventers," he reports. "From the customers' perspective, they drill wells as fast as AC rigs."
In reference to safety, Latshaw says people matter more than technology. "You can try to design a piece of equipment that is accident proof, but safety comes down to the people on the rig floor and what their mindsets are," he insists. "We are putting more money into training, beefing up our safety department, and having more safety coaches go around the rigs to work with the hands."
He points out that many rigs, including several of Latshaw Drilling's units, use automated iron roughnecks to improve safety. "Those are expensive, high-maintenance pieces of equipment," he says. "We decided to take some of them off our rigs, then track closely to see if we had more finger and hand accidents on the rigs using manual tongs and a drill pipe spinner versus the rigs that had iron roughnecks. We have not seen a difference."
Opportunities To Expand
For Joe Hudson, the president of Nabors Drilling USA, the future looks bright. "We have at least 103 AC rigs deployed at this point," he reports. "We are in the process of building 25 more, and we always are looking for opportunities to expand further, be it in the Bakken, the Mid-Continent, West Texas, the Eagle Ford, or the Marcellus."
Hudson says the new rigs include larger pumps, AC top drives, and tubular handling tools such as automatic catwalks and floor wrenches. "With the automatic catwalk, there is no need for a rig hand to pick pipe off the catwalks, pull it up with a hoist, and drag it to the rig floor," he says. "Instead, the catwalk picks up pipe and elevates it to the rig floor. No one is touching the pipe or rolling pipe onto the catwalk, which keeps people away from tubulars, reducing the risk of pinch-point injuries."
The floor wrench also improves safety, Hudson says. "Normally, a roughneck would make up pipe with manual tongs," he notes. "The floor wrench engages the pipe and makes it up with an automatic tool, which keeps his hands safe. It also increases pipe longevity by reducing damage from the manual tongs."
Hudson says statistics and feedback show the new equipment reduces accidents. "There is an efficiency gain as well," he adds. "With this equipment, we have improved control and improved well hydraulics, which results in faster well times."
The rigs also employ advanced software. "With conventional rigs, the driller would drill ahead with a hand on the brake handle. He had only basic drilling information available to him, and his skill and his experience with the area dictated his ability to drill the well," Hudson recalls. "Today, the software associated with smart drilling systems allows him to drill the well with a better understanding of the factors that influence drilling performance, such as delta P, hydraulic horsepower, weight on bit and rate of penetration. That translates to a faster rate of penetration."
Focus On Training
To ensure that its employees work as safely and efficiently as possible, Nabors has fully functional training rigs in Williston, N.D., Casper, Wy., and Tyler, Tx., where it trains personnel with no previous experience, Hudson reports. He adds that the company carefully defines the training and competency individuals need to be promoted.
Nabors' focus on training and its preference for promoting from within help it maintain a skilled workforce, Hudson indicates. "When the market is expanding, we are able to identify promising, trained personnel within the company, give them a career path, and move them through the system. That helps with retention," he explains.
When downturns do occur, Nabors tries to keep competent people and trainers on staff, Hudson says. By doing so during the last economic downturn, he says the company managed to go from 92 rigs in fall 2009 to 190 rigs today without compromising its personnel or safety standards.
Regardless of the market condition, Hudson says it is vital to design rigs for specific areas. "Every area is unique," he says. "Carrying the top drive in the mast is a great way to reduce the number of loads needed, but in areas where road weights are critical, other approaches have to be adopted."
To illustrate regional developments, Hudson points to Nabors' B-series rigs, which were designed to accommodate pad drilling in the Bakken Shale. "We built a box-on-box substructure because we can close in that substructure, which makes it easier to winterize," Hudson says. "Also, the way we can rotate the substructure lets the company conduct completion and production-related operations on one well while we are drilling another on the same location."
Optimizing Mobility
In the Rocky Mountains, mobility is vital, says Patrick Hladky, a principal and contract manager for Rockies-focused Cyclone Drilling. "It is important to optimize mobility because we cover such a large area," he says.
Cyclone can move a rig from release on one well to spudding another in three days during summer and four days during winter, Hladky reports.
Dealing with cold weather is also important, he observes. "We protect the rig floor from wind by putting the dog house and wind walls around it, then put heaters on the floor," he says.
Like other contractors, Cyclone is expanding its fleet. "We built five rigs in 2010 and we are scheduled to build four more in 2011," Hladky details. "They all have 1,600-horsepower pumps, with 270- and 500-ton AC top drives."
Hladky says Cyclone tries to keep the rigs' designs simple. "We engineer all the rigs similarly," he adds. "Even if they are different sizes or different applications, the basics are all the same. That lets employees move from rig to rig efficiently and safely."
The company also tries to put equipment in convenient places. "For example, rather than putting the oil storage tanks in a separate building, we put them with the engines," Hladky says. "That is where our hands will use them."
Like the other drilling contractors, Hladky stresses the importance of good people. "A high-spec rig is nothing without good people," he declares. "We are drilling with mechanical rigs built in the 1980s and 1990s with good people right next to and as efficiently as high-spec rigs.
"We have a young workforce, especially in the Williston Basin, which has grown so fast a lot of the people are new to their jobs," Hladky observes. "That means we need to do more training. We have put night supervisors on location so the hands can get help and training at night."
Cyclone Drilling also trains hands on site through a mobile training center, Hladky reports. He adds that the company hired Afterburner, a leadership consultant, to help its supervisors and managers promote safety and efficiency. "We are seeing results from that already," he reports, noting that Afterburner emphasizes focusing leaders on teaching, rather than policing.
The combination of experience and training has paid off. "We already have seen efficiency gains from when we were first ramping up a year ago," Hladky says. "The longer the cycle becomes, the more gains we will see."
Pad Drilling
Pad drilling has a long and successful history in the Rockies and has spread to basins across the United States, Hladky points out. "It creates efficiencies for drilling times and costs, as well as environmental benefits. The pad is only disturbing the land in one area, even though it allows several wells to be drilled, completed and produced from that one surface site."
Cyclone skids its rigs with hydraulic feet rather than rails because rigs can get slightly off target each time they move from one well to the next. "If you are on a rail system, the error is difficult to deal with. A walking rig can move in any direction needed to position exactly over the well bore," he says.
On pads with several gas wells, Hladky says the operator can do simultaneous operations. "As we are drilling one well, he can set up his frac crews on a different location and pipe fluids to the pad to complete a well or put wells on production. That lets the operator get a return on the investment without waiting for the entire pad to be completed."
On other pads, Hladky says Cyclone advocates batch drilling. "In this case, we drill all of the well's surface holes as a batch, then drill all of the intermediate sections, and conclude with drilling all the laterals," he says. "Instead of swapping mud systems several times for each well, we can use the same mud system and tools over and over."
In addition to reducing the amount of time directional drilling companies need to be on site, that approach makes life easier for the crew. "They are not changing hole sizes or changing well parameters," Hladky explains. "The repetition creates efficiencies. More than likely, your last well will be faster than your first one.
Continental Resources has used batch drilling to great effect in the Bakken, reports Glenn Cox, the company's northern drilling manager. He says the company is using four-well pads, with two wells on each pad targeting the Middle Bakken interval and two targeting the Three Forks formation.
"We started looking at these pads primarily from a surface usage viewpoint," Cox says. "Since the terrain in North Dakota can be difficult, we wanted to reduce the number of pads, handling facilities, power lines, and pipelines we had to build. As we dug into the process, we began to ask if we would save any money beyond the cost of building the location and moving the rigs. The batch process provided the cost savings that gave us the impetus to keep working on the project."
To use pad drilling to full effect, Continental had to overcome a hurdle: North Dakota's setback laws. "Setbacks from the lease line were normally 500 feet," Cox recalls. "When we drill a well, the curve radius is 450 feet. The drilling location is roughly 150-200 feet from the section line, so once we drill the curve and set the casing, we have achieved the required setback."
The problem was that the 500-foot setback made it difficult to drill into the adjacent section. "To achieve the setback there, I would have needed to drill 650-700 feet. That means we would have had to drill the curve down, trip out to get a different motor, and go back in to finish the last 200-300 feet before setting casing," he details.
In response, Continental asked the North Dakota Industrial Commission for a variance to the setback rules that would allow it to drill into the adjacent spacing unit. "The state eventually granted the 200-foot setback to the entire industry," Cox says. "That probably has resulted in noticeable reserves recoverable for everybody working the Bakken/Three Forks."
As of mid-March, Continental had drilled seven pads. The batch drilling process and pad construction savings reduce the cost of drilling each well as much as 10 percent, enough to save the company $2.5 million for each pad, Cox says. He adds that the process reduces surface impacts by as much as 75 percent.
To explain the process's economic and environmental benefits to investors, Continental dubbed it ECO-Pad® and produced a video, which is now available on its website. "It's been amazing how many people have watched the video and asked to show it to others," says Brian Engel, Continental's vice president of public affairs. "The walking rig is something almost no one has seen before, especially in the investor community."
Cox agrees. "It is phenomenal to see one of the rigs with a full train of drill string racked in the derrick get up and move 30 feet," he says.
Downhole Motors
As drilling contractors build their fleets and train employees, equipment manufacturers are coming up with better ways to design and manufacture components. These include downhole motor manufacturers. "We are dedicating significant resources toward boosting overall motor performance, with specific focus on increased power and equipment reliability," says Mpact Downhole Motors Vice President David Stuart.
To maximize reliability, Stuart says manufacturers are designing downhole motors that can operate under increasingly higher loads. In addition, they must ensure motors are designed to be compatible with ever-changing drilling conditions. "Drilling motors have to be designed and calibrated for each specific application to compensate for changes in temperature and other downhole conditions, which will cause the components to expand and contract during drilling," Stuart remarks.
Premium elastomers are playing a key role in manufacturers' efforts to improve reliability, Stuart says, explaining that the new-age materials also provide higher differential pressure and torque.
Stronger motor transmissions and bearing assemblies also are on the industry's drawing boards, Stuart says. "We have worked with key suppliers to develop new thrust bearing designs to increase load capacity," he says. "The higher capacity improves reliability and offers increased weight-on-bit, which enables higher penetration rates."
Stuart reports his company has launched a heavy-duty thrust bearing for its 43⁄4-inch motors that improves load capacity 18 percent.
Even with the best motors, Stuart advises operators to stay within the motors' optimum operating parameters. "The drilling motor is similar to an engine in a car," Stuart says. "You can run it at the red line on the tachometer and go really, really fast for a short time, but if you run that hard for a long time, the engine is going to have problems."
The ideal operating range varies with motor sizes and configurations, Stuart says. "Experience goes a long way in determining the right range, and it comes not only from the drilling motor provider, but also from the service companies and operators. Collaboration among the three is important for efficient drilling operations," he advises.
The combination of technology and experience has paid off, Stuart says. "Our motor run success ratio has improved continuously. It is now above 98 percent," he reports.
The mean time between failures (MTBF) also has improved, Stuart says. "At our company, the MTBF in 2008 was 3,069 hours," he recalls. "In 2010, it was 3,509 hours, a 13 percent improvement. We are extremely proud of that, especially given that equipment continues to be pushed harder and harder."
Fluid Handling Systems
No matter how hard operators push their equipment, the fundamental goal of fluids handling systems remains the same: keeping the drilling mud in good condition. But with the cost of drilling fluid additives and oil-based mud on the rise, KEM-TRON Technologies President Michael Rai Anderson says it is becoming increasingly beneficial to manage mud through solids control treatment systems. "Fluids handling companies have responded," Anderson states. "We are finding ways to remove contaminants from the drilling mud while recovering as much usable material as possible."
Anderson says several developments will help with that effort, including a new shaker that enables the operator to vary the gravitational force imparted between three and eight gravities. "Being able to fine-tune the shaker to the solids load will help operators get a better cut and reduce screen consumption," Anderson says. "High G-forces can be used during top-hole drilling, when solids loading is high, and lower G-forces can be used when solids loading drops. This improves residence time and ultimately solids cut."
To maximize performance and cost effectiveness, the shaker uses a passive-vibrator technology, Anderson says. "The system uses gears instead of rotating unbalanced weights," he outlines. "The passive vibrator assembly reduces the complexity of electrical systems needed to create the variable frequency, enhancing system control and maintenance."
Electric and hydraulic versions will be available to the market, he adds.
Vertical cutting dryer technology also is improving, Anderson indicates. "We are working on new chemical injection techniques to break the surface tension between oil-based drilling fluids and the cuttings. This lowers the energy required to separate the fluid from the cuttings."
A typical cuttings dryer can reduce the amount of drilling fluid on the cuttings from 15 percent to 5 percent, Anderson says. "With chemical injection enhancement, we may be able to bring that down to 1 percent," he reports.
According to Anderson, the new chemical injection techniques are part of a growing trend: When it comes to environmental issues, oil and gas companies are going beyond regulatory requirements. Anderson goes on to state, "This means that the technology is evolving and new products will enter the market, making solids control and waste management more efficient and cost effective."
Centrifuge Technology
To help centrifuges separate water and cuttings, operators often add coagulants and flocculants to the drilling fluid before it reaches the centrifuge, Anderson notes. Ideally, the coagulant neutralizes the suspended solids' electrical charge. Once that happens, the flocculants' electrical charge will attract the solids and bind them, which will keep them from mixing with the water in the centrifuge. This makes the centrifuge more effective, Anderson explains.
To work well, the coagulants and flocculants need to be conditioned, or "made down." Conditioning involves mixing a concentrated form of the polymers with water, then waiting for them to uncoil, Anderson says. If this process is done poorly, he says the coagulants and flocculants will go to waste and the centrifuge will fail to separate the water and suspended solids to the degree intended.
"Getting hydration right can be tricky," Anderson says. "The coagulants and flocculants typically used to dewater drilling fluid have long, fragile chains, so they are sensitive to high mechanical shear forces and temperatures. Low pressure is also a concern; it increases residence times."
Because hydration is the most important aspect of maximizing polymer effectiveness, Anderson says his company has developed an affordable, modular chemical injection system that uses automation to closely control hydration. "The system controls the polymer's flow rate, water pressure, polymer mixing, polymer residence time within the manifold, and the temperature at which the polymer is being conditioned," Anderson reports. He adds that the retrofits needed to install the system on an existing centrifuge are minimal.
In addition to expanding the capabilities of existing technologies, Anderson says manufacturers and end-users are scrutinizing almost every piece of solids control equipment on a quest for stronger, lighter and smaller equipment that can perform heavyweight tasks. This requires more than product engineering, it requires value engineering. "In value engineering, companies critically examine the equipment configuration, operating philosophy, raw material selection and fabrication practices," Anderson says.
That approach is being applied to centrifuges, Anderson reports. "About 50 percent of a centrifuge's cost is in the rotating assembly," he observes. "We are looking at ways to lower that cost and improve the quality by using different materials and improving the geometry of the parts to reduce the need for time-consuming and expensive machining."
Improved designs likely will reduce large bowl centrifuge costs 10-15 percent, enough to temporarily offset the ever-increasing cost of raw materials such as stainless steel, Anderson says. He adds that streamlined supply chains will reduce costs and improve delivery times and quality.
While they work to reduce costs, Anderson says manufacturers are finding ways to enhance equipment operability. "We are improving the centrifuge's programming and interface, and adding onboard sensors so the operator can obtain a clear picture what is happening within the centrifuge," he illustrates.
New centrifuges can include sensors for temperature monitoring, flow sensors, specific gravity sensors, amperage loading on the motors, temperature sensors on the bearings, level sensors within the centrifuge, and wear sensors on the scroll's flight, Anderson details. These sensors will help the user automate the centrifuge's operation and facilitate global performance monitoring through Web-based applications, he concludes.
Latshaw Drilling's Trent Latshaw says improvements in rig designs, downhole motors, and fluids handling equipment are only a small part of a larger effort to improve drilling efficiency. "Polychrystalline diamond compact bits, measurement-while-drilling tools and rotary steerables will continue to be major drivers," he predicts.
"The world has changed with respect to domestic exploration, drilling, and production," he says. "Unconventional development has expanded the United States' oil and gas reserves dramatically, but it also has increased the complexity of the technology needed to drill, log, and complete a well.
"Total well drilling, completion and construction costs range from $7 million to $8 million in many of the established shale plays, particularly for wells with ultralong laterals." he says. "In the Granite Wash, drilling and completing a well can carry a price tag exceeding $8 million. Given these costs, it is imperative for operators and contractors to be aware of the latest technology."