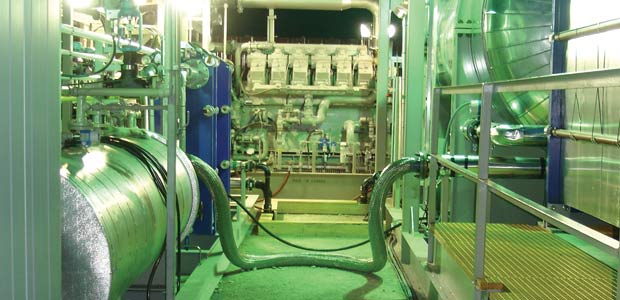 March 2009 Cover Story
New Solutions Emerging To Treat And Recycle Water Used In Hydraulic Fracs
By Al Pickett, Special Correspondent
The Barnett Shale, the granddaddy of domestic shale gas plays, is located beneath one of the most populated urban centers in the country: the Dallas-Fort Worth metroplex and its 5 million inhabitants. As if drilling and developing shale gas wells in this urban environment was not challenging enough, the region also is experiencing a drought.
That is significant because–as in shale and tight-sands plays in other parts of the country–Barnett wells require massive hydraulic fracturing to achieve commercial rates of natural gas production, and the slick-water fracs used on Barnett wells consume huge quantities of water. In fact, with horizontal shale wells requiring as much as 1 million gallons of fresh water per frac stage, water has become a hot-button issue facing the development of shale gas plays from the Barnett in the Fort Worth Basin to the Marcellus in the Appalachian Basin.
In response, a number of solutions are emerging that use a variety of methods to recapture, treat, recycle and reuse the water from frac operations in shale and tight-sands gas plays.
"It is absolutely critical to responsibly and economically manage water," says David Crowe, president of GeoPure Water Treatment. "It is key to any development plan. There are so many intangibles to treating and reusing frac water, such as fewer trucks on the road, what happens to landowners, and service costs for operators. Water resources are vital, and we need to be mindful that pure water is not an unlimited resource."
David Burnett, a researcher in Texas A&M University's Harold Vance Department of Petroleum Engineering and director of technology for the Global Petroleum Research Institute in the Texas Engineering Experiment Station, points out that one large independent operator conducted a study in the Barnett Shale that showed frac operations were using only about 2 percent of the available freshwater.
"To put that in perspective, that is the same amount used by the area's golf courses, so natural gas companies are not major users," Burnett notes. "However, in drought conditions, water can be shut off to golf courses. Oil and gas companies must position themselves so they are not competing for water. We do not want it to be an 'either/or' situation."
Frac Fluid Constituents
According to Burnett, the constituents in the water used to fracture wells typically include a mixture of chemical additives such as a friction reducer (a polymer to reduce the viscosity of the water and improve its flowability to make it is easier to pump down the well), and a small amount of sand carried to the created fractures in the rock matrix to keep the fractures "propped" open during production.
Underground, Burnett says, the frac fluid picks up other contaminants present in the rock formation, including barium, calcium bicarbonate, iron, magnesium sulfate, sodium chloride and strontium.
Over the next several days, 70-75 percent of the injected frac fluid usually returns to the surface, with much of the remaining water eventually making its way into the well bore in incremental volumes as production operations commence. That fluid is then transported to saltwater disposal wells for reinjection into a porous rock formation beneath any freshwater aquifer zones, Burnett notes.
"The ability to recycle and treat that water not only eliminates the expense of hauling the wastewater away for disposal, but greatly reduces the total amount of water consumed in a multiwell fracturing project," he relates. "The goal is to be able to reuse the same volume of water again and again, and then even be able to treat it at the end of a frac program so that it has beneficial use and does not have to be injected into a disposal well."
When he started his research eight years ago to develop a mobile membrane filtration system to treat produced water at the well site, Burnett says his focus was on the Permian Basin, where oil wells can produce up to 10 times as much water as they do hydrocarbons. Then the unconventional shale plays took off, beginning with the Barnett, and "overwhelmed everyone," according to Burnett.
Ultimately, Burnett's research efforts shifted from treating produced water in West Texas to treating frac water in North Texas. Pilot studies in the Barnett Shale using a mobile advanced membrane filtration system developed under the auspices of Texas A&M and the Global Petroleum Research Institute found that proper pretreatment of water used to fracture new gas wells could save an average of $8,000 per completion, or $40,000 a well in a five-stage frac design, according to a report by the U.S. Department of Energy's Office of Fossil Energy. The report estimated the savings for one Barnett Shale company that cooperated in the pilot project at $250,000 a month.
Commercial Service
According to Burnett, Texas A&M has licensed its membrane filtration technology and reached a long-term agreement with M-I SWACO.
"M-I SWACO will fund my long-term research, so I will not have to walk around with a tin cup to seek funding," Burnett quips. "In the big picture, treating frac water is not as big a market as the desalination of saltwater. Texas A&M is trying to be a clearinghouse for companies to test the membrane filtration technology in real-world oil field applications."
He says he expects M-I SWACO to have its first system up and running this summer in either the Barnett or Marcellus plays.
Burnett notes his research is not only finding ways to treat and reuse frac water, but also is locating other sources of water by treating municipal wastewater or brackish groundwater. "We are working on membranes to preferentially take the contaminants out of frac water, such as hydrocarbons, scale and lower concentrations of heavy metals as well as gels, acid and other additives," he comments. "At the same time, it is important to look at alternate sources of supply and how that water can be treated and used in frac operations instead of freshwater."
According to Burnett, transporting frac water from oil and gas wells is so expensive that in many cases the produced water can be treated on site, including desalination, for less cost than hauling it away, not to mention the wear and tear on the roads and the fuel used by trucks hauling the water to disposal wells.
"Companies are paying $10 a barrel or more to get rid of frac water in the Marcellus," he says. "That is crazy. There are only a half dozen disposal wells in the entire states of New York and Pennsylvania (compared with 53,000 disposal wells in the Texas). Operators in the Marcellus are trying to find a reservoir to take the saltwater. The geology in Appalachia is much different than in Texas."
One Step Further
As part of its research programs, Texas A&M developed new technology to remove salts and minerals from brackish produced water. The desalination system was then licensed to Texas-based GeoPure Water Technologies.
Crowe, president of GeoPure, says his company has taken the technology acquired from Texas A&M one step further, refining the system and adding proprietary technology that permits not only the extraction of freshwater from produced water, but also enabling it to treat fracturing fluid.
"Treating frac fluid is much harder because of the composition of the fluid. In general, frac fluid is a tougher nut to crack because it has a lot of solids in it," he explains. "Generally speaking, it ends up being very highly saline at the latter stages of the flow back. We had to add some pretreatment technologies before we used the membranes to remove all those solids, hydrocarbons and contaminants."
GeoPure installed its first commercial desalination unit to treat and recycle fracturing fluid in the Barnett Shale in early 2007, according to Crowe. He says the facility was operated successfully for a large oil and gas operator for nine months, treating about 475,000 barrels.
The solid material that is filtered out of the membrane is mostly a clay mixture, according to Crowe. He says it is an environmentally friendly material that is pressed and hauled to a landfill. "In all cases where we are working, the clean water goes back into the well and is recycled as frac fluid," he reports. "But it could be discharged. Our process does not produce potable water, but it is pure enough to be discharged downstream or applied for agricultural purposes. Our system can handle 7,500 barrels a day. The systems have an economy of scale. The larger the scale, the lower the cost per barrel of treated water."
Although it began in the Barnett Shale, Crowe says his company is focusing on the other emerging shale plays, such as the Haynesville, Fayetteville and Marcellus, where water management is a key issue in part because of the lack of water disposal capabilities in New York and Pennsylvania. He notes GeoPure is also involved in a number of projects in the Rocky Mountains treating produced water.
Crowe says GeoPure not only sells its systems but also has a model contract for purification services on a per-barrel basis. "We have treated 450,000 barrels of fracturing fluid since 2007, so we are an emerging company. We do not have multiple large systems in the field," he states. "We are mainly in the engineering, design and development stage. We have spent a lot of time and research, mostly in the Barnett, proving up the technology."
Mobile MVR Evaporator
Fountain Quail Water Management LLC, a subsidiary of Calgary-based Aqua-Pure Ventures Inc., has nine mobile evaporators in service in the Barnett Shale play, reports Patrick Horner, a process engineer for Fountain Quail.
We have been recycling frac water since 2005, and to date have processed in excess of 14 million barrels of frac flow-back water in the Barnett Shale play into distilled freshwater for reuse," he says. "We have multiple units in operation at four sites for Devon Energy Corp. in the Barnett Shale, and other units in operation in Canada for EnCana and BP."
Aqua-Pure's systems use mechanical vapor recompression (MVR) evaporation technology, and each unit is designed with a daily output of 2,000 barrels of distilled water and 350 barrels of concentrated brine, according to Horner.
But unlike conventional MVR technology, Horner says Aqua-Pure came up with a mobile MVR evaporator that provides higher capacity with a much smaller facility. "The inherent problem with MVR technology has been size. With any significant capacity, a large stationary facility would be required. A traditional MVR evaporator employs a vertical shell-and-tube heat exchanger that is up to 10 feet in diameter and 60 feet tall."
"The mobile MVR evaporator system solves both the size problem and the cost of installing a fixed facility, Horner notes. "Although the footprint is similar to that of a traditional MVR evaporator–about 2,500 square feet–the unit is skid-mounted and designed for highway transportation on three low-boy trailers without special permitting," he says.
The system consists of three modules, each 11.5 feet wide and 12.5 feet high, including a pretreatment module 40 feet long that weighs 25,000 pounds, an evaporator module that is 37 feet long and weighs 42,000 pounds, and a compressor module that is 30 feet long and weighs 96,000 pounds. Horner says the system also includes interconnecting pipes and electrical connections, as well as a 50-kilowater generator set.
"The system is totally self-contained," he comments. "It needs no external source of electric power. We draw natural gas directly from the well to run the compressor and to drive the generator, which produces electricity to power the pumps, instruments and controls."
When treatment at one site is finished, the operator can drain the system, load it on the trucks with a crane, haul it to a new site, and have it set up within a couple days, Horner claims. "The system reduces water disposal volumes by 85 percent, which means it reduces hauling costs by 85 percent. That takes a lot of trucks off the road," he adds. "More companies are recognizing the benefit of treating and reusing frac water."
Horner says Fountain Quail owns and operates the mobile evaporators, charging clients on a per-barrel of treated water basis. "We can set on well pads, or on land strategically located within a few miles of a field," he explains. "We can service up to 100 frac jobs with one unit. When that sector is drilled and completed, we can move to another site."
Horner says Fountain Quail also has an agreement with the Weatherford, Tx., wastewater treatment plant to build a pipeline from the city's treatment plant to a recycling facility, allowing operators in that part of Parker County to use effluents from the treatment plant for frac jobs. "That reduces the need for trucking and operators do not have to rely on one source of water," he explains. "We hope to have the system near Weatherford operational by the end of this year."
Thermal Evaporation System
STW Resources Inc. is a new corporation in Midland, Tx., that Chief Executive Officer Stanley Weiner says was created to utilize a cost-effective, patented thermal evaporation technology owned by GE Water & Process Technologies to reclaim a large percentage of the freshwater from hydraulic frac fluid flow-back.
GE spent $4 billion to acquire and develop its arsenal of water processing technologies, Weiner says, noting that GE is the largest water processing and reclamation company in the world.
Water is a big issue," he contends. "All the shales we have seen–from the Barnett to the Marcellus–have imbedded salts that dissolve when injected with the freshwater to improve permeability. The frac flow-back water is high in salt content. The Barnett typically has 100,000 parts per million and the Marcellus exceeds 200,000 ppm. By comparison, seawater is only 33,000 ppm. It is also highly corrosive. There are other contaminants that have to be taken out, too. The secret is in the pretreatment, getting the metals and other contaminants out so we can reclaim the distilled water."
"After the frac water is pretreated to remove metals and contaminants, the saltwater is run through the thermal evaporation system. The final product is distilled water, which Weiner claims is cleaner than bottled water with less than five parts per million salts.
He says GE has engineered a mobile unit that can handle approximately 50 gallons a minute. The mobile units will be able to be positioned at the well site and moved to the next well site when needed. "This mobile system will help alleviate a bunch of truck traffic," he remarks.
The GE technology is highly scalable, he adds, noting that the 2,000 gallon/minute units operating in the oil sands in Canada are capable of treating 68,000 barrels of water a day.
Weiner says he is working to sign deals with several oil and gas companies to de­ploy multiple water reclamation systems throughout Texas, Arkansas, Louisiana and the Appalachian Basin. He adds that STW Resources is working with government agencies in the Northeast to possibly use the salt byproduct from the process as rock salt on roads in the winter. "They are getting their salt from Texas and New Mexico now," he states.
"The ultimate goal of STW is to treat the billions of barrels of brine water that are produced along with oil and gas," Weiner concludes. "To bring in new water to our ecosystem is a great idea and the right thing to do. Oil and gas companies are all for it, and they want to do what is environmentally responsible."
On-Demand Ozone
Keith Stewart, who used to work as a high purity technician for U.S. Filter, building water systems for power plants and hospitals, says he started Aqua-Next Inc. in 2004 to develop portable ozonation systems. Specifically, Stewart built a portable solar-powered medical unit that was as small as a briefcase and could be carried on an airplane. It makes on-demand ozone, he says, treating water through a bacteria filter that can be used by doctors and dentists in third-world countries.
Three years ago Stewart says he started testing produced water and fracture flowback fluids from oil and gas operations in an effort to purify them for reuse. "Whether it is treating contaminated water in developing countries, wastewater, or frac fluid that has flowed back to the surface, our standard for treated water is to make it potable," Stewart insists. "We use the same technology for medical use and the poultry industry as we do in oil and gas; the volumes are just much larger when treating frac fluid."
In February, Stewart reports that the company completed a successful test of frac water from a Marcellus Shale well in northeastern Pennsylvania.
"The challenges are the acids, gels and petroleum products that are in the frac water," he points out. "Companies are secretive about what they are using with their slick-water fracs, which makes treatment a challenge. The chemistry department at Aqua-Next uses a combination of ozonation and other proprietary technology to break down the elements in frac water. Ozone technology has been used in Europe for more than 100 years. Ozone can be very effective; you simply have to know how to use the process to make it work."
One of the issues with ozone technology is scaling the system to meet the higher capacities in the oil and gas industry, Stewart says. "Everything we build is on demand," he comments. "We are fine-tuning the scale to treat as much as 1 million gallons a day with our portable systems."
According to Stewart, Aqua-Next's tanker trucks come to a well site, and after the short period necessary to hook up inlet and outlet lines, can begin treating and processing water. He says the company is building additional tanker trucks and will ramp up production as needed.
"Our goal is to dramatically reduce their water processing fees. I would like to save these people time and money," he says. "Treatment costs have to be contained for any technology to be economically feasible."
Stewart notes that salt remains the primary problem with all systems. "While the frac water we have tested from Pennsylvania does not contain as much salt as in other regions tested by Aqua-Next, the removed salt still has to be taken care of," he concludes. "Our process will break down the salt in low volumes, but in high volumes, the salt will still have to be hauled away. We are working on technology to treat and eliminate the salt, even at high volumes. We think we are close to being able to accomplish that."