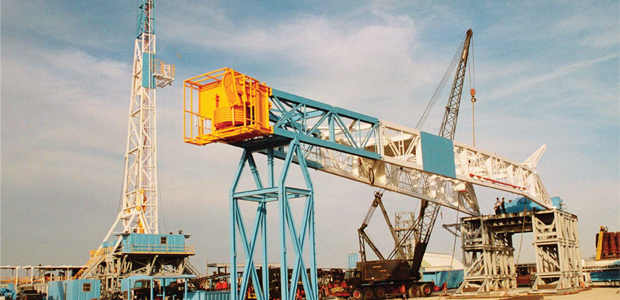 April 2012 Cover Story
Unconventional Plays Transforming Scope, Shape Of U.S. Land Rig Fleet
By Bob Williams
FORT WORTH–The unconventional resource boom that has revolutionized the oil and gas industry also is transforming the U.S. onshore drilling rig fleet.
From new-build rigs with top drives and the raw horsepower needed to drill long-lateral horizontal wells to state-of-the-art mobile rigs purpose-engineered to navigate difficult terrain to get to location, giant strides in drilling capabilities are molding the iron that makes it all possible.
An overwhelming shift in well orientation and consequent enhancements in drilling efficiencies have been key to rendering unconventional oil and gas resources economic. Incremental improvements to horizontal drilling and hydraulic fracturing technologies have, in essence, enabled operators and drillers to economically develop source rock. Such a concept–unthinkable not that long ago–has turned the U.S. energy outlook on its head, and completely changed U.S. crude oil, natural gas and natural gas liquids supply curves.
The speed of the turnabout has been breathtaking, and the impact of the unconventional revolution on the shape and scope of the U.S. land drilling sector will be monumental.
However, one fundamental change is already apparent: The type of drilling rig that long dominated the nation's land rig fleet is relinquishing its role. Bigger-horsepower, higher-tech rig designs are the new order of the day. These are the types of rigs favored by the horizontal unconventional drilling business model, which will increasingly come to define hydrocarbon exploration and development in general. The fleet transformation also includes automated, highly portable rigs that enable a two- or three-man crew to do what once required seven or eight rig hands on the floor.
These trends are manifesting themselves in a major rig replacement cycle. Many land rig contractors are in the process of upgrading the U.S. land drilling fleet with higher-horsepower new-builds, adding more powerful rigs with advanced technological capabilities–from top drives to automated pipe handling, and the mobility to quickly move from well site to well site.
But while the unconventional drilling boom requires adding more technologically advanced "big rigs" to the fleet, strong crude oil prices provide an undercurrent of opportunities for legacy workhorse rigs that also are drilling ahead in conventional oil fields. Yet, even these rigs are inevitably destined to be replaced by new-generation rigs where speed, efficiency and safety are the watchwords.
Big Picture
Contrasted to six or seven years ago, when only one in 10 rigs was drilling horizontal well bores, more than 60 percent of all active rigs now are drilling horizontally, according to data compiled by The Land Rig Newsletter. The drilling transformation in the United States has been stunningly rapid.
Unconventional horizontal plays expanded outside of the Barnett Shale core area beginning in 2004-05 to the Arkoma Woodford, Fayetteville, Haynesville, Marcellus and Bakken shales. In the past couple years, as horizontal drilling increasingly shifted to liquids-rich wet gas and oil, large new plays have emerged across the country, including the Eagle Ford, Niobrara, Mississippian Lime and Utica Shale.
Key Technologies
Advances in technology related to key rig components are underpinning the shift toward long-lateral horizontal drilling in unconventional gas–and now oil–reservoirs, and creating the new model for drilling rig design. The longstanding debate regarding whether improved efficiencies with pricier rigs can trump lower day rates when it comes to lower overall drilling costs seems to be over. And that can be attributed to advances in key drilling rig components. These components include:
Top drives;
Rotary steerable systems (RSS);
Alternating current rig power systems;
Rig automation;
Multiwell pad drilling capabilities; and
Rig "walking" capability.
Clearly, top drives and rotary steerable systems are among the principle contributors to increased drilling efficiencies. The main advantage of a top drive is that it lets the rig drill longer stands of pipe (60-90 foot stands versus 30-60 foot stands with a kelly). The driller is therefore able to drill longer sections while making fewer connections.
RSS technology incorporates measurement-while-drilling programming that enables the surface transmission of commands that the rotary steerable tool responds to and steers in the preferred direction. It allows directional drilling with continuous rotation from the surface. With the drill string continuously rotating, cuttings are more readily circulated to the surface, improving performance and resulting in a smoother, full-gauge well bore–a key benefit for running logging tools, packers, perforation tools and other completion equipment in the lateral section during multistage fracturing treatments.
It is not much of a stretch to suggest that the big advances in horizontal drilling (and, therefore, in exploiting the shales) would not have happened without the inherent efficiencies delivered by these two game-changing technologies.
One basic rig design is increasingly winning the day in terms of new rigs coming onto the market: AC power systems. Rigs powered by alternating current offer advantages in terms of improved top-drive motor speed and enhanced torque compared with direct current rigs.
The inherently simpler design of an AC rig, with its lighter weight and reduced maintenance requirements, also makes it better suited to automation. But industry has been slower to take up the automation banner, partly because of drillers' confidence in and understandable reluctance to relinquish the "human touch." And, yet, there is no denying operator preferences for AC rigs.
Another technology trend that dovetails with the growth in automation is the hydraulic catwalk. Using hydraulic catwalks reduces the human interface with pipe handling, which does away with safety concerns linked to conventional laydown equipment. Their use has been cited in reducing nonproductive time caused by accidents and problems with damaged pipe.
Automated Rigs
Although automated processes such as pipe handling and makeup are routine on modern drilling rigs, fully automated rigs have not been as widely accepted as some of its proponents had hoped. That said, automated rig designs continue to make inroads as technology improves and concerns mount over rig safety in a business increasingly stretched thin. Proponents insist that, with proper rig crew training, automated AC rigs deliver not only shorter drilling times and lower well costs, but also process safety enhancements across the board.
A snapshot survey of new-builds taken in November 2011 showed that for the rigs for which power drive information was given, 64 percent of all new-builds were AC rigs. We suspect that number was actually higher, considering that 16 percent of the new rigs did not list power drive information. Clearly, this dominance by AC rigs in the fleet of the future suggests a stronger foundation for introducing automation, and this trend can be expected to grow.
As unconventional plays have moved into development mode, even more efficiencies are being found with pad drilling. In some shale plays, operators now are drilling, completing and producing up to a dozen horizontal wells from the same drilling pad.
The pad drilling approach has long found favor in environmentally sensitive, high-cost onshore environments. It offers operators an opportunity to reduce costs through shared expenses for construction, equipment and facilities. At the same time, environmental benefits are conferred by reducing the operational footprint.
Naturally, the ease and expense of moving the rig from one well bore to the next on the pad spurred development of rigs with a walking capability. Some rigs can move as much as 20-25 feet in an hour. That could save as much as two days that it would take a third party to rig down, move and rig up again.
Unconventional Drivers
The combination of extended-reach horizontal drilling and hydraulic fracturing has driven the unconventional oil and gas development boom. Figure 1 illustrates how horizontal drilling, driven by the unconventional boom, has come to dominate the U.S. drilling sector. Although commercial horizontal drilling has been around since the early 1980s, it peaked briefly in the 1990s in the Texas Austin Chalk (in many respects, the "original" unconventional horizontal drilling and hydraulic fracturing play), but largely remained a niche application until it took off again with the explosion of activity in the major shale plays.
Figure 1 clearly shows that horizontal drilling was affected less by the 2009 industry downturn than were all other types of drilling, falling by 48 percent from peak in 2008 to trough in 2009 versus a drop of 63 percent for vertical and directional drilling.
Not only are more rigs drilling horizontally, accounting for an average 61 percent of the rig count in 2011, compared with only about 15 percent on average in 2005 and about 25 percent in 2008, but horizontal laterals have gotten progressively longer, with as much as 50 percent more horizontal displacement than only a few years ago.
While fracturing is not part of the drilling process, it certainly has underpinned the meteoric growth of horizontal drilling, and roughly 60 percent of all wells completed today are hydraulically fractured. Operators have come to increasingly recognize that multiple frac stages, spread along an ever-increasing horizontal displacement, yield eye-popping initial production rates and accelerated payouts in these massive, and hitherto, uneconomic formations.
This has spurred operators and drillers to continually push the envelope on the length of horizontal laterals and the number of frac stages per lateral, as well as support their proliferation. It is not unusual these days to hear of 10,000-foot horizontal laterals with 40 and even 50 frac stages, while the industry continues to assess how to optimize transverse fracture systems.
Incremental Gains
There was no "eureka!" discovery moment for George Mitchell and Mitchell Energy Corp. in the Barnett Shale; just a persistent effort that yielded incremental gains over many years. That trend continues in resource plays as operators seek to contain costs and improve well performance amid the ongoing unconventional oil and gas boom.
Massive multistage frac jobs have grown to the point where a completion now is often the biggest portion of an onshore well's cost. Other than recent easing in pressure pumping costs as capacity has built to meet demand, there seems to be little latitude for further reductions in completion and post-completion operating costs. Quite the contrary, regulatory costs are certain to climb, especially with regard to water handling, treatment and disposal.
But operators and drillers have made steady gains in whittling away at drilling costs as the unconventional boom has grown. In particular, development campaigns in the unconventional plays have been subjected to relentless pressure to reduce the time spent on a hole. Many operators have reported as much as 50 percent reductions in "spud-to-spud" days, or the amount of rig time between spudding and drilling one well to total depth and then spudding the next.
Devon Energy Corporation took three to six weeks to drill a horizontal well when it started operating in the Barnett Shale after acquiring Mitchell Energy in 2002. The rigs available to the company generally were too small and underpowered to handle the horizontal drilling essential to making the Barnett a viable play. As more high-efficiency, purpose-built rigs were introduced into the market, drilling times were shrunk continually, and Devon now averages only about 12 days per Barnett horizontal well.
To tackle these new plays and the demands of long-lateral horizontal drilling, rig contractors are offering a new breed of rigs with the emphasis on rapid mobilization, fit-for-purpose, and minimizing nonproductive time. There is little argument today about what size rig is best suited for drilling the extended-reach horizontal laterals that underpin the success of oil and gas shale development. Operators have voted with their dollars by mostly hiring rigs in the 1,000-1,499 horsepower and 1,500-1,999 horsepower classes.
These two classes now account for 60-65 percent of the active rig count, making them the "sweet spot" for drilling U.S. onshore unconventional plays. Additionally, these two groups are the only rig classes with average 2011 utilization rates exceeding 80 percent (83 and 93 percent, respectively, as shown in Figure 2). Those are the kind of utilization rates that support rising day rates. These are the only rig classes that logged quarter-to-quarter day rates averaging double-digit percentage gains in the first and second quarters of 2010, a turnaround year for the oil and gas industry.
A drilling industry truism is that a sustained utilization rate topping 80 percent translates into building new rigs. Accordingly, these two rig classes also have dominated new-builds, accounting for nearly 90 percent of all new-builds ordered or delivered from mid-2010 through the end of 2011 (Figure 3).
U.S. Fleet Impact
The evolving technology needs that unconventional plays have spawned are transforming the scope and shape of the U.S. land rig fleet.
With much lower utilization rates for smaller rigs, their surplus has continued to swell in recent years. That was evident in a rig census analysis undertaken in August 2011. At the time, we estimated 30 percent of the rig fleet was stacked. Of that stacked group, 40 percent were in the sub-1,000 horsepower classes versus 16 percent of the 1,000 horsepower and above rig classes. The chasm grew even more when looking at the cold-stacked category: The two smallest classes accounted for 70 percent of the cold-stacked rigs. In many instances, these smaller rigs had been stacked for one or two years, or even longer. Clearly, a shakeout was imminent.
That shakeout inflection point occurred in the fourth quarter of last year, when three large drilling contractors announced rig retirements totaling 157 units. More have followed suit among both large and small drilling contractors. It was clear that a major rig replacement cycle was getting under way. To underscore that observation, the total number of rigs in the fleet today with horsepower ratings of 1,000 or more exceeds the total sub-1,000 horsepower rigs for the first time.
While reporting its 2011 financial results, Precision Drilling stated in February that it believed the retooling of the rig fleet would result in the virtual obsolescence of older, lower-horsepower SCR rigs in the North American market over the next five years. Accordingly, the company says it added 19 higher-horsepower Super Series™ AC new-builds and completed 18 SCR upgrades in 2011 while decommissioning 36 older rigs as part of its ongoing upgrade process. Precision Drilling also noted at the time that it expected to add 35 new rigs to its fleet this year.
Of all the rigs in Nabors Industries' lower-48 land fleet at the end of 2011, fewer than 15 percent were smaller than 1,000 horsepower and the vast majority had AC drives. Helmerich & Payne retired the last mechanical rig in its fleet in 2011, and continues to add FlexRigs™ at the rate of four each month. As of the fourth quarter of 2011, the company had 249 rigs in its U.S. land fleet–including 211 FlexRigs–and only a couple were sub-1,000 horsepower units. Patterson-UTI Energy Inc. reported in the second quarter of last year that that it expected to have 150 rigs in its land fleet by year's end 2011 with 1,000-plus horsepower drawworks, high-capacity mud pumps, top drives, automated drilling and pipe handling systems, and quick move capability.
Smaller-Horsepower Rigs
Other contractors are reporting similar transformations of their fleets to premium rigs in the 1,000-1,999 horsepower range. However, two trends provide glimmers of hope for the smaller-horsepower rigs in the years to come. One is the evolution of the unconventional resource boom itself, with the roles of oil- and gas-focused drilling reversing in the past two years to strongly favor oil and wet gas plays. In April 2005, almost 90 percent of all active rigs were drilling natural gas wells. Today, two-thirds of the total rig count is targeting oil. No surprise there, given the vast difference in value between gas and liquids.
But the business model that has propelled unconventional drilling to the forefront of the oil and gas industry is proving itself anew in the "hybrid" unconventional liquids-focused plays, such as the stacked oil plays in the Permian Basin that are amenable to vertical drilling, and even in shallow conventional oil reservoirs, such as the horizontal Mississippian Lime play in Oklahoma and Kansas. Generally, it is not necessary to use larger, fit-for-purpose rigs working the likes of the Haynesville and Bakken shales to work these plays.
Meanwhile, the rapidly escalating day rates–and frequent scarcity–of the "sweet spot" shale rigs spurred a number of operators in Appalachia's Marcellus Shale play to start using small mechanical rigs to drill the initial, vertical section of a hole and then bringing in a bigger, "shale-suitable" rig to kick off the horizontal lateral. This has resulted in reported cost savings of as much as $50,000-100,000 per well.
Despite the continuing high utilization rates for the larger-horsepower, purpose-built rigs, these two trends enabled the two smallest rig classes to demonstrate the strongest growth in utilization rates by midyear 2011 (Figure 2). With strong oil prices providing plenty of drilling incentive in older producing fields, there also is demand for a certain percentage of these smaller rigs in infill vertical drilling operations in shallower conventional oil reservoirs.
However, even with these bright spots for smaller mechanical rigs, there are still too many of them to accommodate the kind of rig count growth that is likely in the years to come. Only the most efficient and up-to-date rigs in the sub-1,000 horsepower classes will be able to compete in their shrinking market. It is worth noting that a great many of these rigs are 20-30 years old, so their prospects for an economically justifiable refurbishment are limited.
We expect the rig replacement cycle to continue and expect the total fleet to shrink more in 2012, despite a likely 150 new-builds entering service this year, as more small mechanical rigs move from stacked to scrapped mode.
For many years, 600-750 horsepower mechanical rigs were the benchmark for the U.S. land rig fleet. These rigs will remain an important contributor to U.S. onshore drilling, but the sweet spot rigs are 1,000-2,000 horsepower AC units for unconventional resource plays where heavy metal is required for complex well bore trajectories with high degrees of dogleg severity and extended-reach hydraulic dynamics.
These new units are fast, fit-for-purpose, automation-friendly, and are equipped with all the latest bells and whistles. They will increasingly come to represent the standard of the U.S. land rig market of the future.

BOB WILLIAMS is director of news & analysis at "The Land Rig Newsletter" family of publications, which is affiliated with Fort Worth-based RigData. He and his team oversee four publications: "The Land Rig Newsletter," "The Biweekly Report," "The Unconventional Drilling Report," and "The Day Rate Report," as well as custom research related to U.S. land rig markets and activity. Williams has worked as a reporter, editor, writer, commentator, consultant and research analyst focused on the oil and gas industry for 31 years, including 24 years with the "Oil & Gas Journal." He has covered energy topics ranging from technology to industry operations, and from energy and environmental issues to policy development. Williams also has worked as a communications consultant under contract to the U.S. Department of Energy's National Energy Technology Laboratory. He is the author of the 1991 Penn­Well book, "U.S. Petroleum Strategies in the Decade of the Environment," and has authored and managed many ancillary publications and editorial products over the years.