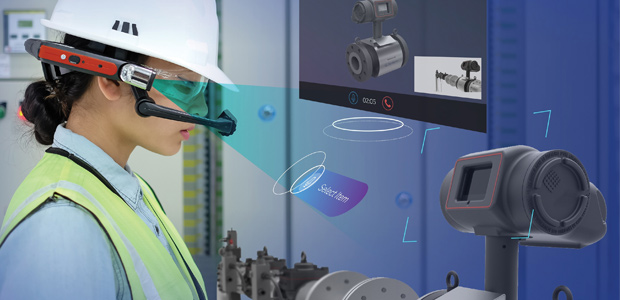 November 2018 Cover Story
Oil and Gas Computing
Wearable Technology Enabling New Connectivity In Upstream, Midstream
By Vincent Higgins
HOUSTON–The connected enterprise, Industry 4.0, the Industrial Internet of Things (IIoT). Whatever one wants to call the disruption to the upstream and midstream sectors from cloud technologies and digital devices matters much less than understanding its potential. Without a clear vision of the end point of this digital transformation, it is difficult for businesses to chart a course for adoption, or even to know where to start.
That is particularly true because the process itself is evolutionary, with each stage building on the last. The connected enterprise starts by connecting and collecting data to facilitate remote monitoring of assets and plants. It then moves to implementing centralized and automated control, usually beginning with safety functions. Finally, the centralized data are pushed back out to field workers to enhance their productivity, safety and efficiency.
The issue also is confused by the fact that connectivity is applied across different levels of the organization, with different effects. At the enterprise level, data collected from connected devices and systems are combined with analytics, artificial intelligence and visualization tools to provide a bird's-eye view across wells, platforms, facilities and plants, or other sites.
Remote upstream assets that traditionally have had little monitoring now can be connected anywhere with a long-term evolution (LTE) high-speed wireless signal for new insights and intelligence, promoting safety and reducing the need for site visits. Onshore, data from large numbers of wells can be collected in the cloud, analyzed and transformed into intelligence to identify underperforming operations and problems. At an onshore oil field in Canada, a recent project connected several hundred producing wells within only a few weeks, bringing production and operational data into a central location for monitoring.
Both in the midstream and upstream sectors, collection of the data in the cloud and analytic tools enable business users to coordinate supply chains, address developing issues, and identify and share best practices between different sites.
Enterprise Connectivity
The benefits and application of connectivity are felt not merely at the enterprise level, however. They also can be applied with more granularity to assets and process. In regard to the former, data from pumps, compressors, heat exchangers, drilling equipment and a wide range of other assets only available locally in the past can be collected and analyzed in the cloud to identify inefficiencies and enhance maintenance.
To take only one example from the midstream, for instance: Accurate measurements for custody transfer operations are critical, since even small meter measurement errors quickly accumulate to large losses, because these errors are rarely random. Therefore, meter provers are essential pieces of equipment and are calibrated regularly, either periodically, according to a fixed schedule, or on a risk-based basis, in which periods between calibrations can be extended by a defined limit if there is evidence of stable measurements. In both cases, however, recalibrations inevitably take place where there is no measurement error, while errors that develop between calibrations can be missed.
By connecting diagnostic information from these provers and using software to analyze not only changes in the flowmeter, but also the environment in which meters operate, operators can move to truly condition-based monitoring and predictive maintenance; identifying those meters requiring maintenance as the need arises so that they avoid wasting resources on unnecessary maintenance, while identifying and addressing issues before they develop, avoiding the costs and potential downtime involved from running assets to failure.
There is, as the example illustrates, some overlap between connected assets and the connected process. Changes in flows, temperatures and other readings and measurements are often powerful indicators of issues with the equipment being monitored.
The benefits of the connected process go further, however. They include, for example:
Tracking the flow of liquids in hydraulic fracturing operations for safety and efficiency;
Identifying bottlenecks and other inefficiencies at remote plants;
Automating reconciliation and reporting for tank farms; and
Identifying the characteristics of the most profitable plants and processes, and seeking to duplicate those characteristics across the enterprise.
Advanced software solutions, combined with data captured in the cloud, can provide powerful insights to bring benefits across the process.
People Power
People are central to all these initiatives, and this is where the connectivity across these levels comes together. Once process, asset and enterprise-level data are centralized and transformed into actionable intelligence through analytics and advanced software, it can then be pushed out again to enhance the productivity, efficiency and safety of workers in the field.
That is demonstrated powerfully when considering immersive technologies and intelligent wearables, used for both training and as productivity tools to boost the performance of human capital, which is any organization's most valuable asset.
Immersive and intelligent wearable technologies both have significant applications across the process industries, but there is a particular value in upstream operations, where speed to competency for workers is a crucial metric. In part, that is because of a generally aging workforce and skill shortages in key areas within upstream oil and gas workflows. It is also partly because of historic cyclical volatility in energy prices. When prices are trending upward (as they are today), upstream operators must rapidly ramp up headcounts, train staff on unfamiliar equipment or processes, and deploy them in the field to meet the personnel needs of increasing activity levels to take advantage of the business opportunities created by stronger commodity prices.
Immersive technologies and intelligent wearables, combined with the insights from the connected enterprise, can help operators effectively and safely achieve these objectives by optimizing the productivity of their employees, no matter their level of experience. Immersive technologies, which include both virtual reality (VR) and augmented reality solutions, can be used to significantly improve knowledge retention and accelerate worker training.
Studies consistently show that practice is significantly more effective than classroom-based lectures or reading. Using fully immersive or mixed-reality headsets as well as data and insights drawn from analysis of processes and equipment, these technologies enable workers to practice key tasks in a safe, but realistic environment before going out into the field. The technologies already are being shown to improve skill retention compared with traditional training methods by up to 100 percent, and reduce the length of technical training by up to two-thirds.
With training accessed remotely, neither workers nor instructors are tied to a particular site. With training modules hosted in the cloud, they can be delivered swiftly to workers across the enterprise and on demand, regardless of their physical locations.
Intelligent wearables, meanwhile, take this a step farther by breaking down the distinction between working and learning. Workflow management software can connect workers to process and device data while in the field, as well as link to commercial enterprise resource planning and asset management tools. It also can capture the knowledge of experienced workers, give users on-demand access to video libraries of common tasks to follow in the field, or even link them directly to remote experts for real-time advice.
Delivered through tablets and smart phones or using advanced heads-up displays with voice control, intelligent wearables are both a powerful productivity tool–helping users quickly locate devices that require work, pull up the information they need, and receive guidance remotely–and an effective learning and training tool for the field. Crucially, the technology achieves the key aim of getting people to work safer, more productively and more quickly.
Key Technologies
All of these levels of connectivity are underpinned by a variety of key technologies. First, the connected enterprise clearly needs a secure cloud-based platform to manage devices, collect data and host enterprise-wide analytics and applications. This also can provide the platform to manage connectivity to other partners, such as data scientists, and equipment and process vendors, giving them secure and controlled access to the data required to provide remote services or monitoring.
Open standards such as the OPC unified architecture service-oriented architecture for industrial automation also are essential to provide the interoperability and standardization needed to connect devices from multiple manufacturers across the enterprise to the cloud.
Finally, the value that the data bring will be determined by the power of the analytical tools and advanced software that turns data into actionable intelligence. Even before the advent of IIoT tools, many operations had no shortage of data, but a general lack of insight. Software backed by the insights from significant operational technology and domain expertise is essential to ensure the connected enterprise delivers the promised benefits.
Bringing these technologies together with connectivity at the different layers of the organization brings significant benefits.
In the control room, for example, operators can assign a task through the distributed control system (DCS) platform to the field operator. The field operator receives this information on his heads-up display, and, based on his location, is guided to the asset requiring work. He then can rapidly call up its maintenance history and equipment details, as well as live data from the asset. He also can call up a step-by-step video guide of how to complete the task requested.
Likewise, in the remote operations control room, an alarm may flag an issue at a particular site. Users are then able to drill down with an intuitive interface to identify the particular asset effected, with diagnostics determining a fault with a particular part. A work order is generated automatically for those on site. If no onsite worker has experience or recent practice, a VR training simulation is sent automatically for the workers to get up to speed. Following practice, the maintenance engineer receives step-by-step instructions through his or her intelligent wearable device, together with support from expert engineers at a remote location.
With the task completed, all the related information is recorded and the work order automatically is marked as fulfilled with central control. At headquarters, forecasts for throughput and impact on orders are updated automatically to reflect that the operation is running again.
The connected enterprise transforms operations at every level, connecting devices as well as people, to not only eliminate the barriers that exist across the business, but to promote seamless operations from top to bottom.

VINCENT HIGGINS is director of technology and innovation at Honeywell Connected Plant, with a focus on the Connected Worker. Prior to joining Honeywell, he was the chief executive officer of a technology company that provides advanced digital solutions to industrial customers. Higgins also led a leadership consulting firm, assisting senior executives in organizational effectiveness. He is author of the book "Social Influence and Genius, A Leadership Journey," in which he developed an innovative new model for organizational and leadership development. Higgins holds undergraduate degrees in physics and graduate degrees in philosophy and theology.