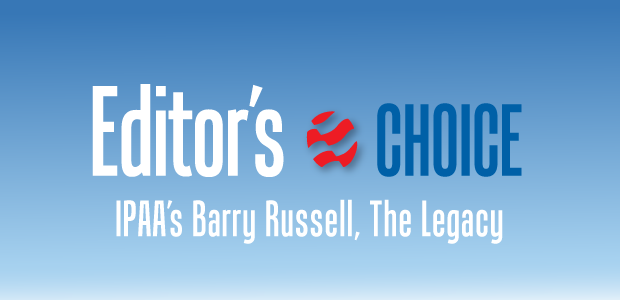 September 2022 Editor's Choice
IPAA's President, CEO Russell Retires
WASHINGTON–The Independent Petroleum Association of America has announced the retirement of President and Chief Executive Officer Barry Russell, which was effective Sept. 1.
IPAA notes that Russell has served in leadership roles with the association for more than four decades. As part of a planned leadership succession process, Jeff Eshelman, IPAA's chief operating officer, will assume the role of president and chief executive officer. Dan Naatz, IPAA executive vice president will continue to serve in that capacity and add the role of COO.
"Barry Russell built the modern IPAA," says IPAA Chairman Jim Wilkes, president, director and co-owner of Texland Petroleum LP. "He has guided the association through the ups and downs the industry has seen in this new millennium and, equally important, he built a talented team that will continue to showcase and defend the value of independent oil and natural gas producers for many years to come. Under his leadership we have seen the lifting of the crude oil export ban, the safe and established practice of hydraulic fracturing preserved, and major educational investment in the future workforce of our industry. IPAA Vice Chairman Steven Pruett and I speak for the entire board in expressing our sincere gratitude for Barry's years of dedication, service and dutiful leadership to IPAA.
"We are confident in Jeff's ability to take on leading the charge, growing the organization and building upon member engagement," Wilkes adds. "Jeff, Dan and the entire IPAA team are well-equipped to serve and energize members through their government relations, communications and valuable events. The board will continue to carry out our important role as partners in the field, to help IPAA best tell the story of the men and women who support a strong oil and natural gas industry and ensure the United States as a secure and reliable energy supply."
Russell was elected IPAA president in March 2000, the association notes, and during the past 22 years has guided the association through industry ups and downs, as well as regulatory and legislative challenges. According to the association, Russell was integral in working with numerous state and national associations to create IPAA's grassroots network made up of more than 50,000 individuals. This network helps the industry express important policy positions to Congress and Washington policymakers, the association says.
According to IPAA, Russell also has played a key role in establishing programs that help producers acquire capital and prospects, including IPAA's Oil and Gas Investment Symposium and Private Capital Conference, and the North American Prospect Expo, for which he served on the board for many years. In addition, Russell developed the IPAA Educational Foundation, which is dedicated to inspiring students in enhanced science, technology, engineering and math studies and has prepared the next generation for successful careers in the energy industry. Since its founding in 2006, more than 41,000 students have participated in the foundation's programs.
Prior to being named IPAA President, Russell served as executive vice president, general counsel and corporate secretary, the association notes. In this role, he was the principal deputy to the president, IPAA notes, focusing on legislative policy development as well as the legal and financial administration of the association. With a background in environmental law, including serving in the U.S. Environmental Protection Agency Office of General Counsel and Enforcement, he also managed IPAA's environmental issues as one of IPAA's registered lobbyists.
As IPAA COO, Eshelman has overseen public affairs and communications, administration, membership, information technology, and finance departments, the group notes. He is also the corporate secretary (officer) on IPAA's Board of Directors. In 2009, he founded Energy In Depth, the industry's rapid response, research and communications coalition, and serves as the project's executive director. In his 25-plus years in the oil and natural gas industry, Eshelman also has managed the communications programs of the Petroleum Technology Transfer Council and the National Stripper Well Association.
Naatz has represented independent oil and natural gas producers in front of Congress and regulatory agencies as a member of the IPAA government relations team for nearly two decades. In his role as executive vice president, he coordinates all IPAA government relations activities, oversees federal onshore and offshore resource issues, and manages the association's political activities. Prior to joining IPAA, the association notes, Naatz spent 12 years on Capitol Hill working for the late Senator Craig Thomas, R-Wy., in various capacities, including chief of staff and legislative director.
For the full IPAA management list, visit https://www.ipaa.org/management-team/