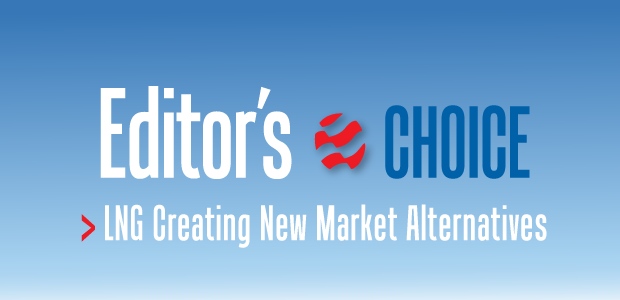 January 2011 Editor's Choice
Outlook 2011
LNG Creating New Market Alternatives
By David A. Franklin
HOUSTON–Just as shale and tight sands reservoirs have given producers a new horizon of investment opportunities through horizontal drilling and multistage completion technologies, liquefied natural gas technology can open new opportunities on the marketing side of the business to maximize the value of the produced gas.
Natural gas vehicles powered either by LNG or compressed natural gas are a growing segment of the transportation fuels market. The benefits to the NGV customer include lower operating cost, lower emissions and smog reduction, favorable commercial regulations, tax rebates and fuel tax credits, and the ability to use 100 percent domestically produced fuels.
For natural gas producers interested in converting daily volumes to LNG or CNG for transportation fuel, the first challenge in developing a market is to locate local or regional fuel consumers who could benefit from lower-cost LNG or CNG. What fleets and industries may be interested in NGVs powered by LNG or CNG? The characteristics could include:
Fleets with repetitive delivery and collection routes–Examples are the U.S. Postal Service, the United Parcel Service, Federal Express, refuse trucks, drayage container operations, yard hostlers, container terminals, and rail yard switch engines.
Larger logistics fleets with regional distribution centers–National retailers and commercial freight carriers would be candidates, including HEB, J.B. Hunt, K-Mart, Sysco, Wal-Mart, Yellow Freight, etc.
Transportation fuel suppliers–Examples include national chains such as Flying J, Truck Stops of America, Petro, Loves, Pilot, etc.
Commuters/mass transit–Customers such as city buses, taxi services and other local transportation sources can provide a stable market for fuel.
Off-road vehicles–Mining and agricultural operations require a constant supply of fuel for vehicles.
A focused market analysis will reveal many additional potential industries and customers that are not readily apparent. The gas producer can work with a specialized marketing company and fuel developers to assist in locating and approaching potential clients.
Becoming educated and knowledgeable about LNG, understanding its benefits and learning its limitations will assist the fuel provider in the proposal and development stages of a project. Many resources are available on the Internet. One of the most comprehensive resources is the Natural Gas Vehicles for America's website at www.NGVAmerica.org.
Benefits And Supply Surety
It is important to know the economic and environmental benefits that LNG can provide the prospective client. Converting a fleet of trucks to an alternate fuel such as LNG or CNG represents a significant logistical and financial commitment for a fleet owner. The cost of fleet conversion, however, may be partially offset by federal, state or local incentives. In order to be a viable fuel alternative, there must be sufficient cost savings to recover the investment and produce a satisfactory financial return.
In every case, consideration should be given to environmental regulations, such as exhaust emission standards and potential future carbon taxes that may adversely affect fleet economics. Natural gas fuel is recognized as a cleaner fuel alternative than petroleum-based fuels. Natural gas producers and fleet owners can improve the profitability of their businesses while playing an important role in developing a new market for America's natural gas and improving the environment.
In addition to lower fuel costs or regulatory mandates, the fleet owner must have assurance that the fuel supplier is solvent, has a valid business model, has access to a constant supply of natural gas with alternative suppliers, can provide spare equipment to minimize disruptions, and maintains adequate fuel storage to cover potential outages. Assuring the fleet owner that fuel always will be available is paramount to the sales effort.
U.S. utilities operate more than 100 LNG peak shaving units. LNG peak shavers liquefy pipeline gas and store it in large tanks when supply exceeds demand. During the winter months, when demand exceeds pipeline capacity, the utilities revaporize the LNG and add it into the local utility grid, assuring critical gas supply to their customers. Some LNG peak shavers operate truck loading stations to serve remote community gas grids, and may be able to supply LNG on short notice.
Part of supply assurance is having adequate gas to liquefy. This can be accomplished by having multiple producing wells with only a portion being liquefied, or by having a connection to a treated gas pipeline. Providing sufficient LNG storage will minimize disruptions during short outages. LNG supply assurance can be enhanced by providing spare production facilities.
Developing cross-production agreements with other LNG suppliers also can provide supply assurance. Cross-production arrangements follow the example of many liquid nitrogen and liquid oxygen supply companies, which often have similar agreements with competitors to cover critical customers while their production is off line for service or repair. This option can provide supply assurance to customers while reducing the cost of spare facilities and improving the overall marketability of LNG for all suppliers.
Regulations And Incentives
For several years, Congress has supported natural gas as a transportation fuel. Legislation enacted within the past decade includes the Alternative Fuel Vehicle Acceleration Act of 2001, Clear Act 2002, Clean Cities Initiative, Clean School Bus Initiative, and the Energy Policy Act of 2005. A summary of past, current and pending legislation is available on NGVAmerica's website.
The Natural Gas Act of 2010 is of particular interest. This bill had wide bipartisan support and would have extended the benefits of prior legislation that was set to expire. However, the bill languished in committee and the 111th Congress adjourned without passing it.
If reintroduced and passed by the 112th Congress, the Natural Gas Act would:
Extend a $0.50/gallon fuel tax credit for LNG (»$0.85/gallon of diesel equivalent);
Extend a tax credit for purchasing alternative fuel vehicles;
Make certain tax credits transferable;
Extend and increase the tax credit for natural gas-fueled vehicles;
Create a bond program for governmental agencies to finance NGVs and fueling infrastructure;
Allow NGV manufacturers to accelerate depreciation and apply for special loan guarantees for manufacturing equipment for alternative fuel vehicles;
Provide tax incentives for installing alternative fuel refueling facilities;
Require the federal government to purchase NGVs; and
Mandate that the Environmental Protection Agency streamline certification of aftermarket alternative fuel conversion kits.
The EPA also supports natural gas fuels initiatives. These include the Clean Agriculture Program, Clean Construction Program, Clean Ports Program and the SmartWay Transport Program.
Over-the-road and off-road fleet owners are facing new regulations with strict emissions requirements. LNG-fueled vehicles can offer owners not only the ability to comply with the new standards, but also reduce operating costs while taking advantage of significant tax incentives for purchases.
Available Technology Solutions
Understanding the available technology solutions is also essential to selling and maintaining customers. Identifying LNG vehicle and engine manufacturers is paramount in this process. There are several leaders in the LNG vehicle revolution.
Westport Innovations offers research, development, LNG fuel systems and LNG-fueled engines to original equipment vehicle manufacturers. Westport's unique GX™ technology is integrated into Cummins 15 liter, ISX™ diesel engines. The equipment uses a proprietary high-pressure direct injection system that consumes 5 percent diesel and 95 percent LNG.
The engine offers truck manufacturers access to industry-leading emissions control without loss of power, torque or efficiency. The engine is used in several Class 8 trucks, including Kenworth T800s™ and Peterbilt 386™ and 367™ models. It operates in various applications, including port drayage, heavy haul, refuse transfer, dump trucks, roll-offs and line haul.
Volvo Powertrains has announced that it will be working with Westport to develop fuel systems for Volvo engines. Westport also offers smaller spark ignition engines for lift trucks, autos and light trucks.
Cummins has developed a line of spark-ignited natural gas engines that require no diesel or diesel particulate filter. Standard nondosing catalytic converters are used to achieve very low emissions. Power and torque are equivalent to or better than 12-liter class diesel engines.
Sterling LT-8500™ and Freightliner M2-112™ both offer various truck applications using this engine. Sterling has sold more than 1,000 trucks for drayage service in California. Mack, Republic, Caterpillar and other vehicle and engine manufacturers are following suit with natural gas-fueled alternatives.
Gas Composition Issues
Natural gas can be derived from various sources with varying compositions and heating values. Natural gas from biogenic processes is composed primarily of methane (C1) and may include inert gases and water. Natural gas derived from oil and gas wells consists of methane along with various other hydrocarbon species, including ethane (C2), propane (C3), butane (C4), pentane (C5) and heavier components. It may also have sour contaminants such as hydrogen sulfide, inorganic and organic sulfur compounds, and carbon dioxide. Conventional gas processing is employed to remove the sour components and to recover the heavy hydrocarbons in order to meet pipeline heating value specifications.
The natural gas specification for liquefaction is less stringent than pipeline specs for light hydrocarbons, but more stringent for sulfur, water, CO2 and heavy hydrocarbons (Table 1). Water, CO2 and heavy hydrocarbons (C5+) will freeze and foul the cryogenic heat exchanger used in producing LNG and must be removed to assure good performance. All gas meeting U.S. pipeline specifications can be liquefied after removing components that can freeze. LNG easily can accommodate C2, C3 and C4 hydrocarbons, but the producer must carefully tailor the hydrocarbon composition of the product to meet the specific needs of all customers.
If the LNG will be sold for use in a gas turbine, for example, the supplier must meet the heating value limitations of the gas turbine user.
Gas composition does not appear to be an issue for the Westport GX dual-fuel "diesel" engine. Most spark-ignited natural gas engines can tolerate natural gas with higher heating values, as long as the methane number exceeds 75. The methane number of natural gas is similar to an octane number for gasoline. The higher the methane number, the less potential for detonation.
Shale gas often has an ethane content exceeding the pipeline specifications, even after deep recovering C3+ hydrocarbons. Significant ethane must be removed to meet pipeline-gas specifications.
In many cases, there is no convenient pipeline or market for the C2 that has been removed. This can create logistical problems for the gas producer. If the gas is sold as "transportation fuel grade" LNG, the ethane may be left in the fuel to improve the overall economics, capital cost and product logistics. In all cases, the fuel composition limits should be specified in the fuel supply contract.
LNG Equipment And Services
Once the customer's costs, gas characteristics and compatible technologies have been identified, it is time to find the companies that can help in project development. Fortunately, there are multiple companies available to assist producers interested in developing projects.
For example, Gladstein Neandross & Associates provides assistance in marketing, public relations, regulatory review and strategic market analysis. Clean Fuels Consulting, Fuel Solutions and Mustang Engineering all provide technical consulting, process evaluation and selection, and feasibility services. Wood Group offers services related to selling LNG.
LNG technology suppliers such as Air Liquide, Atlas Copco, Black & Veatch, Chart Energy & Chemicals, Cosmodyne, Cryostar and Linde offer solutions based on conventional compression and refrigeration systems. For small on-site fuel makers, BDL Fuels, Inc. and Chart Energy & Chemicals offer low-capital cost, containerized systems that utilize liquid nitrogen as a disposable refrigerant. Engineering and construction contractors with LNG Experience include Aker Solutions, Black & Veatch, CB&I, Chart Energy and Chemicals, Cryostar, Mustang Engineering, and NorthStar Inc.
LNG fuel storage tank suppliers include Chart Industries, Cryenco Sciences, Taylor Wharton and Universal Industrial Gases, while Cryenco and Chart Ferox have expertise in LNG transport containers, trucks, trailers and rail cars. Companies such as Chart NexGen, Cryostar and NorthStar Inc. provide equipment and services for LNG fueling stations, while ALT and Clean Energy Fuels are among the suppliers of LNG fuel.
LNG and CNG increasingly are being used as vehicle fuels. Lower costs and reduced emissions make them appealing alternatives to traditional petroleum-based fuel. For fuel providers to take advantage of the opportunity to be a supplier, they must identify a potential customer base, provide a consistent fuel supply, and comply with relevant legislation and regulations.
Domestically produced gas in the form of LNG and CNG for transportation fuels provides an attractive new market for North American gas producers. This developing market will reduce fuel costs for U.S. industries and consumers while improving the environment, stimulating the nation's economy and improving America's energy independence.
Editor's Note: The preceding article is the second in a two-part series on applying liquefied natural gas technology to enhance the value of produced gas and expand the market share for abundant domestic natural gas supplies. Part one appeared in the December 2010 issue and examined the opportunities and economics for producers to sell directly into the transportation fuels market as LNG or compressed natural gas.

DAVID A. FRANKLIN is LNG facilities manager for Mustang Engineering in Houston. A 1979 graduate of the University of Missouri-Rolla, he has 29 years of experience in engineering, design, fabrication and construction. Franklin is a mechanical engineer, and his last 20 years of work experience has been in gas treating, cryogenic gas processing, LNG liquefaction and LNG regasification. That work has included acid gas processing, sulfur recovery, dehydration, LPG recovery, LNG peak shaving, and small- to mid-scale LNG projects onshore and offshore. He holds multiple patents and patent applications.