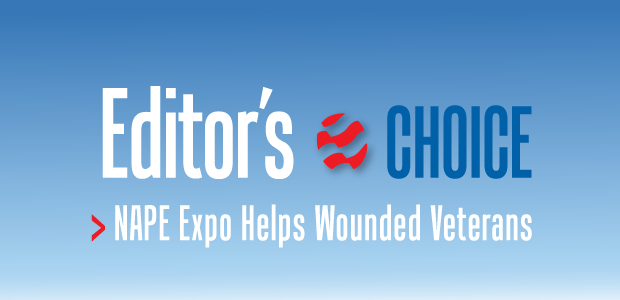 March 2011 Editor's Choice
NAPE Expo Helps Wounded Veterans
By Christy Payne, Special Correspondent
HOUSTON–For the men and women of the armed forces that have served our country in Afghanistan and Iraq, coming home often means fighting new battles. For Sergeant Jeremy Nicholson, whose vehicle was wrecked by a 300-pound explosive, those included recovering from broken ribs, shattered knee joints, torn ligaments, and second- and third-degree burns. For Jason Morgan, a father of five whose Special Forces team was ambushed after parachuting into a target zone, they involved adjusting to life in a wheelchair.
These brave soldiers are not alone. According to the U.S. Department of Defense, 42,000 American soldiers who participated in Enduring Freedom, Iraqi Freedom, and New Dawn have been wounded in action. Many of them have come home maimed, blinded, or otherwise disabled.
To help such veterans, the NAPE Expo in February hosted the American Heroes Luncheon. Participants contributed a record $350,000 to wounded veterans through the NAPE American Heroes Fund. Contributors included Shell Exploration & Production, Noble Royalties Inc., Chesapeake Energy Corp., Texas Motor Speedway, Griffin Petroleum Co., Murphy Exploration and Production Co., Plains Exploration and Production Co., and Roger A. Soape Inc., as well as Bud Brigham, Don Clark, Jimmy Harris, Don Sinex, Gregg Hutson, Robin A. Forte', Toby Forte' and Ron Deem. They also included anonymous donors.
Grammy-winner LeAnn Rimes headlined the event. She and Operation Finally Home founder Dan Wallrath helped surprise Sergeant Michael Ryan and his wife, Cary, with the news that the fund had teamed with Operation Finally Home to build them a new home.
The NAPE initiative was conceived by NAPE Executive Vice President Robin Forte', who served as a U.S. Air Force fighter pilot from 1966-1974. He wanted to harness the energy and pride on the floor of the NAPE Expo and direct it in a way that would enable leaders of the oil and gas industry to make a real difference in the lives of soldiers returning home from duty.
Since the first fundraising event in 2007, the fund has provided wounded soldiers and their families with $1.65 million.
Forte' points out NAPE Expo LP pays the luncheon's expenses, so all ticket sales and sponsorship money goes to the fund, which distributes it to deserving organizations. Recipients agree to pass all of the money into the hands of wounded soldiers, with no deductions for overhead or administrative expenses.
"Helping these severely wounded soldiers has been a humbling and blessed experience," Forte' says. "Of course, oil and gas professionals appreciate the opportunity to help those who have risked their lives to protect our freedom. We cannot undo the injuries they have endured, but we can show our appreciation for their sacrifice."
The fund has helped disabled veterans remodel homes, provided financial relief to veterans facing home foreclosure or car repossession, and temporarily housed veterans undergoing rehabilitation. More recently, the fund has helped Operation Finally Home build eight homes and helped Canine Companions for Independence breed, raise, train and match four service dog/veteran teams.
Training a dog and providing lifetime support services for the dog and veteran costs $50,000. That is a high price, one that made NAPE skeptical until it saw what the dogs do. In addition to providing companionship, the animals help with daily tasks and emergencies. For example, in response to a sudden and severe migraine, a trained dog might turn off the lights, lead his veteran to bed, get him medicine and a bottle of water from the refrigerator, and even call 911 if necessary.
Forte' says Operation Finally Home is equally impressive. The organization works with building suppliers and contractors to get donated building materials and manpower. These contributions allow it to provide wounded veterans with custom, mortgage-free homes.
Dan Wallrath, founder of Operation Finally Home and one of last year's top-10 finalists for CNN Hero of the Year, praises NAPE for its contributions.
"We are so thankful for the support the NAPE American Heroes Fund gives to Operation Finally Home," he says. "The American Heroes Fund has become our most important partner. Robin Forte', the many other contributors, and I share the vision and the passion to help these deserving veterans rebuild their lives."
Also At NAPE
Before kicking off the 2011 exhibition, NAPE continued the Business Conference series it introduced at last year's Summer NAPE. Because of the growing emphasis on gas and now oil shales, the conference focused on unconventional resource technologies and projects in evolving and new basins. It featured Steve Mueller, chief executive officer of Southwestern Energy as keynote speaker, as well as Jack Williams, president of XTO Energy. Presentations provided executive viewpoints on today's diversified oil and gas portfolio, an update on policy and regulatory changes, and informative tips on financing and deal making.
Also before the exhibition, the international track at NAPE kicked off with the International Forum and Prospect Preview, which drew upstream professionals from the United States and around the world. The forum looked at bullish signals for international exploration and production and featured insightful speakers, including Ivan Sandrea, vice president of planning for Statoil, and Mike Bahorich, executive vice president of Apache. The prospect preview showcased attractive opportunities from 30 companies and ministries, and prospects from 13 countries on five continents. These prospects subsequently were on display in the international pavilion on the exhibit floor.
Over the next two days, 15,700 attendees gathered to explore the exhibit hall, which included 875 companies and covered 12 acres. Attendance tied the 2008 record, proving that optimism reigns once more among the executives of domestic and international oil and gas companies. Surveys indicate that billions of dollars of deals took place on the floor or will take place as a result of connections made or renewed at NAPE.
NAPE has come a long way from its humble beginnings at the Westin Oaks Hotel in 1993, when it had 800 attendees and 100 booths. The NAPE Expos now are presented by NAPE Expo LP, composed of the American Association of Petroleum Landmen, Independent Petroleum Association of America, Society of Exploration Geophysicists, and American Association of Petroleum Geologists as limited partners. Its growth has been phenomenal, and it will celebrate 20 years of deal making Feb. 22-24, 2012. In the meantime, be sure to attend Summer NAPE, which will be held Aug. 17-19 at the George R. Brown Convention Center in Houston.
Editor's Note: For information on the NAPE American Heroes Fund or NAPE Expo, call 972-993-9193 or visit www.napeheroes.org or www.napeexpo.com.