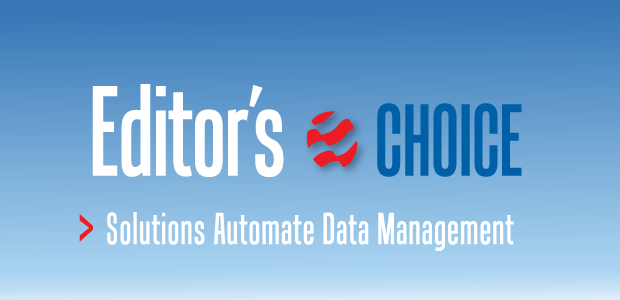 March 2017 Editor's Choice
Solutions Automate Data Management
By Kari Johnson, Special Correspondent
As one of the leading practitioners of "big data," the oil and gas industry well understands the challenges associated with the ever-increasing volume, variety and velocity of data that must be managed and analyzed. And the types, amounts and complexities of the datasets are expected to only continue growing at an exponential rate–from land and legal, to geophysical and reservoir engineering, to production and accounting.
The larger the organization, the broader and more complicated the scope of data management becomes. But today's data management challenges are no less daunting for smaller operators. A case in point is Ballard Petroleum Holdings LLC, a private company based in Billings, Mt. Randy Zickuhr, IT/GIS manager, says implementing automated workflows with built-in analytical capabilities has made the company more efficient and better informed about its Rocky Mountain oil and gas operations.
Field data are available now in near real time to all departments through a powerful visualization tool, Zickuhr reports. He says the company has digital lease operators gauging tanks, measuring strokes per minute, and entering surveillance data. In addition, data are collected automatically and are transferred by a SCADA network, complementing the operator data.
"We gather lots of telemetry on our devices," says Zickuhr. "Wells, tanks, gas meters and flaring units are among the equipment and operations we monitor."
To meet its operational and business needs, Ballard Petroleum chose a fully integrated data, transaction, and workflow platform from P2 Energy Solutions to manage data from the field to the back office. It includes fully integrated oil and gas allocations, oil and gas data, land management, production, and reserves management applications and capabilities.
The system gives the company's production accounting and engineering personnel immediate access to production data for surveillance and optimization, according to Zickuhr. "We use Carte™, a read-only Web application, to view charts and graphs generated from the data. That makes it easier to extract data from the multivalue database," he says.
The Web application pulls federated data from an intermediate source that combines data from Ballard's various management systems for economics, production and accounting, he explains. The federated data are updated in real time as changes are made to the source system.
Ballard executives routinely trend data now to project actual versus budgeted expenses. "About 40 percent of our net volumes are nonoperated," Zickuhr points out. "We have five other operators we work with, and they do not all provide daily information."
Engineers estimate the level of the nonoperated contributions by reviewing forecast data and monthly actuals, Zickuhr details. After two or three months of regular updating, the data are accurate to within a few percentage points. "We are replacing estimates constantly with more accurate data," he says.
Zickuhr says he expects greater integration and standardization of systems in the future. "Data capture and analysis will move closer to real time, enabling better decisions and predictive analysis," he relates. "We also expect more flexibility in data access, such as from a mapping view or searches."
Although the objective is to give experts granular-level insights on operations, Zickuhr stresses that it is critical to keep the bigger picture in mind when implementing data management and IT changes. "It is easy to get caught up in daily demands and not take the time to evaluate and improve entire systems," he concludes. "It is not always easy to find time for the strategic in the face of the urgent, but the payoff has been tremendous."
Efficiency And Mobility
To get more value from data, oil and gas companies must be able to apply analytics in a forward and precise way, according to Mark Hill, senior vice president of sales and marketing at P2 Energy Solutions. "That requires automation," he says. "There is just too much data to manage in a manual fashion when a company has more than a few wells."
Hill says there are two major trends pushing companies to integrate field and back-office operations: efficiency and mobility. With the downturn, producing more for less has become an imperative. Technology plays an important role in increasing efficiency.
At the same time, he notes that workers have become very familiar and comfortable with mobile technologies. As a result, they are more willing to adopt smart phones, tablets and portable computers in their everyday workflows.
"Historically, companies have adopted technologies in the back office to manage production, accounting, engineering, land and other data, but the field and back-office systems often were separate silos that had to be updated manually and were disconnected from each other," observes Hill. "Increasingly, producers want to analyze data regardless of where a dataset is stored, and they want it in real time."
Achieving that requires data integration, through either migration into a next-generation system, or real-time connection between existing silos, he goes on. "When data are difficult to gather, production engineering may struggle to even know how wells are running," Hill states. "With full end-to-end integration, they can move beyond merely checking well status to begin predicting well production and failures."
Hill says he also sees analytics playing a larger role as pattern recognition technology helps turn unstructured data into intelligence. "There has been such a rapid change in pattern recognition technology that it is now capable of analyzing large volumes of photos, maps, scanned documents, and other unstructured data," he says.
New Level Of Insight
Rock Creek Oil LLC uses remote monitoring and control to quickly identify production issues and address them early. As a small operator with high-water-cut wells, Rock Creek sees great advantage in automating for improved efficiency. "We now can see in a week, downward trends that used to take a month to spot and diagnose," affirms Travis Teague, Rock Creek Oil's general counsel.
The benefits of automation are immediate and obvious, says Teague. Using Bluetick Software's remote monitoring and control solution, data are available in real time and are collected consistently, he notes. "We now collect data at the same time in the same way every day, which gives us the confidence to take action faster when an issue arises," Teague says, adding that field technicians spend more time on higher-value work and resolving issues, and less time driving around looking for issues.
Any employee at Rock Creek can access field data for trend analysis, regulatory compliance, and interfield effects. They can predict maintenance requirements based on production rate changes, optimize electrical costs by monitoring torque, and monitor the effects of a well shutdown on surrounding wells, Teague observes. Specific changes in data trigger alerts.
For Teague, the value comes down to reducing the margin of error in spotting issues. "Remote monitoring and control give us insight at a whole new level," he states. "It is like the difference between calculus and simple math."
Better Data Management
Rig counts continue to climb across the United States, but 40 percent of active rigs are drilling in the Permian Basin. The development of high-value horizontal resource plays across the basin has fanned the need to better manage land and production data, says Mike Mills, president of Bluetick Inc.
Operating companies and brokers alike need to keep up with permits, leases, division orders, maps, and many other records that are managed best in a single Web-based package, Mills says. As fields go into production, well data are added to the collection and production data can be tracked at all oil and gas sales points. "Any authorized individual can get instant access to all assets," he says.
According to Mills, field teams can assess situations quickly and ensure they are maximizing production. Data are immediately available, allowing operators to make more timely decisions. Data also can be reported and graphed to understand production trends. Pumpers can use a mobile application to manage well activities on the go and capture data from noninstrumented well sites, he relates. At the same time, he says, "Reservoir engineers can use well data to analyze the reservoir without traveling to the site."
Once field data become available, the information can be tied into a land management system or accounting package. "For example, production data can be tied to land data, making it easier to manage lease expirations and shut-in notices 30, 60 or 90 days out," Mills states. "Operating companies can share project data with brokers for greater collaboration, while fencing off unrelated data."
Moreover, producing and service companies can monitor safety-related conditions, including hydrogen sulfide, giving them a better chance to avert exposure, Mills continues. If there is exposure, safety teams can determine the exposure level and promptly notify personnel while using the information to create and update their regulatory reports. Leak detection and repair regulations make it economically attractive to adopt monitoring systems, rather than bear the cost of repairs and remediation, he relates.
"Companies of any size can benefit from better data management," Mills concludes. "Scalable systems let companies start small and grow their data management along with the scale and scope of their business operations."
Empowering Field Personnel
Nic Burtea, chief technology officer at Enertia Software, notes that operators often make critical decisions in the field with limited interaction with the main office. "Field personnel need timely and accurate information to support those decisions," he comments. "It also is important to be able to 'push' relevant information from the field to the main office in real time or near-real time."
Fortunately, a convergence of technologies is allowing new levels of connectivity between the field and office, according to Burtea. "With greater wireless network coverage, much improved mobile computing platforms, and the emergence of Internet-of-things devices, the geographic separation between the field and back office is becoming irrelevant," he states.
For the field data captured by human interaction, the biggest challenge is data integrity. "The ideal user interaction is both simple and useful," Burtea explains. "As mobile platforms have evolved, so have user expectations. Field personnel are comfortable using mobile devices and want to use them to simplify their daily tasks. But ensuring these interfaces preserve the integrity of the data collected is a huge priority."
The challenge for automated data capture is distilling the relevant information that needs to be integrated with back-office applications and made available to field personnel. Moving data capture to real time is a major goal. "The days when monthly production allocation was sufficient are long gone," Burtea says.
In addition, oil and gas companies increasingly are demanding real-time, direct integration between various systems. "Producers want to view data in a way that is meaningful to them. They do not care where the data reside. We fully embrace the idea of free data movement," says Burtea, adding that Enertia users can import data into the software from any third-party application while still rigorously enforcing data integrity and business processes.
An example of that was a project where a producer wanted to interact with lease documents using a third-party app and then store the results in the integrated production/accounting system following approval. "We built an application to present lease data for approval and then automatically migrate the data to the production/accounting system," he details.
Connecting Data
"One of the challenges of every project is how to connect data across applications. There has to be a data item such as a well identification number that is common between the various applications so that data can be correlated," Burtea remarks.
The correlation process has to be fast and transparent so that it does not delay analysis and/or visualization, he reflects. In the past, this was achieved by using an intermediary data warehouse, but that approach can be difficult to keep current. "Now, technology has progressed to the point the correlation can be done efficiently in real time," Burtea says.
Burtea says he expects more standards for data exchange in the near future, with open service layers and data communication standards removing the need for developers to understand the data schema of each application, thereby allowing faster integration.
"The thinking has shifted from data import to integration points," Burtea holds. "Everything is focused on mapping and collecting data from multiple applications for visualization."
By getting timely access to relevant data and being able to analyze them quickly, decision makers can respond faster and deploy the required resources to fix problems, reduce downtime, and increase production, Burtea says.
"Companies increasingly are interested in using data forecasting, big data analysis, and predictive analysis techniques in production applications, with results visualized in as close to real time as possible," he concludes. "The goal is to move from measuring production to forecasting production and managing reservoirs better. By integrating field data and back-office applications, producers have an opportunity to take a quantum leap in efficiency and operational insight."