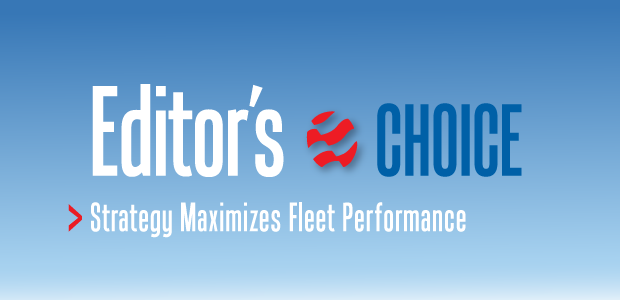 December 2020 Editor's Choice
Completion Technology
Strategy Maximizes Fleet Performance
By Mitch Winnick and Caroline Linder
DENVER–As if the cyclical nature of the oil and gas industry were not challenging enough, the COVID-19 pandemic disruption added an extra layer of complexity to an extraordinarily tough environment in 2020. Yet, through it all, producers have continued to demonstrate that they can efficiently deliver affordable oil and natural gas supplies from onshore horizontal resource plays.
In such unprecedented times, the importance of equipment reliability cannot be stressed enough, especially in harsh operating conditions. Reliability keeps operations up and running, not only helping support a company's bottom line, but also keeping well sites safer, which is always a priority. The drive to maximize reliability and efficiency is universal in hydraulic fracturing operations, where an unscheduled maintenance event can bring a 50,000-horsepower frac spread to a screeching halt, and create all kinds of headaches for the logistical network supporting it with proppant, fluid and other consumables.
Each basin offers its own distinct nuances and challenges that impact operators as well as pressure pumping service companies, putting their equipment and workforces to the test. But whether pumping high-proppant intensity treatments in Permian Basin tight oil plays, or completing ultralong laterals in Appalachia's Marcellus/Utica gas plays, nonproductive time has become a key metric for operators in evaluating the overall performance of frac spreads and crews.
In the Rocky Mountain region, where operational challenges range from noise reduction to severe winter weather conditions, equipment reliability is fundamental to getting wells completed on schedule. REV Energy Services operates a fleet of 3,000-horsepower frac pump units in the Niobrara/Codell play in Colorado and Wyoming, and the Bakken/Three Forks in North Dakota. Its stated mission is to revolutionize the hydraulic fracturing industry through a great work culture, unwavering safety practices, innovative technologies, operation efficiencies, and ultimately, creating the most value for customers with the smallest footprint.
Strategic Decision
Simply put, REV strives to do more with less equipment and fewer people. The company's leadership has extensive experience in the extreme Haynesville Shale environment and intimately knows the extensive wear and tear that high-pressure environments place on equipment, especially the frac pumps and other onsite fleet equipment performing stimulation treatments on wells with today's high-intensity completion designs. When frac equipment is pumping large volumes of proppant and fluid at higher pressures, consumables require more frequent replacement and nonproductive time is often higher due to the need to perform more robust maintenance.
With the REV team's experience in some of the most demanding fracturing conditions, coupled with a deep understanding of the varying conditions its pressure pumping units could face, it made a strategic decision to build a fleet that could be placed anywhere–even the harshest operating environments–and be counted on to perform with minimal non-productive time.
In order to keep pumps running under any and all conditions, the company realized the maintenance requirements crews need to perform can cause inadvertent downtime that negatively impacts the key metrics that oil and gas companies use to evaluate the performance of frac service providers. Consequently, it specifically sought to eliminate downtime as much as possible, including maintenance-related NPT.
At the same time, the need for a fleet with the reliability and durability to withstand any environment was absolutely necessary to ensure REV could be nimble and responsive to any opportunity in the field. On the surface, a legacy 2,500-horsepower fleet could have met REV Energy's pressure pumping needs. However, with reduced NPT being a top priority in the current market and the most important single metric in order to keep revenues flowing, being able to confidently pump without major power end failures became the highest priority. An extremely durable, higher-horsepower fleet would enable the company to operate with a smaller footprint, reduce maintenance requirements, and allow for the maximum pumping hours while greatly minimizing NPT.
Continuous-Duty Pumps
These three imperatives–minimizing maintenance costs, reducing the number of pumps, and pushing those pumps much harder in true continuous-duty fashion–comprised REV's core strategy for its fleet. Given the economic pressures that oil and gas operators are under, it has never been more critical to minimize the time required to complete a well while ensuring that each stage is treated as designed. In the performance metric-dominated world of pressure pumping, the company recognized that achieving its strategic goals would help give it a competitive advantage, build a stellar reputation in the marketplace, and hopefully, win more business.
To meet its goals, REV purchased 13 Weir SPM® QEM 3000 pumps for its fleet. As a young pressure pumping service company, it was unsure which type of environment its crews would find themselves in most often. The continuous-duty QEM 3000 was ideal precisely because of its ability to run 275,000-pound rod loads 100% of the time, compared with legacy intermittent 2,500-horsepower pumps' typical 1,600-horsepower operation.
Choosing the most heavy-duty pump, regardless of the potential conditions, might seem counterintuitive, but the logic holds up when examined through the lens of creating a core fleet that converts reliability into reduced operating costs. While the higher-horsepower pump is designed to handle the most extreme conditions and jobs with 13,000-plus psi, it also enables operators to avoid downtime when they adhere to regularly scheduled recommended maintenance of the pump's robust power end. Synchronizing maintenance schedules with the engine and transmission reduced downtime and total cost of ownership even further.
Because the QEM 3000 is a true continuous-duty pump, fewer backup pumps are required on site. With its fleet, REV was able to reach the required rate and pressure with 40% fewer frac pump units. This not only results in lower fuel and other consumable costs, but also provides a 40% smaller carbon footprint, proving that greater reliability impacts many aspects of a fracturing operation. The ability to confidently run the pumps harder, and not derated like legacy pumps, minimizes the number of trailers needed.
Near-Zero Downtime
This creative application of horsepower has worked extremely well, enabling REV to report near-zero downtime in the first 12 months of operation with 95%+ ready-to-pump time. Because of this, the company achieved more than a 30% reduction in repairs and maintenance, allowing it to accomplish its goals of minimizing costs and downtime, which ultimately created a dramatic impact on the bottom line. REV's fleet has been used in a variety of conditions, from low-pressure to higher-pressure jobs. In each instance, the fleet performed exceptionally well with zero power end issues.
Comprehensive maintenance training ensures REV's field crews possess best-in-class maintenance practices, which has enabled them to experience zero power end failures, dramatically curbing NPT. Each crew member was properly trained in maintenance and operations, and each unit was audited before pumping began. Using this approach to ensure thorough in-field maintenance practices of the advanced fluid end technology, each fluid end has lasted for more than 3,000 hours of service time.
Because the QEM 3000 is designed for continuous operation, uptime has been dramatically increased compared with legacy equipment. The power end is rated to last more than 15,000 hours with proper maintenance. This longevity is made possible thanks to the real-world factors behind frac pump failures being purposefully addressed in the equipment's design. With the pump playing the critical role of moving the fluid and proppant slurry during a frac job, the pump's lubrication system is crucial for maximizing pump efficiency and power end life. Protecting the bearing and gear components of the lubrication system is paramount for drastically reducing equipment failures (and NPT) in the field.
The dual-line lubrication system, onboard filtration, oversized 25-inch frac pump bearing, continuous-duty gearbox, structural rigidity and stress-reducing fluid end design work together to allow significantly greater uptime while lowering operating costs. These advances have enabled REV to maximize pumping hours, even when pumping at higher pressures with more aggressive fluid/proppant intensities.
Beyond reducing total cost of ownership and creating a competitive advantage, the new high-horsepower fleets are helping REV achieve its safety and environmental goals. The company takes its total recordable incident rate (TRIR) very seriously. Safety is a key performance indicator that is prioritized and communicated throughout the organization.
Achieving a 95%+ ready-to-pump time improves site safety because of the increased reliability and helps keep the crew out of the "red zone," defined as on-site situations that have the highest potential for loss of life or equipment damage if a pressure-related iron failure occurs. A good TRIR score is considered to be 3.0 or less. REV is very pleased to maintain a TRIR of 0.0. This safety record honors the people and the communities in which the company operates.
Even as so much has changed in the industry, two barometers for success remain the same: NPT and operating costs. Despite challenging times, optimizing reliability to add pumping hours and improve safety remains vitally important. Building a fleet on equipment components that make it possible to achieve near-zero downtime is a powerful investment that pays dividends in any market.
MITCH WINNICK is president and chief executive officer of REV Energy Services in Denver. He began his career in 2000 as a completions engineer with Calfrac Well Services. Winnick subsequently served in engineering and business development roles at Sanjel Corporation, Trican Well Service, Bayou Well Services, Pumpco Services and RockPile Energy Services before joining REV in 2018. He holds a degree in petroleum engineering and geology from the Southern Alberta Institute of Technology.
CAROLINE LINDER is the product manager for the Weir Oil & Gas pressure pump product line, including all current and future product offerings. Based in Fort Worth, she has worked at Weir since 2012. Linder started as a graduate engineer in Fort Worth and then moved to Weir China Oil & Gas to build Weir's first Chinese service center in Chengdu. Following the China project, Linder returned to the United States to work in service center operations, service and then pump product management.