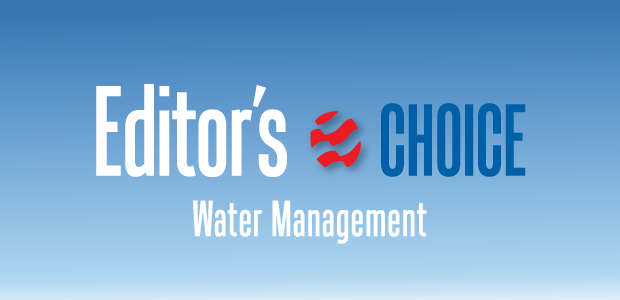 October 2023 Editor's Choice
Third-Party Companies Expanding Water Treatment, Reuse And Disposal Capabilities
By Danny Boyd
Crude oil and natural gas production have rocketed to all-time highs in the Permian Basin, but so has the volume of water co-produced with all those hydrocarbons.
Long-lateral horizontal wells in the Permian's multiple stacked tight oil plays are among the most productive ever completed in any onshore U.S. basin, but the reality is the typical well will produce a lot more formation water than oil over its lifetime. That makes effective water management a top priority for any operating strategy.
It also explains why third-party produced water management continues to grow across the Permian. In addition to developing pipelines, saltwater disposal wells and recycling facilities, water management companies are using new technologies to set service standards and convert a waste product into a major regional asset.
Numerous operators still manage their own water handling systems, but independent water midstream providers are rapidly increasing their share of total water management activity. These providers are building water infrastructure and sometimes buying systems from operators and adjoining midstream companies to gain economies of scale that will allow them to meet the growing need for recycled produced water in frac jobs. The segment also is anticipating beneficial reuse applications outside the oil and gas industry.
With the paramount need to preserve groundwater in a semi-arid region, Permian wells provide a compelling alternative. The average basin well produces about four barrels of water for each barrel of oil, with the average ratio even higher in the southern Delaware Basin.
Produced water generation in the nation's premier oil and gas region has grown from more than 6 million barrels a day in 2017 to almost 19 MMbbl/d this year as operators extend lateral lengths and intensify hydraulic fracturing to unlock new hydrocarbon production.
In the northern Delaware in New Mexico, recycled produced water is expected to supply most completion water demand this year. In the Texas portion of the Permian Basin, recycled produced water should meet about 45% of operators' needs, a percentage that continues to grow.
Pushing The Envelope
As demand for produced water recycling grows, midstream companies will need to continue pushing the envelope to expand their capabilities, says Michael Skarke, chief operating officer of Houston-based Select Water Solutions.
Last summer, the company achieved what it considers the largest treated produced water job recorded in the Midland Basin, supplying Endeavor Energy Resources with 300,000 bbl/d over the course of a month to keep four crews busy on multiple zipper frac pads.
Altogether, Select pumped 8.2 MMbbl in 30 days from its Big Spring Recycling System in Howard County, Tx., to stimulation jobs in Martin County, Tx., west of the Big Spring facility.
"We are going to see larger and larger jobs that will need more and more water," Skarke predicts.
Gathering, treating, transporting and recycling large volumes of water for extended periods comes with many potential failure points, but Skarke says these are manageable. In fact, the project with Midland-based Endeavor went off without a hitch.
About nine months before the project's start, Endeavor approached Select about supplying up to 10 MMbbl of treated water for stimulation work, says Jason Jennaro, Select's executive vice president of water infrastructure.
In response, Select focused on providing treated produced water from its existing hub-and-spoke system nine miles west of Big Spring. Included are produced water gathering systems accommodating six large operators within a 10-mile radius, two 750,000-barrel storage pits for recycled water and water handling, and processing tanks and equipment. The system also connects to Select-operated saltwater disposal wells.
Two above-ground storage tanks provided 160,000 barrels of buffer storage. Full automation of gathering, recycling and distribution allowed complete control over operations in real time, Jennaro notes.
The setup included five treatment trains of modular units that utilize dissolved air flotation technologies to treat up to 60,000 bbl/d apiece in loops for flocculation, separation and chemical treatment, Skarke describes.
Using electric pumps instead of diesel units to improve job sustainability, Select pushed treated water through a 24-inch, buried high-density polyethylene pipeline connecting the Big Spring facility to Endeavor's development site in Martin County. A 16-inch line brought produced water back to the recycling system.
With 14 recycling facilities in the Midland Basin, Select deployed multiple chemistries throughout its process, along with mechanical and physical separation, Jennaro concludes.
Leveraging Scale
Gravity Water Midstream is piggybacking on existing saltwater disposal infrastructure to provide water sourcing, recycling and disposal services to 40 Midland Basin clients and counting, says Trace Hight, the company's chief commercial officer for water midstream.
The Permian-based company, which also offers power generation and equipment rental services, connects to about 10 other water midstream players at its Howard County Super System. The Howard County system includes 20 connected SWD wells with about 450,000 bbl/d of permitted disposal capacity, Hight describes.
To enable recycling, Hight says the company uses its vast installed water infrastructure to gather and pretreat water prior to any final treatment required for customer operations. Instead of being transferred to SWD injection pumps, the volumes slated for reuse are diverted to storage tanks for processing and treating that helps prepare them for drilling or completion operations, he details.
Gravity's Permian system has 250 miles of produced water pipelines, 75 miles of freshwater pipelines and almost 5.5 MMbbl of storage in eight pits. A 20-inch line called 87 Aqueduct was installed last year along U.S. 87 from northern Howard County south to Big Spring to help key customers offload water for injection in more seismically stable areas, or give them the option to recycle, Hight relates.
Working closely with the Texas Railroad Commission, Gravity has spent considerable capital acquiring 3-D seismic and deploying monitoring equipment to identify deep fault systems and assess which disposal wells have potential seismic risk, Hight assures. He also highlights the efficiency gains the company has unlocked by investing in automation.
Automation between SWD wells allows water to be diverted to other wells when intake slows. It also helps the company stay abreast of transfers on its network, which has 115 custody transfer points, Hight says. In the past, employees had to physically man the system around the clock.
"Digital automation continually monitors volumes and flow rates through our meters, including the amount of water moving through a pipeline and at what rate, how much water is in our tanks, and how quickly each tank is filling up," Hight says.
Data is uploaded to the cloud and monitored remotely to ensure that preselected parameters are met, he adds.
A Big Difference
Facing disposal limitations in New Mexico, Houston-based WaterBridge NDB LLC is partnering with Devon Energy subsidiary WPX Energy Permian on a project to bring produced water into Texas for recycling or disposal across 66,000 acres, says WaterBridge Co-Chief Executive Officer Steven Jones.
For a 30% stake in the venture, called NDB Midstream LLC, Devon is committing produced water in New Mexico from an initial dedication of about 52,000 acres. Also included are 18 SWD wells, 375,000 bbl/d of permitted disposal capacity and 210 miles of produced water pipelines. WaterBridge capital backer Five Point Energy LLC will help fund a planned system expansion.
When WaterBridge began acquiring land as part of its plan to transport New Mexico water to Texas for disposal, Devon took notice, Jones recalls.
"It is a very good partnership that has made a big difference in how water is handled in the area, and we have had a lot of interest from other producers," he says.
The deep injection required in New Mexico comes with higher drilling expenses in a region already burdened by inconsistent geology that can lead to cost overruns and limited disposal capacity gains, Jones says. An earlier player in the southern Delaware Basin through EnWater Solutions, WaterBridge decided to build large-scale, spread-out infrastructure in Texas to handle volumes in both states.
It purchased a 67,000-acre ranch, which included a 35,000 contiguous-acre block along the state line in Loving County, Tx., next to Lea and Eddy counties in New Mexico.
A large portion of the Texas holding, including land in Loving, Reeves and Pecos counties, is checkerboarded with properties owned by Texas Pacific Land Trust, which has agreed to allow WaterBridge to use trust tracts for infrastructure, Jones says.
WaterBridge already can provide water all along its network from aboveground facilities every mile, he points out. Redundant paths for water ensure supplies when portions of the network are down for maintenance. Almost all the network's pipelines are interconnected and enabled for bidirectional flow.
The outlook for growth in the water midstream sector is exceptional, Jones assesses. Even with oil growth projections trimmed to 5%-8% annually for some operating companies, water volumes in the Delaware Basin will surge 20% a year, he estimates.
Despite being the largest water midstream player in the southern Delaware Basin, WaterBridge only has about a 25% market share, Jones notes. The biggest competitors are operators with their own systems, who may opt to divest over time. In the northern Delaware, operators own more than 50% of the total infrastructure, he says.
Repurposing Produced Water
California-based Renovo Resources LLC is in negotiations with several oil and gas companies in the Permian to transform produced water to nonpotable freshwater for industrial uses through a patent-pending treatment solution, says CEO Lnsp "Naggs" Nagghappan.
Backed by Dallas-based Tailwater Capital, Renovo anticipates a pilot program agreement soon, with work on the project expected to begin in the first quarter of 2024, he says.
Nagghappan indicates Renovo's treatment solution involves an integrated process that consists of pretreatment, desalination and post-treatment and is delivered on a turnkey basis.
Pretreatment involves oxidation, dissolved air flotation and walnut shell filtration for removing particulates and scale formers. Desalination uses a proprietary external heat exchanger design and a mechanical vapor recompression evaporator to remove salt, scale formers and dissolved gases. It is a core step to defining ultimate pre- and post-treatment designs, Nagghappan notes. He says the key benefits include lower maintenance requirements, higher freshwater recovery, lower SWD disposal volumes and improved environment, sustainability and governance performance.
Post-treatment includes a moving-bed bioreactor to reduce ammonia and benzene levels. The treated water would exceed beneficial reuse quality guidelines set by the New Mexico Produced Water Research Consortium.
"This is a clear value proposition for oil and gas companies," Nagghappan says. "Operators are trying to minimize SWD injection in the Permian and look for ways to improve their ESG compliance and sustainability. Our solution falls right in line with that."
Renovo's management team led the development and execution of four of only five similar facilities worldwide, he says. The founding members joined Renovo from Veolia, where they designed, built and operated systems that have treated more than 12 billion gallons of produced water in California, Nagghappan reports. These systems include the Chevron Water Reclamation Facility at San Ardo, which has generated more than 8.3 billion gallons of freshwater to recharge a groundwater aquifer since it began commercial operation.
A Permian facility can be built to accommodate volumes ranging from 50,000 to 300,000 bbl/d. By enabling beneficial reuse, Nagghappan indicates Renovo's treatment solution will reduce typical SWD injection volumes in the Permian by 60%-70%, limiting potential seismicity and other impacts. The higher salt content of Permian-produced water means waste streams will be larger than in California, representing 30%-40% of the intake stream compared with 10% on the West Coast, he mentions.
For specific sites, Renovo would partner with Goodnight Midstream, a Tailwater portfolio company, to dispose of the brine waste. Nagghappan says the company's ultimate goal is to include gathering, treatment and disposal in a turnkey solution for sustainably managing produced water.
On-The-Fly Treatment
To kill bacteria before treated water is pumped down hole for hydraulic fracturing, Mustang Extreme Environmental Services of Fort Worth is using an on-the-fly treatment process that leverages chlorine dioxide it generates on site.
A designer of water pits, infrastructure and treatment systems for operators and midstream companies, Mustang uses a mobile system consisting of a trailer and ancillary equipment for final treatment at the well or water storage site. The system eliminates bacteria that can cause "bio clogging," produce hydrogen sulfide, hinder gas extraction and lead to corrosion and downhole equipment failure, says Chad Lavender, vice president of water treatment services.
"Using chlorine dioxide is not always the optimal treatment process, but it is a very good choice in a lot of cases," he comments. "Chlorine dioxide is basically 30 times stronger than bleach. It is the only biocide with a U.S. Environmental Protection Agency green rating. A lot of people gravitate to it to reduce harmful chemicals going down hole."
Because it is potentially explosive, chlorine dioxide cannot be transported in high concentrations, Lavender points out. Instead, Mustang produces it on site through a two- or three-precursor method. The three-precursor method with sodium chlorite, hydrochloric acid and bleach is the most popular.
Chlorine dioxide generators blend those three chemicals under vacuum. Biocides typically can take hours to penetrate bacteria's cell walls and attack nuclei to prevent reproduction, but chlorine dioxide accomplishes that in real time, he says.
Redundant systems, including two separate pumps for each chlorine dioxide generator, allow treatment and frac work to continue in the event of pump failure, Lavender mentions.
Typical treatment packages include chlorine dioxide or another oxidizer for bacterial control, a long-term biocide for well preservation, and depending on the formation, a scale inhibitor for wells with a high-scaling tendency or high amounts of salt in the water, he describes.
Bidirectional Trunkline
Permian Oilfield Partners is preparing to start construction of a bidirectional trunkline in southeastern New Mexico after earning a reputation as a deep disposal well driller in southeastern New Mexico, says CEO Sean Puryear.
Beginning in April 2024, the 20-mile line will be built on a route along Highway 62 between Hobbs and Carlsbad. The bidirectional design allows produced water to be transferred to an SWD well or delivered to a well pad, where it is treated on the fly for use in frac jobs, he says.
Booster stations will be fully automated, essentially requiring only the flip of a switch to change directional flow, Puryear says. "We have the ability to deliver from the disposal back to the well pad without laying any additional lines or doing anything mechanically to our pumps," he explains.
Puryear and Permian Oilfield Partners COO Tyler Ledlow, who are both petroleum engineers, helped Mewbourne Oil Co. develop its Permian water midstream segment. After noticing that southeastern New Mexico had an underserved need for water gathering and distribution infrastructure, they teamed with venture capital firm High Roller Group to launch Permian Oilfield Partners in April 2019, Puryear recounts.
President Gary Fisher soon came aboard, and in its first year, the company obtained nine federal SWD permits and 250 miles of pipeline rights of way.
Drilling on the first deep disposal well began in January 2020. The well was completed a few weeks before the Covid pandemic began. With the industry slowdown, the company focused on disposal and eventually sold its first operating SWD to Oilfield Water Logistics.
Given conditions, Puryear says Permian Oilfield Partners soon developed a reputation as a turnkey Devonian disposal well developer. Altogether, Puryear, Ledlow and the team have experience drilling 33 deep wells for SWD and carbon sequestration. The company has drilled and sold nine disposal wells.
"We are at a place now where we are looking at pipeline infrastructure," Puryear says. "We have about 200,000 bbl/d of permitted capacity, with another 100,000 expected to become available by the end of 2023."
The company has permit applications pending for 2.5 million barrels of capacity. The outlook for growth is strong given industry activity in the area, Puryear says, noting that some operators are broaching the idea of 10-year contracts.