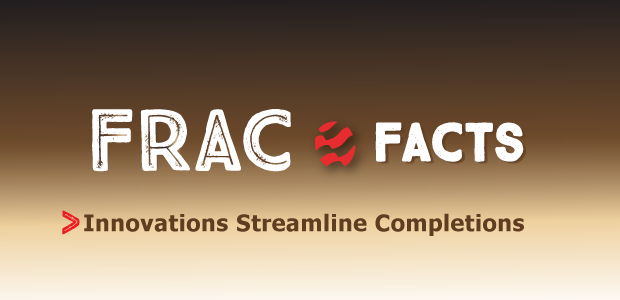 April 2021 Frac Facts
Frac Tech
Innovations Streamline Completions
By Colter Cookson
For many completion companies and tool designers, 2020 had a silver lining. With fewer completions to support, service companies could devote more time and manpower to refining processes and generating new ideas.
Like the remodeling projects that finally got finished or the puppies rescued from shelters as people sought companionship, the innovations to emerge from 2020 will bring joy to the oil and gas industry for years to come. Most will soon escape notice as they become standard practice and the industry's attention shifts to new challenges, but their effects on well economics, jobs and community relations will remain.
Nowhere is this clearer than in the hydraulic fracturing industry, where many companies entered 2021 with an expanded tool kit and a clearer direction. These companies say they look forward to applying their recent insights and inventions as activity resumes.
"We are anticipating small, measured growth," says Akshay Sagar, president of Universal Pressure Pumping. "I doubt we will see a spike in pressure pumping demand, but we may see 3%-5% growth in fracturing in the second quarter and maybe the third."
That potential growth has pushed some producers to sign longer-term commitments with pressure pumpers, Sagar reports. "There is plenty of spare pressure pumping capacity available, but the market is tightening for quality equipment and people, so producers are trying to secure them," he explains. "However, the longer-term contracts allow more flexibility than they would have in the past through more forgiving exit clauses."
As the industry increasingly values capital discipline, Sagar stresses the importance of innovation. "We cannot thrive if we grow linearly by hiring people to replicate the processes we have used in the past," he says. "Instead, we need to challenge ourselves to find smarter ways to deliver clients an efficient hydrocarbon production workflow."
While automation will be key to unlocking many efficiencies, Sagar says it must be backed by excellent people. "With automation taking care of more routine tasks, we need to recruit people flexible enough to learn small parts of several roles, then train them well," he says. "This will require a new approach to competence."
Many employees will work at remote operations centers rather than on site, Sagar mentions. "Our parent company, Patterson-UTI Energy, has infrastructure in place we can use to monitor pumps remotely and start, stop or adjust them," he says.
"With remote monitoring, we can reduce the number of people who need to go on site, which will improve safety, efficiency and sustainability," he says. "We have a long way to go to reach a fully-automated site, but in the very near term, I see no reason we cannot halve the amount of people and equipment needed on site."
The Lean Frac Site
As part of its quest to minimize on-site equipment's footprint, Sagar says Universal Pressure Pumping is redesigning its pumps from the ground up. "Our pump technology group has two goals," he outlines. "The first is increasing horsepower density, which will mean strengthening the pump so it can take advantage of higher-horsepower engines without reliability issues. The second is reducing maintenance costs by increasing the gap between maintenance cycles.
"We also are working with a partner to manage our ground iron," he shares. "It is streamlining the steps involved in moving ground iron from place to place and hooking up the hoses and connections."
Another area of focus for the company is reducing fuel consumption. "That starts with optimizing fuel choices to get as much energy as possible per gallon consumed," Sagar says. "Patterson and Universal have been using dual fuel engines since 2010, so we have a great grasp of how to do that.
"Beyond that, we are maximizing effective fuel use by developing a system that will shut the engines off when pumping stops, much as a modern car's engine shuts off at stoplights," he says. "Our system can restart the engine quickly enough to shut it down even when the lull in activity will only last a few minutes."
The system will eliminate all idle time, Sagar says. He credits that capability in part to its integration with the company's control system, which allows it to see when equipment loads begin to fall.
Meeting ESG Goals
When investors ask operators to change, they listen, observes Sam Sledge, president of ProPetro Holding Corp., a Permian Basin-focused hydraulic fracturing service provider. "Today, we are seeing operators' responsiveness in the growing interest in environment, sustainability and governance," he notes. "Service providers are following suit to help operators achieve their ESG goals and remain competitive."
For hydraulic fracturing firms, ESG efforts often relate to reducing emissions, says Phillip A. Gobe, ProPetro's chief executive officer and chairman. "At ProPetro, we have purchased a fleet with dynamic gas blending engines that comply with EPA's Tier IV emissions standard, and we plan to convert 17 of our Tier II engines to DGB when we overhaul them," he says, noting that these engines reduce emissions by substituting natural gas for diesel.
"We also have spent more than $160 million developing electric frac fleet technology that we hope to deploy commercially by year's end," Gobe says.
Because electricity can be generated by turbines that run entirely on natural gas, electric fleets can achieve a cleaner emissions profile than even dual fuel engines, observes Adam Muñoz, ProPetro's chief operating officer. However, he says the company began looking at electric fleets primarily because they have the potential to improve safety and efficiency.
"Electric fleets support improvements in equipment design," Muñoz explains. "For example, electrically-driven pumps can pack more horsepower into each unit, which will reduce the number of pumps and people we need to bring on site."
Gobe adds that electric fleets offer more precise, automated pump control.
"Electric spreads have enough advantages that the industry is moving toward them," he assesses. "However, that transition will be gradual because each fleet costs about 50% more than a dual fuel one, which also greatly reduces emissions. It will be hard for many companies to justify electric fleets' upfront costs until pricing improves."
Safer Acid
Muñoz mentions that ProPetro has partnered with Fluid Energy Group and Solnexus Chemical LLC to become one of the largest West Texas distributors of a safer and more sustainable alternative to hydrochloric acid. "This modified acid only becomes truly corrosive when it is interacting with carbonates down hole, so it is safer to handle for people and less likely to damage equipment," he says.
The acid also can reduce nonproductive time. "Because it will not damage wireline cables, we can send it down hole while the wireline unit is setting plugs rather than waiting for that to finish and sending the acid down separately," Muñoz explains. "This generally saves 20-30 minutes of downtime as well as a significant amount of water between stages."
Sledge adds that the acid can be concentrated and diluted on site to cut truck deliveries significantly. By taking advantage of its scale in the Permian Basin to secure volume discounts, he says ProPetro can offer the safer and more efficient acid at a cost competitive with hydrochloric acid.
Pad-Wide Communication
To unlock greater efficiency, operators and completion companies need more precise and accurate data about what goes on during completions, argues Brett Chell, president and CEO of Cold Bore Technology Inc.
"On many frac sites, each service company records what it is doing manually, which can introduce errors," Chell says. "For example, the pressure pumping company may write down or type in that it pumped a given stage from 10:00 to 11:00 when it actually started at 10:13 and ended at 11:20. Not long after that, the wireline company may record that it was setting a plug from 11:10 to 11:30, not realizing a stage was being pumped for the first 10 minutes of that period."
When each service provider's data is shared with the operator, the contradictory timelines must be reconciled before they can provide a reasonable picture of what went on, Chell says. This process is time-consuming, he warns, and even when it is done well, data flaws offer an imperfect picture.
Collecting data automatically improves accuracy and precision, but the industry has not adopted data standards, so companies label and report the same information in different ways, Chell reports. He says this can make interpreting and using the data a challenge.
By working with service companies to understand their data structures and connecting each company on site to a communications hub that acts as a pad-wide controller, Chell says Cold Bore can give operators and service companies real-time visibility into completions.
"We put the data from each service company on a common timeline that everyone can see," he describes. "To create an unbiased timeline that does not depend on how a specific service company thinks, we analyze data from sensors on the frac tree. For example, by looking at which valves are open and closed, we can tell when a stage is pumping."
To ensure its timeline is trustworthy, Chell says the communications hub automatically compares data from the frac tree with relevant information from service companies. For instance, stage start and stop times can be verified by looking at frac pumps' pressure curves.
According to Chell, the timeline is accurate to one second. "It lets operators track everything they would track today at a much higher resolution and with much greater accuracy," he reports. "They can watch what is going on in real time and analyze nonproductive time, chemical usage, water usage and other cost drivers afterward."
The Next Step
According to Chell, tracking information is only the beginning. "When we are on site, all the services can send information to and from each other by using the communications hub," he says. "This is the first step to a fully autonomous frac."
To show how powerful bidirectional communication can be, Chell points to well swaps. "Some companies already use automated systems to switch from one wellhead to another during a zipper frac. If we give these systems real-time access to pump rates, they can see when the rate starts to fall and initiate the swap milliseconds after pumping stops, which should eliminate switch time."
Bidirectional communication also can help mitigate frac hits, Chell adds. "Today, we have a screen in our dashboard that shows pressure information from offset wells so operators can see when hits occur," he says. "We are working with partners to automatically predict when a hit will happen so we can slow the pumps or make other adjustments to prevent it."
According to Chell, Cold Bore's pad-wide communications hub has been deployed by several supermajors, 16 large independents, and various smaller companies who may only frac two or three pads a year. "We are nowhere near unlocking the system's full potential, but we have already had clients use it to increase their frac operations' overall efficiency by 26%," he shares. "In addition to saving time and money, it is helping operators track and reduce fuel consumption and emissions."
Tracers
If Forrest Gump spent enough time around petroleum engineers, it would not take long for him to compare a horizontal well to a box of chocolates, for even ones in mature fields often contain surprises. That is why Dustin Ellis, vice president of strategic initiatives at NCS Multistage, recommends using tracers on almost every well.
"Many people view tracers as a diagnostic for science wells, something that should only be used until a completion design or strategy has been optimized, then abandoned alongside other cost savings measures," he acknowledges. "In reality, most tracer projects have minimal impact on an overall completion AFE (less than 1%) and provide invaluable information when wells either underperform initially or suffer performance issues later in their production life. Tracer data is easy to interpret and gives the operator increased confidence when determining next steps in a development plan."
Ellis adds that tracers can detect interwell communication and help operators assess its source, a task that is becoming increasingly important as operators try to reduce their costs and footprint by developing more reservoir horizons from a single pad. He says insights from tracers can help operators adjust well spacing and completion designs.
When they are used to evaluate production, tracers can unlock cost savings or additional revenue, Ellis continues. "We have had tracers confirm that toe stages are producing prior to a clean-out run, which allowed an operator to avoid the expense of an unnecessary clean-out operation. In other wells where a clean-out was not part of the initial program, we have seen tracers identify unproductive stages and allow the operator to remediate them," he illustrates.
Ellis mentions that tracers are commonly used to assess dissolvable plug performance. In addition to confirming full dissolvability, they can help build dissolve time profiles that guide future improvements.
With particulate tracers, which have a long life, Ellis says operators can monitor each stage's production contribution several months or even years after a well has been brought on line. "In many areas, tracers have confirmed landing zone sensitivity, and informed adjustments to both well landing depths and geosteering efforts," he shares.
"The tracers could also reveal that stages are producing water in areas where that is unusual," he adds. "In one case of renegade water influx, the operator had used a multicycle frac sleeve to frac the well and quickly blocked the water's entry into the wellbore by shutting sleeves near the water-prone stages. This tracer-driven change improved the well's economics by significantly increasing production and cutting produced water management costs.
"NCS is constantly bringing on technology to make tracers more affordable and informative," he reports. "As operators begin to adopt tracers for their entire programs, we have introduced a device to simplify sampling. Unlike a traditional 'grab sample,' which can be compromised by water slugs or other short-term events, this device takes smaller samples over the course of an entire day or days."
According to Ellis, the device is integrated directly into the surface facility and operates automatically. "It creates a safer and more consistent sampling point and delivers a robust and clear image of the entire duration's sample profile," he reports.
As operators increase well density on pads and experiment with simultaneous fracs, Ellis says NCS is developing new types of tracers so it can handle more stages on each pad without losing resolution. Other research and development efforts focus on improving tracer data deliverability and enhancing service quality. "Through automation, we are getting closer to analyzing samples on site and providing near-immediate results," he remarks.
Versatile Sleeve
As the industry applies enhanced oil recovery processes to more fields, including unconventional ones, service companies are investing in ways to improve EOR economics. For NCS, that has meant developing a frac sleeve that can convert a well from a producer to an injector with a simple intervention, Ellis relates.
"With the extensive run history of the NCS sleeve system, we knew we could provide greater efficiency and cost effectiveness to our operating partners through all phases of development. The sleeves pair our traditional frac sleeve with an additional barrel that is specially designed to handle injection," he describes.
Ellis says the injection portion uses proprietary nozzles with a unique geometry that enables NCS to make the nozzles larger and therefore less prone to plugging, a common problem in waterfloods. However, the nozzles still generate the backpressures needed to keep fluid from flowing into one or two areas. "Because this technology resists plugging and spreads water across the lateral, we have had operators report getting much better sweep efficiency," Ellis says.
Coil Vibration
As laterals have gone from 5,000 feet to three miles, the amount of static friction coiled tubing must overcome to reach the toe has grown dramatically. This friction can keep the tubing from reaching its destination or slow its progress enough to increase costs significantly, notes Roger Schultz, vice president of engineering for Thru Tubing Solutions.
"Since 2011, we have been using downhole tools to vibrate coiled tubing, which reduces the friction so the tubing can get where it needs to go more quickly and reliably," he relates. "Like the downhole motors used to mill plugs, our vibratory tools are powered by fluid. They have minimal or no moving parts, so they are extremely reliable."
According to Schultz, TTS took advantage of the lull in activity during 2020 to redesign and improve its vibratory tools. "Our newest tool can get coiled tubing to the end of 3-mile laterals," he reports. "It is also much faster than its predecessors. In the toe area of particularly challenging wells, where coil with its predecessor might slow to one or two feet a minute, it consistently maintains speeds between five and 10 feet a minute."
The new tool has been applied in more than 150 wells ranging in location from the Eagle Ford, Haynesville and Permian Basin to the Powder River Basin and Bakken, Schultz reports. In the Marcellus, he adds, it helped coiled tubing reach 23,000 feet in a well that normally would require a rig for the plug drill-out.
"Like all our vibratory tools, the new one works by using fluidic force to generate pressure pulses that vibrate the coiled tubing," Schultz describes. "By conducting research at our lab and analyzing past jobs, we try to identify the vibration rate and resonant frequencies that will be most effective at moving a specific string of coil in a given formation."
Schultz calls this science vital to the tool's effectiveness. "If a tool vibrates the string too hard or at the wrong frequency, it will barely move the tubing and will cause undue damage to the motor, the tubing and even the surface equipment," he warns.
"Our new tool is able to move coil faster and farther because it gives us greater control over the type of vibration it creates," he says. "With it, we can turn the component that generates the pressure pulses on and off, which lets us adjust the vibration's shape."
Schultz adds that the tool imposes less pressure drop on the fluid that passes through it, which leaves more energy available to clean plug fragments or other debris from the well.
Plug-Free Completions
In many wells, Schultz says it is possible to reduce or eliminate plugs by temporarily blocking perforations using diverter pods with tassels on both sides that allow downhole currents to carry the pods to perforations. Once there, Schultz says the pods create a reliable seal, even around unusually shaped perforations.
"The pods are made from a degradable material, so eventually, they will go away," he says. "This saves the operator the time and cost associated with installing and milling out plugs."
During 2020, Schultz says Thru Tubing accelerated efforts to expand the pods' application window. "We have developed new materials that degrade at more predicable rates and allow us to create smaller pods that still have the strength to withstand the pressures they need to endure during the frac," he details.
Pod size is a Goldilocks challenge, Schultz notes. "If the pod is too small, it will not seal the perforation or will get pushed through as pressures increase. But if it is too big, it will clog the well," he explains. "With smaller pods available, we can get the optimal pod size in more wells.
"In addition to developing new pod materials, we are refining our surface and downhole delivery systems," he adds. "These systems use computer-controlled equipment to release pods gradually so they find individual holes more reliably and efficiently. For example, we can tell them to release two pods every five seconds, or one pod every 10 minutes."
If too many pods are released at once, most of them will flow toward the handful of perforations that break down first, which could leave perforations at the top of the well unsealed. Schultz says spacing the pods' deployment addresses this problem by ensuring there are pods above each perforation as it breaks down and begins taking fluid.
"These delivery systems will make a huge difference in the pods' reliability, so they will help us reduce clients' completion costs," he says.