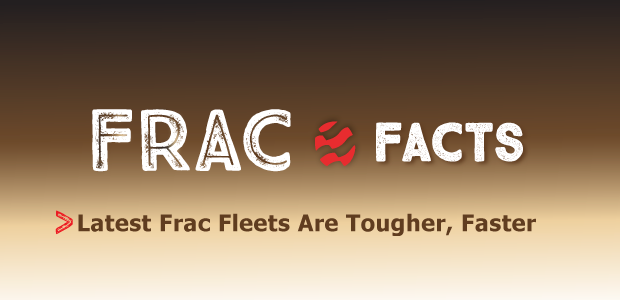 March 2018 Frac Facts
Latest Frac Fleets Are Tougher, Faster
By Colter Cookson
A broad recovery in upstream investment continues to gain steam across the lower-48, and at the head of the convoy is a long line of pressure pumping trucks.
Driven by tight oil and shale gas plays, annual U.S. demand for hydraulic fracturing services, equipment and consumables has grown by double digits over the past two years, and is estimated to reach $24.6 billion in 2018, according to Spears & Associates. No matter how one looks at it–including expenditures, fleet utilization statistics, announced new-build capacity additions or proppant consumption–the fracturing market has been the front-runner in the broader upturn in domestic field activity.
To meet the growing demand for their services, pressure pumpers are building new fleets and reactivating idle iron. In the process, they are finding ways to make their assets safer, more efficient and more reliable. Pump, engine and transmission manufacturers and creative startups are helping them improve reliability by taking proven designs and novel ideas to the next level.
Liberty Oilfield Services, which is fresh off a successful initial public stock offering, illustrates the industry's growth. At the start of 2017, the company had 11 fleets. By 2018, it had 20, says company President Ron Gusek.
"The frac world is working hard to bring capacity in line with demand, but at least in the short term, demand will exceed supply," he assesses. "One of the biggest challenges we face is finding people. Although each frac spread might only have 20-30 people on site, it takes 80-100 to get their equipment in the field once ancillary support such as truckers and warehouse staff are factored in."
Finding people is becoming harder as the recovery progresses, Gusek reports. "During the downturn, the overall economy was robust enough that many former frac hands joined other industries," he observes. "However, unlike many of our peers, Liberty kept all its fleets active during the downturn and thus had no layoffs. This has reduced the hiring challenge for us significantly during this time of rapid growth."
Gusek says service providers and equipment manufacturers are mitigating growth's challenges by inventing ways to do more with less. For Liberty, that involves reducing the total cost of owning and operating a hydraulic fracturing fleet, which generally means maximizing uptime.
"When we are buying a specific piece of equipment, such as a pump, transmission or engine, we look at every component to look for ways to make it more robust at a reasonable return," Gusek outlines. "We are prepared to pay a premium price for a component if it returns severalfold the extra cost by increasing equipment longevity.
"To understand what contributes to downtime, we use telemetry to monitor all our equipment," Gusek says. "By tracking what happens every day on location, we are identifying the root causes of nonproductive time and the specific set of circumstances where they occur. With that information, we can evolve our equipment designs to increase uptime, reduce maintenance costs and improve performance."
That effort has paid off, Gusek assures. "During 2017, we increased the amount of time an average spread spends pumping during a day from 46 to more than 50 percent," he says. "In other words, in a year of rapid growth, we managed to improve pump time almost 10 percent."
In addition to improving efficiency and performance, Gusek says service providers are coming up with ways to improve safety. To illustrate, he points to Liberty's Quiet Fleet™ spreads.
"We developed our quiet fleets to be better neighbors in areas where we needed to frac close to residences, schools, businesses and parks," Gusek relates. "However, in the process, we created a safer environment for our employees. The pumps are quiet enough that they no longer need to wear ear protection. They can have a conversation without shouting, so it is easier for them to work together and warn each other of potential dangers."
Liberty minimizes noise in part by enclosing each pump's engine and transmission, Gusek notes. "That has given us an opportunity to install a three-stage fire suppression system on each pump and the blender to provide an extra layer of safety," he says.
Turbine-Powered Electric Fleet
In the long run, diesel fleets will be replaced with ones powered by electricity generated using natural gas turbines, says Chris Combs, vice president for Evolution Well Services.
"There are several advantages to powering a fleet with natural gas-generated electricity, including fuel savings," he says. "Assuming a cost of $1.85 an Mcf, which is on the high side for field gas, and assuming 25,000 downhole horsepower, powering our 48,000-horsepower fleet would cost only $300-$350 an hour. With diesel at $2.75 a gallon, fueling a traditional fleet would cost $6,000-$7,000 an hour."
In most applications, Combs estimates that switching to natural gas reduces fuel costs by 95 percent. He adds that the turbine runs on field gas with widely varying quality. "In the field, the turbine has consumed gas with Btu content between 700 and 1,450. The richer the gas, the less it consumes and vice versa," he says.
Reliability contributes to electric fleets' strong economics, Combs adds. "Because there are fewer mechanical failure points, electric motors are easy to maintain. Our standard maintenance protocol for the AC motors is to grease the bearings every 12 hours, and they essentially will last forever."
The simple maintenance and reliability have paid off, Combs says. "Our first commercial fleet runs an average of 16 hours a day in an area where conventional fleets can manage only 7-8 hours before unplanned downtime becomes cost-prohibitive. The longer run times have enabled the operator to switch from stack fracs to zipper fracs, which are more efficient," he relates.
The turbine that powers Evolution's fleet also powers Boeing 747s and the Airbus 300 series, Combs reports. "It is extremely reliable," he says. "Between startup and the first turbine hot section overhaul, it can run 25,000-30,000 hours, or about eight years in a hydraulic fracturing application. There is a fair chance the pumps, blenders and other process equipment will be exhausted fully before we perform the first turbine overhaul."
Because it burns natural gas, Combs continues, the turbine's emissions are well below the Environmental Protection Agency's Tier 4 Final standard, which modern engines must meet. "Noise levels are much lower as well," he adds. "At a distance of one meter from the turbine, they measure about 82 decibels, well below the Occupational Safety and Health Administration's threshold for ear plugs."
At that level, personnel on location can talk without raising their voices, Combs says. He describes the fleet as a great fit for operators who need to work in close proximity to homes, businesses and public spaces.
"In areas where space is limited, such as the Northeast and Rocky Mountains, the electric fleets have another advantage: a small footprint," Combs says. "Because all the pumps are powered by a single turbine, it is no longer necessary to put an engine and transmission on each trailer. With the extra space, we replace the 2,250- or 2,500-horsepower pump that normally would be on each trailer with two, 3,000-horsepower pumps."
The higher horsepower concentrations reduce the number of trailers on location and the spread's overall footprint by 55-60 percent, Combs calculates. He adds that each fleet only requires a crew of 11.
"For safety and efficiency, all equipment is operated from the data van," Combs says. "There is rarely a reason for the crew to step outside. With the exception of the master bleed off valves, which are manual for safety reasons, all the valves are remotely actuated. The van's dual-level design provides a 'crow's nest' view of the location. That is augmented by high-resolution cameras on top of the van, each pump, the blender tub, the hopper, and the hydration unit, so the crew can see everything it needs to from the van."
In 2017, Combs reports that Evolution had a total recordable incident rate of 0.0 with a single fleet commercialized the entire year. He says that fleet worked in the Permian Basin, the Eagle Ford, and the Marcellus and Utica on demonstrations and attracted enough interest that the company is building five more this year. These fleets are committed to major U.S. onshore producers on multiyear contracts, so Evolution is expanding more.
"In the next few years, when the fracturing industry needs to build or replace horsepower, service providers will want it to be electric. In fact, we see significant evidence other service providers are looking at developing electric fleets," Combs says. "With the right technology, it already is possible to build turbine-powered equipment at a price-per-horsepower comparable to a diesel fleet, and the price only will go down over time. Given the economic, environmental and safety benefits electric fleets offer, that is great news."
Ramping Up Production
"Now is an exciting time for packagers that provide equipment to pressure pumping companies," says Nathan Markert, National Oilwell Varco's vice president of pressure pumping equipment for the United States.
"Since the industry pivoted from survival mode to growth in early 2017, our order board and quote activity have gone up substantially," he says. "During 2017, we increased our business eight times and doubled the size of our staff."
In the process, Markert says NOV is expanding its rebuild capabilities. "We have gone from two bays for rebuilding and reactivating aging equipment to 12 bays in a facility dedicated to that task," he details. "That is a significant increase in capacity, but demand is high enough that we continue to look for ways to increase it."
As they build and rebuild equipment, Markert says packagers have one goal in mind: Reducing equipment's total cost of ownership. That often means extending maintenance intervals and the run life of consumables such as fluid ends and discharge pumps on blenders.
"In addition, we are making improvements to reduce the number of personnel needed on site to operate our equipment," he reports. "Through automation and centralized control, we are moving from the traditional approach of having multiple operators run individual units to having an operator oversee a spread. This reduces salary-related costs and safety risks while consolidating control in the hands of a senior, more experienced operator who makes better decisions.
"As automation continues to advance, we are getting better at using analytics to reduce costs," Markert adds. "We hope to help fleet operators track equipment costs and adopt maintenance cycles that are based on need rather than the number of days or hours a pump or other piece of equipment has spent operating."
Pumps, engines and transmissions are getting larger, Markert observes. "As the industry continues to pump more sand, spreads have gone from moving as frequently as once a day to staying at one location for weeks and operating continuously during that period," he notes. "To minimize maintenance-related downtime in that 24/7 environment, we are using larger, less mobile equipment with thicker piping and tougher materials."
As a case in point, Markert cites NOV's Patriot™ fluid ends. With an advanced geometry, they reduce stress in the bore intersection by 40 percent, he reports. By increasing the flow area around the suction and discharge valves, they minimize cavitation and fluid-end wash outs, he adds. These durability enhancements come alongside changes that simplify assembly and maintenance.
Extending Pump Life
To shrink pumps' operating costs, Gardner Denver announces it has introduced longer-lasting packing. "Historically, customers needed to change packing every 200-250 hours of run time," says Chris Degginger, the company's director of engineering for new product development. "Our Redline™ packing delivers more than twice that life, reducing downtime associated with scheduled maintenance and improving margins."
The packing has such a long life because it was developed based on extensive research into the causes of packing failure, Degginger relates. To delay failures, he says the designers applied the first principles in material chemistry and seal design to redesign the header ring and the pressure rings, and refined the material makeup to achieve exceptional resistance to abrasion, heat, friction and pressure.
With packing capable of withstanding 500-plus hours of run time, Degginger says many fleets will be able to move the packing maintenance interval from the field to the shop, aligning with other shop scheduled maintenance. "Replacing packing requires pulling out the plunger and exposing the heart of the pump to contamination and reassembly errors. It is much better to do that in a clean shop than in the field, where dirt and sand tend to get into the grease between the threaded components and cause galling or other damage."
The longer maintenance intervals also reduce the risk of packing failing during operation, Degginger adds. "The more packing is run to failure, the higher the risk of fluid end damage that leads to washout, which forces the owner to replace the stuffing box, or if the stuffing box is not removable, the entire fluid end. Otherwise, the residual fluid end damage will continually degrade subsequent packing life, resulting in shorter and shorter maintenance intervals."
Degginger describes the packing as flexible, explaining that it can be used in the most popular pumps from a variety of manufacturers.
"We have spent the past year testing the packing throughout North America, including Texas, Oklahoma, Wyoming, North Dakota and Canada," Degginger reports. "The packing delivered more than two times the life of the incumbent designs, pumping more than 100 million pounds of sand before failure and reducing maintenance 50 percent."
Moving away from the packing, Degginger says Gardner Denver has raised the bar for fluid end performance with new fluid end designs for legacy 2,250 and 2,500 horsepower pumps. "We are applying proprietary geometries developed across our product portfolio to improve the life and serviceability of these legacy fluid ends, including valve-over-valve fluid ends and YWS fluid ends," he details.
The NX™ line of valve-over-valve fluid ends lasts three and a half times as long as previous designs, while the modern YWS designs (Super YWS™) last twice as long as their predecessors, Degginger reports. "Customers are validating these improvements with reports of fluid end life that exceeds their expectations in head-to-head field tests completed on the same wells," he comments.
Degginger attributes the fluid ends' durability to superior materials, stress-reducing geometries and optimized manufacturing processes. "We are implementing these geometries without any changes to the areas that interface with other components, so the pump operator still can use all existing internal and external components, including the valves, seats, packing, Falcon spring retainers and manifolds they were using with previous fluid ends," he assures.
Long-Stroke Pump
The quintuplex and triplex models for the Thunder series pumps continue to perform well in the field, Degginger says. "Customers are reporting unprecedented operating efficiencies that result in significant savings," he touts. "These savings come largely because the pump uses an 11-inch stroke rather than an eight-inch stroke."
The longer stroke can have one of two benefits. "Fleets can run the pump slower, extending consumable life by 37 percent but maintaining the horsepower, pressure and flow rate they would get from an eight-inch pump. Alternately, they can run the pump at the same speed as the eight inch pump to increase their flow rate as much as 37 percent," Degginger says.
By taking the latter approach, customers have cut the size of a frac spread by 30 percent, he reports. "Fewer pumps mean less work that needs to be done in the field, less nonproductive time, and improved safety, all of which contribute to a lower total cost of ownership," he says.
Degginger adds that the pump can improve the life of other components. "By optimizing the crankshaft design, we minimized system vibrations up stream and down stream of the pump," he explains. "Customers tell us they never have seen a pump run so smooth. In fact, in one West Texas field test, a triplex ran so much more smoothly than nearby quintuplexes–which are generally considered smoother–that the crew sent someone out to confirm it was running."
The Thunder series pumps are durable enough that their maintenance intervals coincide with those for the engine and transmission, Degginger says.
Engine Standby Controller
When a modern car stops at a red light, the engine shuts off temporary. Once the light turns green, it comes back on with enough speed that drivers rarely notice it has been asleep. With technology from German startup EKU Power Drives, hydraulic fracturing pumps have gained the same ability to shut down and start up, says Edward Eichstetter, the company's U.S. distributor and one of its three founders.
"After each stage, frac pump engines generally are idled rather than being shut down because the crew needs to restart the pump as soon as it is time to frac the next stage," Eichstetter says. "Most engines spend 40-60 percent of their time idle. In a year, that idle time can add up to 2,000-2,300 hours. By shutting the engine down during those periods, our engine standby controller (ESC) can reduce emissions, maintenance and fuel consumption."
Bringing engine run time in line with pump time could extend engine life from three-five years to five-seven, Eichstetter says.
"Eliminating idle time also reduces emissions," Eichstetter says. "This is a benefit for customers that are transitioning to Tier 4 Final engines, which have huge exhaust systems that are sensitive to idling. To stay in compliance when they are idle, these engines must heat the exhaust system, a task that consumes considerable fuel."
With a typical engine consuming 12-14 gallons of fuel an hour when idle, Eichstetter estimates that eliminating idle time will save $60,000-$80,000 a year.
The ESC is invisible to the user, Eichstetter says. "When a stage ends, the system shuts down the engine automatically but keeps it ready for operation at any time," he describes. "When operators want to start the engine, they do it the same way they would now, setting the revolutions per minute or throttle up in the data van."
It takes less than a second for the engine to start, Eichstetter reports. "We are able to do this through a change in hardware," he says. "Instead of a hydraulic start system, ESC pumps use an electric system powered by a lithium ion battery."
The lithium ion battery, like a car's, charges when the engine is in use. If the pause between stages lasts more than two or three hours, ESC detects the battery's low capacity and restarts the engine to perform a fast charging process. When that happens, the system, which controls both the engine and transmission, shifts into brake to keep the pump from rotating.
Other safety measures include a light that indicates when the system is in auto mode and could start at any time, as well as a beacon sound before engine start, Eichstetter adds.
"Traditional hydraulic start systems require a wet kit installed on a tractor in front of the pump trailer. This tractor is not necessary with our system, so we can reduce the equipment's footprint by 30 percent," Eichstetter says.
The ESC has performed well in North Dakota's subzero temperatures and the heat of West and South Texas, he reports. "Our customers are happy, and we learned of benefits we did not expect. For example, field crews like the system because it reduces noise between stages. They also appreciate that there are fewer fuel trucks driving to and from the location."
The field tests also revealed a safety benefit, Eichstetter recalls. "Before, field hands often would do small repairs while the engine was running because stopping and restarting it was such a pain. The ESC made them more comfortable shutting down the engine. They know they can bring it back up quickly and easily, so there is no reason not to."
The ESC may help fleets gain better insight into their operations, he adds. "As an electronic system that interfaces with the engine and the transmission, it can create a digital record of pump activity. For example, we can count the number of stages each day, as well as how many hours the pump spent pumping.
"Monitoring the pump gives us the option to do condition-based maintenance. Today, if the engine's alternator fails, the battery will drain completely in a few hours, and the engine will shut off unexpectedly. To prevent that, our system detects alternator failures and sends an e-mail to the electric tech on site so he can address the issue."
The ESC also detects when one of the two starters fails and alerts a technician to replace it, Eichstetter says. "We are working on predicting when the power end's lubrication needs to be changed so pressure pumpers can base maintenance on need rather than schedules," he adds.