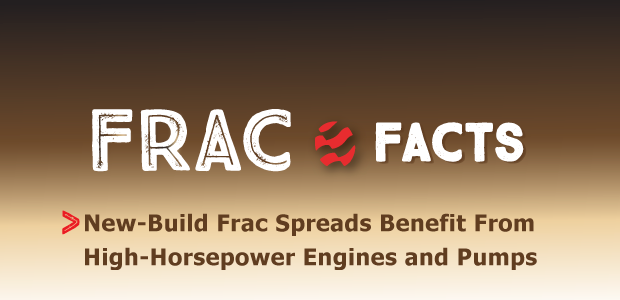 May 2021 Frac Facts
Frac Fleet Update
New-Build Frac Spreads Benefit From High-Horsepower Engines and Pumps
By Colter Cookson
Pressure pumping is a competitive business. To stay busy regardless of activity levels, companies who secure the capital to build new fleets must design them with flexibility and performance in mind.
REV Energy Services is a case in point. The company began building its first fleet in 2018 and commercialized its second in March, according to Mitch Winnick, its president and chief executive officer.
"As we built our fleets, we made every process as lean as possible," Winnick relates. "For that reason, we use 3,000 horsepower pumps rather than 2,500 horsepower ones. This lets us fracture with 40% fewer pumps, which means we have a smaller on-site footprint and fewer transmissions and engines to maintain."
The larger pumps last longer, with some fluid ends averaging 3,000 hours and the power ends generally requiring less maintenance, Winnick reports. He adds that they are more fuel-efficient. "Even when we are burning diesel rather than blending diesel and natural gas, we consume 10% less fuel per barrel a minute pumped because the larger pumps use their engines and transmissions more effectively," he details.
"Our low pump count may be one reason we have been blessed with a zero total recordable incident rate," he suggests. "Smaller crews tend to care about each other more, and everyone on site feels more responsible for what goes on."
Winnick points out that all of REV's pumping units use Tier IV Final engines. "It may have been more profitable in the short run to equip our inaugural fleet with Tier II engines, but we see Tier IV Final engines as the future," Winnick says. "Our customers want to limit their emissions, and we think that is the right thing to do."
Most of the company's engines come from Caterpillar, Winnick says, noting that Caterpillar has invested in REV. "When we work with Caterpillar, we feel like we are fishing with a net instead of a rod. The company has a large engineering team that cares deeply about solving our problems," he praises.
REV has formed a partnership with Caterpillar under which Caterpillar provides power and fluid end consumables at a cost per pumping-hour rate. "Caterpillar works with us to provide tailored solutions for our operations," Winnick comments. "They take the parts and logistics headache away so we can focus on execution."
By training REV's employees to operate and maintain equipment optimally, Caterpillar has helped the company gradually reduce nonproductive time, Winnick reports. "The gold standard for us is to pump 20 hours a day," he says. "We are happy if we exceed that and upset when we don't meet it."
Winnick credits the company's success at reaching that standard in part to its culture. "We firmly believe in encouraging and freeing people to solve problems," he says. "We constantly challenge our employees to keep growing and celebrate their triumphs.
"We hear about problems and get solutions from people throughout our organization because they know we consider failure okay, especially when we are trying new ideas," Winnick reflects. "The key is to test changes in increments that allow us to learn from our experiments and recover quickly if an idea doesn't pan out."
In early May, Winnick said the company was experimenting with new manifolds and frac hoses designed to improve safety. "We are also working with Caterpillar to study how variations in produced water quality affect pumps so we can optimize pump metallurgy and reduce pitting," Winnick says. He adds that REV is helping Caterpillar verify that the latest version of its engine idle reduction system works in cold temperatures.
By 2022, Winnick says REV plans to add a third fleet. "We are excited about the potential to grow, but we want to make sure both our existing fleets are performing before we add another," he says.