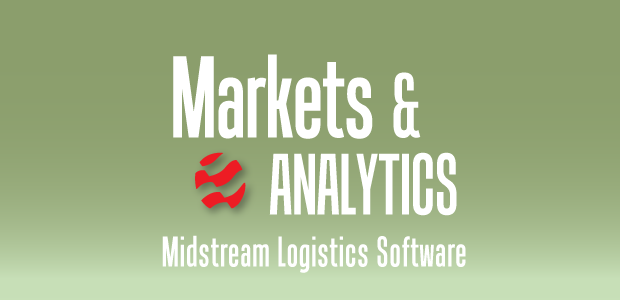 January 2022 Markets & Analytics
Cloud Suite Eases Complex Logistics
By Jeff O'Block
From the Permian Basin to the Bakken, the upward tick in crude oil prices is getting the lion's share of the headlines. Yet with infrastructure bottlenecks being alleviated, record LNG exports, and the long run of low pricing for natural gas and natural gas liquids retreating in the industry's rearview mirror, natural gas is again an industry darling.
During the early stages of the pandemic, when crude oil demand collapsed, NGL pricing showed resilience. Demand remained strong for propane, one of the main NGLs, because of its many residential and commercial applications, which are as diverse as crop heating. The rest of the NGL mix–ethane, butane, isobutene, and natural gasoline–are major feedstocks for a variety of petrochemical products and fuels that remained in demand even during pandemic shutdowns.
It's all looking better today. Crude oil demand is rebounding at a steady pace, and natural gas prices are strengthening as well. NGLs' unique position in providing critical energy needs means renewed emphasis on efficiency and margins as the liquids are condensed from gas streams and moved to market.
Transportation's Importance
Record NGL demand in the U.S. market and an exploding export market for propane and ethane underscore the need to rapidly transport NGL from the wellhead through the value chain. Price differentials also create an incentive for marketers to move NGL long distances to capitalize on higher prices.
While crude oil production continues to dwarf NGLs, condensates account for about a third of total liquids production in the United States, or more than five million barrels a day according to the U.S. Energy Information Administration. Pipelines provide a partial solution to the NGL transportation problem, with takeaway capacity from the Permian getting a recent boost from the EPIC Crude Oil Pipeline, Gray Oak Pipeline and Cactus 2 Pipeline.
When it comes to moving NGL, crude oil, water or any other commodity, however, there is no monolithic transportation solution. Given the dynamics of the oil field, shifting economics and emerging midstream takeaway bottlenecks, oil field marketing and service providers increasingly will rely on multiple transportation methods to increase optionality and respond to customer demand, including rail, barge and ship. If the United States is a swing producer for the global energy mix, trucks are the swing carrier for the transportation mix, always crucial for their ability to quickly fill takeaway gaps.
Despite the unblocking of many takeaway bottlenecks in the Permian and other basins, trucking remains strong yet presents the industry with challenges. There is the logistical challenge of orchestrating large fleets and large numbers of monthly hauls. There is an environmental, social and governance (ESG) challenge from engine emissions and the risk of spills. And there is the challenge of getting drivers. In a recent report, the American Trucking Association repeated its warning that a nationwide shortage of 80,000 drivers continues to threaten supply chains, making it business critical for carriers to attract and retain workers.
From field tickets and bills of lading to dispatch and regulatory bookkeeping, today's trucking industry remains heavily dependent on paper-based and manual processes. To overcome logistical, environmental and driver challenges, midstream providers are turning to digital transportation management systems (TMS), which comprise specialized enterprise resource planning (ERP) technologies and management processes. For example, one of the largest independent midstream infrastructure companies in North America is leveraging a TMS solution that pairs a mobile app for drivers with a cloud-based ERP purpose-built for oil field carriers.
Midstream service providers who master TMS will unlock substantial benefits, including increased transparency and accuracy into supply chain costs, improved cash flow through accelerated accounting processes and lower fuel usage that improves ESG performance.
Barriers To Efficiency
Only a few years ago, managing the physical and accounting movement of oil field commodities was entirely paper-based. Yet supporting NGL and propane transportation operations today demands digital systems and software to manage the back office, track carrier rates and inventory, coordinate dispatch fleetwide and manage transactions at scale. The traditional digital infrastructure for managing a trucking fleet can be cost-prohibitive and still require full-time employees and general and administrative attention, and it provides only a limited and static view of where a commodity is in the supply chain.
Paper persists in the digital oil field. Drivers still receive and sign a paper bill of lading, which frequently is stuffed in the door of the cab. After days on the road, important paperwork eventually makes its way back to an office, where data is keyed in manually. It can take days before a shipper knows if a load has been delivered.
Manual processes also persist. A customer may place a phone order for two loads of propane, then wait days for a status update on where it is and the expected delivery, or if the driver assigned to the shipment has even picked it up. Attempting to keep customers informed is all too often a running game of phone tag between dispatch, drivers and the customer, who often has called back several times and is frustrated by the lack of transparency and communication. But this is par for the course.
Paper invoice processes and manual workflows also create a situation where most marketing and transportation providers struggle with getting paid accurately and quickly enough to manage cash flow effectively. In fact, working in midstream transportation can feel like the banking business, as service providers essentially loan money to their buyers, whose payments are impeded by sluggish accounts receivable and the pervasive paper problem.
Landed cost represents all the fees and charges a service provider incurs over the course of an NGL transaction, including carrier fees and demurrage. Without a clear and current view of landed cost, service providers have poor spend visibility and limited understanding of their margins.
An organization's G&A costs are most heavily weighted by full-time employees, and those costs extend from the back office to the cab. No matter what is being trucked in and out of the oil field, driver utilization is the toughest key performance indicator to understand, as data silos across electronic logging devices, dispatch and ERP systems create barriers to analysis.
A Better Way
The cloud and mobile devices are enabling midstream service providers to eliminate paper and manual processes, make data-driven decisions and operate in powerful new ways. Smart phones and tablets that ride shotgun with drivers have introduced opportunities for moving NGL and other oil field commodities by truck, including digital management of field tickets and bills of lading, real-time GPS and accelerometers.
Combined with supervisory control and data acquisition monitoring, these mobile and cloud-based technologies enable continuous, real-time communications with all available transporters, allowing the back office to choreograph the "big dance" of oil field transportation and ensure the fluid movement of trucks and the disposition of commodities at any given time. What's more, by automating communications, shippers can seamlessly leverage a mix of intermodal transportation such as rail or pipeline alongside trucking operations.
The flow of information through SCADA systems and the real-time communications unlocked by the cloud and mobile devices also are enabling predictive inventory–both long and short–at storage locations, virtually eliminating costly demurrage fees for trucking. At the same time, pipeline and rail car inventory data can be monitored within a single solution, all accessible over the Web or through a mobile app.
In transportation, not everything goes as planned, underscoring the need for carriers, dispatchers and suppliers to collaborate around a wide variety of data so they can adapt and keep moving. The cloud is breaking down data silos by integrating transportation contracts and commodity price feeds from OPIS or DTN in context with traffic and weather data. Having real-time prices available for origin and destination locations provides shippers with a clear view of their options, allowing users and systems to rapidly respond to supply chain anomalies and ultimately achieve higher margins.
Unlocking Operational Excellence
A leading provider of midstream services owns, operates, acquires and develops a diversified portfolio of complementary infrastructure and transportation facilities. These assets include extensive gathering, crude storage and processing plants. The midstream company's trucking operations move more than 1,000 loads each month, including NGLs, propane and water.
To optimize its extensive trucking operations, the service provider's management team looked for ways to leverage corporate data more effectively for strategic and tactical decision-making. To better analyze driver utilization and productivity, the company set out to find a TMS solution that would enable it to see how many drivers are working at any given moment, productive or nonproductive hours of service, and revenue generation by driver. It also wanted to better understand operational costs and capture bills of lading electronically to automate transactions, accelerate accounts receivable invoicing and optimize cash flow.
The service provider is leveraging a modern TMS to streamline its bulk transportation for condensate, propane and water, expediting completion of transactions. The software-as-a-service solution provides a complete back office for the company's trucking fleet operations, including automated dispatch, inventory management, intermodal scheduling and electronic field ticket management.
The solution also provides a rate matrix for all carriers that enables the service provider to capture missing fees and costs. Importantly, the TMS automatically calculates landed cost based on any transportation events, allowing the company to immediately reconcile and invoice customers while incorporating disposal fees, demurrage and third-party hauling time.
Connecting the field to the back-office application is a mobile app for Apple and Android devices that continuously synchronizes driver location, speed and status with the cloud. Similar to logistics systems used by UPS and FedEx, it leverages artificial intelligence algorithms to enable adaptive routing, automatically generating turn by turn directions to move commodities along the most efficient path from well site to final destination.
The TMS solution seamlessly integrates with the service provider's deal capture and forecasting solution, general ledger and truck electronic logging devices while enabling drivers to support paper-based workflows with printer integration on tablet devices. The TMS also manages the complexity of international fuel tax agreement regulatory reporting.
From Darkness To Light
Armed with real-time operational data and KPIs, the service provider has illuminated fleetwide trucking performance with a holistic view of drivers, transactions, costs and revenue. The connectivity and communications provided through its TMS solution have revolutionized operations starting with each driver, who now uses tablets and the mobile app to electronically capture bills of lading. The midstream company's management team now has access to a wide variety of economic productivity metrics, including revenue per driver hour for every driver currently on the road, as well as historical performance.
The TMS technology gives the service provider and its customers deeper visibility into their supply chains and the movement of NGL, propane and other oil field commodities. It automates dispatch with flexible capabilities for drivers to pick up or drop off from the nearest location, avoid deadhead runs (travelling long distances with tanks empty), and bypass well sites where trucks are waiting in line. Dispatchers also can set schedules manually and instantly provide customers with order updates at any point in the shipping process.
The TMS solution enables the midstream company to rapidly collect operations data, process orders faster, accelerate billing and ensure cash flow. What's more, by eliminating paper-based and manual processes, the service provider has redeployed two full-time employees to higher value workflows.
Moving Vital Hydrocarbons
Despite the increasing focus on renewables, oil, natural gas and NGLs will be unstoppable as major contributors to the new energy mix. For the foreseeable future, the world will run on 100 million barrels of oil equivalent a day, ensuring that hydrocarbons continue to move along the energy value chain in increasing volumes. The industry and its investors should be less concerned with shutting in abundant hydrocarbon-based energy supplies and instead focus on deciphering how best to move that energy when pipelines are full.
Transportation management is even more critical as oil and gas heads into the energy transition, underscoring the need for flexible options as pipeline projects are canceled abruptly and approval for new projects is drawn out in the court of public opinion. Ironically, pipelines represent the fastest and safest mode of transporting hydrocarbons and the increasing trend toward blocking them will only result in infrastructure bottlenecks that put more trucks on the road.
Given the importance of effectively transporting oil, natural gas, and NGLs now and in the future, TMS will play an even larger role than it has to date as service providers reach for operational and cost efficiency. Key to TMS success is a core set of competencies. These include accurate measurement of the commodity being moved–such as tank strapping, API gravity and natural gas volume to BTU conversions–an extremely important trait in an industry with volumetric complexity.
Clear supply chain visibility also is important. Leveraging mobile technology and the cloud, a TMS should be able to track every molecule at every moment to ensure the exact volumes reach the exact buyer or seller at the right time. Crude, NGL, produced water and other oil field commodities are finding their way aboard trucks, pipelines, trains, ships and barges. A TMS solution for the oil and gas business must therefore be intermodal, able to track commodities along any mode of transportation or mix at any given moment.
Accounting for custody transfer is paramount for a marketing and transportation provider's cash flow, making it critical to integrate oil field transactions, accounts receivable and an organization's core financials. Integrating accounting with deal flow and logistics is the biggest technical advantage any TMS should provide.
Finally, TMS technology should match the needs of today's oil and gas teams, who must not only optimize revenue and costs, but also optimize emissions and an organization's carbon footprint. A modern TMS should support all these business drivers directly, helping users meet the ever-evolving needs of oil field transportation and ESG.

JEFF O'BLOCK is founder of Chorus Logistics, a W Energy Software Company. With an extensive background in energy accounting and transportation, he co-founded Confirmation Corporation, a developer of software that provides confirmation services to subscribed trading companies, and Texas Cedar Clearing, which specializes in seismic line and pipeline construction rights-of-way work. O'Block was also the co-founder of PSC Energy, the original developer of the GMS energy trading platform. He holds a B.S. in chemical engineering from Grove City College and an M.S. in computer science from Youngstown State University.