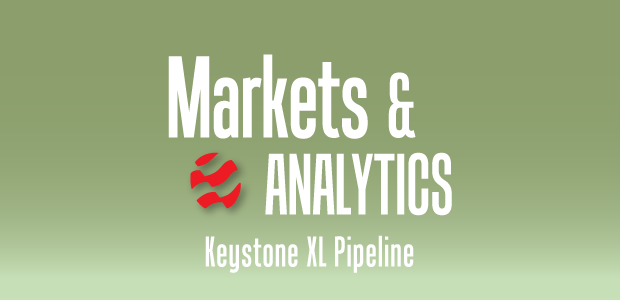 September 2021 Markets & Analytics
EID: Cancellation No Cause To Cheer
A report from Energy In Depth's Nicole Jacobs notes that TC Energy announced its decision to cancel the pipeline project months after President Biden revoked the pipeline's international border crossing permit only hours after his inauguration in January. However, she advises, since pipelines are merely the best–but not the only–way to transport crude from Canadian oil sands into the United States, that oil still will be produced, transported and marketed.
"We all know it, but it's worth stating again: Pipelines are by far the safest, most efficient means of transporting oil," Jacobs writes. "Yet, U.S.-Canadian pipelines continue to face attacks from activists that either don't fully comprehend supply and demand or don't care that this oil will now need to be delivered via truck, rail or–even worse–tankers from countries across the ocean.
"In fact, contrary to the 'Keep it in the Ground' narrative, stopping Keystone XL doesn't actually stop the flow of Canadian oil into the United States, but it does limit the means and efficiency of getting the supply into the country."
She goes on to observe that the United States imports 49% more Canadian oil than it did when TC Energy resubmitted its Keystone XL application in 2012. "While much of this supply does enter the country via existing pipeline infrastructure, Canadian imports by rail also have increased over this period. Even with the sharp drop-off in 2020 due to the COVID-19 pandemic, crude by rail imports over the past 10 years have skyrocketed."
More fundamentally, pipeline prevention does not nullify consumer demand, Jacobs observes, going on to cite an American Petroleum Institute observation that many U.S. refineries are configured especially for Canadian crude.
"As infrastructure projects like Keystone XL, Line 3 and Line 5 continue to be targets for activism, refineries are forced to look outside North America to ensure a reliable supply of crude to provide valuable feedstock for U.S. manufacturers," Jacobs reports. "The result? For starters, the United States recently accepted its second tanker of oil from Iran in the past six months. Oil imports from Russia are also currently at a 10-year high."
Economic Fallout
Moreover, the impact of Keystone's cancellation extends well beyond sending dollars to Russia and the Middle East, Jacobs indicates. "When the permit for Keystone XL was cancelled in January, the job losses were immediate," she points out. "More than 10,000 people found themselves without anticipated income, including roughly 8,000 labor union members."
Jacobs cites congressional testimony from Neal Crabtree, a member of Pipeliners Local Union 798, who told the House Natural Resources Committee that more than 88% of his local union members were out of work.
"The administration seems to think these were just 'temporary jobs' and the effect is not that bad," Crabtree testified. "I am not sure if they understand that a lot of careers in this country rely on temporary projects. A carpenter doesn't spend his whole career on the same house, a lawyer doesn't spend his whole career with the same client. The Keystone XL was our house to build this year, it was our client. The effects of cancelling this project will be far reaching, not only for the workers but I also believe it will have negative effect on future projects that provide the reliable energy this country needs."
During the same hearing, Jacobs notes, Berg Pipe President and Chief Executive Officer Ingo Riemer testified that his company's Mobile, Al., and Panama City, Fl., pipe mills had shed 519 jobs since Keystone's permit was pulled. "This 78% decrease of Berg's skilled workforce is a direct result of the current national energy policy," Riemer is quoted. "It is devastating for a business to invest billions into pipeline infrastructure only to have a permit revoked after the cash has been spent and countless hours of work performed."
Also feeling the loss are communities such as Fallon County, Mt., and Midland, S.D., Jacobs notes, which are among the areas seeing their local economies and tax bases fall precipitously since Jan. 20.
"Yet despite these very real consequences, the leaders of this movement are celebrating by immediately calling for stopping the next pipeline in their crosshairs," she observes. "We should all keep this in mind the next time these folks try and convince us they want a 'just transition.'"