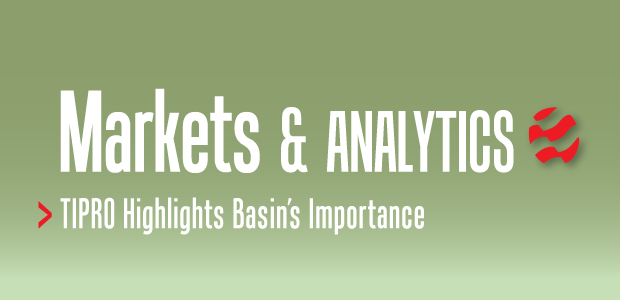 February 2020 Markets & Analytics
Importance Of Permian Basin Is Delineated In TIPRO Report
AUSTIN, TX.–Annual crude oil production in the Permian Basin has grown by 1.2 billion barrels since 2009, marking a 371% increase in oil output during the past decade, according to A Decade of the Permian Basin, released in January by the Texas Independent Producers & Royalty Owners Association.
"This growth has allowed the Permian to become the world's top-producing oil field with higher output than Saudi Arabia's Ghawar Field, and has enabled America to officially take the title as the world's largest oil producer," affirms TIPRO President Ed Longanecker.
A Decade of the Permian Basin is the latest in TIPRO's "State of Energy Report" series, developed to quantify and track the economic impact of domestic oil and natural gas production at the state and national levels.
Since 2009, according to the report, oil production in the 63 Texas and New Mexico counties comprising the Permian Basin has increased from less than 1.0 million barrels a day to more than 4.0 MMbbl/d in 2019. Last year, Permian oil production grew by 255 million barrels compared with 2018, to a record 1.5 billion barrels.
Permian natural gas production, TIPRO adds, grew by 1.1 trillion cubic feet in 2019 over 2018, to a record 5.3 Tcf. Between 2009 and '19, total gas production in the Permian rose by 3.6 Tcf, or 217%.
TIPRO points out that six Permian counties recorded crude oil production increases in excess of 100 million barrels between 2009 and '19. These were Reeves County, Tx., at 190.8 MMbbl of production growth, Midland County, Tx. (171.5 MMbbl growth), Lea County, N.M. (150.6 MMbbl growth), Loving County, Tx. (119.0 MMbbl growth), Martin County, Tx. (111.1 MMbbl growth), and Eddy County, N.M. (103.3 MMbbl growth).
The top three Permian Basin counties in total annual crude production last year were Reeves at 192.0 MMbbl, Midland at 185.2 MMbbl, and Lea at 183.6 MMbbl, TIPRO adds.
For natural gas, the report continues, the largest annual production increases between 2009 and '19 were recorded in Reeves County at 1.027 Tcf, Eddy at 398.8 billion cubic feet, and Midland at 387.9 Bcf.
Economic Impact
TIPRO says the dramatic rise in the Permian's oil and gas development during the past 10 years has offered unmatched economic support to the region and state, boosting employment and providing significant economic value. Direct oil and natural gas employment in the Permian Basin totaled 87,603 in 2019, A Decade in the Permian Basin finds, an increase of nearly 43,000 jobs since 2009.
The majority of those jobs are in the upstream. The report indicates 54,507 were employed last year in support activities for oil and gas operations. Oil and gas extraction employed 16,572, and 6,554 worked drilling oil and gas wells.
The largest increase in oil and gas employment between 2009 and '19 occurred in Midland County (20,802), followed by Ector (7,693), Eddy (4,985), Lea (2,407) and Hockley (1,513) counties, the report shows.
"The Texas oil and gas industry continues to be one of the most inclusive business sectors, offering good-paying jobs and career placement across many demographics," Longanecker insists.
TIPRO's report indicates Permian companies employed more than 12,560 women last year, and 48% of oil and gas jobs were held by Hispanic or Latino workers. Approximately 54% of Permian Basin oil and gas workers are between the ages of 25 and 44, while 37% are 45 or older, the report delineates.
Permian jobs also pay an average annual wage of $98,000, which is 101% higher than other average private sector wages in the region, the report says.
The total number of oil and gas businesses operating in the Permian Basin surpassed 3,350 last year. Meanwhile, TIPRO says, total U.S. goods and services purchased by the Permian Basin oil and gas industry exceeded an estimated $26 billion.
Industry Headwinds
Though there has been a heavy focus on expanding drilling and development in the Permian during the past 10 years, TIPRO says Texas producers nonetheless have been met with a series of challenges, including limitations on West Texas take-away capacity.
The association notes that additional pipeline capacity added in 2019 includes Kinder Morgan's 2 Bcf/d Gulf Coast Express Pipeline from the Waha Hub to markets on the Gulf Coast at the Agua Dulce Hub. Five new oil pipelines also are set to open in the region through 2021.
"Supporting the build-out of critical infrastructure to transport oil and natural gas is essential for the future of the industry, but expanding pipeline capacity coupled with a reduction in capital expenditures and production growth will drive increased competition among carriers, potentially leading to midstream rate cuts," Longanecker speculates.
Other general concerns affecting businesses in the Permian, offers TIPRO Chairman Eugene Garcia, president of Hurd Enterprises LLC, relate to shifting commodity prices, the United States' trade war with China, and capital scarcity, which has forced more operators to adopt a cash-flow-yield model and to scale back spending on drilling projects.
Garcia says the reduction in available capital weakened industry employment during the second half of last year and further cuts are expected in the first quarter of 2020. And, he says, despite progress with negotiations, TIPRO also remains concerned about the U.S.-China trade war, which has led to retaliatory tariffs against American-made products, including energy produced in Texas.
Several other factors may impact U.S. oil and natural gas production and commodity prices this year, TIPRO goes on, including conflicts in the Middle East. It points to the attack on Abqaiq and Khurais in Saudi Arabia last September, which temporarily reduced Saudi Aramco production by 5.7 MMbbl/d, and this year's escalation in U.S.-Iran tensions, which temporarily boosted the geopolitical risk premium on oil prices.
However, asserts Texas state Representative Tom Craddick, R-Midland, chairman of the House Committee on Land and Resource Management, "Unlike oil surges during previous tense periods in the Middle East, prices may not inflate as much as they might have otherwise because of the growth of Permian Basin oil output. The region has helped to mitigate the impact of lowered output overseas."
Positive Signs
TIPRO also notes several positive trends and momentum on key policy issues, including production cuts by the Organization of Petroleum Exporting Countries, progress on U.S.-China trade negotiations, and finalizing the new United States-Mexico-Canada Agreement on trade.
"USMCA will provide significant benefit to U.S. oil and natural gas producers," Garcia affirms. "Energy integration between Mexico, the United States and Canada has been a success story that has led to creating many new opportunities to improve trade relations across North America. USMCA will help maintain and protect the ability to sell U.S. natural gas, oil and other refined products tariff-free to Texas' two largest international trading partners: Mexico and Canada."
"Notwithstanding market challenges, the United States will continue to lead the world in oil and natural gas production, thanks to our prolific shale formations, continued innovation, improvements and efficiencies in exploration and production methods, and the remarkable men and women that comprise this industry," Longanecker concludes. "Continuing regulatory improvements at the federal level and an expedited resolution to trade disputes also will support U.S. energy production, strengthen national security, and drive further economic growth for Texas."
A Decade of the Permian Basin may be accessed at http://bit.ly/A_Decade_Of_The_Permian.
Industry Remains A Major Employer
AUSTIN, TX.–Texas operators produced 1.8 billion barrels of oil in 2019, surpassing 2018's record output, while 2019 gas production also reached new levels, topping 10.1 trillion cubic feet, indicates a "State of Energy" report the Texas Independent Producers & Royalty Owners Association issued at the end of January.
TIPRO points to several policy developments in the report's fifth edition, including the new United States-Mexico-Canada Agreement, signing of the first phase of a trade deal with China, and a revised Waters of the United States rule, all of which the association predicts will benefit U.S. oil and natural gas producers.
TIPRO notes that the 1.8 billion barrels coming out of Texas surpass production from North Dakota (507 million barrels), New Mexico (316 MMbbl), Oklahoma (213 MMbbl) and Colorado (188 MMbbl), while the Lone Star State's gas production, in addition to exceeding the previous record of 9.6 Tcf set in 1972, tops the 6.8 Tcf Pennsylvania produced in 2019, as well gas coming out of Alaska (3.3 Tcf), Louisiana (3.1 Tcf) and Oklahoma (3.0 Tcf).
According to the association, it developed the report series to help quantify and track the economic impact of domestic oil and natural gas production, with an emphasis on Texas' contribution. The reports analyze national and state trends in oil and gas employment, wages and other key economic factors.
The TIPRO report says the U.S. oil and gas industry employed 895,629 professionals, an increase of 8,454 jobs compared with 2018. The industry paid a national annual average of $114,745 in 2019, more than double average private sector wages, TIPRO recounts. It adds total U.S. goods and services purchased in 2019 by the industry exceeded $528 billion from more than 900 business sectors.
According to TIPRO, Texas accounted for 40% of all U.S. oil and gas jobs, supporting 361,271 direct jobs. That was a net increase of 5,550 jobs over the 2018 total, and came about despite a downturn in oil and gas employment in the second half of 2019. The "State of Energy Report" also notes during 2019, Oklahoma added 398 industry jobs for a total of 68,468, while New Mexico's industry employment increased 758, to 24,720 jobs in the same time frame.
"A reduction in available capital led to a slowdown in industry activity and a decline in employment during the second half of the year in 2019, with further cuts expected in the first quarter of 2020," relates Eugene Garcia, TIPRO chairman and president of Hurd Enterprises LLC. "Despite numerous challenges that faced domestic producers in 2019, the Texas oil and gas industry has remained a cornerstone of the economy, providing high-paying career opportunities, as well as significant taxes and royalty payments made to state, local and federal government entities."
Between 2010-19, TIPRO says, total state taxes and state royalty payments paid by the industry in Texas exceeded $116 billion, including a record $16.3 billion in 2019.
"TIPRO remains focused on supporting a targeted federal policy agenda, while protecting and strengthening an already robust business and regulatory environment in Texas," says association President Ed Longanecker. "Key priorities for TIPRO at the state level during the next legislative cycle will include a long-term solution to funding transportation investment in energy-producing areas, workforce development, and a balanced approach to critical infrastructure needs that recognizes the dominance of the mineral estate, existing laws and regulations, and private property rights."