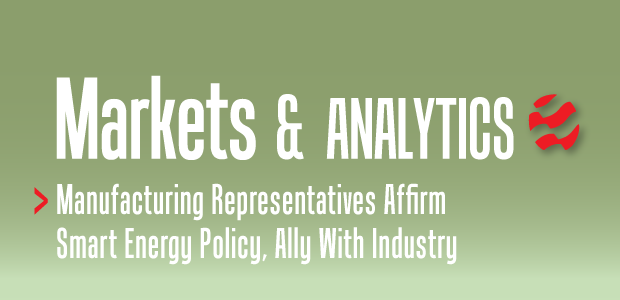 April 2021 Markets & Analytics
The Biden Administration
Representatives Of Manufacturing Sector Affirm Smart Energy Policy, Ally With Oil And Gas
Editor's Note: Amid an eventful first 100 days in office, President Joe Biden's administration has made a number of policy moves in the name of protecting the global climate that many oil and gas industry representatives deem an aggressive and counterproductive attack on the country's primary energy sources. However, concerns about the implications of the administration's anti-development signals have not been limited to hydrocarbon producers, and include both the factories who rely on them for fuel and feedstock, as well as the manufacturers who supply the industry with equipment. Therefore, AOGR welcomes to its pages the Independent Petroleum Association of America's Ryan Ullman, who sat down for a conversation with the National Association of Manufacturers' Rachel Jones.
Ryan Ullman: What are NAM's priorities in this first year of the Biden Administration?
Rachel Jones: Manufacturers are committed to protecting human health, the environment and the communities in which we live and serve. As we build our bridge to the future, we believe in an all-of-government approach to this challenge and an all-in approach to energy production. The Biden administration has an ambitious agenda in the energy and environment space, and NAM looks forward to continuing to work with the new administration and Congress, particularly as they address climate change.
Combating climate change requires a global partnership and a global solution. As manufacturers drive down emissions, we also must continue to support and protect families and American jobs. We want to expand American energy production. To accomplish this goal, we need a true global partnership on energy and environmental policy.
Ullman: On day one of his administration, President Biden rescinded the permit for the Keystone Pipeline. What did the manufacturers have to say about that decision?
Jones: NAM wasted no time in raising alarms over President Biden's Keystone XL announcement. When President Biden issued an executive order rescinding the permit for the Keystone XL pipeline, NAM President and Chief Executive Officer Jay Timmons said, "Manufacturers are disappointed with the administration's decision to block this sustainable project, which can serve as a model for infrastructure of the future, and if not reconsidered, represents a missed opportunity for manufacturing workers in America. Rebuilding our economy will require us to invest in infrastructure of all types, including Keystone XL. Manufacturers have a strong commitment to responsible environmental stewardship, and protecting our environment does not require us to walk away from this job-creating opportunity."
In the days leading up to the misguided revocation, the NAM and several labor unions wrote to President Biden on the impact of rescinding the permit for the Keystone XL project and the ways the project has evolved in recent years. Manufacturers will continue to be a strong voice in support of critical energy infrastructure projects.
Ullman: The Biden Administration has also affected leasing on federal land–on and off shore–how does this impact American manufacturing?
Jones: Fortunately, the executive order to temporarily freeze new leases on federal lands–on and off shore–did not halt existing leases. But I would not say we dodged a bullet just yet. If the leasing restrictions endure, the restrictions could raise energy prices for manufacturers at a time when global competition is fierce. States such as New Mexico, Wyoming and Utah obviously would see the negative impacts on local communities more immediately, but the impact would be much broader over time.
Manufacturing communities across the country are making pumps, valves, construction equipment, pipes, concrete and more, and they rely on a healthy energy industry. Many understand that any policy decision to restrict or halt new leases and permits can have lasting negative consequences for those states that have large tracts of federal lands, but the impact also would be felt across the country's entire manufacturing supply chain.
Ullman: Rebuilding our economy from the damage caused by the COVID-19 pandemic will require infrastructure investment of all types. IPAA has partnered with NAM recently on efforts for strong nationwide permitting for infrastructure projects. NAM has really taken the lead there–can you tell us about this ongoing initiative?
Jones: Given the diverse industry sectors that NAM represents and the interdependent nature of sectors of our economy, a problem for one sector is a problem for others. Understanding this and bringing people together to achieve a common goal is one of our strengths. Last year, NAM brought together a broad coalition of stakeholders, from labor unions and downstream energy users to producers and builders.
Representing interests in infrastructure and development of all stripes, we filed comments with the U.S. Army Corps of Engineers in support of a strong nationwide permitting program. While an updated set of permits was finalized at the end of the Trump administration, there is still work to be done. We will continue to work with the new Biden administration to strengthen the critical program.
Ullman: To open it up to you now, Rachel, what else should independent oil and natural gas producers know about U.S. manufacturers and manufacturing?
Jones: NAM released its first "Manufacturers' Outlook Survey" of 2021 and the first since the Biden administration took office. The survey showed manufacturers' optimism increasing to nearly 88%, the highest reading in two years, and up from 76% in the Q4 2020 survey. This steady improvement represents an increase of 54 percentage points since the first survey after the pandemic began (34% in Q2 2020). According to NAM President and CEO Jay Timmons, "As vaccines roll out at a faster pace and we see signs of an improving economy, manufacturers' optimism is rising fast."
Our industry is creating new jobs and investing in new projects, buoyed by signs that we finally may be getting COVID-19 under control. Of course, our industry knows we are not out of the woods yet. That is why we continue to lead by example, wearing face coverings and promoting vaccination. The smart health protocols are more important than ever. This is our shot–not just to end the pandemic but to build a new and stronger economy that creates opportunity for all."

Ryan Ullman is vice president of government relations and political affairs for the Independent Petroleum Association of America, where he has worked since 2003. A 17-year veteran, his issues portfolio includes taxation, budget, safety, environmental matters and global climate change, and pertains to both legislation and regulatory agencies. Ullman handles IPAA's outreach to members of Congress as well as political analysis. He also manages IPAA's grassroots lobbying and coalitions, particularly with the numerous state oil and natural gas trade associations as well as national groups within Washington that are directly or indirectly impacted by energy policies focused on the industry. Ullman attended Rocky Mountain College, where he majored in psychology.

Rachel Jones is vice president of energy and resources policy at the National Association of Manufacturers, where she oversees NAM's energy and environmental policy work and addresses issues ranging from energy production and use to air and water quality, climate change, energy efficiency and environmental regulation. She is a key voice for manufacturing on Capitol Hill, at federal agencies and across the media. Her other experience includes working as the environment and energy counsel for the U.S. House of Representatives Committee on Science, Space and Technology and as a legal fellow for the U.S. Senate Committee on Environment and Public Works. Jones has a B.A. from Oklahoma Baptist University and a J.D. from University of Tulsa College of Law.