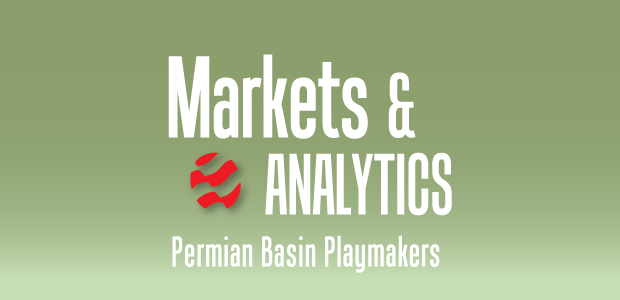 June 2023 Markets & Analytics
Water Treatment, Infrastructure Capacities Expanding Across Permian
By Danny Boyd
By some estimates, the United States will be producing 55 million barrels a day of produced water by 2025, with the Permian Basin—the epicenter of development and production activity—accounting for the lion's share. That is obviously a tremendous volume of water to manage on an around-the-clock basis, making midstream water service providers an integral part of the succuss equation for producers all across the Permian.
Midstream players continue to install pipe, pumps, retention ponds, disposal capacity, and produced water treatment and recycling facilities as producers endeavor to eliminate dependency on freshwater for hydraulic fracturing. "On-the-fly" chemical treatment, high-rate solids filtration, and last-mile logistical technologies continue to advance to connect the dots between active frac sites and nearby produced water supplies and transportation infrastructure.
Outsourcing produced water gathering, transportation and recycling functions to dedicated midstream service providers has one huge overarching benefit for operators: lower costs. The need for producers to continually improve environmental and sustainability efforts provides additional benefits, says Larry Richards, president of the Permian Basin International Oil Show and a 35-year executive and leader in Permian oil field services and manufacturing.
"Certainly, it has other tangible benefits for operators, but what drives the entire model is the ability achieve cost reductions," Richards observes. "Being able to drive down water-related costs in a spread-out basin like the Permian can represent one-third to one-fifth of total production cost."
The evolution of water midstream mirrors that of natural gas and crude oil midstream before it, he observes, with companies launching and adding to their positions through organic growth, strategic asset bolt-ons and acquisitions, he says. Former executives from operating and service companies are among those who have started enterprises, giving the segment a ready-made vision on how to apply expertise to further reduce costs, Richards adds.
"There are still tremendous opportunities for deals to be done, and like any technology, it will go for the low-hanging fruit first where the economic payback is unassailable," he comments. "As it gets more efficient and cost-effective, it will begin to draw down and then have 90% of the basin with water going through pipe and not over the road in a truck. However, we're a long ways from that right now."
Large-Diameter Pipeline
Marking its 10th anniversary, Houston-based XRI Holdings LLC is in the process of expanding its Delaware Basin presence with an additional large-diameter pipeline and incremental recycling capacity to serve multiple operators, says John Durand, vice chairman and chief sustainability officer.
Construction is expected to begin in the second half of the year and be completed in early 2024, he says. The project complements XRI's existing 65-mile-long, 20-inch diameter line that traverses the heart of the western part of the Wolfcamp play in Eddy and Lea counties, N.M.
Fueled chiefly by organic growth over the past decade, XRI's position includes 450 miles of pipeline infrastructure in the Midland and Delaware basins, where 31 large-scale recycling locations treat 1.2 million barrels a day of produced water, says Durand.
For XRI, a portfolio company of Morgan Stanley Energy Partners, growth continues to be funded primarily from securing sponsorships and anchor tenants, including in some cases multiple operators per project, he explains.
The planned Delaware Basin line is expected to match volumes of XRI's Evolution Pipeline already in operation in the Midland Basin. Completed in February, the 45-mile-long, 22-inch Evolution line can move up to 500,000 bbl/d of water from infrastructure in Midland County to treatment facilities and disposal wells in Reagan and Upton counties to the south, which XRI acquired from Hibernia Resources. The Evolution Pipeline project is anchored by long-term contracts with Chevron, ExxonMobil subsidiary XTO Energy, and Pioneer Natural Resources.
The Evolution Pipeline moves produced water away from seismically sensitive areas around the Midland and Odessa areas to a much more stable and less populous region, says Durand, and the company's goal remains to lead the sector away from injection and utilize disposal only as a last resort.
"An instant and real advantage we are seeing with the Evolution Pipeline is connecting our entire Midland Basin infrastructure, which provides us the opportunity to recycle produced water up and down our system for numerous operator clients," he explains.
More uniform water quality specifications among client contractual arrangements enables XRI to deploy similar technologies to blend and treat water with dissolved air flotation to knock out heavy metals and hydrogen peroxide for disinfectant, he says.
The company continues to test different solutions in its quest to improve operations and treatment, he adds, and XRI remains heavily involved in Texas and New Mexico water consortia examining beneficial water reuse outside of oil and gas applications.
Super System
With operations in the northern Midland Basin, Oklahoma City-based Lagoon Water Midstream has sharing agreements with other midstream players and operators with the idea of creating what Chief Executive Officer Kevin Lafferty refers to as a "super system."
"That allows us to accommodate various places where we are receiving water and selling or offloading reused water and managing all of these relationships with an eye on what is best for everybody involved," he says. "That way, if a competitor has a contract with a customer and encounters some kind of problem on its system, we can help out and vice versa."
Backed by Australia-based Macquarie Infrastructure Partners, Lagoon was formed in Oklahoma, but executives wanted a presence in a more oily basin. Familiarity with Devon Energy provided insights into the Permian, says Lafferty, who joined Lagoon from Devon in 2019.
The company acquired Midland Basin startup Double Drop Resources in 2021 and divested of its Oklahoma assets. Its footprint, primarily in Martin County, Tx., has grown from a few miles of pipe to more than 100 miles of mostly 20-inch line serving Pioneer, Diamondback Energy, XTO, Ovintiv and a number of private operators, Lafferty says.
Infrastructure includes gathering systems and pits for storage and treatment to kill bacteria, prevent algae growth and dilute salt content. As a saltwater disposal operator, Lagoon continually wants to lower disposal volumes and related costs, he says. The company has conducted trials of mobile systems for treating both frac flowback and produced water on location and supports technological advancements that allow for more water reuse outside oil and gas, he says.
While the company assesses potential acquisitions and bolt-ons, Lafferty says Lagoon likes its current position.
"We have great relationships with our customers and as they continue to develop in this area of the Midland Basin, we will continue to bid on projects, win awards, and extend our system to meet their needs," he concludes.
Three-Pronged Approach
A combined water and chemical company, Houston-based Select Water Solutions applies a three-pronged approach to Permian water management as the company builds out a footprint established from organic growth and additions, says Chairman and Chief Executive John Schmitz.
In May, the company rebranded from Select Energy Services to reflect its focus as a full water cycle service provider with:
Fixed infrastructure for water distribution, storage and treatment;
Water chemistry; and
Last-mile mobile logistics, including 12-inch lay flat hose and high-capacity electric pumps to connect its fixed system to frac sites.
"We are a growing water and chemistry company, and our rebranding reflects who we are today," Schmitz says.
Almost half of Select's assets are located in the Midland and Delaware basins, says Chief Operating Officer Michael Skarke. Its overall unconventional position nationally includes 100 active disposal wells, more than 1,000 miles of pipe, and 11 recycling facilities capable of providing 1.2 million bbl/d. Mobile assets more than double Select's daily recycling capacity, Schmitz points out.
A Select plant outside Midland manufactures polymer material used as friction reducer in slickwater. The company invests heavily in research, development and automation and continues to evaluate reuse and recycling technology to expand produced water use outside oil and gas, Skarke relates.
In November 2022, Select acquired Breakwater Energy Partners and that company's Howard County, Tx., recycling facility connecting to 10 Midland Basin operators. Included are disposal wells in a less seismically sensitive area, Skarke says. With the addition of four Breakwater recycling facilities, Select now has seven in the Midland Basin. The company also bought 35 miles of gathering and distribution pipelines, 3.5 million barrels of water storage, 120 brackish source water wells, and 25,000 bbl/d of permitted disposal capacity. A pipeline under construction will connect the system to existing Select facilities in the basin, Schmitz points out.
Under a 10-year acreage dedication, a public independent operator in the northern Delaware Basin has agreed to buy water from a $10 million facility under construction in Lea County consisting of 100,000 bbl/d of recycling capacity and 1.5 MMbbl of treated produced water storage. The facility's modular construction design makes it easily expandable to accommodate future growth, Skarke concludes.
Natural Consolidator
Houston-based Aris Water Solutions continues to assess prospects for organic growth, bolt-ons, and mergers and acquisitions as it serves the likes of ConocoPhillips, XTO, Oxy and Mewbourne in the northern part of the Delaware Basin, says Chief Executive Officer Amanda Brock. Established in 2017, Aris went public two years ago.
"We understand that as a public company, we are the natural consolidator of privately held water infrastructure companies," Brock says. "We will be patient and if there are deals that make sense, we will try and complete those deals. There have been a lot of deals that came to market. We have looked at most of them, but they have to make sense to us. We are going to be very disciplined when we look at mergers and acquisitions."
The company continues to expand primarily through organic growth on 650,000 contracted acres, mostly in Eddy and Lea counties, she says. The company has eight years remaining on the average long-term contract there, Brock points out.
Aris's infrastructure includes over 700 miles of water gathering pipeline, 1.7 MMbbl/d of produced water handling capacity, and 1.2 MMbbl/d of water recycling capacity. The company has over 50 water handling sites and 17 permitted recycling sites with ponds for both produced and brackish water.
Operations are directed from a central control room that tracks water movement, recycling and disposal operations, Brock explains. Automation all along the system improves efficiency and safety.
"This market has evolved very rapidly," Brock remarks. "When you look at the volume of water that was moved in the Permian only eight years ago versus today, the volume of water being produced is unprecedented. You have to deal with it effectively. There are challenges, but I think operators are beginning to understand the increasing importance of effective water management."
Aris will continue to focus on technological innovation that can benefit other industries, she says. Through Texas A&M's AgriLife Research facility, Aris funded a greenhouse agriculture study using blended ratios of treated produced water to groundwater to understand the impact on cotton and rye grass. Results of the study were promising, and Aris may expand the study to additional crops and longer duration.
Also, in February, ExxonMobil joined Aris's strategic agreement with Chevron and ConocoPhillips to develop and pilot technologies and processes to treat produced water for potential beneficial reuse applications outside of the oil and gas industry.
Better Approach
With an eye on expanding transmission of produced water for reuse, Dallas-based Goodnight Midstream's New Mexico Operations focus chiefly on gathering from northern Delaware Basin operators for disposal in depleted zones, including the San Andres on the Central Basin Platform in eastern Lea County, according to Grant Adams, the company's chief executive officer.
"For disposal, we think it is a better approach geologically and it is more sustainable utilizing depleted reservoirs on the Platform that were previously used as water supply zones," he states.
Goodnight continues to expand its reuse transportation business, which Adams says is up 75% over the past year, connecting raw produced water to third-party treatment facilities.
Backing from Tailwater Capital supported expansion from the Williston Basin into the Permian and Eagle Ford. Across its three-basin footprint, Goodnight operates 700 miles of water pipeline, including a 70-mile large diameter pipeline in Lea County named Llano, Adams says.
Most of its systems originally were underwritten to one or two anchor customers, but Goodnight now serves more than 30 Permian clients, including large, public and smaller private operators.
Overall volumes on Goodnight's system continue to grow, especially with increasing drilling activity on its Llano system, Adams says. To prepare for growth ahead, Goodnight refinanced all its debt in 2022. Adams points out that terming out debt maturity and subsequent deleveraging helps position the company for possible bolt-ons and acquisitions along its systems. "We are looking, and I think most folks in the industry are talking to one another," he comments.
Its automated system is monitored from a Dallas control room. SCADA continually monitors flow as well as pressures on its disposal wells. The company continues to invest in technology to improve operating efficiency and safety, Adams says.
On its Llano pipeline, Goodnight recently installed a 500-kilowatt solar generation system from Priority Power to reduce operating expenses while simultaneously reducing emissions across its footprint, Adams reports. Excess power is returned to the grid. A sister Tailwater company, Renovo Resources, focuses on developing greenfield produced water treatment solutions for beneficial reuse, he notes. "We are increasingly focused on delivering holistic produced water handling solutions to our customers while maintaining our best-in-class reliability, safety and corporate stewardship," he says.