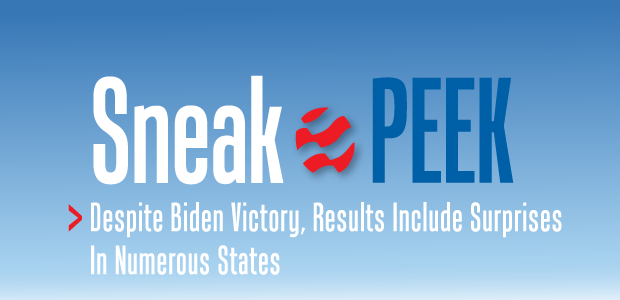 December 2020 Sneak Peek Preview
2020 Election Report
Despite Biden Victory, Results Include Surprises In Numerous States
By Bill Campbell
While there was much speculation following Election Day about the likely impacts of a Biden presidency, there were two things about the Nov. 3 vote that appeared abundantly clear: The anticipated "blue wave" failed to materialize; and many producing states saw industry interests do quite well.
According to a variety of media and association reports, most producing states where Republicans held sway prior to the election held onto–and in several cases increased–their majorities.
West Virginia is a prime example, where attorneys Spilman, Thomas & Battle report, "A strong red wave engulfed incumbents, swept away open seats and cemented what may be durable majorities in both chambers for years to come."
According to the firm's Dome Report, the Republican majority in the Senate went up to 23-11 from 20-14 while the House of Delegates saw Republicans defeat 10 incumbent Democrats on their way to increasing a 59-41 edge to 76-24.
Governor Jim Justice–a former Republican who ran as a Democrat in 2016 before switching back to the Republican Party seven months into his first term–was re-elected, the Dome Report notes, as was Attorney General Patrick Morrisey, who has been active in federal courts defending President Trump's regulatory initiatives.
West Virginia kept its congressional delegation solidly red as well by re-electing Republican Senator Shelley Moore Capito and Republican Representatives David McKinley, Alex Mooney and Carol Miller, the Dome Report adds.
Republicans also did well in the Appalachian states of Ohio, where the party held onto majorities in the state legislature, and Pennsylvania, where the Pennsylvania Independent Oil & Gas Association says Republicans gained four seats in the General Assembly and were expected to maintain their 28-21 advantage in the state Senate.
This is especially important in Pennsylvania, where Democratic Governor Tom Wolf has pushed to tighten natural gas industry regulations–including methane emissions–and to impose a severance tax on shale gas production, PIOGA notes.
"PIOGA is gratified that Republicans have preserved their strong majorities in both chambers of the general assembly as a counterweight to many of Governor Wolf's initiatives that would harm Pennsylvania's oil and natural gas industry," responds President and Executive Director Dan Weaver.
"However," he cautions, "the governor has shown he is perfectly happy acting unilaterally when it comes to imposing a carbon dioxide cap-and-trade program on the commonwealth through regulations and refusing to negotiate over much-needed legislation such as creating a separate regulatory program for the conventional oil and gas industry."
Plains-State Red
A little farther west, producer associations report similar results.
The Kansas Independent Oil & Gas Association says that state saw Republicans increase their House majority to 87-38 from 84-41 while maintaining an existing 29-11 edge in the Senate.
The Eastern Kansas Oil & Gas Association points out that Republican Congressman Roger Marshall defeated state Senator Barbara Bollier by 14 points to keep the seat held by retiring U.S. Senator Pat Roberts in Republican hands, despite national Democratic interests spending a record $35 million in a vain attempt to flip the seat their way.
Former Lieutenant Governor Tracey Mann won Marshall's House seat to keep it in Republican hands, the associations report, while Republican state Treasurer Jake LaTurner defeated Topeka Mayor Michelle De La Isla for an open 2nd District seat to preserve Kansas Republicans' 3-1 balance of power in the U.S. House of Representatives.
In another key congressional race, the Petroleum Alliance of Oklahoma says, Republican state Senator Stephanie Rice unseated freshman Congresswoman Kendra Horn, despite the latter's criticism of the Green New Deal. "The oil and natural gas industry has become one focus of this highly-contested race, with both candidates claiming they are supporters of Oklahoma's defining industry," the Alliance observed in its pre-election voters guide, although it noted Horn received a mere 20% on the Independent Petroleum Association of America's "Lifetime Aligned Vote" score.
At the state level, the Alliance says, Republicans maintained a 39-8 advantage in the Senate and saw their House majority swell from 77-24 to 82-19. Incumbent Corporation Commissioner Todd Hiett, who was supported by its political action committee, easily secured a second term with more than 76% of the vote, the Alliance adds.
In North Dakota, Republicans gained three seats in the state Senate and one in the House in an election the North Dakota Petroleum Council describes as "relatively mild with only a handful of legislative upsets and a majority of landslides."
Republican Governor Doug Burgum was re-elected, and Republicans won two other statewide races important to the oil and gas industry as well, NDPC mentions. State Representative Thomas Beadle defeated fellow Representative Mark Haugen to win the vacant state treasurer's position while incumbent Superintendent of Public Instruction Kirsten Baesler defended her post against Superintendent of Public Schools Brandt Dick.
"Both the superintendent of public instruction and state treasurer sit on the North Dakota Board of University and School Lands, which manages 706,000 state surface acres and oversees nearly 2.6 million state-owned mineral acres," NDPC explains.
Texas Nixes "Blue Wave"
Down in Texas, meanwhile, "The election results could not have been better," assesses Texas Alliance of Energy Producers President Jason Modglin, who reports, "The Railroad Commission and the Texas House of Representatives withstood a blue wave of millions of dollars from out-of-state environmentalists committed to shutting down our domestic oil and gas industry."
Texas Independent Producers & Royalty Owners Association President Ed Longanecker observes, "Republicans won every statewide race and held onto the majority in the Texas House of Representatives and the state Senate."
He continues, "It was anticipated that a Democratic candidate could win a statewide election in Texas for the first time in two decades, and that the Texas House, which has been controlled by Republicans since 2002, could see a Democratic takeover. It's important to note that Republicans have not had a net gain in the House since 2014–Democrats have picked up 15 seats since then."
Instead, the Republican majority in the Texas House remains 83-67, while it slips one to 18-13 in the Senate where the Permian Basin Petroleum Association reports Democratic state Representative Roland Gutierrez defeated one-term Senator Pete Flores in District 19. Flores won that seat in a special election in 2018 and was the first Republican elected in the district, which stretches along the U.S.-Mexico border, in 139 years, PBPA notes.
Importantly, the three associations observe, Republican Jim Wright defeated Chrysta Casteneda for a seat on the Railroad Commission. According to published reports, the Democratic candidate's campaign received $2.6 million from former New York Mayor Michael Bloomberg, which prompted Wright to comment, "Our state is not for sale to radical liberals from New York and California."
At the federal level, PBPA reports, Republican Senator John Cornyn defeated challenger M.J. Hegar 56%-44%, and TIPRO notes Republicans held onto the seats of five retiring congressmen to maintain their previous 23-13 advantage.
Remaining Republican
Elsewhere, large Republican majorities got even larger in Wyoming, where the GOP gained one seat in the House of Representatives to push its advantage to 51-7 and two seats in the Senate to put the margin at 28-2.
"The body on the whole looks to have shifted ideologically to the right," observe local press reports, which say more-conservative candidates ousted moderates in several Republican primaries and went on to win in the general election. "Campaign platforms and in some cases political pledges indicate a tough stance against abortion rights, gun control and taxes, and a desire for smaller government," those reports read.
In Montana, Republican Congressman Greg Gianforte won what was expected to be a close gubernatorial race against Democratic Lieutenant Governor Mike Cooney by 12 points. According to published reports, Gianforte's "comeback plan" calls for "new leadership in state energy agencies and development of coal, oil and gas, stating there should be more streamlined permitting of those resources."
Other reports note that Indiana's Republican Governor Eric Holcomb held on against Democrat Woody Meyers, who was a strong backer of renewables. Likewise in New Hampshire, Republican Governor Chris Sununu won re-election against Democratic state Senator Dan Felts, who pushed a pro-solar and net metering agenda.
Holding Their Own
Republicans also fared reasonably well in some Democratic states. While votes still were being counted, the California Independent Petroleum Association says it looks likely Republicans will lose two seats in the state Senate, but gain one in the Assembly while holding several others that appeared in jeopardy.
That will leave Democrats controlling the Senate 31-9 and the Assembly 60-19-1, which CIPA acknowledges, "makes for tough sledding on our issues. Democrats with an all-of-the-above view of energy policy are as important to us as ever."
Happily, the association continues, Proposition 15, which would allow commercial and industrial properties to be taxed at market value, appeared headed for defeat. "At $12 billion a year, it would have been the largest tax increase in state history," CIPA reflects. "Its failure is welcome news."
Republicans in New Mexico gained one seat in the state House of Representatives, but lost one in the Senate, leaving Democrats with majorities of 45-25 and 27-15, respectively, according to the New Mexico Oil & Gas Association.
Importantly, however, the association says Republican Yvette Herrel defeated incumbent Xochitl Torres-Small in a rematch from 2018 for Congressional District 2, in southern New Mexico.
And in so-called purple Colorado, which has been shifting blue in recent years, the Colorado Oil & Gas Association reports the makeup of the state House of Representatives remains 41-24 in favor of Democrats, while that party increased its Senate advantage by one to 20-15.
But COGA President and Chief Executive Officer Dan Haley cites two positive developments for the industry. Alex Garnett of Denver will succeed Boulder Democrat KC Becker as speaker of the House in 2021, while in the Senate, Daneya Esgar of Pueblo will succeed Steve Fenberg of Boulder as majority leader, joining Senate President Leroy Garcia, also from Pueblo, on the upper chamber's leadership team.
Haley calls Garnett a "very pragmatic" politician who "has been willing to talk and work with us. I think he will be more moderate in tone."
And he describes Pueblo as "a place with many old-school, moderate Democrats. You see that influence at the statehouse.
"Those are good things for the industry and our state, to hopefully moderate what has been a consistent overreach the past two legislative cycles," Haley concludes.
Ballot Questions
Another positive development for industry in general in Colorado, Haley continues, was passage of Amendment B, which repealed the Gallagher measure. Passed in 1982, the Gallagher measure mandated a 45%-55% residential to nonresidential property tax ratio statewide, Haley explains, which has resulted in the assessment rate on residential property steadily dropping, thereby forcing local governments to either raise taxes on businesses or cut spending.
Amendment B repeals the Gallagher measure and freezes property tax rates at their current 7.15% for residential property and 29.0% for nonresidential property. "Ultimately, I think this is a good move for our state and particularly for rural areas, where a lot of our employees live and work," Haley says.
In Louisiana, the big issue for oil and gas producers is the passing of Constitutional Amendment 2, which will allow the presence or production of oil or gas to be taken into account when assessing the fair market value of an oil or gas well, which the Louisiana Oil & Gas Association says is "all about fairness in ad valorem assessments."
The measure, which was endorsed by the Louisiana Tax Assessor's Association as well as LOGA and the Louisiana Mid-Continent Oil & Gas Association, garnered 58% of the vote.
In other ballot measures:
In Alaska, Ballot Measure 1, which would have raised production taxes on some North Slope oil fields, went down in defeat 42%-58%.
Nevada voters gave the required second approval to Question 6, which amends the state constitution to require 50% of Nevada's electricity come from renewable sources by 2030. The measure, which passed 58%-42%, won 60% of the vote in 2018 in the first of a required two-vote process.
About 63% of Louisiana voters rejected Constitutional Amendment 5, which would have granted industrial facilities such as liquefied natural gas terminals more leeway to negotiate property tax bills with local entities.
In New Mexico, 55% of voters said yes to Constitutional Amendment 1, which changes the Public Regulation Commission from five elected members to three appointed members. According to published reports, the PRC had come under criticism for being slow to carry out a mandate signed into law in 2019 by Governor Michelle Lujan Grisham that requires state utilities to generate half their electricity from renewable sources by 2030 and 100% by 2050.
In another repudiation of outside campaigning, published reports say Democrats were not able to gain control of the Arizona Corporation Commission, despite big spending from clean energy groups, including more than $6.4 million from Bloomberg.
After winning two of three seats up for election, Republicans hold a 3-2 majority on the ACC, which reports say calls into question how quickly it may mandate Arizona move to renewable power. They explain that the commission voted 3-2 for a 100% zero-carbon power standard by 2050 days before the election.
That standard was affirmed in a 4-1 vote after the election, but the ACC removed a requirement that utilities get 50% of their power from renewable sources such as wind and solar by 2035, reports say. A final vote and subsequent rulemaking process are necessary to finalize the requirement, and reports point out both Republican incumbents initially voted against the standard, and the newly-elected Republican has expressed opposition to any renewable mandates.
Federal Election Results
Likewise at the federal level, the anticipated blue wave was more of a trickle. According to a count maintained by the Associated Press, with seven districts remaining to be called, as of Nov. 30, Republicans had gained nine seats in the U.S. House of Representatives. And Republicans hold a 50-48 advantage in the U.S. Senate going into two runoff elections in the state of Georgia, where many published analyses predict at least one Republican victory.
Such news prompted American Petroleum Institute President and Chief Executive Officer Mike Sommers to proclaim "an overwhelming victory for U.S. energy leadership and the millions of jobs and economic benefits our industry provides," in a virtual symposium organized by the Texas Energy Museum in Beaumont, local press reports say.
"The election was a clear mandate for moderation," agrees Kathleen Sgamma, president of the Western Energy Alliance, in a post-election analysis published by Bloomberg Law. "There is no room for radical socialist ideas."
Sgamma expresses a belief that "there will be room to work with (Biden's) administration," and at the Beaumont symposium Sommers reported API "already is reaching out to the Biden transition team, along with other trade associations in our field, highlighting the shared values we have and plans to partner with the incoming administration."
Areas where Sommers has been quoted saying he believes the industry can find common ground with the Biden administration include expanding tax credits for carbon capture, utilization and sequestration, crude oil and liquefied natural gas exports, and protecting pipeline expansions.
Certainly, published reports indicate, without a Democratic majority in the Senate, Biden will have trouble attacking favorable industry tax laws and/or enacting Green-New-Deal type mandates.
And even one Senate Democrat–West Virginia's Joe Manchin–has been quoted vowing, "The Biden energy plan . . . is going to be all-inclusive. We are going to use coal and we are going to use gas and we are going to use oil, and we are going to be able to use our renewables to develop the fuels of the future."
Administrative Pressure
Still, various reports say President Biden will be under considerable pressure from the more progressive elements of his party to push America away from hydrocarbons. His website promises an "opportunity to build a more resilient, sustainable economy–one that will put the United States on an irreversible path to achieve net-zero emissions, economywide, by no later than 2050."
And a tweet from the Sunrise Movement vows, "Joe Biden is about to get whiplash from how quickly young people turn back into his harshest critics if he doesn't deliver on the political mandate this election delivered. We expect results."
To this end, a post-election analysis quotes Christine Tezak, managing director at ClearView Energy Partners LLC, surmising, "In the absence of legislation, you are going to try to do what you can through administrative action."
An analysis published by Forbes notes, "Like the Obama/Biden presidency before him, a great deal of President Trump's energy-related policy has been enacted by way of executive orders. The obvious vulnerability of any executive order is that it usually can be reversed easily by a successor in office."
Among the EOs Forbes predicts Biden is likely to reverse are:
Ending the Council on Environmental Quality's guidance that all federal permitting decisions and National Energy Policy Act reviews must consider climate change impacts;
Disbanding the Interagency Working Group on Social Cost of Greenhouse Gases; and
Various orders designed to eliminate delays in federal permitting processes.
Bloomberg Law points also to Trump-administration guidance documents as easy targets for reversal. It cites an October 2020 memo arguing the Clean Air Act gives states flexibility to administer pollution requirements and an April 2018 memo on setting thresholds for how much air pollution facilities may produce when expanding or upgrading.
Various other analyses anticipate the Biden administration will attempt to counter President Trump's regulatory rollbacks either by refusing to defend against ongoing lawsuits or instituting new rulemakings. Among the frequently cited targets are the Environmental Protection Agency's new regulation on methane emissions, NEPA reforms and the definition of "waters of the United States" subject to Clean Water Act jurisdiction.
Multiple reports also point to Biden's campaign promises to end the sale of new oil and gas leases on public lands and waters, and say they expect him to slow oil and gas infrastructure projects.
The Energy Equipment Infrastructure Alliance suggests aggressive Endangered Species Act interpretations and critical habitat designations may put more land off-limits to oil and gas production, and pipeline rights of way.
A Wall Street Journal article opines that a Biden presidency "probably signals the end of the long-delayed Keystone XL Pipeline and threatens the future of Dakota Access."
"Obstructing pipeline projects is one way Mr. Biden could accelerate America's shift toward renewable energy," the Journal offers.
Another published report allows that any federal permitting agency, such as the U.S. Fish & Wildlife Service, can "throw a lot of monkey wrenches into the process."
That article quotes former Federal Energy Regulatory Commission Chairman Tony Clark, a Republican, as positing, "Basically, any pipeline project that still has any federal agency permits hanging over its head faces increased risk in a Biden administration. Courts may eventually curb this sort of politicization of projects, but it all adds regulatory and litigation risk."