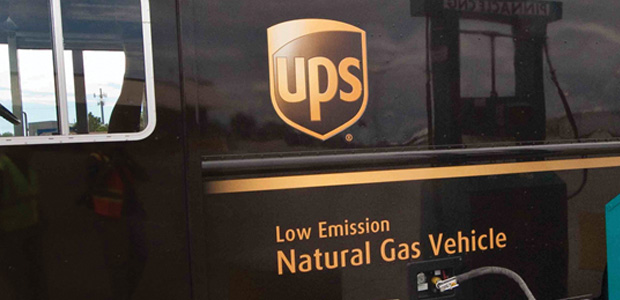 October 2014 Sneak Peek Preview
Natural Gas Markets
Natural Gas Gaining Ground As Fuel
Charlie Riedl
WASHINGTON–America's natural gas producers have taken to practicing what they preach when it comes to using their own product.
From driving natural gas vehicles, to deploying drilling rigs and pressure pumping equipment capable of running on clean and abundant natural gas as the only fuel or mixed with diesel or gasoline in a bifuel arrangement, using natural gas is a commitment producers believe in very strongly. Why? Because putting our own fuel to work can increase demand, save money in operations and improve air quality.
Natural gas as a fuel for vehicles outperforms conventional fuels with a significantly higher octane rating and lower operating costs. Moreover, natural gas is the only fuel alternative that can power heavy-duty trucks and buses, among the busiest vehicles on U.S. roads today. By focusing on large public and private fleets, America can attain a greater measure of energy security, dramatically reduce emissions, and create clean energy jobs right here at home.
The issue is of so much importance to America's Natural Gas Alliance that we polled our members on natural gas use to better understand the potential for natural gas as a fuel. Based on that polling, we believe that by 2016, 30 percent (or approximately 7,500) of our member companies' vehicles will run on natural gas. Better yet, by 2016, 244 of member companies' roughly 600 drilling rigs (41 percent) will run on natural gas.
Across the supply chain, we think natural gas can account for 24 percent of member companies' own energy usage, equaling more than 21 billion cubic feet a year in demand. ANGA members are leading a trend that will become pervasive across the drilling and transportation industries.
Looking at the bigger picture, transportation across all domestic markets represents a huge opportunity. According to ExxonMobil's 2014 Outlook for Energy, global demand for commercial transportation is expected to rise by 70 percent from 2010 to 2040. The largest portion of that demand, according to the report, will consist of heavy-duty trucks and buses. When examining the opportunity in North America, this clean, abundant, affordable American fuel offers an important element in any long-term transportation strategy.
Natural Gas Bounty
As a nation, we have been blessed with an incredible natural gas bounty. America is now the world's largest natural gas producer, thanks to the development of unconventional resources. Proving up vast new natural gas supplies in shale plays already has changed the country's energy economy substantially for the better, and it has occurred in less than a decade. America has a measure of energy security, job creation and air quality improvements that it has not seen in a very long time.
But more can be done. The opportunities that flow from the shale gas revolution have the potential to transform markets from electric generation to transportation. Today, natural gas powers about 112,000 vehicles in the United States and roughly 14.8 million vehicles worldwide. The United States is not among the top 10 countries when it comes to natural gas vehicle use. NGVs account for less than 0.2 percent of all natural gas use, and a fraction of the overall fuel used on highways.
According to the U.S. Energy Information Administration, natural gas used as a transportation fuel will grow by about 11 percent annually, and overall use in transportation will increase nearly threefold to 1.04 trillion cubic feet. That is not bad, but we think the nation can do better.
There are many reasons to be optimistic about NGVs in both the public and private transportation sectors, but there also are a few things that still need to fall into place for widespread adoption.
Many ANGA-member companies are working actively to address some of the main reasons that natural gas vehicles have not expanded as quickly as they otherwise might. We are helping invest in fueling infrastructure, creating strategic partnerships with traditional fuel providers, and encouraging public fueling infrastructure development by providing education about natural gas as a transportation fuel. Member companies are buying natural gas-powered vehicles for their fleets, and are urging engine manufacturers and carmakers to expand their offerings to respond to growing demand.
Major Investments
In commercial markets outside the oil and gas industry, companies such as United Parcel Service, Waste Management, Verizon and Ryder have made major investments in both vehicles and fueling infrastructure.
UPS officials said earlier this year that the company planned to expand its fleet of liquefied natural gas-powered tractor trucks from a little more than 100 to about 1,000 by the end of this year, which would represent more than 6 percent of its total nationwide fleet of 18-wheelers and make UPS one of the world's largest LNG tractor fleet owners/operators.
UPS also has announced a $70 million commitment to purchase 1,000 smaller delivery trucks powered by propane to replace gasoline- and diesel-powered vehicles in Louisiana and Oklahoma. The company already has 900 propane-fueled vehicles as well as more than 1,000 compressed natural gas delivery trucks on the road as part of its corporate goal to drive 1 billion miles in alternative fuel and advanced technology vehicles by the end of 2017.
Waste Management has more than 3,000 heavy-duty natural gas trucks in North American cities, and plans to ultimately convert its entire fleet of 18,000 garbage collection vehicles to natural gas. The company is on target to purchase 800 natural gas trucks annually. Waste Management also operates dozens of natural gas fueling stations, many of which are publicly accessible.
Verizon initiated a program to purchase Ford full-size cargo vans with CNG engine packages in 2010, and now has hundreds of CNG service vehicles on the road in key markets throughout the country.
In March, Ryder announced that its fleet of more than 500 LNG and CNG trucks had surpassed 20 million total miles driven. The company initiated its NGV program in 2011, and now operates LNG and CNG lease, rental and dedicated transportation service trucks in California, New York, Texas, Arizona, Michigan, Utah, Georgia and Louisiana.
In addition to making natural gas-powered trucks (gross vehicle weights from 16,000 to 33,000 pounds) available for rent or lease, Ryder's "Flex-to-Green" lease solution is designed to allow businesses to start with diesel-powered vehicles and then have the option to convert to natural gas vehicles at any time following the first full year of the lease.
Working with transportation partner Ryder, Anheuser-Busch announced in September that it was replacing all 66 of the diesel trucks in its Houston area fleet with CNG-powered trucks, marking the company's first conversion of an entire city area fleet to CNG. In 2011, Ryder worked with Golden Eagle Distributors Inc., the exclusive Anheuser-Busch distributor across most of Arizona, to convert its 23-vehicle delivery fleet to CNG.
Heavy natural gas-powered trucks purchased in 2013 grew by 20 percent over 2012, as engine makers such as Cummins/Westport started building offerings for NGV fleets, and importantly for oil and gas operators, automakers began making natural gas-fueled light-duty trucks.
Public Fleets
The developments are even more encouraging among public fleets. Public transit fleets in Los Angeles County, Ca., Washington, Center County, Pa., and Roaring Forks, Co., are running on CNG. In fact, one in every three new transit buses now runs on CNG.
School districts around Kansas City, Mo., Lower Merion, Pa., and Weld County, Co., are among those that are converting school buses to natural gas.
And, of course, natural gas-powered buses and trams at airports such Denver International, Houston's George Bush Intercontinental, Dallas-Fort Worth International, and Baltimore Washington International shuttle thousands of people each day to and from parking lots and other airport facilities. Finally, following Waste Management's lead, municipal garbage trucks that run regular routes are making a big move toward natural gas.
On the fueling side, traditional fuel retailers such as Love's are adding natural gas to their fuel portfolios. New retailers such as Blu LNG, Trillium and Clean Energy are either partnering with major retailers or building new natural gas fueling stations across the United States. And these networks are being developed with a great deal of foresight.
The only way to sustain the needs of fleets, which represent the best opportunity for natural gas fueling in the near term, is to build adequate station infrastructure in clusters and along transportation corridors. There are some very encouraging signs to that end. With more than 1,400 public and private stations built in the United States and another 200 planned, the trend toward greater natural gas truck deployment is here.
The Texas Clean Transportation Triangle is a clear example of the strategic development of natural gas corridors. Today, there are 60 LNG and CNG stations operating between Houston, San Antonio, Austin and Dallas/Fort Worth. This 700-mile corridor is said to represent 10 percent of the nation's interstate travel, and it is tailor-made for a robust natural gas circuit.
Texas is not alone. There is fueling infrastructure cropping up along the I-95 corridor. Utah has been a big investor in NGVs, and there is a corridor going from Salt Lake City to Las Vegas to Long Beach, Ca., to serve freight traffic.
Pennsylvania also is taking advantage of its robust supplies of natural gas by using it on the roads. And in the Midwest, stations are springing up to take advantage of the many advantages offered by natural gas as a transportation fuel.
As natural gas producers, we know natural gas vehicles must compete on cost and performance to succeed. Infrastructure investment and vehicle sales growth will pave the way for collaborative partnerships among shippers, carriers, engine manufacturers and fuel providers to drive even greater use of natural gas-powered vehicles.
Shippers such as Proctor & Gamble and Honda have been working proactively with their carriers to deploy natural gas fueling infrastructure and convert vehicles to reduce fuel costs. These new strategic partnerships have changed the way for-hire fleets are working with traditional manufacturers. Creative thinking, much like ANGA members are doing in the gas patch to implement natural gas as a fuel, is happening in the trucking space also, and we expect these early pilot programs to serve as a guide for other companies to follow.
With continued infrastructure investment, technology innovation and cost competitiveness, one can be sure that more private and municipal fleets will follow the industry leaders, and that markets for all NGVs will continue to expand.
Powering Field Operations
One particular area in which ANGA-member companies have been able to make a difference is in their use of natural gas to fuel activities related to exploration and production operations.
In fact, we know that if we used natural gas across the entirety of the supply chain–from corporate vehicle fleets to drilling rigs, pressure pumping equipment and well site generators–it would generate 86 billion cubic feet in demand each year. Nonmember companies and vendors could add substantially to that number. To put that into context, 86 Bcf would be about twice the volume of gas the nation now consumes for transportation.
According to ANGA's polling, the number one reason members are moving toward natural gas is economics, followed by emissions reductions, industry leadership and the gratification companies get from using their own product in a sensible way.
Taking a look at the economic payback is very illuminating. Dual-fuel retrofits that blend natural gas with diesel fuel offer the fastest payback. Assuming an incremental cost of $500,000 per rig, payback can be seen in as little as one year, assuming a fuel savings of $1.50 a gallon. Other fueling options, including dedicated natural gas-powered rigs, can cost an additional $700,000 to $1.2 million per rig. Assuming a conservative $1.50/gallon savings, payback comes in about 20 months.
With regard to hydraulic fracturing fleets, payback is less than a year under most natural gas price scenarios because of the high daily fuel use in pressure pumping equipment.
And the payback is the thing, right? The payback is the reason that so many ANGA members are moving toward natural gas and the reason so many major companies outside the oil and natural gas industry are doing the same thing.
The other important consideration is making certain that natural gas-fueled equipment operates as effectively as any other vehicle on the road, The data show that NGVs do, in fact, operate as well or even better than gasoline- or diesel-powered vehicles of equivalent size.
So the United States has emerged as the world's largest natural gas producer, and NGV technology is in place that really is competitive in every way with traditional gasoline- and diesel-fueled cars. ANGA is not arguing that natural gas should replace all other fueling alternatives and approaches, but it simply must play a bigger role in both the over-the-road and off-road transportation mix for the good of the nation's economy, energy security and environment.

Charlie Riedl is director of market development at America's Natural Gas Alliance. Focused on transportation equipment, he works with ANGA's member companies, regulators, legislators and other business-to-business stakeholders to communicate the economic and environmental benefits of natural gas, and to increase the use of natural gas as a transportation fuel. Prior to joining ANGA in 2013, Riedl worked at Chesapeake Energy Corp., where he was responsible for natural gas demand development. His experience in the natural gas industry includes transportation and equipment, upstream development, project management, strategic communications, and government relations. Riedl holds a B.A. in communication from The Ohio State University.