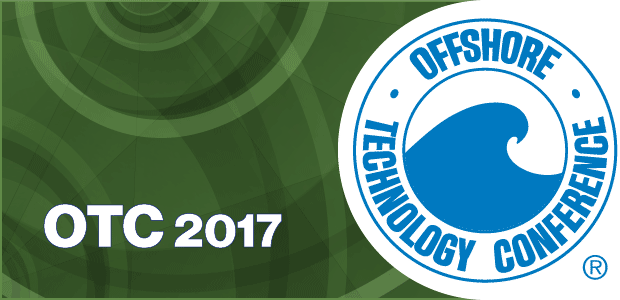 April 2017 Sneak Peek Preview
2017 Offshore Technology Conference
New Technologies, Networking Opportunities In Spotlight At 2017 OTC
By Tim Beims
HOUSTON–The mission of the Offshore Technology Conference is to advance scientific and technical knowledge for safely developing offshore resources while protecting the ocean environment. To accomplish that objective, oil and gas professionals from around the world will gather May 1-4 at NRG Park in Houston to share operational insights gleaned from Azerbaijan to Atwater Valley and demonstrate technologies to help drill and produce offshore hydrocarbons in the safest, most economic and most environmentally responsible manner possible.
A key part of fulfilling the OTC mission is represented by dozens of technical sessions covering all areas of operations, including case histories of world-class deepwater field developments, applications of cutting-edge technologies, and analysis of pressing business and regulatory matters. It is also evident in a number of special events, such as the University R&D Showcase, in which universities from around the world present offshore-related research within their academic programs. The University R&D Showcase is scheduled 9 a.m.-5 p.m. daily Monday through Thursday on Level 2 of the NRG Center.
But as always, the main showcase of innovation is found in OTC's exhibit areas, with 2,600 companies from nearly 50 countries displaying the latest solutions in equipment, tools, materials and services. OTC is again recognizing a number of the newest and potentially most important technologies on exhibition at this year's show with the Spotlight on New Technology Award.
Spotlight award recipients will be honored at 4 p.m. on Monday, May 1, in the NRG Center Rotunda Lobby. To qualify for the award, technologies must be original, less than two years old and proven through full-scale application or prototype testing. They also have to demonstrate broad industry appeal, and provide a potentially significant impact that goes beyond existing technologies.
OTC also is presenting the Spotlight on Small Business Award. In addition to the criteria for the New Technology Award, recipients must be independently-owned and operated or a nonprofit with no more than 300 employees.
Spotlight Award Winners
According to OTC, this year's Spotlight award recipients are:
Dril-Quip Inc. for its BigBore-IIe™ wellhead system and DXe™ wellhead connector;
Halliburton for the EcoStar™ electric downhole safety valve (e-DHSV) and AdvantageOne™ cementing system;
Samoco Oil Tools for developing the One-Trip® universal blowout preventer testing tool;
SBM Offshore for the turret mooring system on the Turritella floating production, storage and offloading system at the Shell-operated Stones development in the Gulf of Mexico Lower Tertiary trend (the world's deepest-water depth for a producing project at 9,500 feet);
Schlumberger for its integrated managed pressure drilling solution and its OptiDrill™ real-time drilling intelligence service;
Stress Engineering Services Inc. for developing a real-time fatigue monitoring system (RFMS);
Sulzer for the compact mass transfer and inline separation technology (cMIST™), which was developed by ExxonMobil Upstream Research Company and licensed to SULZER for both on- and offshore applications;
Techni for the B-annulus monitoring system (BAMSE™) pressure and temperature sensor;
TechnipFMC for its development of a 20,000-psi subsea choke for high-pressure, high-temperature environments;
Weatherford for the AutoFrac® radio frequency identification (RFID)-enabled stimulation system;
West Drilling Products AS, part of the West Group, for the continuous drilling and circulation unit (CDU); and
Wild Well Control for the DeepRange™ intervention tool.
In addition, the Spotlight on Small Business Award is being presented to Fuglesangs Subsea AS for the Omnirise™ minibooster pump and WiSub for its Torden™ high-power pinless subsea connector.
Omnirise is described as "the world's first barrier fluidless and sealless pump for permanent subsea applications to 3,000-meter water depths." Fuglesangs Subsea says it includes a subsea electric variable-speed drive, and was successfully qualified as part of National Oilwell Varco's active subsea cooler system in partnership with Statoil, Shell, Chevron, Total and GE. WiSub says it has developed the Torden subsea connector in collaboration with NOV to increase connection reliability between the BOP and lower marine riser package, and deliver high-speed data transfer with highly-compact resonant power transfer.
Wellhead Connector
Dril-Quip's BigBore-IIe system consists of a DXe connection profile, integral high-capacity hanger lockdown, superior system fatigue, and high-capacity running tools. According to the company, it is designed to provide significant drilling cost savings by reducing the number of trips, eliminating drilling/production lockdown equipment, and allowing for reduced casing strings. The DXe wellhead connector has an engineered locking profile and gasket design for high structural capacity, high fatigue resistance and longer service life in HP/HT and severe cyclic load environments.
As the world's first electric downhole safety valve, Halliburton says EcoStar eliminates hydraulic fluid to enable a fully electric completion system with zero risk of exposing electronics to produced fluids while retaining the same fail-safe mechanism as conventional safety valves. AdvantageOne addresses the complexities of deepwater cementing with the versatility to use the system in all offshore environments. It enables remote operations, has an integrated liquid additive system for precise slurry blending, and predictive maintenance capabilities with shore-based monitoring to pre-empt equipment-related nonproductive time, according to Halliburton.
Developed in collaboration with Shell Offshore Engineering, Samoco Oil Tools says its OneTrip tool can conduct required BOP tests in a single trip, eliminating the need for multiple trips along the stack and reducing a rig's idle time by 50 percent or more.
The SBM Offshore-designed FPSO for Shell's Stones project broke the water-depth production record when it achieved first oil in September 2016. Operated by SBM Offshore, it is the second FPSO deployed in the Gulf of Mexico and is the first use of an advanced riser configuration featuring steel lazy-wave risers in a disconnectable production unit. The FPSO's disconnectable buoy turret mooring system supports steel risers while allowing the vessel to quickly disconnect and sail to safety in the event of an approaching storm.
Integrated MPD Solution
According to Schlumberger, its new integrated MPD solution is the first complete, single-platform reservoir-to-flare-stack system for deepwater applications, helping operators minimize rig footprints while maximizing drilling efficiency and versatility. Meantime, the OptiDrill service enables continuous real-time condition monitoring by integrating a comprehensive set of drilling dynamics and mechanical information. The company says it mitigates drilling risk and improves performance by providing actionable information to continuously identify hazardous drilling dynamic events and recommend safe operating parameters.
The RFMS has been developed to provide fatigue damage of drilling risers and wellhead systems, reports Stress Engineering Services. The wellhead is the last pressure containing barrier between the well and environment, the company notes, and managing loads ensures that system integrity is not compromised and protects the environment from hydrocarbon discharges.
The cMIST solution replaces conventional triethylene glycol towers and associated separator vessels to meet pipeline dew-point specifications, Sulzer explains, adding that it achieves this goal with significant reductions in weight, footprint and capital cost.
Techni's BAMSE pressure and temperature sensor is installed in the inaccessible B-annulus of oil and gas wells. It uses no active electronics and is designed for life-of-well reliability.
TechnipFMC says its HP/HT choke is engineered to withstand life-of-field fatigue without the need for hydraulic fluids. It meets or exceeds API 17TR8 specifications, and its plug-and-cage design leverages proprietary HP/HT sealing technologies and electric actuators, providing increased controllability over traditional hydraulic actuation technology.
The AutoFrac RFID-enabled system provides efficient stimulation in open-hole sections of extended-reach offshore wells where traditional technologies often have failed to achieve adequate reliability, according to Weatherford. The system enables remote operation of lower completion tools and provides several options for tool communication that do not rely on control lines or mechanical actuation.
The CDU is the heart of West Group's Continuous Motion Rig™ concept to allow continuous well construction without interruptions to the drilling process, including pulling drill pipe and running casing continuously with full circulation. The company reports that the CDU substantially reduces overall drilling time by eliminating downhole problems associated with differential sticking and pressure fluctuations, and reduces safety risk by removing personnel from the rig floor during drilling operations.
Wild Well says its DeepRange tool delivers a groundbreaking well plugging and abandonment solution in a riserless package. The ROV-driven technology offers a minimally invasive solution that maintains wellbore integrity while providing a cost-effective, yet high-quality subsea decommissioning option.
Networking Events
In addition to viewing the newest technologies, OTC also offers plenty of opportunities to interact with industry thought leaders. The schedule of OTC networking events begins with the annual Next Wave program for young professionals at 9:30 a.m. on Monday in Room 300. Keynote speakers are Yuliya D. Marcer, senior counsel at BP America; Scott Nyquist, senior partner at McKinsey & Company; and Kristie Hartley, vice president of finance and chief financial officer at Daniel Measurement and Control Inc.
Panelists include C. Susan Howes, vice president of engineering at Subsurface Consultants and Associates; Bill Arnold, professor in energy management at Rice University; Eghosa Oriaikhi, director at Baker Hughes; Cindy Yeilding, senior vice president at BP; and Kerry Dryburgh, head of human relations at BP.
From 4-6 p.m. on Tuesday in Room 202, keynote speakers Mike McEvilly, offshore director of the Ghana development for Hess Corp., and Glenn Kliebert, area manager for Kiewit Corp., lead a networking event on improving process and organizational efficiencies. Other speakers include David Fulton, project manager for Shell's Vito development in the Gulf of Mexico; Pete Stracke, Gulf of Mexico asset manager at Statoil; Marla Wright and Michel Templin, both managers in Bechtel's proposed Driftwood LNG project near Lake Charles, La.; and Pat Fraher, Tahiti vertical expansion project manager at Chevron.
The annual Women in the Industry Sharing Experience (WISE) event will be held from 12:15-6:00 p.m. on Wednesday, May 3. Speakers include Geeta Thakorlal, president of INTECSEA; Dan Domeracki, vice president of government and industry relations at Schlumberger; Cris Gaut, CEO of Forum Energy Technologies; Janeen Judah, president of the Society of Petroleum Engineers and general manager of Chevron's South African business unit; Susan Morrice, co-founder and chairperson of Belize Natural Energy; Charles Sternback, president of Star Creek Energy; Deb Pfeiffer, vice president of geoscience operations at BHP Billiton; Skip Herald, CEO of AXIP Energy Services; and Patricia Walker, chief geoscientist at ExxonMobil.
According to OTC officials, other networking opportunities include Reaching Out & Reaching Up from 4-6 p.m. on Monday in Room 202, the Rice Alliance Startup Roundup starting at 2 p.m. on Monday in the Stockman's Club at NRG Arena, and OTC's d5 event from 7:30 a.m. to 4 p.m. on Friday, May 5, at Rice University.