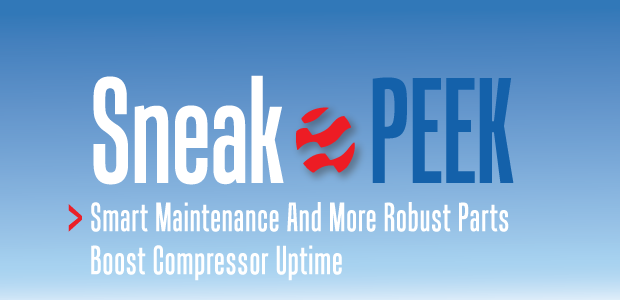 May 2021 Sneak Peek Preview
Gas Compression Tech
Smart Maintenance And More Robust Parts Boost Compressor Uptime
By Colter Cookson
For the natural gas compression industry, good is never good enough. Even when they benefit from compression equipment robust enough to support 99% uptime guarantees, operators continue to look for ways to reduce downtime, improve throughput and limit emissions.
Innovations such as low-leak packing, low-volume lubricants and long-lasting valves are helping compressor owners get more from their equipment. But even with the best components, keeping compressors running requires a strong maintenance program executed by skilled technicians.
Right now, many of those technicians are focused on bringing compressors back into service as oil field activity recovers, says Eric Thode, senior vice president of operations at Archrock. "To commence our compression services for customers as quickly as possible, we are continually refining our compressor make-ready processes in both the shop and field. We also are staffing up and opening new bays at our shops in Yukon, Ok., Midland and Victoria, Tx.," he reports.
To expand its pool of field service technicians, Thode says, Archrock often brings in talent from adjacent industries. "We work with technical schools that train diesel and auto mechanics to expose them to the opportunities in the oil field," he says. "We stress that we can offer a career, not only a job, and believe strongly in developing our employees.
"Training is a huge focus for us," Thode affirms. "We do a lot of planning to make sure our technicians know the equipment that is likely to go into their areas. To enable that, we have bolstered our in-house training teams and programs. We also have deployed a microlearning platform for doing short lessons on cell phones or laptops, which can cover new information or reinforce our traditional instructor-led training."
Through that platform, Archrock can ask employees to do daily lessons, then follow up with questions over time to ensure they retained the information, Thode says. "The lessons only take five minutes a day, but they help keep knowledge and skills fresh and up to date. Many lessons are gamified, and our teams often have friendly competitions about how well they do to make them more fun," he relates.
"The lessons frequently explore safety," Thode assures. "Safety is one of our core values. We want all employees to go home to their families, as well as their hobbies, as healthy as they were when they arrived, so ensuring safety is a full-time commitment at all levels of our company.
"When our chief executive officer, Brad Childers, and I talk to new employees, we stress that their top priority when they make decisions is safety," Thode continues. "And when our employees arrive on site to work on a unit, their first task is to look for safety hazards and mitigate any they find."
In 2020, Archrock had a total recordable incident rate of 0.21 and a preventable vehicle incident rate of 0.26, Thode reports. "Those are incredible numbers, but we are not going to be happy until they reach zero," he says.
To communicate how important that goal is and keep it as prominent as possible, Thode says Archrock has dubbed its safety program "Target Zero."
"Another critical area for us is work/life balance," he remarks. "We are doing everything we can to minimize unscheduled work. Ideally, we want our employees spending eight-ten hours a day doing preventive or scheduled maintenance rather than getting calls at 2:00 a.m. on a Saturday because something unexpected happened and a unit went down.
"This approach also benefits our customers, because it allows them to plan downtime and get other work done at the same time," Thode says.
Efficient PM
To minimize maintenance-related downtime, Thode says the company tracks unit and employee-specific metrics. "For example, we look at on-time performance for preventive maintenance tasks and whether we get a call-out for that unit afterward," he relates. "This helps us identify when an employee may need more training or guidance."
Thode adds that Archrock is equipping its compressors with telematics to enable remote monitoring. "Our goal is to gather data from the units, analyze it and present it in a way that helps our employees see where issues may pop up before they become a problem," Thode outlines.
In early May, Thode said Archrock had telemetry on all its compressors deployed in its Permian Basin business unit and almost all its compressors in the South Texas business unit. "We are working through our Rockies and East business units as well, and we plan to get them all operational by the end of the year," he adds.
"Among other things, telematics can help us identify when compressors might have problems because of low-quality fuel gas or a contaminated gas stream," Thode mentions. "When we find those issues, we work with the client to address them, because doing that improves run time and ultimately throughput."
The company also works with producers to control emissions, Thode says. "One way to limit emissions is to focus on catalyst elements," he notes. "As gas quality changes, so can the best catalyst for the location. We also need to make sure we maintain the catalysts well enough to maximize their lifespans, which can be as simple as periodically turning the catalyst so both sides get used.
"Reducing methane leaks is increasingly important for producers and compression services providers," Thode says. "As with reliability, the key is proper maintenance. Every time our employees touch a unit, they run a leak detector across all the connections. They also stay on top of packing changes and can work with customers to pipe any blowdown from the unit back into the system rather than venting it to atmosphere."
Fugitive Emissions
Producers and midstream companies are becoming increasingly proactive about reducing emissions, assesses Ben Berwick, product manager at Cook Compression, a division of Dover Precision Components. "Our engineers are getting requests from customers to highlight ways to reduce emissions," he reports. "These customers want to get ahead of regulations and show the public they are strong environmental stewards."
To address emissions, Berwick says Cook Compression is deploying sensors and cloud-based telemetry to monitor packing-associated leakage rates. "Our goal is to establish a baseline and improve the packing so we can reduce venting," he relates.
Minimizing packing leaks and other emissions frequently boosts profits, notes Craig Martin, Cook's chief engineer for rings and packing. "When packing fails, the compressor owner either needs to run it with a leak until it can be fixed or shut the compressor down. Either approach costs money," he says.
"Proactive maintenance is one of the best ways to keep leaks from occurring, so we are encouraging customers to adopt maintenance plans that include periodically pulling the packing out and repairing or replacing it," Martin reports. "In some applications, this maintenance can pay for itself within a few months."
Based on laboratory tests and past experience, Berwick says, Cook often can estimate packing's remaining useful life and recommend maintenance schedules that minimize unnecessary work. He cautions that packing and other components sometimes experience shocks that accelerate their degradation.
"To identify those situations, we are looking at data from different elements of the package and applying statistical modeling and pattern recognition techniques that are underpinned by Cook subject matter experts. This will allow us to recognize early onset of a packing issue, six-12 weeks before it might warrant a unit shutdown," he says. "We also are developing more resilient materials that should deliver the expected life over a broader range of applications."
Martin stresses that getting the right product for the application is key. "To keep OEM and end-users' costs down, packing tends to be a one-size-fits-all product," he notes. "But in challenging or unusual situations, we often need to do some customization. By adjusting how we configure seal rings within the packing case or the wear materials we use, we can create packing that will have an acceptable life and cost."
To shorten design times for custom components, Martin says Cook's application engineers tap Dover Precision Components' India Innovation Center team to run finite element analysis and other simulations overnight. He adds that Dover Precision Components blends and molds in house many of the materials Cook uses.
"This has helped us reduce costs while maintaining quality and consistency," Martin says. "It also lets us create new wear materials more quickly when that's the best way to solve a customer's problem."
In midstream applications, one of the main drivers of new materials is the quest to reduce or eliminate lubricant consumption. "We hear over and over from midstream companies how frustrated they are at spending money on lubricating oil that flows down the pipeline and creates problems down stream," Berwick reports.
Martin points out that demand from refineries, petrochemical facilities and the emerging hydrogen vehicle industry also supports this materials research. "For some nonlubricated compressor applications, we are developing affordable materials that push component life from 8,000 hours to 16,000 or 24,000," he says. "This should bring replacement intervals in line with other maintenance."
Lubrication System
When lubricating reciprocating compressors, the goal is to use as little lubricant as possible, notes C.J. Sloan, chief technology officer at Sloan Lubrication Systems. "The lubricant injected into the compressor gets carried away by the gas and has to be removed through coalescing filters or pigging, which adds cost and complexity to gas compressor operators," he explains.
To reduce lubricant requirements, the company developed a lubrication system that Sloan calls revolutionary. "Most compressors are lubricated with crankcase fluid, which already is on site but has additives for metal-to-metal wear because the crank is on a metal bearing. Inside a compressor cylinder, the main concern is lubricating a polymer ring sliding on a cast-iron surface, which involves less force," he relates. "By creating a lubricant for this environment and delivering it through a state-of-the-art system, we can reduce lubricant consumption as much as 90%."
In gas transmission lines, the system can shrink each compressor's lubricant needs from 10-15 gallons of oil a day to a pint or two a day, Sloan reports. "This reduces the costs and carbon footprint associated with transporting the fluids, but the real benefit will be how little oil needs to be picked out from the gas stream. We are still quantifying these downstream savings, but we think they will be enough to bring the payback period for our lubrication system down to four months."
Sloan says he is scheduled to present a paper on the effects of cleaner gas at the Gas Machinery Research Council's fall meeting, which is scheduled for Oct. 4.
Because the lubricant works at low volumes, it eliminates the need for the large tanks and piping often found at compressor stations, Sloan reports. "Instead, we use a refrigerator-sized cabinet with oil cartridges that are essentially bags in a box. The cartridges are easy to replace and small enough we can ship them by UPS," he says.
A computer-controlled variable speed drive and pump inside each cabinet optimizes the lubricant rate, Sloan mentions. "For example, we gradually ramp the motor speed to account for the pump becoming less efficient as it ages. We also can adjust speed based on outside conditions, such as pipeline pressures, compressor speed, gas quality and temperatures."
Sloan describes cabinet installation as easy. "All we need is power and a bit of tubing," he explains. "For a gas transmission company, we installed more than 100 units last year across a wide variety of equipment. Our average installation time was only two days, and since much of the installation work can be done while the compressor is running, only one day of that was downtime."
The system also has been deployed by three gas gathering companies in the Marcellus region and is likely to be used in LNG facilities and carbon dioxide pipelines, Sloan adds. "The feedback from the gathering companies has been very positive," he remarks. "The operators love being able to dial in the lubrication rates more precisely or leave optimizing them to the system, as well as its remote monitoring capabilities. They also appreciate the lower liability that comes from storing the oil in small containers rather than large tanks."
Long-Lasting Valves
When Zahroof Mohamed decided to start his own company in 2010 after years designing compressors and compressor components for Samsung Techwin, Cameron Compression Systems, York International and Atlas Copco, he focused on creating valves for reciprocating compressors. Mohamed, the president and CTO of Zahroof Valves Inc., explains that valves have a huge impact on compressors' reliability and efficiency but also make sense from a business standpoint for a startup to manufacture.
"The valve we came up with will last at least twice as long as a traditional valve under the same conditions," he guarantees. "In fact, we usually see run time increase 10-25 times and cut power needs anywhere from 3% to 15%. In many cases, customers take advantage of this power efficiency to increase throughput."
The reduced fuel consumption or increased throughput often mean the valves pay for themselves in days or weeks, Mohamed reports. "This is based on experience and real-world numbers rather than theory," he assures. "We have more than 25,000 valves in the field."
To illustrate the valves' benefits, Mohamed recalls a gas gathering pipeline with a compressor running at 891 rpm that used to be shut down every two months because of valve-related issues. "When that happened, the valves would be sent to a machine shop for service. In addition to replacing the internals, the shop would repair the valve seat if it was still within specification or replace the seat if it already had been repaired several times. The shop would also inspect the valve guard and replace it if it had damage," he says.
With how often they had to be repaired, the valves for this compressor had to be replaced every two years, Mohamed reports.
"Once it had our valves, the compressor ran more than 36 months before valve-related downtime, enough to cut repair costs over five years from $175,995 to $13,488," Mohamed recounts. "Because our valves are more efficient and have a lower pressure drop, we were also able to increase flow 1.76% while reducing power consumption 7.71%.
"Over five years, the lower repair costs, increased flow and reduced fuel consumption added $3.9 million to revenue," he reports. "The valves only cost $35,000, did not need to be machined during service and came with a 10-year warranty on the seat and carrier. If we average their costs and benefits over 5 years, they paid for themselves in 16.1 days."
According to Mohamed, the valves also reduced the pipeline operator's emissions. "Before a compressor can be shut down and opened to service a valve, the gas inside it, as well as a section of the pipeline, is emitted to the environment," he explains. "Once it has been serviced, the compressor needs to be blown down, purged and flared before it restarts, which generates more emissions. In this application, we eliminated 59 such emission events over 5 years."
How They Work
According to Mohamed, Zahroof's valves deliver such reliability and efficiency because they eliminate common failure points. "In most reciprocating compressor valves, the gas presses down on a plate or poppet to create a gap that allows it to enter a tortuous flow path through the valve. This works but results in large pressure drops," he says.
If the gas stream contains dirt or other abrasives, the valve seat wears out quickly and the plate or poppet and springs can fail, Mohamed says. He warns that valves fail more rapidly if the compressor operates at a high speed or moves gas with a high molecular weight.
"With our valve, the gas flows through a straight path inside cartridges that contain all the wear elements. The flow is blocked by reeds in the cartridge, but as long as the gas is coming from the right direction, it will easily deflect the reeds and flow through the valve with minimal pressure drop," Mohamed says. "Once the pressure equalizes across the valve, the reeds naturally return to their normal closed position."
The reeds are more resilient than helical coil springs, and because the gas is flowing straight rather than turning, the valves resist liquid and dirt or other contaminants more effectively than plate or poppet valves, Mohamed reports. "Since the flow path is straight and there is so little resistance to flow, we reduce valve losses by as much as 40% in some applications," he adds. "That is where the increase in efficiency comes from.
"Because they do not have a plate or multiple poppets constantly hitting a valve seat or guard, our valves transmit less force to the cylinder during operation, resulting in lower vibration," Mohamed continues. "Reducing vibration improves the reliability of everything on the compressor. It also means the compressor runs about 7 to 8 decibels quieter, which can reduce sound insulation costs in residential areas."
When a Zahroof valve does wear out, Mohamed indicates it can be repaired in the field. "All the wear components are in standard sized cartridges in the valve, so all the technician has to do to bring the valve back to factory-fresh condition is open it, pull out the old cartridges and replace them with new ones, by hand without any special tools," he describes. "This is much simpler than sending a conventional valve to a machine shop for repair."
Mohamed adds that this approach eliminates the need to stock spare valves to reduce downtime. "Our customers do need to store the cartridges, but those are small, interchangeable between valves in different compressors, and robust enough that each type fits a variety of applications, so we generally reduce inventory 90%," he says.
"We have a 10-year warranty on our housings," he says. "Because they generally last the life of the compressor rather than needing to be replaced as they are serviced, we build them out of high-quality materials. Our valves for oil and gas applications typically use stainless steel seats with an electroless nickel coating for additional wear and corrosion resistance."
The housings are sized to be drop-in replacements for traditional designs, meaning they do not require any compressor modifications, Zahroof assures. "Because the housings last so long, we can rent or lease valves, something that has never been done before," he adds. "This lets companies with tight CAPEX budgets adopt the valves through OPEX."