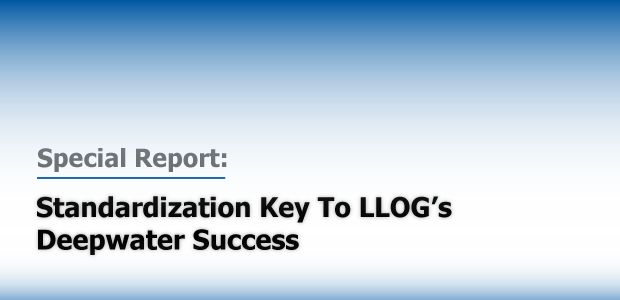 June 2019 Sneak Peek Preview
Standardization Strategy Key Part Of LLOG's Success On Deepwater Gulf Projects
By Danny Boyd, Special Correspondent
COVINGTON, LA.–From the largest major and national oil companies to the smallest independents, offshore operators the world over are embracing standardized "design one, build many" field development concepts to reduce deepwater costs and risks and shorten time to first oil. For many, this approach may be a radical departure from traditional field developments using one-off solutions and bespoke engineering. For LLOG Exploration Offshore LLC, it is business as usual.
From its initial foray into the shallow-water Gulf of Mexico to its subsequent ascent to the largest privately owned U.S. oil producer, LLOG has been a pioneer in applying the standardized field development model. As the company has progressively pushed into deeper waters and undertaken larger-scale projects–gradually moving from Louisiana state waters into the Shelf, deepwater Miocene, and now the ultradeepwater Lower Tertiary–LLOG has continually redefined the meaning of fast-track development with a formula that places a premium on preplanning, repeatability, collaboration and standardization, according to Chief Operating Officer Rick Fowler.
"Standardization has always been a big part of our strategy, helping us accelerate development timelines and keep costs manageable," says Fowler. "The typical time to first oil for an LLOG field development is measured in months rather than years. Every project is unique, but our overall approach stays the same. This not only mitigates risk, but allows us to standardize around proven drilling, completion, subsea and other technologies from service and equipment suppliers that we have partnered with on previous projects."
A major part of the standardization/modularization effort centers on subsea technology to allow LLOG to efficiently tie back new discoveries to existing company- and third party-owned host platforms on compressed project schedules. In practice, Fowler says, it encompasses a lot of cooperative partnerships, from working with other operators to jointly develop discoveries, to working with preferred equipment and service vendors to standardize systems, and even to working with private equity providers to come up with novel financing for new-build semisubmersible platforms. (LLOG has installed an Exmar OPTI-11000™ facility at its Delta House project and an OPTI-EX™ facility at Who Dat Field, which was the first privately-owned floating production system in the world.)
The approach is paying off handsomely. LLOG's ability to drill discoveries at a high success rate and then quickly transform them into producing fields has put the company in a class of its own. LLOG was operator of more than half of all the new Gulf fields that came on line last year (Table 1). Not bad for a company that made its first deepwater discovery scarcely 10 years prior. According to Fowler, LLOG expects to commence production on two new fields this year: Stonefly and Buckskin. Buckskin is LLOG's first operated Lower Tertiary field development. Both fields are subsea tiebacks to existing platforms.
"We also have an extensive development drilling pipeline following up on prior exploratory successes at multiple fields, including Who Dat, Mandy, Red Zinger and Delta House," he says.
Big Moves
In late April, LLOG made a couple of big moves that Fowler says position it for the next phase in its evolution as a deepwater Gulf operator and allow it to focus on what it does best: find new fields and bring them on stream quickly, efficiently and profitably.
First, LLOG sold its interests in seven producing fields (Breton Sound 25, Kodiak, Marmalard, Neidermeyer, Otis, Powerball and Son of Bluto 2) and five development projects (Calliope, Khaleesi, Mormont, Nearly Headless Nick and Ourse) to Murphy Oil Corp. in a $1.375 billion cash deal. The package of assets included 26 lease blocks and 32,000-35,000 barrels a day of oil equivalent production on an annualized basis for full-year 2019.
"The transaction with Murphy positions LLOG for the future," Fowler remarks. "Over LLOG's 40-year history, we have used asset sales to recapitalize and propel our future growth. LLOG plans to keep all its staff in place and will remain focused on exploration and development."
Only six days after announcing the deal with Murphy, LLOG signed an agreement with Repsol E&P USA Inc. that covers two Lower Tertiary discoveries. It provides for the drilling of an LLOG-operated delineation well at Repsol's Leon Lower Tertiary discovery in Keathley Canyon blocks 642, 643, 686 and 687. In addition, Fowler explains, Repsol will acquire an interest in the LLOG-operated Moccasin discovery in Keathley Canyon 736.
"Moccasin and Leon are less than 20 miles apart, which provides the opportunity for co-development," Fowler states. "The Leon discovery well was drilled to 32,000 feet total depth in 6,000 feet of water in 2014. It encountered nearly 500 feet of high-quality net oil pay in multiple sands, but has not yet been fully delineated."
The agreement calls for a delineation well to be drilled this summer, with LLOG as operator. LLOG holds a 33% working interest in the well, and Repsol has a 50% working interest. Once the well is drilled, Fowler says the partners will assess potential development options for Leon.
The Moccasin discovery was drilled to a TD of more than 31,000 feet in 6,500 feet of water in 2011, encountering 400-plus feet of net Lower Tertiary pay. LLOG retains a 31.35% working interest in the Moccasin field and Repsol holds a 30% interest.
LLOG and Repsol are already joint owners in the LLOG-operated Buckskin Lower Tertiary field development, which is scheduled to commence production this summer, according to Fowler. Located in 6,800 feet of water at Keathley Canyon blocks 785, 828, 829, 830, 871 and 872, the initial development phase at Buckskin includes two wells drilled to ±29,000 feet TD and tied back six miles to the Anadarko Petroleum Corp.-owned Lucius spar platform at Keathley Canyon 875. Fowler says the hydrocarbon column height at Buckskin could exceed 2,000 feet gross.
In announcing the new agreement with Repsol, Philip LeJeune, LLOG's president and chief executive officer, noted that Leon and Moccasin both target the same Lower Tertiary formation in which the two Buckskin wells were being completed. "We have worked well together at Buckskin and the delineation of the potentially significant discoveries at Leon and Moccasin is another perfect match for the deepwater technical knowledge and development expertise that both our companies possess," he comments. "For LLOG, 2019 is a truly exciting year as we pursue a number of significant deepwater projects."
Subsea Tiebacks
Even so, 2018 will be remembered forever as a banner year for LLOG. Consider that nine new fields commenced production in the deepwater Gulf last year. Five of them were operated by one company: LLOG. Moreover, all five fields had been discovered within 24-36 months of first oil. LaFemme, Blue Wing Olive and Red Zinger were discovered in 2016, and Claiborne and Crown & Anchor were discovered in 2015 (LLOG retained its interest in all five fields after the property transaction with Murphy Oil). In total, the company brought eight wells on line last year in the five new fields–all of them subsea tiebacks to existing platforms, namely Delta House.
In addition to the initial Stonefly and Buckskin wells, Fowler says LLOG also plans to bring four development wells at existing fields on line in 2019. Again, all the wells are subsea tiebacks to existing LLOG- and third party-operated platforms, which reduces project break-even costs, he explains.
"We have a long history with subsea tiebacks, dating back to our first deepwater completion in 2008. Even our Who Dat and Delta House production facilities were installed as hubs with the capability to tie in production from other nearby fields," Fowler says. "Tiebacks help give us a lower reserves threshold to allow LLOG to pursue smaller and often lower-risk prospects. These prospects are often passed over by major operators that need larger prospects to meet their materiality thresholds."
In addition, tying production to the LLOG-owned Who Dat and Delta House floating production systems (stationed in Mississippi Canyon 547 and 254, respectively) has positive impacts, since existing production receives a reduced share of the fixed lease LLOG operating expense, Fowler goes on.
The general interest economic impact is consistent with LLOG's Delta House facility, where the production handling agreement was set up to provide below-market handling fees for future LLOG tiebacks, Fowler says. "Subsea tiebacks have reduced cycle times of 12-18 months, compared with three-four years for a project with a new floating production system," he notes.
Standardized Design
All five fields that came on line in 2018 also are consistent with LLOG's subsea standardization philosophy, which includes an agreement with its subsea equipment alliance partner covering flowlines (either single or looped), umbilicals, trees, manifolds and multiphase flowmeters, Fowler details.
The Claiborne Field in Mississippi Canyon 794, which LLOG discovered in 2015 and successfully appraised in late 2016, is the first project on which LLOG has used equipment rated to 15,000 psi, he reveals. Both the discovery and appraisal wells are tied back to the Walter Oil & Gas-operated Coelacanth platform in Ewing Bank 834.
"Because of our standardized system design, we can quickly design safe and economic subsea systems using our standardized equipment, even in the case of a higher-pressure development like Claiborne," Fowler says.
While many companies typically enter a pre-front end engineering and design (FEED) phase followed by the FEED phase itself to design each project, LLOG generally can order long-lead time equipment immediately following a discovery, he says. Because of its alliance with its preferred subsea equipment provider, LLOG also can avoid the time required for a bidding process on long-lead time subsea items, Fowler explains.
LLOG maintains an inventory of subsea trees, which provides the flexibility to complete wells when a slot opens up on a rig, he says, adding that the company often works to have development agreements in place or under way prior to drilling the exploration wells.
Fowler says developments are more straightforward when tied back to LLOG's Who Dat or Delta House platforms, which are ideally suited for hub-and-spoke development. For example, Delta House can accommodate up to 18 risers. Eight fields flowing to Delta House, in addition to two export lines, currently use 13 of the 18 riser slots, Fowler points out. "I am unaware of any other floater in the Gulf with so many risers," Fowler says.
LLOG also moves quickly from discovery to project sanctioning, he says, and places a premium on planning ahead. "Before we even spud the first well on an exploration prospect, we are already preparing to execute it as a development project," he says. "In our case, our exploration success rate is about 70%, so we have come to expect exploratory success and the need to develop the reserves."
Exceptional Opportunities
Fowler says LLOG has been "exposed to exceptional opportunities" in the Paleogene/Lower Tertiary trend recently, and expects to see additional opportunities emerge throughout the deepwater Gulf going forward. "We are open to a variety of opportunities, whether smaller-scale tiebacks or larger hub-class prospects, in the Miocene, Pliocene and Paleogene," he states.
Early production from the Paleogene was generally disappointing, and some large companies chose not to pursue the play. Before taking on the Buckskin project in the Keathley Canyon area and entering the Lower Tertiary, Fowler notes that LLOG conducted an extensive study of the Paleogene and concluded that the best analog for Buckskin was the Chevron-operated Jack/St. Malo, which has had excellent performance, he says.
"Buckskin's rock and fluid properties are among the best in the play," Fowler comments. "This is a large field, with an estimated 5 billion barrels of original oil in place. The initial phase consists of two wells, but we expect to be drilling at Buckskin for many years to come. Once we achieve first production, we will look at the next development phase with additional wells and subsea facilities to fully develop the field," he continues, pointing out that as many as 14 wells ultimately could be drilled in two major fault block systems that divide Buckskin's northern and southern flanks.
Moving northward to the Miocene play, the Stonefly discovery well was drilled in 4,100 feet of water at Viosca Knoll 999 in 2016, with a delineation well following in 2017. Both encountered oil-bearing turbidites in the Middle Miocene. The two wells are tied back six miles via a single six-inch subsea flowline to the Talos Energy-owned Ram Powell tension leg platform in 3,200 feet of water at Viosca Knoll 956, Fowler reports.
Apart from subsea systems, key technologies in LLOG's strategy range from geophysical acquisition techniques to dual-activity rigs and intelligent completion systems, according to Fowler.
He says wide-azimuth (WAZ) 3-D seismic has created a step-change in subsalt imaging that allows LLOG to identify targets, reduce drilling risk and move quickly to capitalize on exploration opportunities. "Salt in the Gulf of Mexico is our best friend and our worst enemy," Fowler remarks. "Salt creates hydrocarbon traps and allows for hydrocarbon migration in many fields, but historically, imaging in and around salt has been problematic because of the inability to gather enough primary seismic energy below salt. WAZ data allows for a higher fold of primary data, which allows for great consistency and confidence in subsalt images."
For LLOG and its partners, he says the best example of integrated interpretation of WAZ data was the Khaleesi and Mormont fields. Two test wells had been drilled in the area more than a decade ago, but with new WAZ data, increased frequency and imaging confidence, LLOG was able to target reserves in a subsalt area that had been bypassed by the earlier drilling. The result, Fowler says, was a significant hub-class discovery.
"On the drilling and completion side, LLOG has benefitted greatly from next-generation dynamically positioned rigs with dual-activity capability and dual blowout preventers," he states. "Our extensive predrill planning is designed to take full advantages of these capabilities."
The company's completion strategy frequently involves smart completion systems when developing multiple reservoirs, he says. Downhole flow control valves provide LLOG engineers with an additional reservoir surveillance tool to maximize expected ultimate recovery rates, Fowler explains.
Expanding Inventory
According to Fowler, LLOG continually seeks to expand and upgrade its inventory of deepwater exploration prospects. It accomplishes that objective partly through lease sales. It was among the 10 most active bidders at Sale 252 in March, submitting high bids on seven deepwater leases. However, it also capitalizes on development opportunities presented by other Gulf players, who come knocking because of LLOG's reputation for fast, low-cost project execution, he says.
"An example is the Buckskin project, where we were able to obtain working interest in an existing discovery that had already been fully delineated," he says. "In addition, we have a very experienced, talented group of employees at LLOG that can identify, develop and place large-scale, complex projects on production quickly, safely and reliably."
After joining forces on Buckskin, the April agreement again brings Repsol and LLOG together to jointly develop Leon and Moccasin. "We are excited to be working with Repsol on Leon and Moccasin. Both fields have great potential," Fowler relates. "In fact, with LLOG intending to drill a number of future wells at Buckskin that are likely to keep the Lucius spar facility near its oil processing capacity for some time, we believe Leon and Moccasin are of adequate size to potentially justify a second hub in the area in the future."
Leon and Moccasin also are representative of the types of projects LLOG seeks with respect to their proximity to other discoveries. "Prospects closer to existing discoveries often have lower risks," Fowler says. "We generally look for prospects with seismic attributes similar to nearby discoveries. The prospects should also be in a favorable geologic configuration. Prospects closer to existing discoveries also can have higher reward potential because of their lower economic threshold using subsea tiebacks."
The partnership with Repsol is indicative of how LLOG seeks to work with companies both larger and smaller that have similar deepwater strategies and welcome LLOG's technical and strategic input to quickly delineate and develop discoveries, Fowler goes on. "We have a number of excellent partners and are thrilled to have added companies such as Repsol and BP to our list of valued partners. With BP, we partnered on the Nearly Headless Nick discovery, and in bidding on blocks at Lease Sale 252 in March."
With forecasts calling for solid growth ahead in the international offshore market–especially for subsea technology–and increasing exploration activity in the Gulf of Mexico, Fowler says LLOG will continue to execute on its strategy and look for synergistic opportunities with like-minded companies to accelerate project execution timelines while reducing overall project costs.
"We plan to continue to aggressively explore our deepwater acreage, and to methodically apply technology to reduce the risk, cost and cycle times associated with turning discoveries into producing assets," he concludes. "I am excited for LLOG's future. We expect to be pursuing world-class opportunities in the deepwater Gulf for years to come."
This story came from the print edition of The American Oil & Gas Reporter. For other great articles about exploration, drilling, completions and production, subscribe.