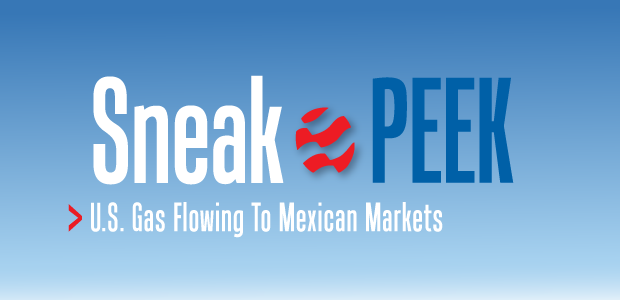 December 2019 Sneak Peek Preview
Natural Gas Exports
U.S. Gas Flowing To Mexican Markets
NEW YORK–Mexico's dependence on natural gas will continue to increase during the coming years, aided by higher imports from the United States and new Pemex investments in gas production, says Fitch group unit Fitch Solutions Macro Research, with the fuel powering several gas-fired power plants under construction.
In "Mexico to Continue to Rely on Natural Gas Imports from the U.S.," Fitch analysts see the startup of Sur de Texas-Tuxpan pipeline as a major contributor to increased U.S. gas sales in Mexico. The report says the $2.6 billion underwater pipeline running from Brownsville, Tx., to the Altamira and Tuxpan regions will move 2.6 billion cubic feet a day.
Fitch Group says the pipeline will interconnect to the Neuces-Brownsville and Tuxpan-Tula pipeline. According to Tuxpan Economic Development Director Juan Pablo Alcantar, the pipeline will feed at least five gas-fired power plants that generate 4,100 megawatts.
"The realization of cross-border projects including Texas-Tupan pipeline will underpin the further expansion of domestic natural gas infrastructure over the coming years," the report predicts. "We caution that there are substantial risks to our outlook, as infrastructure projects are likely to continue to struggle with funding and contractual issues, threatening the realization of projects."
Those imports will join the gas production from Pemex's new fields, the analysis predicts. New supplies from Mexican fields may add as much as 908 million cubic a feet day in 2021. Fitch Group points out that additional production will to a large extent offset expected declines in gas output from mature fields. The report also notes Pemex expends about 60% of its total natural gas production for its operations and to maintain pressure at oil fields.
"The realization of cross-border projects including Texas-Tuxpan pipeline will underpin the further expansion of domestic natural gas infrastructure over the coming years. In our view, the Mexico southern and eastern regions would benefit most from expanding the natural gas infrastructure. The vulnerability of the power and natural gas networks is especially critical in Yucatán, which has experienced multiple power outages in the past 12 months because of insufficient gas supply," the report says.
Mexico announced in May plans to move forward with the Cempoala Compression Plant reconfiguration project, which Fitch says remains a vital component to increase supply to Yucatán. The reconfiguration would allow a reverse flow on a section of the Sistrangas, enabling more supplies to the peninsula. The report predicts additions to midstream infrastructure are likely to accompany gas storage system expansions to mitigate power outages.
According to an August announcement, the Centro Nacional de Control de Natural Gas plans to identify 10 Bcf of storage capacity and 30 Bcf by 2024. It is examining 15 abandoned oil and gas fields in three basins–Burgos. Veracruz and Mascuspana-Muspac–as potential sites.
Storage Shortfall
Mexico has no underground gas storage capacity, and instead relies on storage tanks at its three liquefied natural gas import terminals as a primary means of balancing the country's supplies, Fitch describes. Mexico also manages imbalances by using storage across the border in the United States, or operating the country's gas pipelines at less-than-full capacity, thereby enabling gas in excess of current demand to remain within the pipes for later use.
The availability of natural gas from the United States also is likely to support Mexico's first LNG export terminal, the report ventures. In April, Mexico authorized Sempra Energy to begin export operations. Sempra's subsidiary, Energía Costa Azul, plans to add export capacity to its facility on the west coast of Mexico, with visions of targeting Asian clients, Fitch says.
"Given Mexico's muted domestic consumption outlook for natural gas, we note the potential for available abundant supplies from the United States to propel a future expansion of midstream infrastructure to link Mexico's network with Central American countries, transforming Mexico into a transit country," Fitch says. "This project, however, remains outside our core view, given the lack of progress over past quarters."
Fitch's analysis points out there are substantial risks to its outlook, as Mexico's infrastructure projects are likely to continue to struggle with funding and contractual issues. It notes disputes with gas pipeline operators pose significant risks to investor sentiment, as they set a precedent allowing the governor to renegotiate future contracts.
The disputed contracts between the Comisión Federal de Electricidad (CFE), the state-owned utility company, and U.S., Canadian and Mexican companies were signed before President Andrés Manual López Obrador took office in December 2018. According to Fitch, the take-or-pay contracts included force majeure clauses that require CFE to submit capacity payments to the developers even when the pipelines were not yet operating.
The current government pursued arbitration, calling the clauses exorbitant and unfair, and reached a deal with the disputed pipeline operators by mid-September, the report says. According to Lopez Obrador, the resolution will allow the government to save as much as $4.5 billion.
Additionally, Fitch cautions that natural gas infrastructure projects in Mexico face a sustained opposition from local communities in many parts of the country. Those protests hinder projects' timely completion, translating into higher costs.
This story came from the print edition of The American Oil & Gas Reporter. For other great articles about exploration, drilling, completions and production, subscribe.