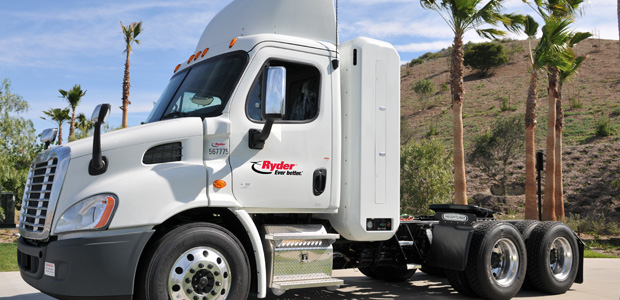 January 2016 Exclusive Story
Natural Gas Vehicles
Companies Realizing Benefits Of Natural Gas
MIAMI–Companies in the retail, food distribution, e-commerce and logistics sectors are realizing the benefits of natural gas vehicles, reports Ryder Systems Inc., which is involved in commercial fleet management, dedicated transport, and supply chain solutions. As fueling infrastructure expands and NGV technologies continue to evolve, the company says greater fleet application diversity now can be supported by natural gas.
Companies leasing NGVs from Ryder include DFS Group, Dot Transportation Inc., Move Loot, and TQ Logistics. Ryder says these companies are stepping forward to gain sustainability and economic benefits by using natural gas trucks.
"Ryder continues to see broadening interest in NGVs from businesses of various sizes and industries that see the longer-term environmental and fuel efficiency benefits," assesses Dennis Cooke, president of Ryder's global fleet management solutions.
Cooke describes leasing as a great way to adopt natural gas vehicles. "When companies outsource, they get the value of extensive experience operating and maintaining natural gas fleets, so they can reduce risk, maximize performance, and speed return on investment," he explains.
Full-service lessors such as Ryder can acquire vehicles according to the customer's specifications, and provide financing, maintenance and fleet support services. The company adds that such lessors can manage vehicle disposal to protect customers from residual risk.
Helping Customers
Ryder says NGVs are helping a diverse set of customers:
DFS Group, a luxury travel retailer, will take delivery of a compressed natural gas tractor for use inside DFS's duty free stores inside Los Angeles International Airport. "Bringing NGVs into our LAX operations reinforces our commitment to reducing our carbon footprint through smart, environmentally sound transportation solutions," says Parker Gunderson, vice president for DFS North America.
DOT Transportation, a subsidiary of Dot Foods Inc., a food industry redistributor, has leased a CNG vehicle to support its day-to-day distribution operations in northern California. "After evaluating a number of alternative fuels and strongly considering CNG for the past few years, we decided to partner with Ryder to place the first CNG truck in our fleet," says Kevin Buss, fleet maintenance director for Dot Transportation. "Not only is it a cleaner fuel, but we also expect to see a real fuel cost savings over time."
Move Loot, a full-service marketplace for buying and selling home furnishings, has signed eight CNG vehicles to support its operations in the Los Angeles and San Francisco areas. "Our company's mission is to provide a more sustainable and efficient way to comfortably and affordably furnish the home. A major component to that is providing in-house pickup and delivery services for our customers," says Bill Bobbitt, Move Loot co-founder and chief executive officer. "We are excited to further achieve our mission by converting a portion of our fleet to natural gas. This new project reflects our commitment to making decisions based on what is right for our customers and our environment."
TQ Logistics, a dedicated trucking service provider operating in 23 states, has leased three CNG vehicles to support its dedicated transportation model in Milwaukee. The vehicles will be added to the company's fleet of diesel vehicles to support customers' sustainability initiatives. "Even with the drop in diesel fuel prices, the stability of natural gas fuel costs, along with the environmental benefits of NGV technology, brings significant value to our customers' dedicated fleet operations," says Jim Foulks, vice president of sales and marketing for TQ Logistics.
Ryder says it has 18 NGV maintenance facilities and 4,000 NGV-trained technicians. The company points out it also offers a "Flex to Green Lease" solution designed to encourage and ease the transition to a natural gas fleet. Businesses interested in NGVs, but not quite ready to fully commit, can start with a diesel-powered vehicle with the option to convert to an NGV at any time following the first full year of the lease, the company describes.