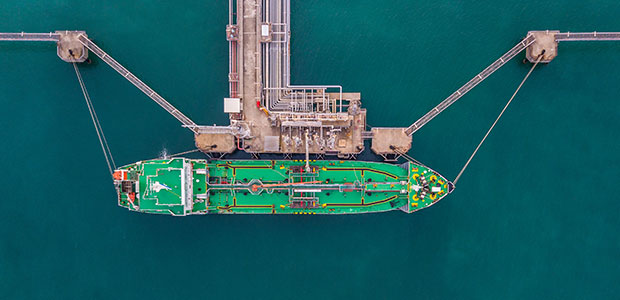 May 2023 Exclusive Story
EIA: U.S. LNG Exports To Keep Growing, Thanks in Part to the Haynesville
WASHINGTON—U.S. liquefied natural gas exports appear likely to keep expanding in the coming decades, assesses the U.S. Energy Information Administration.
Moreover, one of the country's leading dry gas plays, which also enjoys proximity to Gulf Coast LNG terminals, continues to demonstrate impressive growth, the administration says.
EIA offered these considerations in a pair of "Today in Energy" installments issued this spring.
Long-Term Growth
EIA's Annual Energy Outlook 2023 Reference case projects U.S. natural gas production will increase 15%, while LNG exports will increase 152% between 2022 and 2050 (Figure 1).
"We expect natural gas production to rise to 42.1 trillion cubic feet by 2050," EIA relates. "Production growth is largely driven by U.S. LNG exports, which we expect to rise to 10 Tcf by 2050. Natural gas production growth on the Gulf Coast and in the Southwest reflects increased activity in the Haynesville formation and Permian Basin, which are close to infrastructure connecting natural gas supply to growing LNG export facilities."
AEO2023 draws on long-term trends to present an outlook for energy markets through 2050, EIA describes, noting that it lays out different scenarios to consider how varying assumptions may influence energy trends. The AEO2023 Reference case provides a baseline scenario that reflects laws and regulations adopted through mid-November 2022, including HR 5376, the Inflation Reduction Act that President Biden signed last summer.
"In the Reference case, we project that annual natural gas production from 2022 through 2050 will grow by 52% on the Gulf Coast and by 50% in the Southwest," EIA details. "Because the Haynesville formation and the Permian Basin are close to LNG export terminals in Texas and Louisiana, the amount of natural gas produced in these regions has grown as LNG demand has grown. Associated dissolved natural gas from oil formations, another notable contributor to natural gas production, contributes to production growth in the Southwest."
The United States' export capacity will keep growing, EIA assesses. "We project continued rising global demand for natural gas, which makes it economical to build additional LNG export facilities in the United States," the administration explains. "New liquefaction facilities in Louisiana became fully operational in 2022, ahead of schedule. In addition, new LNG trains in Texas are scheduled to be online by 2025."
Some AEO2023 scenarios also foresee ongoing increases in U.S. natural gas production, EIA indicates, with price strength likely a critical determinant.
"We project the most growth in U.S. natural gas production in the High Oil and Gas Supply case and High Oil Price case," the administration says. "In the Low Oil and Gas Supply case, U.S. oil production declines, which reduces associated dissolved natural gas and shale production and shrinks natural gas production on the Gulf Coast and in the Southwest."
The Low Oil Price case also predicts a near-term slide in LNG exports because of crude oil-linked international LNG pricing, EIA adds, which will mean some underutilized capacity by 2050. But even in such a case, EIA says Gulf Coast shale output appears likely to keep growing through 2050.
Heady Haynesville
Citing Enverus data, EIA indicates that dry natural gas production from the Haynesville Shale reached new highs in March 2023, averaging 14.5 billion cubic feet a day (Figure 2), 10% more than the 2022 annual average of 13.1 Bcf/d. Haynesville natural gas production accounts for about 14% of all U.S. dry natural gas production, the administration notes.
EIA observes that the Haynesville trails only the Marcellus Shale and the Permian Basin among U.S. shale-gas-producing plays, with the three combining to account for a majority of U.S. output. "In 2022, dry natural gas production averaged 25.2 Bcf/d from the Marcellus play (83% of Appalachian Basin production) and 15.4 Bcf/d from the Permian play," the administration says. "The Marcellus, the Permian and the Haynesville plays combined account for 55% of U.S. dry natural gas production."
According to EIA, Haynesville natural gas production increased during 2022, from an average 12.4 Bcf/d in January to 13.9 Bcf/d in December. That also was an eventful interval for Henry Hub natural gas prices, which rose steadily through summer 2022 to reach $8.81 an MMBtu in August before sliding to an average price of $5.53/MMBtu in December, EIA recounts, although that price still was 26% more than the price at the beginning of 2022.
The stronger prices helped boost shale activity in Northwest Louisiana and Northeast Texas, the administration suggests. "Drilling costs in the Haynesville tend to be higher because natural gas wells in the play are deeper than in other plays," EIA remarks. "As natural gas prices rose in 2022, economics for developing new wells in the Haynesville improved, which led some producers to add more rigs in the play and increase production."
The administration points to Baker Hughes statistics showing active natural gas-directed rigs in the Haynesville averaged 65 in 2022, a 43% increase compared with 2021. Although those numbers followed 2022's natural gas price increase, EIA observes, data shows activity has held steady during the weaker gas prices of early 2023. "In the first three months of 2023, as natural gas prices fell, the number of active rigs in the Haynesville plateaued at about 68 rigs," the administration reports.
Meanwhile, S&P Global Commodity Insights data shows that pipeline takeaway capacity out of the Haynesville stands at about 16 Bcf/d, EIA says, thanks in part to new projects such as Enterprise Products Partners' Gillis Lateral pipeline and the associated expansion of the Acadian Haynesville Extension.
Moreover, the administration says, if they meet their completion timelines, three new pipeline projects will add 5.0 Bcf/d of takeaway capacity out of the Haynesville by the end of 2024:
Williams' Louisiana Energy Gateway (1.8 Bcf/d);
Momentum Midstream's New Generation Gas Gathering (NG3) (1.7 Bcf/d); and
TC Energy's Gillis Access project (1.5 Bcf/d).