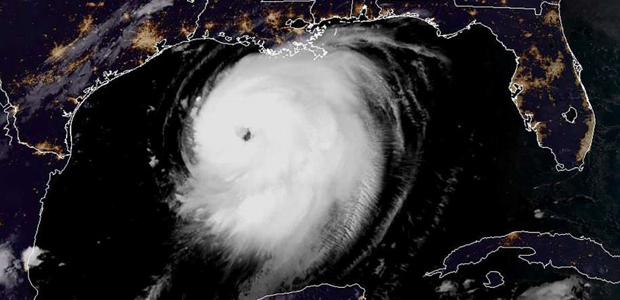 August 2020 Exclusive Story
Hurricane Laura
Initial Reports Indicate Minimal Infrastructure Damage
LAKE CHARLES, LA.–Hurricane Laura made landfall near Lake Charles in the early hours of Aug. 27 as a Category 4 storm with maximum sustained winds of 150 miles per hour, making it the strongest hurricane to strike Louisiana since 1856. However, reports say that the storm surge levels were not as high as initially expected. Forecasters had warned of "unsurvivable" surges along the coastline as Laura made its way inland.
According to preliminary site assessments, operators of major facilities did not report any major damage, although inspections were ongoing as of mid-day Aug. 28.
An estimated 1.55 million barrels a day of oil production and 1.6 billion cubic feet of natural gas production had been shut in across the Gulf of Mexico as a precautionary measure to the advancing hurricane. According to company statements, operators were already preparing to return workers to offshore platforms beginning on Aug. 28 and initiate processes to restart production.
"As far as we know, there have not been offshore impacts," American Petroleum Institute's Suzanne Lemieux commented at an Aug. 27 briefing.
Onshore, some 2.35 MMbbl/d of refining capacity was shut down ahead of the hurricane. That included five refineries in Texas: Motiva, Valero and Total plants at Port Arthur (1.19 MMbbl/d of combined capacity), Exxon Mobil's 366,000 bbl/d facility at Beaumont, and Chevron's 110,00 bbl/d refinery at Pasadena. The two refineries most directly in Laura's path were Citgo Petroleum and Phillips 66 complexes near Lake Charles, which have a combined capacity of 674,000 bbl/d.
Within 36 hours of Laura passing over the coastline, the Texas refineries were all in the process of restarting following the conclusion of safety inspections, according to the operators. Officials at the Louisiana Offshore Oil Port indicated that the facility would resume operations by the weekend. The Houston Ship Channel and the ports of Freeport, Galveston, Houston and Texas City were all reopened on Aug. 27, the U.S. Coast Guard announced.
"There is some damage to some of the facilities, but it appears to be somewhat light," U.S. Secretary of Energy Daniel Brouillette updated. "It is not significant in nature, meaning that the operations of these facilities will probably continue in very short order."
Motiva's Port Arthur facility, the largest refinery in the country, had only "minimal damage," and Chevron Pasadena refinery "did not sustain any damage during the storm," according to updates from the companies.
In Lake Charles, Citgo and Phillips66 were still assessing the hurricane's impact on their facilities on Aug. 28. In a statement, Citgo said, "We have a team assembled and ready to begin assessment of the refinery, our service providers and our port facilities. We understand the importance of maintaining supply to our customers and the American economy and will be working diligently to safely bring the refinery back on line."
LNG Terminals
Two liquefied natural gas plants in the hurricane's path (Cheniere's Sabine Pass and Cameron LNG) also were shut down before its onshore landing. Cameron LNG stated that an initial appraisal confirmed that the storm surge was less than projected and that an inspection team had been mobilized to conduct a review. The Sabine Pass terminal is the largest single source of demand for natural gas in the United States. While damage to the facility was being assessed, analysts say Cheniere was using its Corpus Christi facility to substitute cargoes from Sabine Pass, minimizing LNG shipping interruptions. The Sabine Channel and the Calcasieu Waterway leading into Lake Charles were both anticipated to fully reopen by Aug. 30.
Statements from the developers of two terminals under construction–Calcasieu Pass near Lake Charles and Golden Pass at Sabine, Tx.–as well as the proposed Lake Charles LNG site indicated no significant damage to those facilities.
The most visible industrial damage from the hurricane was a BioLab Inc. chlorine production complex four miles west of Lake Charles, which erupted in flames and prompted a temporary shelter-in-place order for residents who remained in the immediate vicinity. By the end of the day on Aug. 27, the fire had been extinguished and no injuries had been reported.
Editor's Note: In an Aug. 31 update on the status of the Sabine Pass LNG terminal, Cheniere Energy Inc. announced that an assessment of the facilities had found no significant hurricane-related damage and said it planned to begin restarting LNG production on the five active trains as well as resume ongoing construction operations on the sixth train.
Also on Aug. 31, Sempra Energy reported that preliminary inspections of the Cameron LNG terminal indicated minimal flooding and no catastrophic wind damage from Hurricane Laura. More thorough site assessments were planned, but Sempra added, "The team at Cameron LNG is committed to the restoration of full operations as soon as safely practicable."