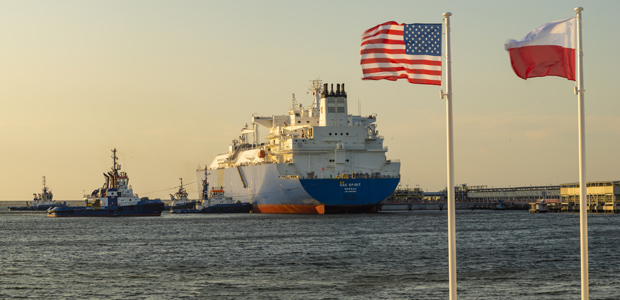 August 2019 Exclusive Story
U.S. LNG
New Facilities Drive Growing Export Volumes
WASHINGTON–U.S. exports of liquefied natural gas have been growing steadily and reached a new peak of 4.7 billion cubic feet a day in May 2019, according to the latest data published by the U.S. Department of Energy's Office of Fossil Energy. This year, the United States has become the world's third-largest LNG exporter, averaging 4.2 Bcf/d in the first five months of the year, exceeding Malaysia's LNG exports of 3.6 Bcf/d over that same period.
U.S. LNG exports have increased significantly since last November when the first of four new liquefaction trains–Corpus Christi trains 1 and 2 in Texas and Sabine Pass train 5 and Cameron train 1 in Louisiana–with a combined capacity of 2.4 Bcf/d came online. The United States is expected to remain the third-largest LNG exporter in the world for a couple more years, but then surpass both Qatar and Australia to become the world's No. 1 LNG exporter, the U.S. Energy Information Administration forecasts.
With two new liquefaction terminals–Freeport LNG in Texas and Elba Island LNG in Georgia–set to commence operations by the end of this year, EIA's latest Short-Term Energy Outlook projects that U.S. LNG exports will continue to increase over the next several months to average 4.8 Bcf/d in 2019 and 6.9 Bcf/d in 2020 as additional liquefaction trains are commissioned at the Cameron, Freeport and Elba Island terminals.
"By 2021, six U.S. liquefaction projects are expected to be fully operational. Another two new U.S. liquefaction projects (Golden Pass in Texas and Calcasieu Pass in Louisiana) that started construction this year are expected to come online by 2025," EIA states in the report. "By that time . . . the United States will have the world's largest LNG export capacity, surpassing both Qatar and Australia."
EIA data shows the United States exported 144.8 Bcf total in May, the latest month on record, which was up 14% over the previous month and 53% year-over-year. The number of cargoes in May was 46, up four from April and up 16 from May 2018. Sabine Pass shipped 33 cargoes, followed by Corpus Christi with seven, Cove Point with five, and Cameron with one (Figure 1).
The top five destination countries receiving U.S. LNG shipments were Mexico (20.2 Bcf), South Korea (18.1 Bcf), Spain (14.3 Bcf), India (13.9 Bcf), and the Netherlands (10.7 Bcf). Together, the five countries accounted for 53.4% of total exports in May, EIA notes.
According to statistics from the International Gas Union, globally traded LNG volumes grew for a fifth consecutive year in 2018, increasing by 28.2 million tons to set a new annual record of 316.5 million tons. Qatar was the largest LNG exporter, shipping 78.7 million tons, while Australia was number two with 68.6 million tons. By comparison, the United States exported 21.1 million tons on average in 2018, but with volumes trending sharply upward with new facilities and trains coming on line.
In addition to the four LNG plants already in service (Sabine Pass, Cove Point, Corpus Christi and Cameron) and the two entering service this year (Elba Island and Freeport), several more proposed U.S. export terminals are in various stages of permitting and approval, IGU notes. If built, those facilities would add some 329 million tons per annum of new capacity over the next decade, IGU calculates in its annual report
"Feed gas for these proposals will come from a variety of supply basins, although the vast and interconnected gas pipeline network across North America allows natural gas to be procured securely from any number of supply sources," IGU says.
European Deliveries
Although countries in the Asia-Pacific region have continued to account for a large share of U.S. LNG exports, EIA reports that shipments to Europe have increased significantly since October 2018, accounting for almost 40% of U.S. LNG exports in the first five months of 2019. LNG exports to Europe surpassed exports to Asia for the first time in January 2019.
"A warm winter in Asia and declining price differentials between European and Asian spot natural gas prices led to increased volumes of U.S. LNG exports delivered to Europe," EIA states in a report. "LNG imports to Europe have been relatively low in recent years, but they are expected to grow as new LNG supply comes online and European countries continue to increase natural gas consumption as part of their decarbonization initiatives."
Europe's total LNG imports for winter 2018-19 averaged 10.2 Bcf/d, or 60% higher than in the previous two winters and the highest winter average since at least 2013, according to CEDIGAZ LNG data.
Total LNG imports in the three largest global LNG markets of Japan, China and South Korea started to decrease in February 2019 amid a milder-than-normal winter and the restart of nuclear power plants in Japan, the EIA report notes. China, which became the world's second-largest LNG importer in 2017 (surpassing South Korea) and the world's largest importer of total natural gas in 2018 (surpassing Japan and Germany), continued to increase LNG imports. Its LNG imports were 20% (1.3 Bcf/d) higher in the first five months of 2019 compared with the same period last year as the country continued to expand LNG import capacity and implement coal-to-gas switching policies.
LNG from the United States accounted for 7% of China's total LNG imports in the first six months of 2018. In September 2018, China imposed a 10% tariff on LNG imports from the United States, and from October 2018 through May 2019, U.S. LNG accounted for 1% of China's LNG imports, EIA points out.
"Because no long-term contracts between suppliers of U.S. LNG and Chinese buyers exist, LNG from the United States is supplied to China on a spot basis," the report relates. "Spot LNG shipments are dispatched based on the prevailing global spot LNG and natural gas prices, and the tariff made LNG imports from the United States to China less competitive.
"Recent declines in price differentials between European pricing benchmarks and Asian spot LNG prices, including Japanese LNG spot prices, have affected the flow of flexible (i.e., without a fixed destination specified in an offtake LNG contract) U.S. LNG exports," the agency adds.
"Because the round-trip transportation costs from the U.S. Gulf Coast to Europe are about $1.50 per MMBtu lower than those to Asian markets, a sufficiently narrow price spread between European and Asian spot natural gas/LNG prices will make Europe the preferred destination for exporters of U.S. LNG," EIA says.
The agency notes that the spread between Japan spot LNG prices and European gas prices at the National Balancing Point (NBP) in the United Kingdom and Title Transfer Facility (TTF) in the Netherlands was about $1.00/MMBtu in December and January, and reached a low of $0.60/MMBtu in April, which supported continued high U.S. LNG exports to Europe.
Inaugural Shipment
Europe was, in fact, the destination for the inaugural shipment from the Cameron LNG terminal in late May. Cameron became the fourth operating U.S. LNG export terminal when it loaded 3.2 Bcf of liquefied gas aboard the Marvel Crane bound for France.
The Singapore-flagged Marvel Crane is the second new-build tanker for which Nippon Yusen Kabushiki Kaisha (NYK) has chartered under a long-term contract to Mitsui & Co. Ltd. for Cameron. Both companies are partners in the project. NYK says the vessel has apple-shaped tanks that have greater LNG-carrying capacity, and is equipped with a hybrid propulsion system that combines a steam turbine and gas-fired engines to dramatically cut fuel consumption and emissions.
Located in Hackberry, La., Cameron LNG is jointly owned by affiliates of Sempra LNG, Total, Mitsui & Co. and Japan LNG Investment LLC (which is jointly owned by Mitsubishi Corporation and NYK). Sempra Energy indirectly owns 50.2% of the terminal. According to Sempra, Phase 1 of the Cameron project includes the first three liquefaction trains that will enable the export of 12 million tons per annum of LNG, or approximately 1.7 Bcf/d.
Cameron LNG Phase 1 is one of five LNG export projects that Sempra Energy says it is developing in North America. The other projects include Cameron LNG Phase 2, previously authorized by the Federal Energy Regulatory Commission, which could include up to two additional liquefaction trains and up to two additional LNG storage tanks; Port Arthur LNG in Texas, which also has been approved by FERC; and Energía Costa Azul LNG Phase 1 and Phase 2 in Mexico.