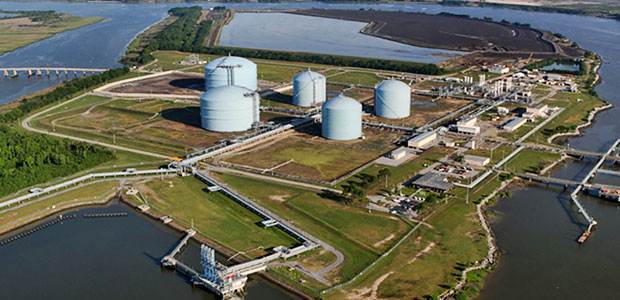 November 2016 Exclusive Story
Gas Demand Driver
New Facilities Expand U.S. LNG Capacities
ELBA ISLAND, GA.–Kinder Morgan says it began construction on the Elba Island liquefied natural gas export project near Savannah, Ga., on Nov. 1.
The $2 billion project is being constructed in two phases to add liquefaction and export capabilities to Southern Liquefaction Company LLC's existing terminal located on the 840-acre Elba Island, which previously operated as an import facility to regasify foreign-sourced LNG. Southern Liquefaction Company is a unit of Kinder Morgan.
The initial liquefaction units are expected to be placed in service in mid-2018, with the final units coming online by early 2019, according to Kinder Morgan. Under full development, the Elba Liquefaction Project is expected to have a total annual capacity of 2.5 million tons of LNG for export, which the company says is equivalent to approximately 350 million cubic feet a day of natural gas.
The Elba Island liquefaction and export project is supported by a 20-year contract with Shell. The facility will feature Shell's proprietary moveable modular liquefaction system (MMLS), which Kinder Morgan says will be integrated into the existing terminal and enable rapid construction compared to traditional large-scale plants.
Once completed, the facility will employ 10 integrated MMLS units, with each unit rated for 0.25 million ton annual capacity, to achieve the total 2.5 million tons in annual export output, the company explains.
According to Shell, MMLS provides an "innovative and small-scale" solution to liquefaction facility design. Individual MMLS units are preassembled at a manufacturing plant and can be rapidly connected on site, bringing flexibility and improved economics to otherwise long-lead time LNG projects, the company explains. Moreover, the individual units could potentially even be moved from one site to another as required, Shell notes.
During the first phase, Kinder Morgan reports that six MMLS units equal to an output capacity of 210 MMcf/d will be installed and modifications will be made to the existing terminal facilities to allow for export. The additional four liquefaction units are expected to be installed during the second phase of construction, adding another 140 MMcf/d in output capacity.
Elba Facility Modifications
Other modifications to the existing Elba facilities will include installing compression for vapor handling and new pumps for loading the LNG on vessels for export. The first liquefaction unit is expected to be placed into service in the second quarter of 2018, with the remaining nine units coming online before the end of 2018, Kinder Morgan says.
Kinder Morgan also is completing a $306 million project to install additional compression and expand north-to-south capacity on the Elba Express Pipeline to supply additional gas to Elba Island for liquefaction, as well as to industrial consumers and utilities in Georgia and Florida. The company says all facilities for these pipeline projects are expected to be placed in service by the end of this year.
The project received authorization from the U.S. Department of Energy to export to Free Trade Agreement (FTA) countries in 2012. An application to export to non-FTA countries is pending. In March 2013, the Federal Energy Regulatory Commission approved a request to initiate the National Environmental Policy prefiling process for the Elba Liquefaction Project, and in March 2014 a certificate application was filed with FERC, Kinder Morgan states.
In July 2015, Kinder Morgan and Shell announced they had reached an agreement for Kinder Morgan to purchase 100 percent of Shell's equity interest in the Elba Liquefaction Company LLC joint venture. Prior to the announcement, Kinder Morgan owned 51 percent of the joint venture and Shell owned the remaining 49 percent. Shell continues to subscribe to 100 percent of the project's liquefaction capacity and ship-loading services.
On June 1, the Federal Energy Regulatory Commission granted the project authorizations under Sections 3 and 7 of the Natural Gas Act, Kinder Morgan reports.
Small-Scale LNG Plant
In mid-October, NuBlu Energy broke ground on a small-scale (90,000 gallon-a-day) liquefied natural gas plant in Port Allen, La. Strategically located along the Mississippi River, NuBlu says its new "flagship facility" is designed to serve the regional natural gas off-grid market, specifically high-horsepower fueling applications such as rail, marine, long-haul transportation, power generation, gas interruption and asphalt sectors, as well as other consumers not connected to the pipeline grid.
"This project represents the inauguration of a new direction for the LNG market. By making LNG local, NuBlu will foster the growth of LNG consumption for current and future consumers of this clean energy fuel," says Cory Duck, general partner of the Center, Tx.-based company.
Equipped with liquefaction technology patented by NuBlu and featuring a modular design, the first of the plant's three 30,000 gallon/day trains is scheduled to begin production in the second quarter of 2017, the company reports. The facility will have a storage capacity of 120,000 gallons, and also employ an advanced transfer system that will allow the loading of both transport trailers as well as International Organization for Standardization (ISO) containers.
The liquefaction trains' single-refrigerant, pressure let-down design provides a low-cost, environmentally friendly solution for LNG production, Duck adds. "Our patented process allows the production of LNG at a fraction of the cost per gallon of other existing liquefaction technologies and allows the facilities to be deployed at a relatively low capital outlay," he remarks.
In its Oct. 28 Natural Gas Weekly Update, the U.S. Energy Information Administration notes that LNG is becoming a viable option for potential off-grid consumers previously restricted to using other fuels. The report notes increasing demand for moving LNG to low-volume markets, including marine engine refueling, power generation, the containerized market, and oil and natural gas production.
"Increasingly, LNG is being transported to customers in ISO containers, which provide a flexible means of delivery, particularly to off-grid customers," EIA states. "Unlike the delivery of LNG by tanker, which requires open-water access and large onshore infrastructure, or by truck, which requires dedicated vehicles or fleets capable of carrying LNG, ISO containers can utilize existing intermodal infrastructure."
The 40 x 8-foot containers are designed to fit on any rail car, truck trailer or container ship capable of carrying standard shipping containers. Each container can store up to 10,000 gallons, which is the gaseous equivalent of 830 Mcf, according to EIA.
"ISO containers are capable of storing LNG in cryogenic state for up to 75 days, providing enough time for the cargo to reach its destination and serve as a viable means of storage," the EIA report claims. "With a portable vaporizer, which can typically regasify 90 Mcf an hour, the LNG can be delivered to consumers as pipeline-quality natural gas."