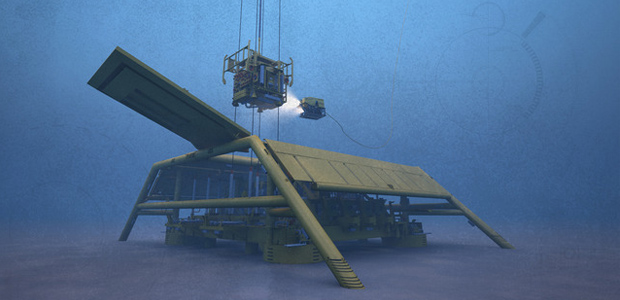 October 2015 Exclusive Story
Offshore Networking
Real-Time Video Critical In Offshore Projects
By Mark Stevens
HOUSTON–The ability to stream video to, from and within remote oil fields in real time has become increasingly important for organizations ranging from oil and gas companies to government regulatory agencies, especially for offshore operations.
Today's real-time solutions span video capture, storage and integration tools, enterprise-class networking technology, and service provisioning capabilities that are tailored to the unique needs of remote deployment in extremely harsh and variable conditions. They enable geographically dispersed stakeholders to observe and collaborate on a wide variety of subsea operations as well as all of the many topside activities that occur on rigs and vessels.
As organizations implement video solutions in their operations, they also must have an eye to future requirements including supporting higher-resolution video formats, moving to the cloud, and integrating live and archived video into a common operating picture (COP), a term originally coined by the military that describes using a single identical display of all relevant operational information shared by multiple users.
Offshore video communications can optimize drilling operations, extend exploration to deeper waters and more remote regions, and enable collaboration between onshore and offshore personnel to improve troubleshooting and decision making. Video can provide a critical real-time look at all remotely operated vehicle, vessel and dockside operations, as well as drilling and incident response activities.
Capturing and backhauling video requires specialized hardware, networking technology and communications services and expertise. Solutions also are required for enterprise video archiving as well as encoding and video media management with support for tagging, indexing and geospatial integration to simplify video retrieval and analysis. Each of these solution elements must be optimized for operations in the extremely harsh and variable conditions encountered offshore.
Video Capture And Streaming
Offshore video solutions begin with explosion-proof deck video cameras that include full pan-tilt-zoom (PTZ) capabilities, low-light technology, Internet protocol networking, and support for multiple compression formats. There is increasing emphasis on subsea lighting to improve image quality. The latest solutions leverage LED technology to significantly improve image resolution and reliability.
Cameras can be used throughout an oil field for applications ranging from general closed-circuit television (CCTV) surveillance to operations monitoring. Organizations are increasingly installing cameras on multiple "observation" ROVs that surround larger ROVs and provide an enhanced operational perspective. There also is growing demand for live topside video streams (Figure 1). Moreover, video is frequently streamed from processing plants and refineries or from load operations at docks and ports.
Video demand is growing for instrumentation monitoring as well. Organizations can augment raw data with video streams that originate from fixed and moveable cameras. In addition, video can be used to support photogrammetry services, in which images are used to create maps, drawing, measurements or a 3-D model of what is being observed.
Video also is important after severe offshore weather events for remotely assessing damage and planning repairs, and is a key COP element. In the event of any subsea disaster, the COP would include a live view of everything that was happening both on the seabed and the surface, including subsea video and data as well as map-based tracking.
Never was the value of live video images delivered from offshore operations more powerfully illustrated than during the Macondo well blowout in 2010. Transmitted continuously for more than three months from approximately 5,000 feet below sea level, the live video stream was viewed by 20 million people daily and played a pivotal role in everything from crisis response and management to how policy and public opinion were formed during and after the incident.
In one offshore project, there were 29 ROVs in the water at any given time, each with up to six cameras that were collectively delivering more than 100 live video feeds to the customer. Bandwidth challenges for video streaming and transport will grow as file sizes continue to increase with high-definition and even 3-D formats.
Roughly 30 percent of this video is viewed on mobile devices, requiring the use of high-performance H265 video compression technology to double image resolution as compared to earlier formats at the same 50 kilobit-per-second (Kbps) stream speed of the typical offshore environment.
Video transport also requires a robust enterprise-class network. Consumer video service providers enable millions of viewers to watch thousands of videos, while an offshore video solution is designed to enable, say, 100 viewers to access upward of 1 million videos. Both use virtually the same wireless networking infrastructure, but the offshore version must operate in one of the world's most unforgiving environments, supporting ship-to-ship, rig-to-ship and rig-to-shore video transport, along with other demanding voice and data communications requirements.
Networking And Archiving
There are other data to consider in offshore networking and communications infrastructures. For example, rotary brushes for equipment cleaning are continuously monitored using video to observe effectiveness and data readings for ongoing analysis. Ultrasonic testing tools also continuously transmit data, and digital radiography tools can generate as much as 50 megabytes of data an hour. Many other tools are used for real-time monitoring, including blowout preventers that must be observed continuously and repositioned as necessary.
Video conferencing also must be supported, and is an increasingly common application requirement between rigs, platforms, vessels and onshore headquarters. The average bandwidth usage for an oil rig is approximately 2 megabytes per second (Mbps).
All of the necessary infrastructure to support video, data and telemetry transmission requirements can be configured onto a portable skid and dropped onto the back deck of a rig or vessel, including voice, video and data communications capabilities. Options include point-to-point vessel-to-vessel, multipoint field, and vessel Wi-Fi networking. Vessel-to-vessel mesh networking capabilities also are available, enabling a rig and multiple vessels to transmit video, data and telemetry and share bandwidth (Figure 2).
The ability to archive, retrieve and analyze video offers numerous benefits. For instance, organizations can access drilling footage from any location at any time, helping them to investigate and resolve problems. Or, the video image of a certain section of pipeline could be retrieved to assist with integrity management.
Data storage is challenging. A typical project might generate 1.0 to 2.0 terabytes of data daily, and file sizes are growing with the move to high-definition and 3-D cameras and high-resolution video compression formats. These data volumes can overwhelm enterprise storage resources, and storage on physical media hampers sharing, retrieval and analysis. Consequently, the industry is moving to new convenient and secure cloud-based storage models.
Also important is the ability to tag and index video for easy retrieval with full DVR functionality, and to take advantage of geospatial integration for maximum convenience. Users can tag interest areas for subsequent analysis, search by comments, tags or timestamps, and attach documents or pictures using metadata content management.
Users also can browse and index the entire video timeline using thumbnails to speed clip searching, and take advantage of playback modes including fast- and slow-forwarding and rewinding, pausing to review areas of interest, and returning to the live feed when finished. It is also possible to deliver a short section to a user's desktop without having to download the entire file.
Geospatial integration further improves video retrieval (Figure 3). Video source location coordinates are automatically inserted into the video stream using key length value (KLV) data encoding, which not only simplifies retrieval, but also enables users to include historical video in their geographic information system-based COP and retrieve it with a simple click on the map.
In some cases, transponders have been laid on the vessel floor so that location information can be gathered from the seabed. Larger ROVs have an internal inertial map system that is used to calculate the ROV's exact location.
Voice And Data Services
Today's modern offshore field has access to a wide range of voice and data services, including very small aperture terminal (VSAT), radio, cellular voice and data communications, CCTV, ROV-to-CCTV broadcasting, and Wi-Fi.
Capacity is increased through add-on services including long-term evolution (LTE) communications and subsea fiber integration to connect subsea equipment together and back to shore. For vessel-to-shore communications, standard maritime satellite communications services now support 512 Kbps data rates, and the industry is moving to a 1 Mbps bandwidth standard.
A trend to watch is optical subsea communication. ROVs currently gather data from subsea equipment by moving to different points in the field and downloading it through acoustic or optical communications. The data are then sent to the surface in batches through the fiber embedded in each ROV's umbilical cabling. As the industry solidifies interoperability standards for optical communications modems that can work over distances of 150 meters or more, there will be the opportunity for the entire field to communicate in real time.
Oil and gas companies should consider using information technology and communications systems specialists that can be delivered to and operate wherever they are needed, from the rig to any and all supporting inspection, maintenance and repair vessels. They can install and maintain all communications and data infrastructure throughout the field, and travel with the operation as required.
Implementing video communications in the harsh and variable environments in offshore oil and gas fields requires a comprehensive solution, robust and reliable networking and communications platforms and services, and the availability of skilled technicians who can install, operate and maintain today's increasingly sophisticated offshore video communications infrastructure.
MARK STEVENS is director of communications and application development at Oceaneering Global Data Solutions in Houston. He joined the company in 1998, and his experience includes working with offshore network, live streaming video, live telemetry data, vessel mesh networks, and common operating picture technologies. His previous experience included serving as a global network administrator at Battle Mountain Gold and a technical service engineer at Shell. He is a graduate of Texas State Technical College and Embry-Riddle Aeronautical University.
This story came from the print edition of The American Oil & Gas Reporter. For other great articles about exploration, drilling, completions and production, subscribe.