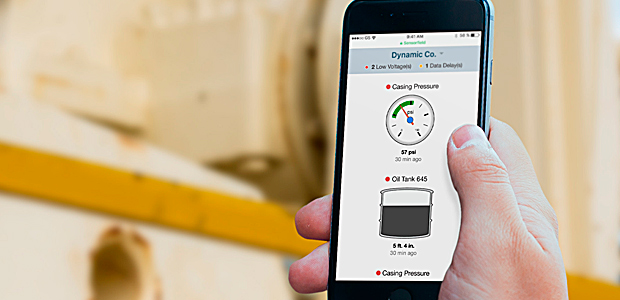 September 2017 Exclusive Story
Remote Monitoring
Solutions Give Small Operators Digital Capabilities
By Mark Bieker and Strode Pennebaker
WICHITA, KS.–Baker Hughes, a GE company, estimates that no more than 5 percent of all oil and gas assets are connected, and that 97 percent of the operational data collected are not actually used. Remote monitoring and real-time decision practices have become embedded in the culture of large oil companies. However, many small and medium-sized operators lack any digital infrastructure.
Why are so few oil and gas fields online? Common sentiments are that the necessary equipment is too expensive and too difficult to install and maintain, and that the bottom-line rewards of digital technology are not worth the time and expense required to change a company's operating culture. However, the experience of a small Kansas-based oil and gas producing company indicates that affordable, practical remote monitoring is now within the reach of all operators. The confluence of disruptive innovations has brought the digital oil field to the rest of the oil patch.
Conventional remote monitoring systems are dominated by supervisory control and data acquisition equipment and communication infrastructure. SCADA has become the de facto standard for virtually all worldwide oil and gas field remote monitoring systems, and is a mature paradigm with a large universe of expertise and service providers. However, the cost and complexity of SCADA systems make the technology untenable for most stripper well operators.
Especially in this time of uncertain oil and gas pricing, why change what is not broken? Given the alternatives, many small operators believe that it is simply not worth the worry, time and expense to consider installing a remote monitoring solution.
'Clean Sheet' Approach
Taking a "clean sheet of paper approach" to traditional remote monitoring system design, a new model has been developed that merges innovative digital technology and advanced sensors with a new design philosophy to create affordable, high-quality, easy-to-install remote monitoring and communication solutions. The initial overall vision behind the technology's development was to develop "monitoring as an appliance" functionalities to enable a completely do-it-yourself, low-cost remote monitoring solution that field personnel could install and operate in minutes with little training.
A plug-and-play system based on Internet of Things and cloud computing technologies gives users the capabilities of large, expensive monitoring systems at a fraction of the cost of conventional SCADA equipment. Small producers gain around-the-clock insights into the operations of their wells. They always know the health of their operations so they can set priorities, reduce downtime and operate as efficiently as possible. This imperative is made all the more critical by manpower constraints facing many smaller operators, coupled with the persistent uncertainty in oil price forecasts. Younger, tech-savvy workers are ready to adapt to a stream of real-time information on smartphones.
These new monitoring devices can be placed anywhere on any oil field location such as a tank, flowline or pump. They are turned on by a simple press of a button; transmit high-rate, high-quality data from anywhere to the cloud; and run indefinitely. Power is provided by a small solar panel embedded on the top of the sensor enclosure.
The sensors can function in deep shade and in climates in which cloud cover is the norm, and they are extremely robust in harsh field conditions. As a completely plug-and-play system, replacements and additions are simple and intuitive. Advanced Web and smartphone software is designed for intelligent alarms, and the high-resolution data allow insights into subtle field conditions that cannot be revealed by standard analog gauges and daily reports.
Kansas Field Trials
After evolving the design and conducting initial testing, the new system was ready for field trials in early 2016. Trek AEC, a small Kansas operator, agreed to implement the technology in several of its wells to evaluate its performance in real-world applications. Kansas is dominated by remote, highly scattered low-volume oil wells. Pumpers often handle 40 to 60 stripper well sites and their well visits are typically limited to a few minutes. They can get only a brief snapshot into the operations at each location during any given visit.
With such broad responsibilities and significant ground to cover, pumpers often find it difficult to keep a close watch on all wells in their circuits. As a result, most small and even mid-sized operators are typically in a reactive mode, responding to situations when an incident occurs. Unfortunately, failure costs can be disastrous to bottom-line operating economics given the combination of the low production volume of a typical Kansas stripper well and local wellhead prices that the U.S. Energy Information Administration says averaged $45.06 a barrel through the first six months of 2017.
Trek AEC operates more than 350 wells in 19 counties in Kansas. The well sites are scattered and many of the facilities are older, requiring near-constant maintenance with significant risk of incidental leaks or releases. While the company recognized the benefit of remote monitoring, executives could not justify the cost of traditional SCADA systems. Trek AEC had several past experiences with remote monitoring technology, and those previous experiences reinforced the belief that conventional solutions were expensive, maintenance-plagued and not very beneficial given the scale of the company's operations.
Seeking to explore alternatives to enable SCADA-like capabilities without the cost of a full SCADA deployment, Trek AEC opted to test the new remote monitoring solution on several well locations. The early positive results convinced the company to gradually increase deployment as the benefits became proven and field personnel learned to trust and rely on the systems.
Three Application Phases
Over the course of a year, Trek AEC's experience with the remote monitoring solution evolved through three phases:
Monitoring key conditions and sending alarms when failures occur;
Detecting growing problems and alerting field pumpers to act proactively before failures occur; and
Optimizing field operations.
At the outset, the primary appeal of the new system was that it offered an exceptionally cost-effective alarm system that was easy to install. The first system was a trial and Trek's initial goal was a simple one: to monitor key conditions and receive smartphone text alarms when failures occurred. Since the cost was about the same as a typical call-out system, the company was able to justify potential purchase pricing based on call-out functions alone.
The initial system consisted of a tank level monitor and a high-resolution pressure monitor for a saltwater disposal well location. Several days after installation, Trek AEC personnel received a low-pressure alarm. The tank level was normal, but the system pressure was dropping rapidly. On arrival, the pumper found and fixed the issue promptly. This well location, a few hundred yards from a navigable river, was spared a spill accident with a potentially expensive cleanup and fines.
With a few months of experience, Trek AEC's personnel realized an additional benefit of near real-time data. The historical trends enabled them to adjust the high- and low-level alarms to detect serious system issues before a failure could occur. This was an added benefit that was not a driver in Trek's preliminary decision-making process. At this point, the company took steps to implement additional sensing systems at high-volume well sites and at facilities located in environmentally sensitive areas. It developed a two-pronged strategy: reduce downtime on the best wells, and minimize catastrophic failure risks at sensitive remote locations.
With several months of experience, the new monitoring system was a proven notification and failure prevention tool. Field personnel had become comfortable with installing the sensors and were starting to count on the information to help them manage their pumping routes.
Trek AEC began to review the historical data in detail. The system was designed to provide high-resolution and high-accuracy data on par with high-end system specifications. Trek began to observe distinctive trends in the data, both gross and subtle. There were surprising discoveries that led to the detection of previously unknown problems as well as clues toward developing preventative maintenance programs and optimizing overall asset performance.
The high-resolution wellhead pressure data revealed trends that gave Trek AEC the ability to forecast and schedule chemical remediation and injection well filter changes. Subtle changes in beam pump stroke times revealed accurate pump-off onset and allowed optimization of time clocks. Changes in pumping cycle times also led to unexpected maintenance.
The company noted that the beam pump on one well had slowed by only 20 milliseconds per stroke. This was a small change, but clearly identifiable in the high-resolution data. On closer inspection, Trek discovered that the well was producing iron sulfide in solution and required a downhole treatment. The pumping unit sensor caught this long before the pumper would have become aware of the situation.
Tank level data revealed significant gas-locking episodes in several wells that were undetectable in daily gauge reports. This was only possible because the high resolution of less than 0.1 inch allowed the company to see small changes in wells making less than five barrels of oil a day. A high-resolution combination noise/temperature monitor yielded information on gas compressor performance and downtime history. Moreover, a high-resolution wellhead pressure monitor detected reservoir fill-up on a new dump flood injector and allowed Trek AEC to forecast maintenance for adjusting the pump.
Bottom-Line Benefits
The affordable solution has brought the powerful capabilities of the digital revolution to a small company focused on maximizing the performance of low-volume oil wells. Trek's management and field personnel now have the tools to transition from reactive to proactive mode. The introduction of automation did not lead to any loss of jobs at Trek AEC. Instead, by providing insight into field operations, the new information led to more ways to improve operations. The company's average pumpers became better and its good pumpers became excellent.
Remote monitoring has positively impacted Trek AEC's bottom line. Since implementing the new systems, the company has not had a single environmental issue that was not caught before it became a costly problem. The investment paid out quickly in spill prevention alone. The company's operating culture was changed so that both office and field personnel can now observe and understand field operations at a much deeper level using the granular and high-resolution data. Through changes in operating practices, Trek AEC is experiencing unexpected ongoing cost savings and improvements.
Trek AEC now views the remote monitoring system as integral to its day-to-day operations and a vital part of the production equipment. Thanks to high-resolution data and near real-time insight, what started as a simple monitoring solution evolved into a tool that allows personnel to respond to problems before they occur, all while ensuring that multiple assets are fully optimized. In time, the company has come to realize that remote monitoring and real-time decision practices became embedded in their own culture in the same way as their much larger oil company peers.
With innovative design and technology, remote oilfield monitoring is now a reality for producers of any size. Affordable, yet without compromises in quality, these proven new sensor systems help level the playing field for smaller oil and gas producers.

MARK BIEKER serves as the operations manager at Trek AEC in Wichita, Ks. Trek AEC is an affiliate of Dallas-based Trek Resources, and has ownership interests in approximately 500 wells and operates more than 350 wells in 19 Kansas counties. It also holds nonoperating interests in wells in Kansas, Colorado, Oklahoma and Texas. With more than 35 years of field technical experience in all aspects of oil operations, Bieker has worked in most of the major basins across the Mid-Continent region.

STRODE PENNEBAKER is chief executive officer of Sensorfield LLC, the provider of the remote monitoring system deployed in Trek AEC's Kansas wells. Headquartered in Houston, Sensorfield has developed advanced remote monitoring solutions for oil and gas wells and facilities, including the industry's first complete remote monitoring system based on small, plug-and-play units installed by oil and gas company personnel. Before establishing the company in 2011, Pennebaker had served for 37 years in engineering roles at Transocean, Baker Hughes, DKM Resources and Shell. He holds a B.S. in mechanical engineering from the University of Texas at Austin.