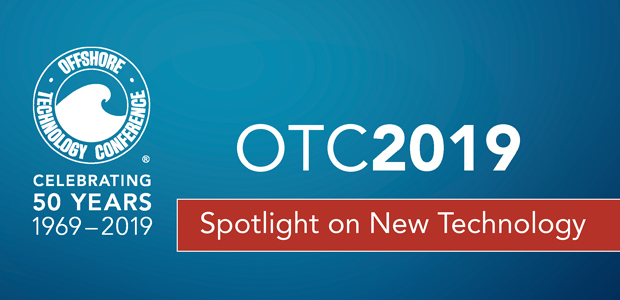 April 2019 Exclusive Story
2019 OTC
Technologies In Spotlight On Exhibit Floor
By Tim Beims
HOUSTON–As it has for 50 years, the 2019 Offshore Technology Conference is bringing all imaginable types of offshore products and services to one place at one time: May 6-9 at NRG Park.
Organizers say the program for this year's Golden Anniversary edition of OTC focuses on sharing information on new technology, engineering know-how, scientific and technical knowledge, and operational best practices gleaned from global offshore projects–ranging from Big Foot in the Gulf of Mexico's Miocene play to the Aasta Hansteen gas condensate field in the North Sea and the ultradeepwater Kaombo Field offshore Angola.
Technology and offshore expertise is on full display in 50 technical sessions and a number of special events over the four days of OTC. The agenda includes the University R&D Showcase, in which universities present offshore-related research within their academic programs, and the Rice Alliance Startup Roundup, which features emerging technology companies.
The University R&D Showcase is scheduled 9 a.m.-5 p.m. daily on Tuesday and Wednesday on Level 2 of the NRG Center. The Rice Alliance Startup Roundup kicks off at 2 p.m. on Monday on Level 2 of the NRG Arena. The event presents "quick pitches" from 50 companies offering innovations related to areas such as artificial lift, corrosion prevention, hydraulic fracturing, distributed power generation, multiphase gas compression, and reservoir monitoring.
New at OTC this year is the Around the World series, which OTC says gives global industry leaders a platform to "discuss new licensing and business opportunities, as well as recently introduced technologies." Scheduled at various times each day Monday through Wednesday, speakers represent Norway, Australia, Mexico, Canada, France, the United Kingdom, Israel, Ghana, and Guyana.
As always, however, the primary showcase of innovation is found in the 500,000-plus square feet of exhibit space. More than 2,000 companies from more than 50 countries are exhibiting at this year's show, and OTC says it is again recognizing a number of the newest and potentially most important technologies on exhibit with the Spotlight on New Technology® Award.
Spotlight award recipients will be honored at 4 p.m. on Monday in the NRG Center Rotunda Lobby. To qualify, technologies must be original, less than two years old and proven through full-scale application or prototype testing. They also have to demonstrate broad industry appeal, and provide a potentially significant impact that goes beyond existing technologies.
Three companies also will be presented with the Spotlight on Small Business Award, OTC announces. In addition to the criteria for the New Technology Award, recipients of this award must be independently-owned and operated or a nonprofit with no more than 300 employees.
"Each Spotlight on New Technology Award submission is reviewed and rated by several subject matter experts, providing a sound and fair scale," says Wafik Beydoun, chairman of the OTC 2019 Board of Directors. He notes that more than 450 technologies were submitted, and "the best of some incredible submissions were chosen."
Spotlight Award Winners
According to OTC, this year's Spotlight on New Technology Award recipients are:
AFGlobal for both its nonrotating Active Control Device and DuraStim® pump;
Baker Hughes, a GE company, for the NovaLT™16 gas turbine;
Dril-Quip Inc. for its double expansion XPak™ liner hanger;
FutureOn® for the FieldAP™ cloud-based digital application for subsea projects;
National Oilwell Varco for the Subsea Automated Pig Launcher™;
Oceaneering International for its Subsea Pumping Technology™;
Saipem for its Offset Installation Equipment solution;
Schlumberger for the Concert™ real-time well testing system;
Schlumberger OneSubsea for the Vx Omni™ subsea multiphase flowmeter;
Siemens for both the BlueVault™ energy storage solution and Subsea Power Grid;
Stress Engineering Services for its condition-based maintenance (CBM) technology for drilling risers;
TechnipFMC for the Subsea 2.0™ inline compact robotic manifold; and
Weatherford for its TR1P™ single-trip completion system.
The three Small Business Award recipients are:
HYTORC for its Lithium Series® II electric torque tool;
Van Beest P.V. for the Green Pin Tycan® fiber lifting chain; and
XSENS AS for the XACT™ ultrasonic clamp-on flowmeter.
"We are very proud, at this special Golden Anniversary of OTC, to present these 18 Spotlight on New Technology Award outstanding winners," Beydoun remarks. "They are proof that the highway of the future in offshore development is being paved by innovations."
AFGlobal (booth 938) says its Active Control Device provides the prerequisite seal and diversion of annular wellbore returns using a novel, nonrotating device enabled by an actively pressurized, co-molded element. This purpose-built device eliminates the bearings and rotating components that are a regular source of maintenance and failure in conventional rotating control devices.
The DuraStim 6,000-horsepower pump (both 10715) is the first variable displacement hydraulic fracturing pump. Built for the extreme demands of long-duration, high-pressure fracturing, the pump dramatically lowers the cost of ownership, improves operational performance and creates many new safety and environmental advantages, AFGlobal reports.
The NovaLT 16 double-shaft gas turbine (booth 2827) is designed for mechanical drive and power generation applications in the small power (5-20 megawatts) range. Utilized in both on- and offshore applications, BHGE says the turbine sets a new standard for performance through maximized availability, high fuel efficiency, low maintenance and reduced emissions.
Dril-Quip's XPak (booth 4577) is the first double expansion liner system. It eliminates the need for fixed landing profiles and risk associated with sub-mud line hangers, increases operational flexibility, and provides significant cost savings, according to the company. The system deploys through wellhead restrictions to provide a metal-to-metal seal within seamed thin-wall casing and offers high hanging, lockdown and pressure capacities.
FutureOn describes its FieldAP (booth 4438) as a cloud-based application that enables digital subsea field planning, subsea data and asset visualization, and installation planning for subsea projects. A FieldTwin™ platform application, FieldAP enhances collaboration among teams globally while reducing risk.
NOV's Subsea Automated Pig Launcher (booth 2839) allows pig launching from subsea to topside and promises a flexible and robust technology that enables a wide range of pigging operations. According to the company, the system eliminates the need for a second flowline solely for pigging and wax handling to allow pigging on demand at any time.
Subsea Chemical Storage
Subsea Pumping Technology (booth 2060) allows operators to reduce or eliminate their topside footprints by moving chemical storage and injection systems subsea, reducing the cost and complexity of conventional umbilicals, Oceaneering International details. The solution offers value-added contributions to tieback architectures and applications where chemicals are required for operational integrity management or flow assurance purposes.
Saipem's Offset Installation Equipment (booth 4639) is a remotely operated subsea system designed to allow the positioning of a capping stack onto an erupting subsea well in water depths from 75 to 600 meters (246 to 1968 feet) at a safe step-out distance of 500 meters (1640 feet), according to the company.
Schlumberger (booth 2415) says its Concert well testing live performance brings digital automation and communication to well testing by giving everyone the same real-time information and interactive capabilities. The seamless access and sharing of data, diagnostics and analysis improves efficiency, data quality and safety to mitigate uncertainty. The Vx Omni is a compact, highly accurate and reliable subsea multiphase flowmeter that provides crucial data to understand how each individual producing well is performing so operators can enhance reservoir recovery and facilitate safer operation, according to Schlumberger OneSubsea.
BlueVault is a lithium-ion battery-based energy storage solution that is suited for both all-electric and hybrid (i.e., diesel-electric) power applications. Siemens (booth 4422) says it is specifically designed to help ensure continuity of power and minimize emissions on vessels and offshore drilling rigs. The Subsea Power Grid transforms field developments by extending tiebacks and allowing flexible subsea processing, the company reports. It has subsea transformers, switchgear, variable speed drives, wet mate connectors, and a remote control and monitoring system.
Stress Engineering Services' condition-based maintenance technology (booth 431) provides innovative automation, digitalization and data analysis techniques, empowering drilling contractors to make real-time, data-driven decisions concerning drilling riser asset integrity. These insights focus on safety, identifying measurable risks, managing economics for the drilling contractor with actionable data providing a health assessment of the asset. SES details.
The Subsea 2.0 inline compact robotic manifold from TechnipFMC (booth 2038) has transformed traditional manifold design to improve subsea field economics. According to the company, the compact manifold design reduces size, weight and manufacturing cost. It incorporates a robotic arm for valve actuation, can be installed using the same vessel laying the flowline, and increases flexibility over the life of a field.
Weatherford (booth 1839) says its TR1P single-trip system reduces deepwater completion installation time by up to 60 percent. By combining the upper and lower completions in one trip, the system reduces personnel risk and increases efficiency. Using RFID technology, the field-proven system delivers 100 percent interventionless operation in both production and injection wells.
HYTORC (booth 4015) says its Lithium Series II electric torque tool is a lightweight, 36-volt battery-powered tool with a capacity up to 5,000 foot-pounds for strength and portability in industrial bolting. Green Pin Tycan from Van Beest (booth 1673) is a high-performance, non-corrosive fiber lifting chain that has the performance and flexibility of steel chain but a fraction of the weight. According to XSENS AS (booth 4438), XACT is a lightweight ultrasonic clamp-on flowmeter that provides flow rate and fraction measurement at unprecedented accuracies without compromising pipeline integrity.