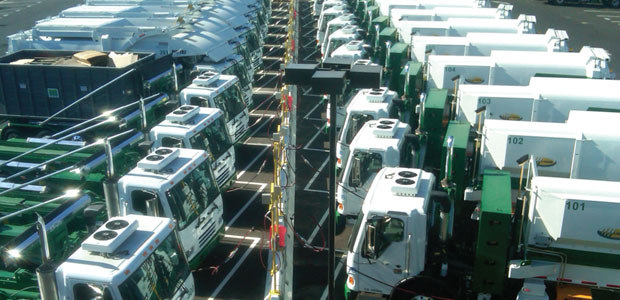 October 2012 Exclusive Story
U.S. Truck, Bus Markets Expanding
By Dave Hurst
BOULDER, CO.–In the transportation market, medium-duty (MD) and heavy-duty (HD) trucks and buses use significant amounts of fuel, so not surprisingly, government and businesses are seeking ways to reduce these vehicles' fuel costs and emissions. At the same time, growing natural gas supplies in the United States are making the price disparity between petroleum fuels and natural gas fuels significant.
Consequently, natural gas is being promoted as a viable new option for the U.S. transportation sector, particularly for transit buses and the trucking industry as a means to reduce fuel costs and lower emissions, while at the same time, promoting the natural gas refueling infrastructure so that it can then serve the consumer market as well as other fleet vehicles. In cases of large fleets of vehicles that use a lot of fuel, the infrastructure can be recovered in the fuel savings as well.
The question for natural gas-fueled trucks and buses in the U.S. market continues to be, which comes first, the natural gas vehicles or the infrastructure? The answer has varied over the years. Infrastructure has led at times in the past, although NGVs are leading the way today. In general, vehicles are being supplied to the market by three key sources: original equipment manufacturers (OEMs) that build trucks and shuttle buses on assembly lines, truck body builders that do the conversion and provide gas cylinders in the body, or conversion companies that specialize in converting gas and diesel trucks to natural gas.
OEMs manufacture most HD transit buses on standard assembly lines. Most manufacturers and vehicle converters that Pike Research contacted as part of its natural gas vehicles research indicated they either had excess capacity or could easily assign new capacity to natural gas truck manufacturing lines, pointing to the fact that the supply of trucks is ahead of demand at the moment.
Infrastructure Build Out
Complicating the infrastructure build out is a question about the type of fuel used in natural gas trucks. Most trucks run on compressed natural gas (CNG) because the fuel is more readily available, and CNG storage cylinders weigh less and are less costly than those used in liquefied natural gas (LNG) trucks. However, LNG trucks are increasingly used for longer-range vehicles because more natural gas can be stored in liquid form than as compressed gas. As a result, LNG trucks typically offer a total vehicle range of roughly 400 miles or more compared to 150-300 mile for CNG. For customers considering LNG or CNG, the choice often comes down to the range needed for the vehicle, rather than vehicle cost.
On the refueling infrastructure side, CNG stations are generally significantly less expensive to build than LNG stations (except in special cases such as shipping ports, where LNG is readily available). As a result, the infrastructure available is very CNG-centric. Currently, the worldwide breakdown of refueling stations for these two types of natural gas is 117 LNG refueling stations versus 20,233 CNG refueling stations. About 45 percent of the global LNG refueling stations are located in the United States, although China has the largest number of annual sales for LNG-fueled trucks.
The United States is focused on developing LNG refueling corridors that can provide point-to-point, long-distance natural gas fueling. Clean Energy Fuels and Royal Dutch Shell are both partnering with existing truck stops (Pilot-Flying J and TravelCenters of America, respectively) to provide LNG refueling points.
In the truck market, end use largely drives vehicle design. As a result, the construction industry's anticipated rebound in the coming years is expected to push growth in the overall truck market. Other strong targets for natural gas trucks are the refuse and transit bus markets, both of which are seeing significant growth in natural gas demand despite relatively flat overall markets in North America.
Of course, the U.S. natural gas industry is a strong proponent of natural gas-fueled trucks, from drilling sites to local utility vehicles. To broaden market options, engine manufacturers are expanding their natural gas engine line ups, which will provide better engine options for over-the-road trucks.
Four Demand Drivers
Within the market, Pike Research has identified four basic demand drivers for NGVs. Each of these key drivers holds different weight in different parts of the country and with different stakeholders, but most market players generally accept all of them as the main reasons for purchasing NGVs.
Obviously, the first driver is economic benefits. As a vehicle fuel, natural gas provides significantly lower costs than either diesel or gasoline. In most cases, the incremental cost of a natural gas-fueled truck or bus is between 15 and 40 percent more than a diesel equivalent, depending on the vehicle's type and fuel capacity.
A HD refuse truck may cost $32,000-$33,000 to convert to run on CNG. Assuming a route that puts 13,632 miles on the truck each year, the savings in using natural gas versus diesel would be $7,289 annually. The incremental cost on the truck could therefore be recovered within four and a half years. Considering that trucks may be used for 10 or more years in many industries, the fuel savings during its remaining lifetime can help recover infrastructure costs. A higher mileage truck or transit bus will see payback on the incremental cost in less than three years (Table 1).
Natural gas-fueled trucks and buses also have substantially lower greenhouse gas (GHG) emissions, particulate matter, and nitrogen oxide than diesel-powered vehicles, which gives rise to the second driver: environmental benefits. Governments are using natural gas trucks and buses as a tool for reducing GHG emissions. While these vehicles reduce smog and other emissions, the owners (or operators) can enjoy a marketing benefit by promoting themselves as "green."
The third driver mentioned by fleet managers is the availability of fuel and vehicles. The increased availability of both fuel and vehicles, in addition to the wider range of HD truck engines, has made the excitement of natural gas as a vehicle fuel almost palpable. Fleet operators with trucks in segments in which they may not have had a strong presence in the past are now seeing more potential to use natural gas in their vehicles. Segments where trucks are now seeing more interest in natural gas conversions include vocational trucks such as snow plows, cement mixers, beverage tractors and over-the-road tractors.
Finally, many fleet managers mention the need to improve energy security and supply surety by reducing imported oil. With the growth of natural gas production in the United States, fleet managers are recognizing that this means domestically produced natural gas can displace imported oil.
Renewed Innovation
Because of the growth of U.S. natural gas supplies, there is a renewed effort to innovate within the truck and bus market. Most of this innovation is evolutionary, rather than revolutionary. In the infrastructure market, several energy companies are helping to build infrastructure at low or no cost with long-term gas purchase agreements. General Electric, in partnership with Chesapeake Energy Corporation, has developed a new containerized CNG refueling station that can be quickly installed for one-third to one-half to the cost of a custom CNG refueling station.
In regard to fuel storage on the vehicles, CNG storage cylinders come in four basic types: the first is an inexpensive, but heavy all-steel cylinder; the second and third types are metal tanks with fiberglass or carbon fiber wrapping to reduce weight; and the fourth type is a plastic cylinder with fiberglass or carbon fiber wrap, and is the lightest and most expensive.
Innovations in carbon fiber have been driving additional research in storage cylinder designs. New materials are helping increase storage while maintaining or reducing overall weight. In addition, the production of CNG cylinders is growing, thereby driving costs lower. The falling cost of cylinders has contributed to a roughly 5-10 percent decrease in the overall incremental cost of CNG systems on trucks in the past several years.
CNG drivetrains are also being paired with hybrid drivetrains in tests to capitalize on the advantages of both technologies. These strategies are still in the development stage, and these systems' gross vehicle weights and costs are generally still uncompetitive. However, this is likely to change as battery costs fall and cylinder technology advances.
The government plays a significant role in the market for natural gas trucks and buses, whether in regulation, providing incentives, or in purchasing vehicles. In order to regulate the emissions of these vehicles, natural gas engine conversions must be certified by the U.S. Environmental Protection Agency and California Air Resources Board. In the past, EPA's certification process proved to be very expensive and quite onerous. However, the process has been simplified since 2010, and recertifying vehicle engines for subsequent model years is less costly and time consuming than in the past.
While recertification used to be a major issue for converters, the process is much better than it had been only a couple years ago (although, it is still expensive and time consuming). In addition, older vehicles that are "outside useful life," but are often still functional vehicles have their own paths to engine certification that reduces testing and certification costs.
Market Forecast
The emissions regulations for diesel trucks also contribute to interest in natural gas-fueled trucks. As emissions regulations become stricter, the cost of equipment on a truck to meet these requirements increases. New fuel economy regulations limiting emissions will be phased in starting in 2014. The EPA is estimating that diesel trucks will see an additional cost of $6,000 in 2014. We anticipate that the natural gas-fueled truck market will experience a boost beginning in 2017 when the regulations are fully phased in and the associated costs are fully realized.
In 2011, federal incentives for both purchasing trucks and building refueling infrastructure expired. A refreshed version of these incentives is now part of the NATGAS Act that has been in various forms in front of both the U.S. House and Senate since 2010. However, many states offer incentives, grants or loan programs to encourage the adoption of natural gas trucks and buses. These vary significantly from state to state. As the industry continues successfully making the case that these trucks and buses are an economically good choice for purchasers, even without incentives, the prospects for passing federal purchase incentives seem less likely.
The pieces are falling into place for robust NGV growth in the United States, but the markets for MD and HD trucks and buses are still in their early stages. Pike Research expects the market to see 10 percent compound annual growth in natural gas-fueled trucks between 2012 and 2019. This translates into a market growing from 3,250 MD and HD natural gas trucks expected to sell this year to almost doubling to 6,315 by 2019. Similarly, the bus market in the United States is anticipated to essentially double from 1,399 vehicles this year to 2,778 in 2019 (Table 2).
The global market for trucks and buses is anticipated to be slightly stronger, with 14 percent and 18 percent compound annual growth, respectively, as a result of strong growth in India, China and Thailand. Parts of Western Europe are expected to see strong growth in trucks as well, once the ongoing financial crisis gets sorted out.
On the infrastructure side, the United States should expect to see 1,358 CNG and LNG stations available by the end of 2012 (compared to about 80,000 diesel stations). By 2019, the number of stations is anticipated to grow to 2,166. The United States and China are leading LNG development, and are likely to see the fastest growth over the next few years. The growth of refueling infrastructure to serve fleet markets will be used as a catalyst in the United States (and other countries) to help kick start the significantly larger consumer market.

Dave Hurst is a senior research analyst contributing to Pike Research's smart transportation practice, with a primary focus on analyzing emerging markets for electric vehicles, natural gas vehicles and hydrogen fuel cell vehicles. Hurst is an experienced transportation consultant and market researcher with 15 years of market analysis experience in the automotive industry, including client engagements with Chrysler, General Motors, Ford, Toyota, Volkswagen, John Deere, Delphi, Goodyear and Lear. Prior to joining Pike Research, Hurst worked at several market research firms in addition to managing his own marketing consulting practice. He holds a B.A. in economics from Albion College and an M.B.A. from Wayne State University.