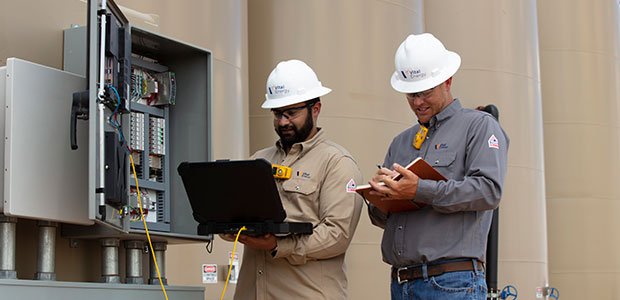 February 2023 Cover Story
Independents Making Moves To Fortify Permian's Role As Global Supply Epicenter
By Al Pickett, Special Correspondent
To continue fulfilling their critical supply-side mission as safely and efficiently as possible, Permian Basin independents are reshaping their corporate identities and strategies to hone core strengths, expanding their leaseholds through acquisitions, and embracing cutting-edge technology in all facets of their operations.
One case in point is Tulsa-based Vital Energy Inc., which the former Laredo Petroleum has adopted as the brand name for a thoroughly transformed company positioned for a new digital era in Permian operations. Another is Dallas-based Matador Resources Company, which announced in December that it had entered into a definitive agreement to acquire Advance Energy Partners Holdings LLC, including producing oil and gas properties and undeveloped acreage in Lea County, N.M., and Ward County, Tx.
Other examples are Hibernia Resources III, one of the largest private operators in the Permian Basin, which is expanding its leasehold in the sweetest spot of the Midland Basin; Octane Energy, a Permian-based operator and consultancy that is assisting other companies in advancing the state-of-the-art science in developing Tier 2 and 3 areas; and Sitio Royalties Corp., which at the end of the year completed one of the largest mergers in Permian history: a $4.8 billion all-stock merger with Austin-based Brigham Minerals Inc.
Vital Transformation
Vital Energy is the result of a long and deliberate process to remake Laredo Petroleum based on key corporate attributes. "We started this transformation more than three years ago," says Jason Pigott, chief executive officer and president. "We had goals to buy more assets, get oilier, have free cash flow and pay down debt, move to more digital technology, and add value for all of our stakeholders."
As the company moved toward achieving those central objectives and attributes, it was time to rethink its name. "We wanted to do something that reflected all of those changes. We wanted to energize human potential and get our employees excited about coming to work every day," Pigott goes on. "As we learned with the war in Ukraine, everything we do is powered by energy. We wanted a name that reflected that what we do is important for the world."
Pigott admits the rebranding was an exhaustive process. From changing "email addresses to letterheads to a thousand small things; to communicating our transformed culture both internally and externally; we are changing everything," he notes. "It was a long process, but it was important for us to enter the new year with a new name to reflect our transformation into a new company."
Vital Energy has 166,000 net acres in the Midland Basin. It operates about 1,300 net wells and plans to drill another 55 wells this year. Although it has legacy acreage in eastern Glasscock and Reagan counties east of Midland, its focus for the past year and the coming year is in Howard County north of Big Spring, Tx.
"These wells are phenomenal," Pigott enthuses. "When we bought the property in Howard County, oil was in the low $60's a barrel. To complete many of these wells in a higher-price environment was a home run for us."
Vital is now pushing the lateral lengths of its Howard County horizontal wells to 15,000 feet.
"Our team has done a great job," he continues. "We have been relatively problem-free on the drilling and completion side. We are getting faster and faster at drilling these wells. We were also one of the first companies to use local sand, which is saving us $400,000 a well. That is big in this price environment."
Digital Capabilities
Vital Energy's operational strategy is based on peer-leading digital infrastructure (see November 2022's High IQ IT Meets ESG At Laredo Petroleum). The company's digital capabilities span the well life cycle from drilling to production. For instance, Pigott notes that Vital has worked with Amazon Web Services to migrate its legacy systems to the cloud, which is allowing the company to use artificial intelligence algorithms to optimize electric submersible operations.
"Every well in Howard County is on an ESP initially when it comes on line," he explains. "That is when the wells are the most valuable because that is when they produce the most oil. We typically use ESPs for the first 36 months."
Pigott says these wells have a 60%-70% decline in oil output in the first year, going from 1,500 bbl/d to 500 bbl/d. "Once they flatten out at 200-300 bbl/d, we go to a rod pump in the next phase," he claims. "ESPs are expensive to operate and the wells do not need that much power after they flatten out. We will be experimenting this year with using rod pumps or gas lift in the next phase."
Vital's production in the Midland Basin is about 50% oil, 25% natural gas, and 25% natural gas liquids. In Howard County, however, its production is about 70% oil, which Pigott says meets one of the company's goals of becoming oilier.
"We want to continue to achieve scale and growth as one of the smaller public companies in the Permian," he relates. "We have seven-eight years of inventory, but we are looking to make more acquisitions. The larger we are, the greater impact we can have. Our challenge is how do you grow and continue to strengthen your balance sheet."
Vital currently is running two rigs and one frac crew, although Pigott says it will bring on a temporary spot frac crew in the second quarter to complete drilled but uncompleted wells in inventory.
Pigott says Vital drills three or four wells per pad and 12 wells per section. "We complete the wells sequentially, so we bring on 12 wells at a time," he explains.
Vital is targeting the Spraberry Trend area in Howard County, which includes the Middle Spraberry, Lower Spraberry, and Wolfcamp A, according to Pigott.
Vital also unveiled its environmental, social and governance and climate risk report last year.
"We hired a chief sustainability officer," Pigott points out. "We were the first public company in the Permian Basin to have responsibly sourced gas. We have essentially eliminated all routine flaring, and we have aggressive emission reduction goals. We are using 50%-65% recycled water in Howard County."
He says Vital's rigs will move to western Glasscock County in late 2023 or early 2024, but for now, the company's focus is solely on its operations in Howard County.
What does Pigott see beyond the near- and mid-term horizons for Vital Energy? Therein lies the beauty of a 100 year-old basin with stacked plays that has continually reinvigorated itself over the years with new concepts and new technologies, he responds. "There is always something more; always another zone to target," Pigott concludes. "We have already tested the Wolfcamp B and Middle Spraberry. Our team has done a good job of finding new zones."
Strategic Opportunity
Matador's deal to acquire Advance Energy Partners Holdings consists of an initial cash payment of $1.6 billion plus additional cash consideration of $7.5 million for each month during 2023 in which the average oil price exceeds $85/bbl, and is expected to close in the second quarter. It includes 18,500 net acres (99% held by production) in the core of the northern Delaware Basin. Estimated daily production in the first quarter is 24,500-25,000 barrels of oil equivalent (74% oil).
Matador says 406 gross (203 net) horizontal locations have been identified for future drilling, including prospective targets through the Wolfcamp, Bone Spring and Avalon formations. Most of the acquisition is near Matador's existing properties in its core Ranger asset area in Lea County, N.M. That includes 21 gross (20 net) drilled but uncompleted wells expected to be turned to sales in the second half of this year, as well as 206 gross (174 net) operated locations (84% working interest) and 200 gross (29 net) nonoperating locations (15% working interest). It also includes 38 gross (35 net) additional upside locations in the Wolfcamp D formation, according to Joseph W. Foran, Matador's founder, chairman and chief executive officer.
"Matador is very excited by this strategic bolt-on opportunity," Foran says. "We view this transaction as a unique value-creating opportunity for Matador and its shareholders. We valued this transaction based on rock quality, the strong existing production and cash flow profile, the potential reserves additions, the high-quality inventory, the available midstream opportunities, and the strategic fit within our existing portfolio of properties."
Foran notes an additional upside of the transaction is potential midstream opportunities for Pronto Midstream LLC, Matador's wholly-owned midstream subsidiary that operates in Lea County. The transaction includes the acquisition of 35 miles of in-field gas and water gathering pipelines and an active Devonian well with strong proven injection capacity.
Matador, which had more than 130,000 acres in the Delaware Basin prior to the acquisition, turned 12 wells to sales in the fourth quarter in the Ranger asset area, the company reports. The average lateral length of all of Matador's 2022 operated wells in the Delaware was 9,900 feet. Matador says its daily Delaware production in the last quarter of the year averaged 99,700 boe/d (60% oil).
According to Foran, the total proved oil and gas reserves associated with the Advance Energy Partners properties were estimated to be 106.4 million boe (73% oil) as of Dec. 31, equating to a PV-10 of $2.86 billion. He says Matador expects to add future proved reserves and reserves value as a result of developing these properties going forward, and notes that the acquisition also provides increased operational scale in the Delaware, which is expected to improve the company's overall rates of return and unit-of-production costs.
"We have carefully managed and strengthened our balance sheet over time in order to be in a position for a special opportunity like this," he relates. "The specific location and quality of these select assets, the strong existing cash flow, the multipay potential, the cost savings associated with developing these assets via longer laterals on multiwell pads with centralized facilities, the midstream synergies with Pronto and the held-by-production status of the acreage were key features that attracted us to this unique opportunity and should significantly enhance our already strong Delaware Basin portfolio."
Top-Tier Rock
Hibernia Resources III LLC is one of the largest private operators in the Permian Basin. Chief Executive Officer P. Embry Canterbury says his company holds 38,000 acres—not including acreage additions in two pending acquisitions—in what he describes as "Tier 1 core rock" in Texas' Reagan and Upton counties in the central Midland Basin.
Interestingly, Canterbury notes that some of Hibernia's acreage is within five miles of the Santa Rita No. 1, the Permian Basin discovery well that came roaring in on May 23, 1923. A century later, Hibernia is drilling long-reach horizontals into tight "source rock" formations in the same neck of the woods where the Santa Rita first revealed the magnitude of the basin's vast hydrocarbon deposits.
Running three rigs, Hibernia plans to drill 60-65 wells this year targeting the Jo Mill, Lower Spraberry, Wolfcamp A, Upper Wolfcamp B, Lower Wolfcamp B and the Wolfcamp D zones in the Spraberry Trend Area. Hibernia currently operates 150 wells in the play, averaging two-mile lateral lengths, although he says the company will test a 3.5-mile lateral in the first quarter of this year.
Even with that experience, Canterbury claims there are still things to learn. "The biggest challenge is understanding the impact of parent-child relationships from existing wells and the interaction between co-developed wells," he states. "When you have five-six different landing zones, and you drill all of them, understanding and forecasting the cube development is really important."
Canterbury points out that companies in the area work together to share beneficial information, helping advance technical lessons from collective experience. "We have proprietary data from another 2,000 wells," he notes.
Well costs on two-mile laterals were $6.3 million several years ago, but they peaked at around $10 million last year because of inflation, according to Canterbury. However, he says he expects that to drop to average about $750 per foot in 2023.
Canterbury says Hibernia's wells have initial production of 1,500 bbl/d of oil and 1.5 MMcf/d of gas and will flow naturally for up to 60 days before an artificial lift strategy is implemented.
Hibernia has averaged drilling six wells per pad and 12 wells per section historically, according to Canterbury. "We are now drilling closer to 20 wells per section, although in some places, we do not have rights to all targets, so we probably average 16-18 wells per section," he explains.
Canterbury says Hibernia has 20 years of drilling inventory on its existing acreage using one rig or six-seven years of inventory if it continues to operate three rigs.
"Of course, we are always looking for more acreage," he adds.
Working Together
The handling of water for fracturing and disposal is always a challenge, Canterbury says, but Hibernia solved that in 2021. "We sold our saltwater handling to XRI Holdings LLC," he remarks. "It is a great partner, and handles our water supply and disposal."
XRI, a leading full-cycle water management midstream company with fixed owned infrastructure throughout the Permian, acquired the produced water infrastructure assets of Hibernia through its wholly-owned subsidiary, Celtic Disposal LLC. Through the transaction, XRI has a 15-year contract to be the long-term provider of all water-related services to Hibernia, including delivery of completion water and handling of produced water. The acquisition also enables XRI to capture significant third-party opportunities in the area with both new and existing customers.
In making that announcement, Canterbury stated, "The disposition of our Celtic infrastructure assets will support the development of Hibernia's high-quality acreage positions, and we look forward to XRI's operational and commercial expertise that will optimize the existing produced water system for reliability, flexibility and expansion."
Canterbury adds that Hibernia is using up to 75% recycled water in its fracturing operations. He calls the Midland Basin a great place to operate because of the existing infrastructure. "Surface and mineral owners are now working together," Canterbury continues. "They are treated as partners. Power sources are still a challenge, but it is slowly being upgraded."
Labor issues and supply chain problems are getting better, too, according to Canterbury, although he says there are hundreds of frac pumps still sitting idle in need of parts.
He contends the bottom line for Hibernia and other Permian Basin operators is "execute, execute, execute."
"We set annual goals in December and then get through January/February and see where the headwinds are," Canterbury offers. "We think there will be fewer headwinds in 2023."
Pushing Boundaries
Lori Blong, a native of Midland, grew up in the oil business, the daughter of the late Mark Merritt, an engineer, manager and leader for Fasken Oil & Ranch Ltd., as well as a former chairman of the Permian Basin Petroleum Association. She began her career, however, as a social studies teacher in El Paso, Tx.
In 2013, she and her husband, Jared Blong, started Octane Energy, a Permian-focused project management and well site consulting operation specializing primarily in drilling and completions. From 2013 to 2020, Octane provided project management and well site leadership for more than 600 wells a year for more than 30 operators across the Permian Basin and Oklahoma. During that time, the company says, it drilled more than 30 million feet and fractured more than 100,000 stages. But in 2020, as the COVID pandemic ground industry activity to a halt, Blong says, the couple decided to sell the consulting business and pivoted into the exploration and production segment of the industry through a mid-2021 acquisition of a producing oil and gas property in Ector County, Tx.
Last fall, in an effort to create critical mass, Octane Energy Operating acquired Cambrian Management Ltd., which serves as a contract operator as well as a project manager for drilling and well site operations, as Octane did before. "We now operate our own property, but also work with smaller companies and working interest owners that may not have their own technical teams to steward their assets with excellence," she explains.
Blong says her company is helping companies unlock energy in both conventional and unconventional portions of the Permian. "We are also deeply involved in projects in the heart of the basin with traditional Lower Spraberry, Jo Mill and Wolfcamp formations," she adds. "Cambrian's niche, which is our niche now, is working with operators and midstream saltwater disposal companies to make sure they handle everything right."
Blong laughs that everyone is in the forecast business in the Permian Basin. "I used to listen to my dad talk about the future of the Permian Basin," she says. "He always had an optimistic view. Some say we are running out of Tier 1 acreage, but Tier 2 and Tier 3 rock in the Permian is better than Tier 1 rock in most other basins in the world. We will see, but there is still a lot of inventory to drill."
With stacked pays in the Midland and Delaware Basins and the possibility of new secondary and tertiary recovery technology, the future is bright as ever in the Permian, according to Blong.
"Horizontal drilling has unlocked huge reserves, but it has also left a lot of oil in place," she notes. "I have seen a lot of ups and downs in my lifetime growing up in Midland. The times of greatest hardship tend to be the times of greatest innovation because everyone works together. The Permian is the most prolific basin in the world. This is where we iterate and perfect technology. The Permian is a front-runner in new technology, responsibly producing the cleanest barrels in the world."
Most of the Permian oil wells have associated gas. Blong points out that Octane Energy Operating has built in redundancies in its Ector County property to both capture and maximize value and mitigate flaring its associated gas when there are no other mechanical options.
"Gas is an unpredictable commodity, but it adds value to production sales," she offers. "We want to capture that value."
Merging Royalty Interests
Mergers and consolidations are not limited to exploration and production companies. On Dec. 29, Denver-based Sitio Royalties Corp. completed its $4.8 billion all-stock merger with Austin-based Brigham Minerals Inc.
Chris Conoscenti, chief executive officer of Sitio Royalties, says the history of the unique publicly owned oil and gas mineral and royalty interest company began in 2016 when a private equity company in New York started a minerals fund and began acquiring mineral rights in the Delaware Basin.
In 2021, the company, which was named Desert Peak Minerals at the time, became materially larger with the acquisition of more than 40,000 net royalty acres in the Delaware and Midland basins from two private-equity-backed companies. Then, in June of last year, Desert Peak Minerals completed its all-stock merger with Falcon Minerals, rebranding as Sitio Royalties and adding exposure to the Eagle Ford Shale and Appalachian Basin as a result.
"We wanted to go public," explains Conoscenti. "Falcon was already public, so we merged Desert Peak with Falcon to become Sitio Royalties. A few months later, Sitio announced an all- stock merger with Brigham, which was the largest-ever public merger in the sector."
The merger of Sitio and Brigham created a combined company with nearly 260,000 net royalty acres and expanded Sitio's asset portfolio to the Denver-Julesburg, Williston and Anadarko basins, although Conoscenti says approximately 75% of its assets are still concentrated in the Permian Basin.
What makes the Permian Basin so attractive from a mineral and royalty interest perspective? "It may be the only place in the world that combines the aerial extent of resources and a stacked pay portfolio with a diverse and active group of operators, a favorable governmental regulatory environment, and existing infrastructure," Conoscenti comments.
He claims Sitio is unique in that there are very few publicly traded royalty companies. "There is no one doing what we are with large-scale consolidation," he continues.
Conoscenti says Sitio deals with a large variety of sellers, including ranchers, families, private consolidators, and other types of land and mineral owners. On average, the company's net revenue interests are approximately 1% in the Delaware Basin. Sometimes mineral owners will sell their interests or a portion of their interests to Sitio because they want liquidity or more diversified exposure, he explains.
"One of our biggest risks is the pace of development by operators," Conoscenti remarks. "We try to buy minerals on the front end of the cost curve, where operators are drilling for the best rate of return. On the expense side, we pay severance and ad valorem taxes, sometimes are required to pay gathering and transportation costs, and of course, salaries and general and administrative to run our business, but that is basically it. So, if we double the size of our company, our costs don't scale linearly like many businesses in the oil and gas sector."
Conoscenti predicts single-digit growth this year in the Permian Basin. "Public operators are carefully managing cash flow to pay dividends, buy back stock and pay down debt," he observes. "They have gotten more efficient and are much more capital disciplined."
He also believes that the trend of consolidation of operators will continue, and says it is a positive overall. "There are advantages to having bigger, better operators. Private operators will also remain active," Conoscenti says.